By Kevanté A. C. Cash
NAGB Correspondent
The inaugural SeaWords Bahamas Literary Festival (SBLF), an initiative of Creative Nassau, became a haven for rhetoricians, wordsmiths and literary enthusiasts to come and explore a world solely created for them.
Held in the Atlantis Grand Ballroom, Day two's festival activities proved a learning experience for its eager participants. Members of the literary community, teachers and students were all in attendance to gather from what the conference had to offer. 
Established Bahamian author and writer Patricia Glinton-Meicholas, vice president of Creative Nassau and director of SBLF, conducted a workshop on the art of poetry, the complexities and simplicities thereof, while prominent Bahamian journalist and media professional Michelle Malcolm presented on the small screen industry and scriptwriting. Another workshop, held simultaneously, conducted by Diane Gedymin, gave insight to those of whom are looking to publish books and navigate the publishing marketplace.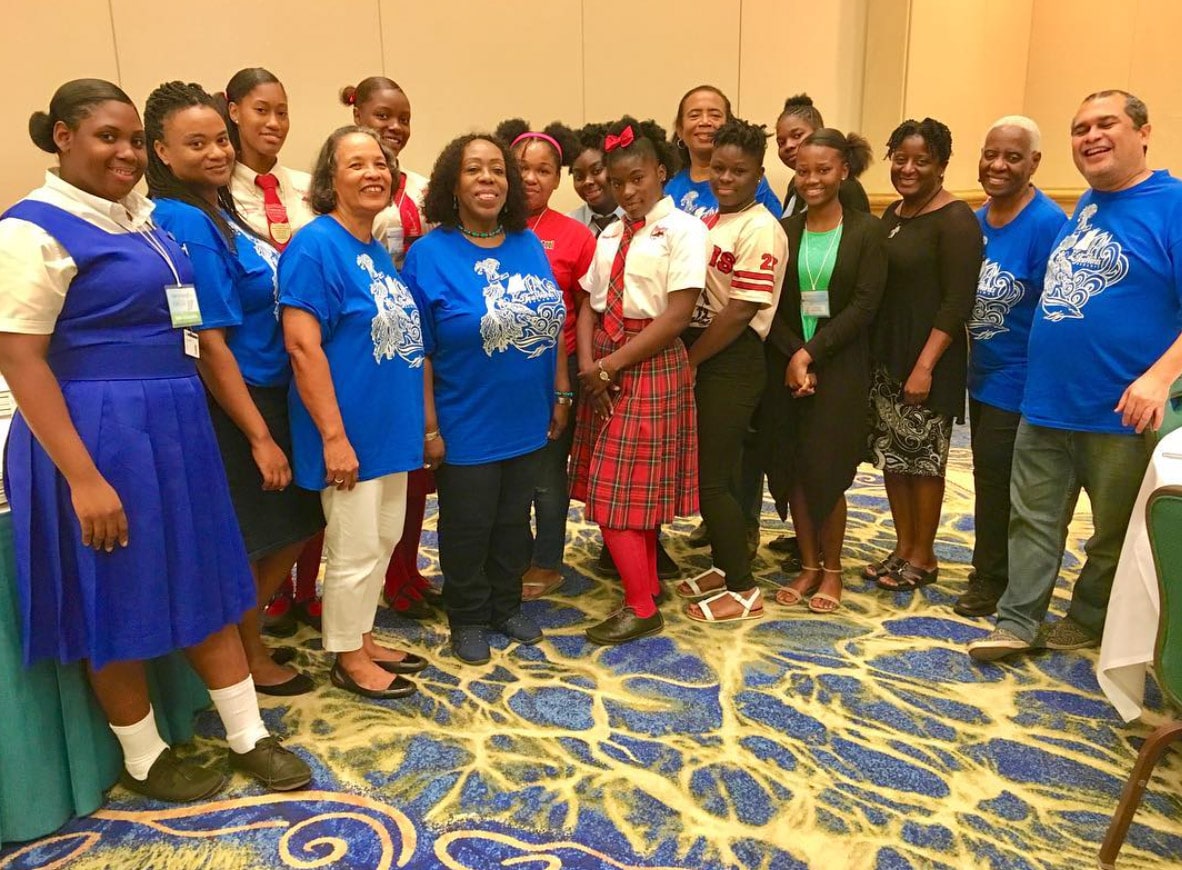 School children gather for photo with SBLF committee. Photo credit: SeaWords Bahamas Literary Festival.
 The second group of topics followed a panel discussion where writers of various genres were able to impart knowledge on the worlds of fiction, non-fiction and intellectual property rights as literary creatives. Among these discussants were University of The Bahamas professor Christopher Curry, author/ writer Helen Klonaris, and proprietor of Guanima Press Ltd., Neko Meicholas. 
The third group of topics followed the same formatting where contributors shared thoughts on "The Book Journey". Moderated by Patricia Glinton-Meicholas, discussants Dionne Benjamin-Smith, Marie Sairsingh, Neil Sealy and Neko Meicholas spoke about the process to publishing, editing, selling and marketing a book using various vices such as social media.
After lunchtime and a stroll along the promenade to view the art presented in the Marina Village, attendees regathered in the ballroom to hear, feel and engage in the words from British poet laureate Dame Carol Ann Duffy. Her words pushed an envelope we don't often dare to open, to read, to listen, to feel – particularly within a conservative society, whose views are claimed to be aligned with the principles of Christianity.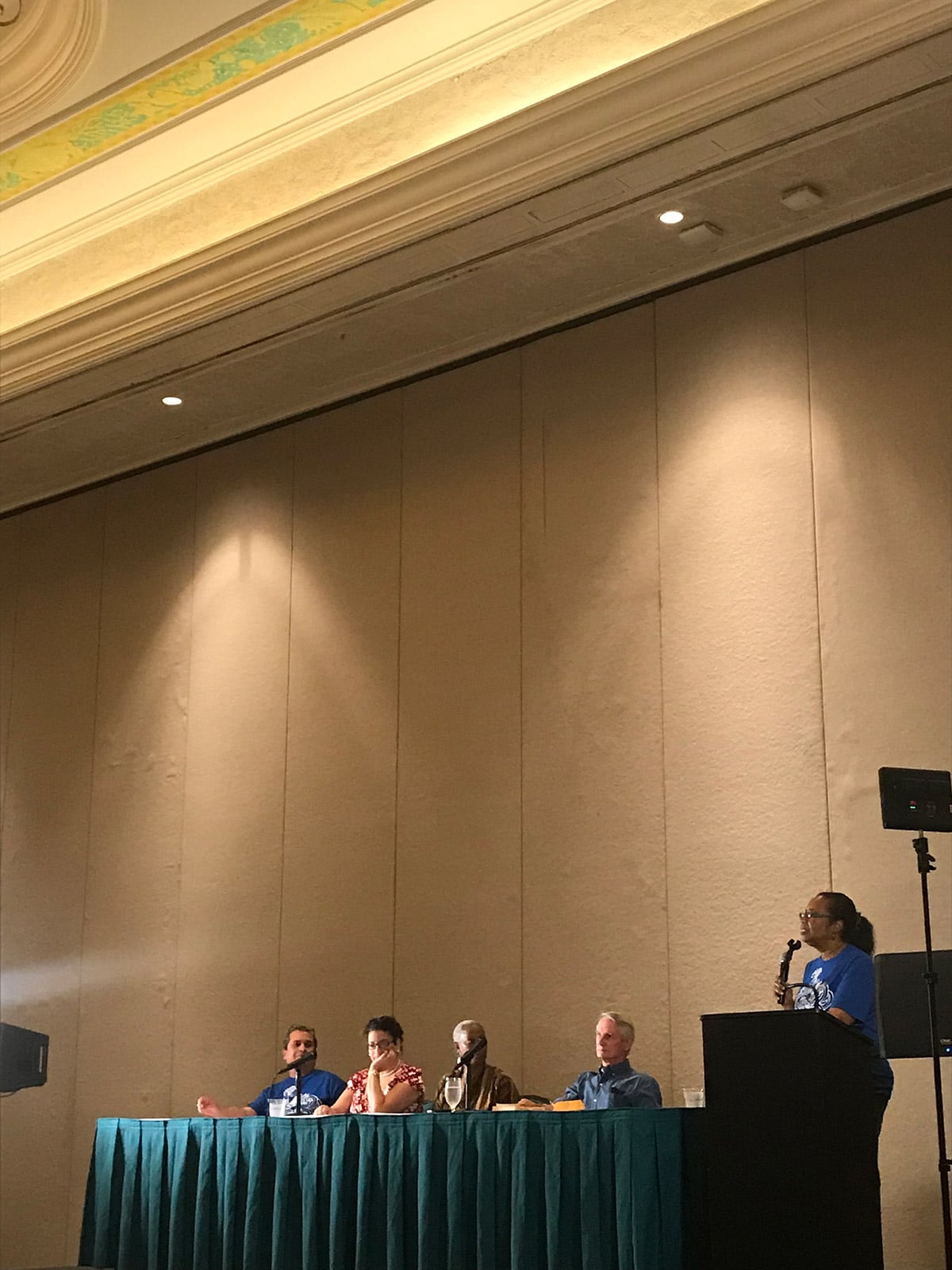 Festival Director and Vice President of Creative Nassau Patricia Glinton-Meicholas moderated "The Book Journey" panel discussion. Discussants include Dionne Benjamin-Smith, Marie Sairsingh, Neil Sealy and Neko Meicholas. Photo credit: Ryan J. Lewis.
Her work, read from old and new poetry collections such as Standing Female Nude (1985), The Other Country (1990), The World's Wife (1999) and Collected Poems (2015), direct yet whimsical, reflected on the notions of sex, love, relationships, queerness and women empowerment. Dame Duffy definitely gave audience members something to think about – the ways we encounter and respond to the issues of life, how society views our love when it's "different" or away from the norm, how society continues to treat and mistreat its most strongest force – women. Her words were the medicine needed to cure a sickness brought down by the weight and troubles of a patriarchal centred world – a true encouragement to self-identifying writers and poets: to keep writing and laying bare the sentiments and complexities of the heart; to keep writing to save, even if just yourself.
The reading culminated in a book signing of Dame Duffy's most recent books of poetry.
 The inaugural SeaWords Bahamas Literary Festival proved to be a memorable occasion for all its attendees. The hope for the future is nothing but bright, as we await to be led into next year's festival by the team of Creative Nassau, president Pam Burnside and vice president Patricia Glinton-Meicholas.