Prints are the name of the game with this weekend's Arts&Culture section. As Max Taylor makes a welcome return to multiple methods of printmaking at the D'Aguilar Art Foundation, another group of creatives celebrates half a century of delighting in the art form. Every day, Linda Brown, Joie Lamare and nine dedicated craftspersons get to work on creating classic prints for another purpose.
Many of us have seen them – Bahama Hand Prints' iconic patterns and brilliant colors are quite hard to miss. And since 2016 marks the company's golden anniversary, multiple generations of locals have had time to get familiar with at least a few of its 100-plus prints. Sisters-in-law Brown and Lamare are the fifth generation of Bahama Hand Prints owners and are making a special effort to remember the company's founders, artists Helen Astarita and Berta Sands.
Stumbling on inspiration
On a trip to Key West, Astarita and Sands visited a local fabric printing shop, where they saw fabric being hand-printed using one-of-a-kind designs and silkscreens. The two believed the practice would be a lucrative business at home, in The Bahamas, and got to work developing their technique in silkscreen printmaking. They learned to mix ink, design products and sew, and, in 1966, Bahama Hand Prints was born.
An evolution
Since those days, Bahama Hand Prints has changed hands and location, and modified its business model. Today, from its unassuming location on Ernest Street, the company boasts a factory, sewing room, boutique and small but zealous team that maintains a healthy and energized stock and loyal clientele.
For Lamare and Brown, running the company is a dream come true. Growing up in The Bahamas, they'd known the Bahama Hand Prints brand from childhood. They acquired it in 2001, after Lamare returned to The Bahamas from France, where she'd lived for 15 years. Brown had been working as a biology teacher at St. Andrew's International School for 15 years.
"Linda and I and our families happened to be on holiday together, and I said that would be a very cool business to buy and run," recalled Lamare. "My husband had just acquired permanent residency with the right to work and all of the dots were connecting. A good friend of ours said the owner was selling the business, so that started the ball rolling."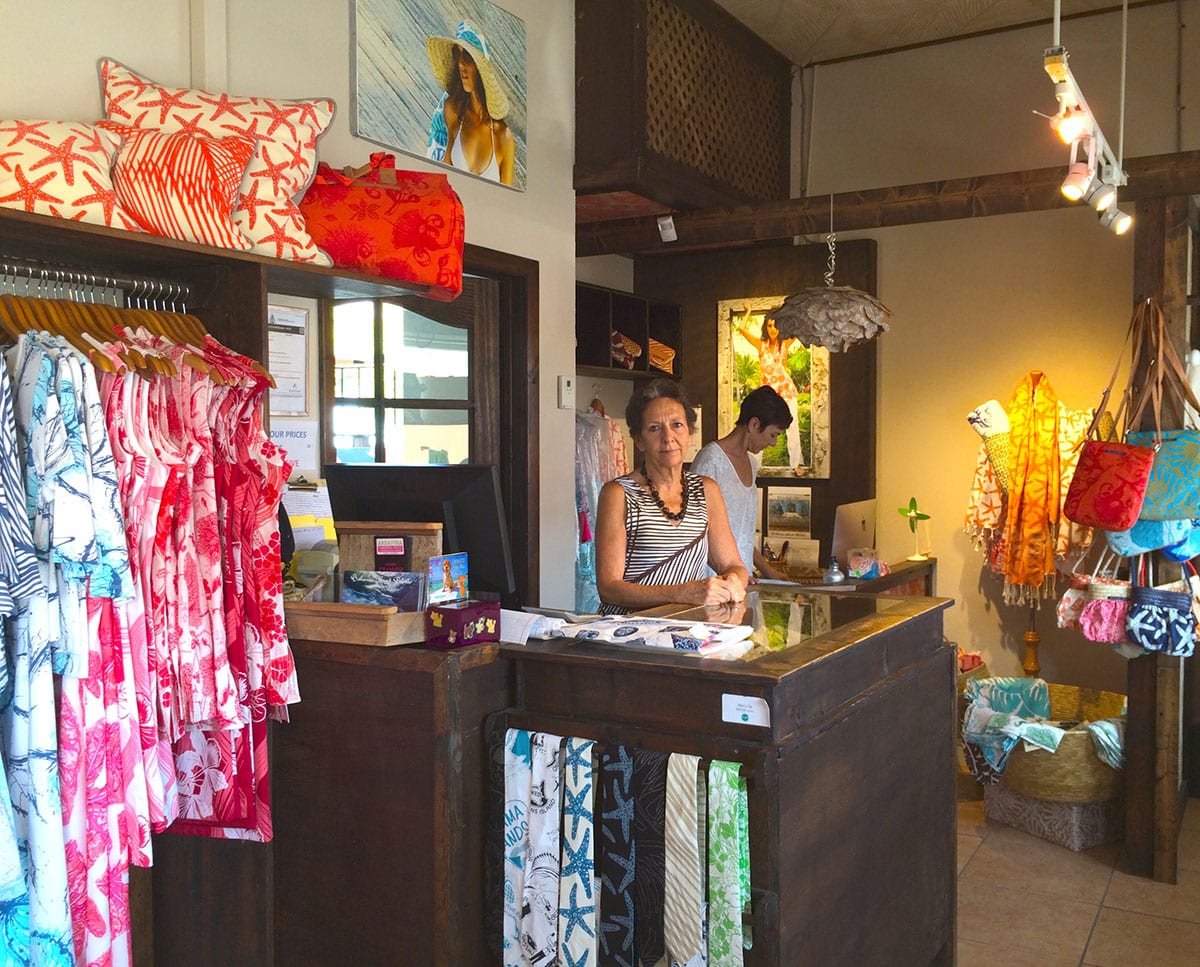 The company was then a far cry from what it is today. Bahama Hand Prints was located in Airport Industrial Park, where it consisted of a printing workshop and a small sewing operation that made napkins and other small household goods. For clothing production, the printed fabric had to be shipped abroad to a New York-based factory.
Bahama Hand Prints remained in that location for three years before Lamare and Brown acted on their shared vision to grow the company, provide more employment and make it more authentically Bahamian. "We really needed to expand the production so that we could manufacture everything here," said Lamare.
At the time, Western New Providence was largely undeveloped, and the eastern end of the island seemed to be the best bet for establishing a lucrative headquarters, complete with a boutique. The company was set up a stone's throw away from the eastern Paradise Island Bridge. The move was a good one. With the addition of new staff, and engagement with local artists, Bahama Hand Prints was able to add to its collection of print designs.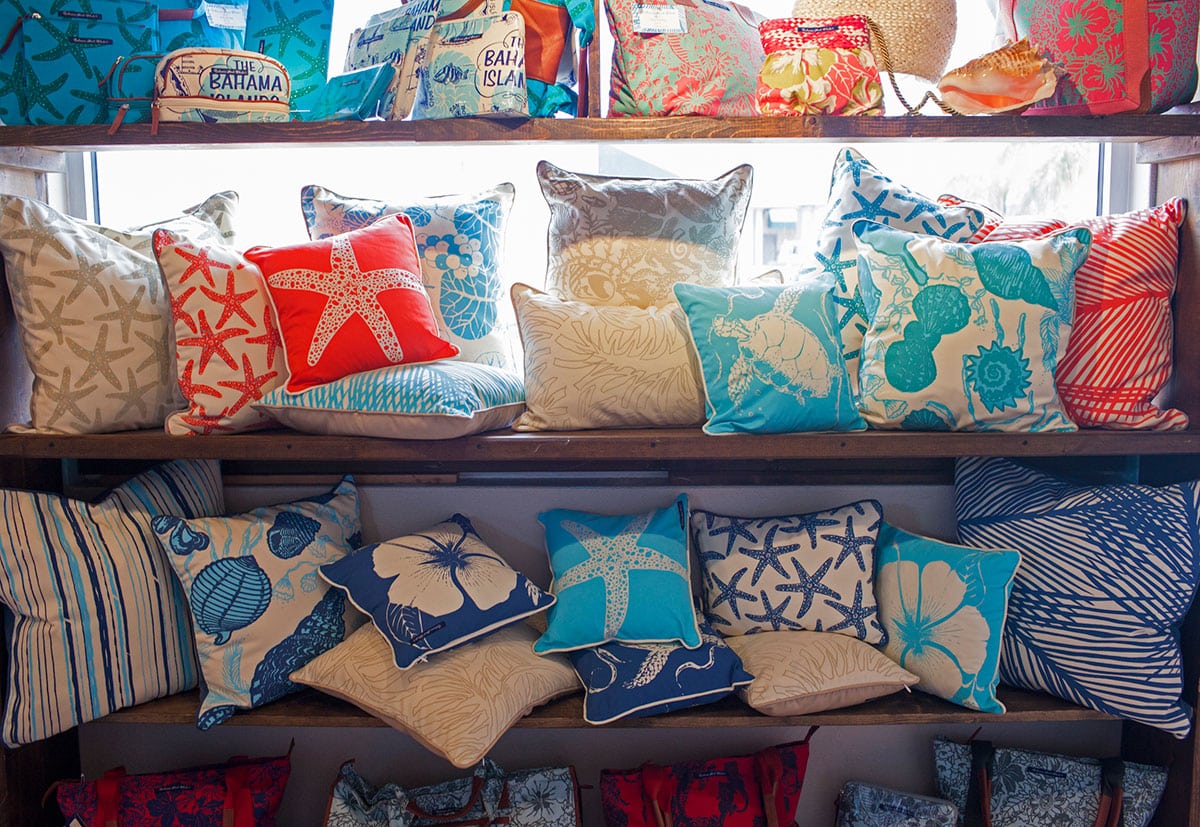 Keeping things fresh
Over the years, the company had already acquired designs by Astarita, Sands and a young Brent Malone, who designed the pattern of a wall hanging for the company. Creative Nassau Co-founder Pam Burnside, Lamare and Brown have also contributed to the company's print stock. And in more recent years, artist Dylan Rapillard, was able to add to the collection of prints. "Dylan came on-board nine years ago," said Brown.
"He started out as a printer, but he evolved into a print designer over time. It got to the point where he was creating three or four new designs each year for a while there and really grew the repertoire of prints." Having such a comprehensive stock of prints keeps Brown and Lamare both busy and excited about freshening up inventory. "The best part for me is the artwork," said Brown. "It's the heartbeat of the company.
If there wasn't any artwork, there wouldn't be any Bahama Hand Prints." For Lamare, it's the process that's the special part. "I just love laying that fabric down on the table and hearing that squeegee run through the screen. And then you lift that screen up, and it begins to move to the next frame. It's like opening a Christmas present," she said. They are not the only ones excited about the company's prints.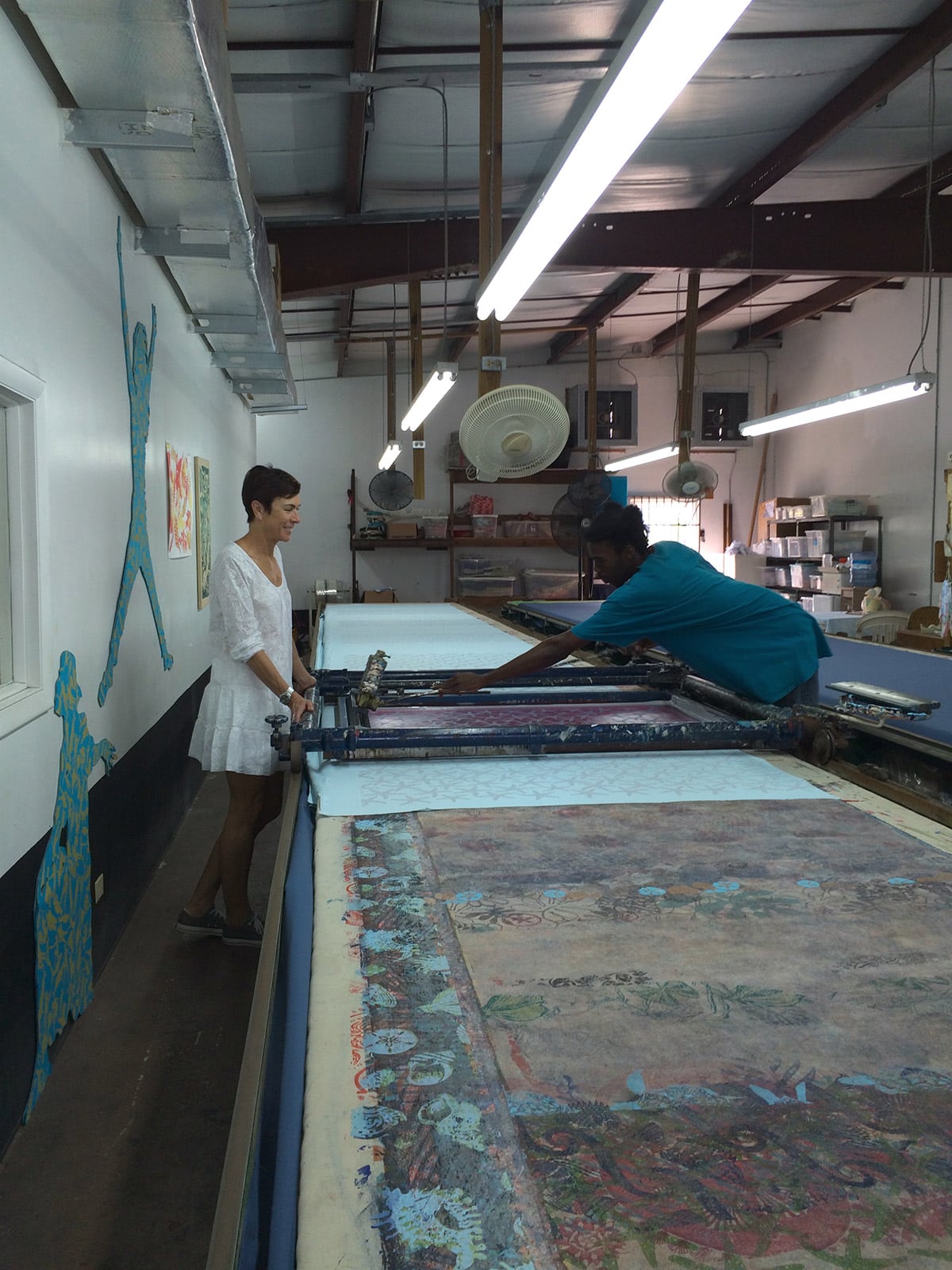 Customers travel near and far for their very own Bahama Hand Prints piece. According to Brown and Lamare, being off the beaten path hasn't stopped international die-hard quilters, cultural enthusiasts and even celebrities from making their way to Bahama Hand Prints for a peek at the production process and a browse through the well-stocked store.
"This is just an incredible institution to keep going," said Lamare. Brown added: "I hope it continues to be successful and embraced." They have no plans for slowing their momentum. It is their hope to establish a presence on the rapidly expanding western end as well as in Downtown Nassau, but in the meanwhile the duo is simply interested in "giving Berta Sands and Helen Astarita the recognition that is really due, because they were the ones with the original vision".
For more information on Bahama Hand Prints, call 394-4111 or visit the company's website bahamahandprints.com.