Bahamian artist Blue Curry, working from Nassau and London, shares his contribution to an exciting new project: "My new work, 55 Gallon, a custom built, all-in-one, portable barbecue & pan steel drum ensemble, is now on display in The Empire Remains Shop, 91–93 Baker Street, London. Running until Sept 10th, the work can be seen 24hrs a day in the shop window. Read more about it below.
The The Empire Remains Shop is a fascinating project that brings to fruition a failed plan by the Empire Marketing Board in the 1920s to open shops in London promoting the consumption of colonial products. Invited artists were asked to speculate on the possibilities and implications of selling back what remains of the British Empire to the capital today.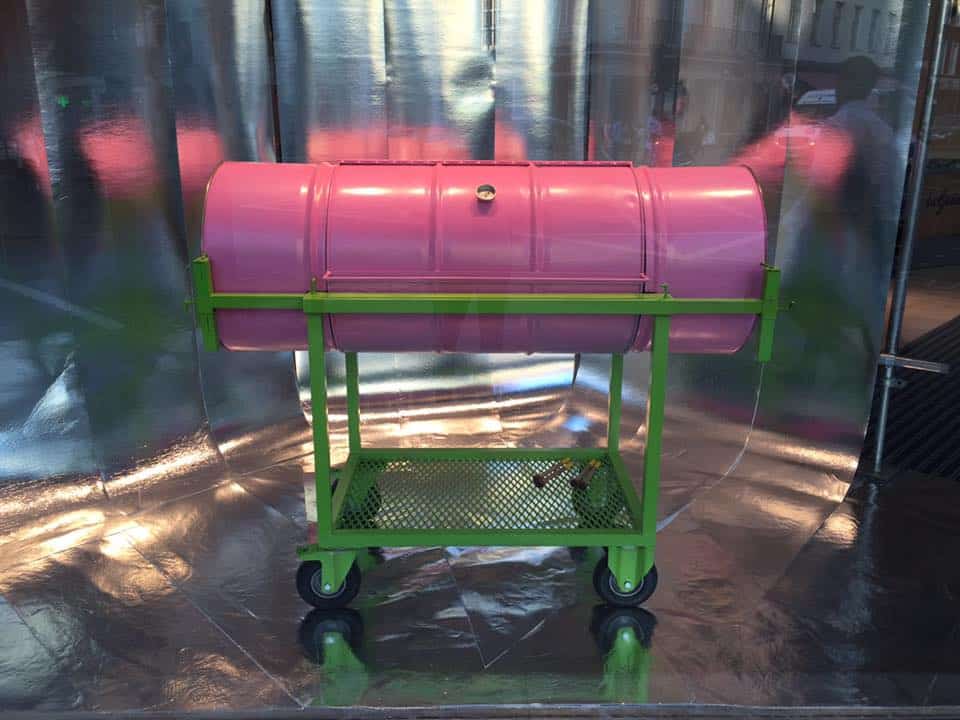 If you are in London book a free 30 minute pan drum session on the 55 Gallon sculpture. You can play as an individual or in pairs. No musical experience necessary – the drums are tuned on the pentatonic scale which is excellent for improvisation. Tues-Sat, 3pm-6pm, until Sept 10th, in the shop. Drop-ins are possible but preferably book here.
The 55 Gallon BBQ event includes professional pan musicians, a specially commissioned song by Calypso artist G-String and a selection of ground provisions such as cassava, yam, taro, eddo, sweet potato, breadfruit, plantain, tania, and green figs barbecued on the sculpture in tandem with the live musical performance. Lincoln's Inn Fields, Holborn, London, 12pm-4pm, view map. Please indicate if you are attending here.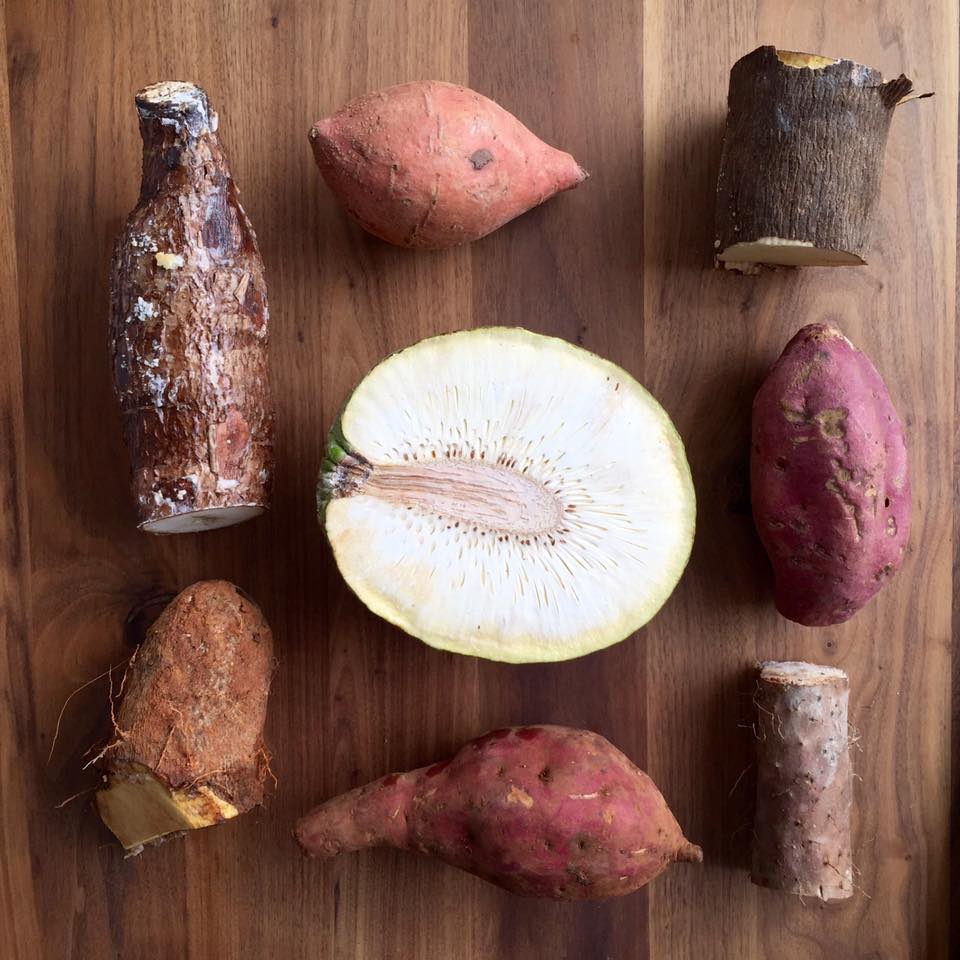 Derived from an indigenous Caribbean word used to describe a way of smoking meat over a wooden frame, "barbecue" became part of a colonial language to racially define the people of the region, linking them with barbarism, savagery and cannibalism. Five hundred years later, contemporary Caribbean barbecues are most often conducted on large, freestanding grills made from customised 55 gallon steel barrels. This creative use of offcast materials to serve practical needs originated from necessity and centuries of survival in small, resource-scarce places. The pan drum, for instance, is another example of such ingenious repurposing of the steel barrel, this time in service of African and Indian drumming traditions brought to the islands by slaves.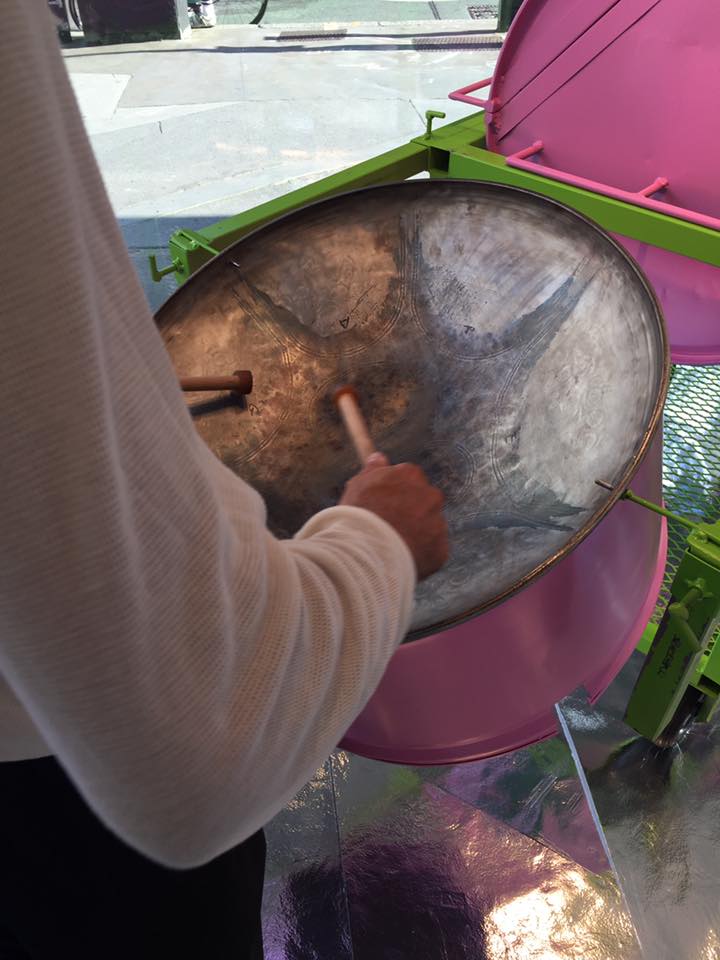 Barbecues are ever-popular and still used for cooking – but cooking as a leisure activity offering an escape from everyday life. Not coincidentally, the Caribbean is also consumed as a leisure activity, distorting the complex and multi-faceted culture of the islands into little more than a series of clichés. A barbecue on the beach and a steel drum serenade are now examples of the tropes of the tropical that tourists expect and demand when visiting the islands. Cheapened and watered down, these traditions have been dislocated from their rich histories purely out of economic interest. Recent attempts to replicate Trinidad and Tobago's pre-Lenten carnival celebrations all over the Caribbean to dates that match tourists' vacation calendars exemplify this.
In response, 55 Gallon creates a new typological hybrid: Blue Curry's all-in-one barbecue and steel drum ensemble explores tourist clichés of cultural artefacts, fusing their characteristic heat and sound into a single transformative moment."
For more information, check The Empire Remains Shop website.