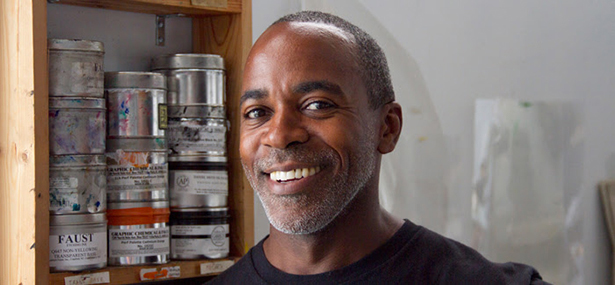 The School of the Art Institute of Chicago (SAIC) announced the appointment of Arnold J. Kemp as the School's dean of graduate studies. Concurrent with this appointment, Kemp joins the faculty of the Department of Painting and Drawing as a professor. Kemp comes to SAIC from Virginia Commonwealth University (VCU) where he is an associate professor and the chair of the Department of Painting and Printmaking.
Kemp has been making and exhibiting critically engaging art for 25 years. He holds undergraduate degrees from the School of the Museum of Fine Arts, Boston and Tufts University, and a Master of Fine Arts from Stanford University. Since 2009, he has served as a mentor for graduate students in a full-time academic administration role at Pacific Northwest College of Art and VCU. Prior to that, he was the chair of the Master of Fine Arts in Visual Studies Program at the Pacific Northwest College of Art. He also worked as one of the founding curators of San Francisco's Yerba Buena Center for the Arts.
Kemp has been a visiting artist and lecturer, both domestically and abroad, at many leading schools and museums, including the San Francisco Museum of Modern Art; Portland Art Museum; San Francisco Art Institute; California College of the Arts; Parsons School of Design; University of Illinois, Chicago; Yale School of Art, among others. His artworks are in the collections of the Metropolitan Museum of Art (New York), Studio Museum in Harlem (New York), Berkeley Art Museum and Pacific Film Archive (California), Tacoma Art Museum (Washington) and the Fine Arts Collection at the University of California, Davis. Kemp is a 2012 Guggenheim Fellow and has also received awards and fellowships from the Joan Mitchell Foundation, Pollock-Krasner Foundation, Art Matters Inc., Printed Matter, Inc. and Portland Institute for Contemporary Art.
"I used to keep a little newspaper clipping above my desk with a quote from Toni Morrison who upon receiving the Nobel Prize said, 'I am outrageously happy!' and I feel that way today," said Kemp. "As an artist and educator, I am extremely honored to join SAIC. I anticipate that leading, growing, and learning with SAIC's graduate students and my new colleagues will result in great things."
Kemp's appointment SAIC's dean of graduate studies is effective August 1, 2016.
The NAGB congratulates Arnold on this major achievement.
About the School of the Art Institute of Chicago
For more than 150 years, the School of the Art Institute of Chicago (SAIC) has been a leader in educating the world's most influential artists, designers and scholars. Located in downtown Chicago with a fine arts graduate program consistently ranking among the top four graduate fine arts programs in the nation by U.S. News and World Report, SAIC provides an interdisciplinary approach to art and design as well as world-class resources, including the Art Institute of Chicago museum, on-campus galleries and state-of-the-art facilities. SAIC's undergraduate, graduate and post-baccalaureate students have the freedom to take risks and create the bold ideas that transform Chicago and the world—as seen through notable alumni and faculty such as Michelle Grabner, David Sedaris, Elizabeth Murray, Richard Hunt, Georgia O'Keeffe, Cynthia Rowley, Nick Cave, and LeRoy Neiman. For more information, please visit saic.edu.