By Kevanté A. C. Cash
The last time I spoke with Yasmin Glinton within this capacity was after the release of her first poetry chapbook The Year She Wrote in 2017. Any poet or poetry lover would easily fall in love with the way she uses words and imagery to tell a story. Her stories are always powerful and perfectly relatable to any individual's love situation. We can all connect with the feeling of love, just as we can with the sound of music, and grow an appreciation for its artistic expression, but what happens when the poet decides to write freely from the heart and the words may not meet the connection at all? Will they still find value? Can it still be of service to humanity?
At The Shore, Glinton's latest project, released in part with the group exhibition "Pattern" at The Current Art Gallery and Studio at Baha Mar, did just that. It gave her the space to express freely while as an Artist-in-Residence, and challenges the "relatability politics" of art and artistry, specifically within poetry. When literary enthusiasts attend open mic nights or spoken word events, we sit in awe at how the artist is able to structure their art in a way that may seem like they've written it especially for us. But when the artist reclaims that power, are we still wooed?
This book is the physical manifestation of the many sides to Glinton, an affirmation to self and declaration to the art world that she can be many – that she can and will write just about anything she puts her heart to and that being multifaceted is a powerful thing.
Her book is displayed alongside fellow writer and Artist-in-Residence Sonia Farmer's collection of books at the entrance of the studio space within the exhibition. Farmer's company Poinciana Paper Press were the official publishers for this special project. Other works by Glinton are mounted on the walls beside other artists of the exhibition namely John Paul Saddleton, Ivanna Gaitor, Kendra Frorup and Attila Feszt.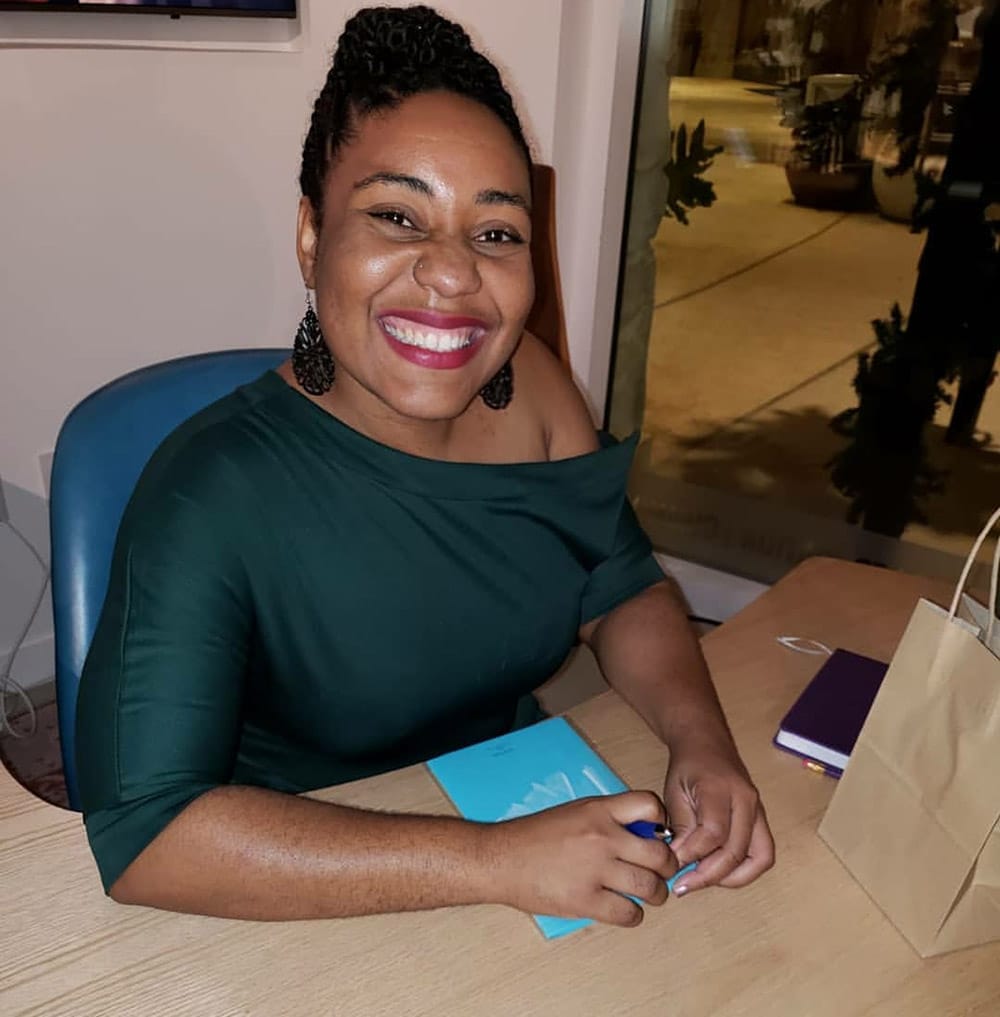 Portrait of Yasmin Glinton, courtesy of the artist.
Kevanté Cash: I know you're not the curator of this exhibition, but I'm wondering why you think they found interest in pairing your work as a literary artist with visual artists within this specific exhibition?  
Yasmin Glinton: I believe they are trying to find ways to incorporate in the art world and see how we can merge our work with the work of artists. And so, myself and Attila actually have a collaboration. It's a plate with a hibiscus on it and my words are the poem surrounding the plate and the hibiscus is over the top of it. So, we're trying to figure out ways to merge the two artistic forms.
KC: How did you feel releasing your second project specifically with The Current because the last time it was with Antonius Roberts Art Gallery and Studios.
YG: Well, it was at Hillside House. They were a major force in helping me to launch my work. I would say with this one, it was completely unexpected just because I was working with Sonia and I was just writing pieces for their art show and she was like 'Yasmin, these pieces make me want to make a book'. And I was like, 'What?' So, she said 'yeah, I'm going to make a book of your stuff. Send it to me.'
So, we just did drafts and I didn't even see the book until the day of because she was away producing and printing it. I saw drafts and she sent covers but I didn't actually see the book until the day of. So, it was really surprising and I didn't really tell anybody about it because I thought it was going to be something small at The Current but it was far more than I expected.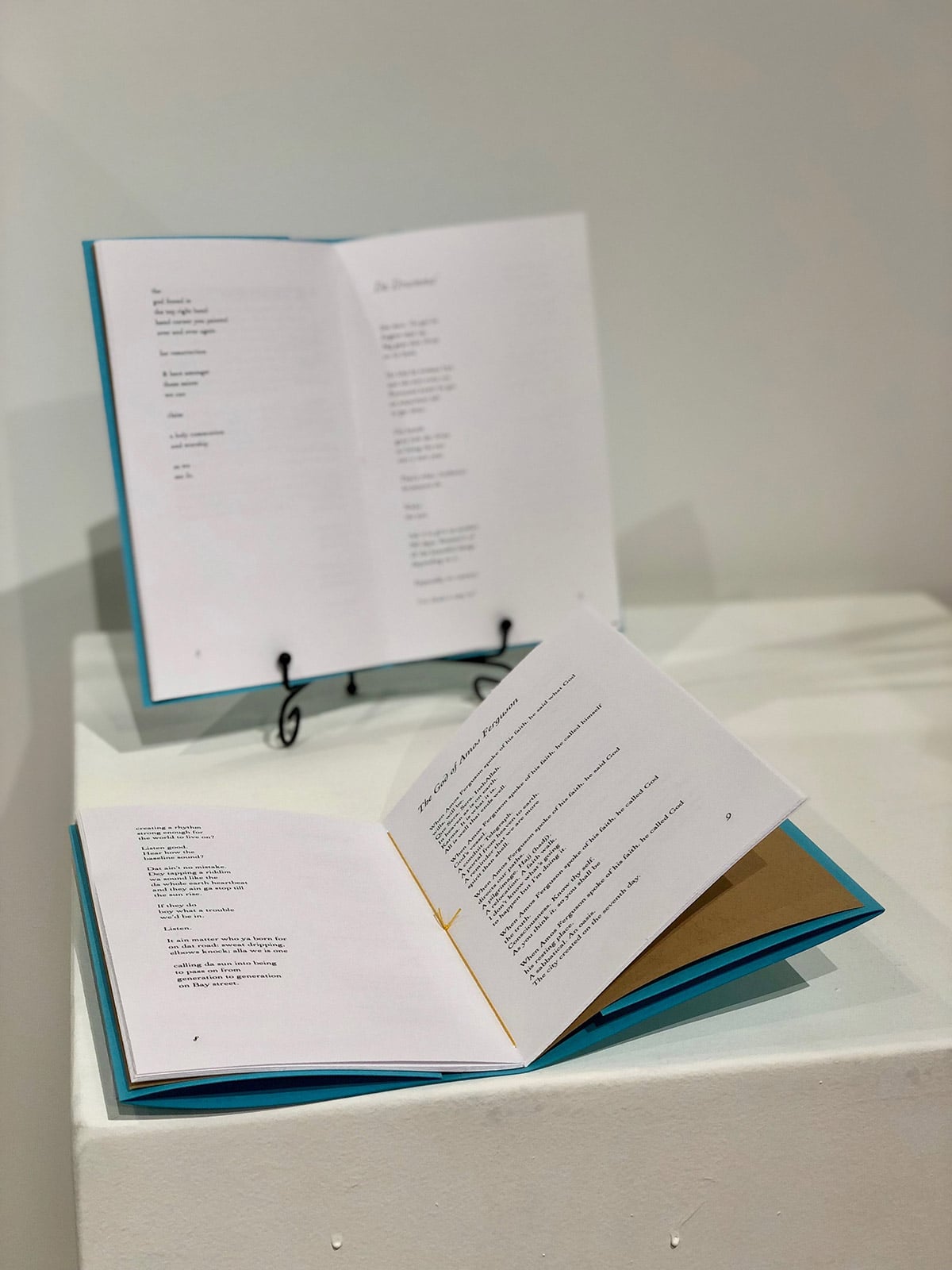 At The Shore poetry chapbook written by Yasmin Y. Glinton, published by Poinciana Press Ltd. Photography by Nowe Harris-Smith.
KC: Have you and Sonia collaborated on any pieces within the book?
YG: No, we don't have any collaborations in the book, but when we were here, as Artists-in-Residence, we did a collaboration on the wall in the old Current space. But, I definitely look forward to collaborating with her in the future.
KC: I know you said the book was unexpected, but at what point did you think of a theme for this book? 
YG: There's no theme at all, because most of it is commissioned work. They commissioned me to create these poems to go with their 'Fairwind' exhibition. So, what I did was, walk through the exhibition and whatever pieces spoke to me, I wrote poems to reflect the themes I thought they embodied. That was supposed to be a wrap for me, but alas, here we are.
 KC: So, if someone were to turn through the pages of this book, what exactly will they find?
YG: They might find in the first poem "At The Shore" my experience as a black Caribbean woman coming back from London feeling a bit displaced coming home, having lived away for a year and just having to negotiate my identity again. And then there are also pieces toying with Bahamian folklore and creating my own, which I found out is really pushing a lot of my work lately – that I want our own folklore and not just what we've heard pass down, but things we are actively creating and using our imagination as Bahamian writers to produce.
Also, just reflecting on family. There was this piece that really stood out to me where in the sailing section there's this man with this lantern and he's leaning over and it feels so vivid just looking at this piece. I wrote about it because he's one of my ancestors. My family's from Abaco and they're all boat builders and I can just hear him talking to me. So, those kinds of conversations what people would say and what I want to say about people and myself, you can find it all in this book.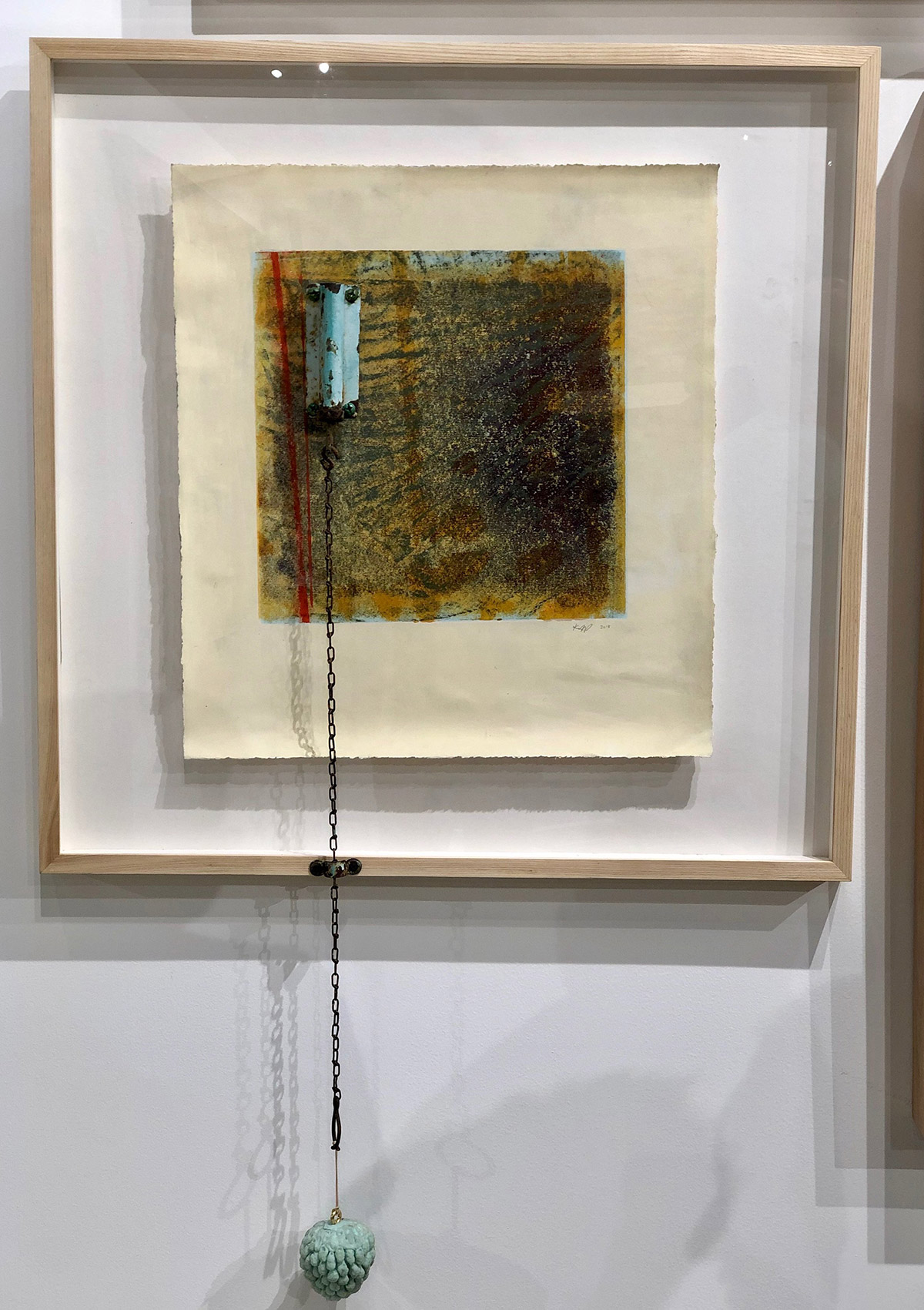 Works by Kendra Frorup, photographed by Nowe Harris-Smith.
KC: Why "At The Shore"? 
YG: I actually think Sonia and I negotiated through that title. The first poem, was actually the last poem in the piece and she was like, 'Yasmin, I think this is the title of your book' and I was like 'okay, cool, let's go with it' because I love the poem and the colour scheme and everything about the book seemed to just fit in with that idea. When you enter into this island, all of these things are Bahamian at this shore.
KC: I thought about the book title and the space you chose release this new project in, and I'm wondering if this is all intentional to get Bahamians to think outside of the 'sun, sand and sea' narrative we sell to foreigners?
YG: I actually don't care. I don't write for other people first, I write for myself first. So, whatever happens as a result of that, however what floats people's boats or not is up to them. When I wrote, I had no intention of trying to change the way tourists themselves come into this space. I think we as a country are responsible for the way tourists come into our space and we need to be more conscious of what we invite them to think of us. So, I don't know if just having a book that's titled "At The Shore" will ask them to think in that way, but I definitely think we need to control that idea.
KC: Who is this book dedicated to?
YG: I think my community at large, to say thank you for always giving me something to write about, that I can always find something to say because it's so rich in things to be said.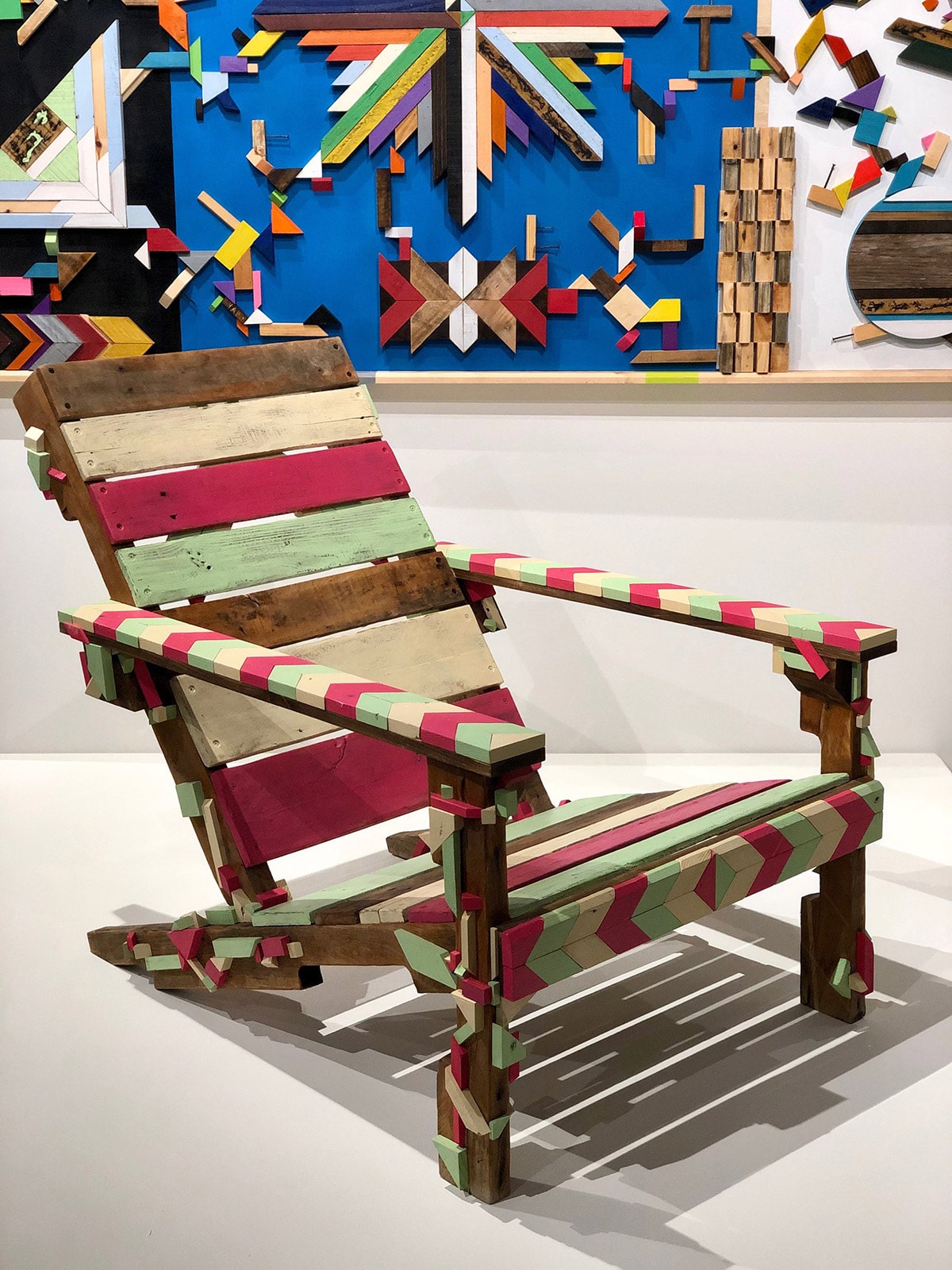 Works by Daniel Belton, photographed by Nowe Harris-Smith.
"Pattern" is still on display at The Current Art Gallery and Studios, opened Sunday through Saturday from 10 am to 10 pm. Yasmin Glinton's book, At The Shore, along with the works from the fellow artists-in-residence can be purchased in The Current's gift shop.