Doongalik Studios is pleased to announce the third installation at the Lynden Pindling International Airport (LPIA) for the Christmas/New Year holiday season under the theme "Bahamian Celebrations" which reflects the workmanship of over 70 of the country's skilled artists and artisans, and confirms the amazing extent of Bahamian talent.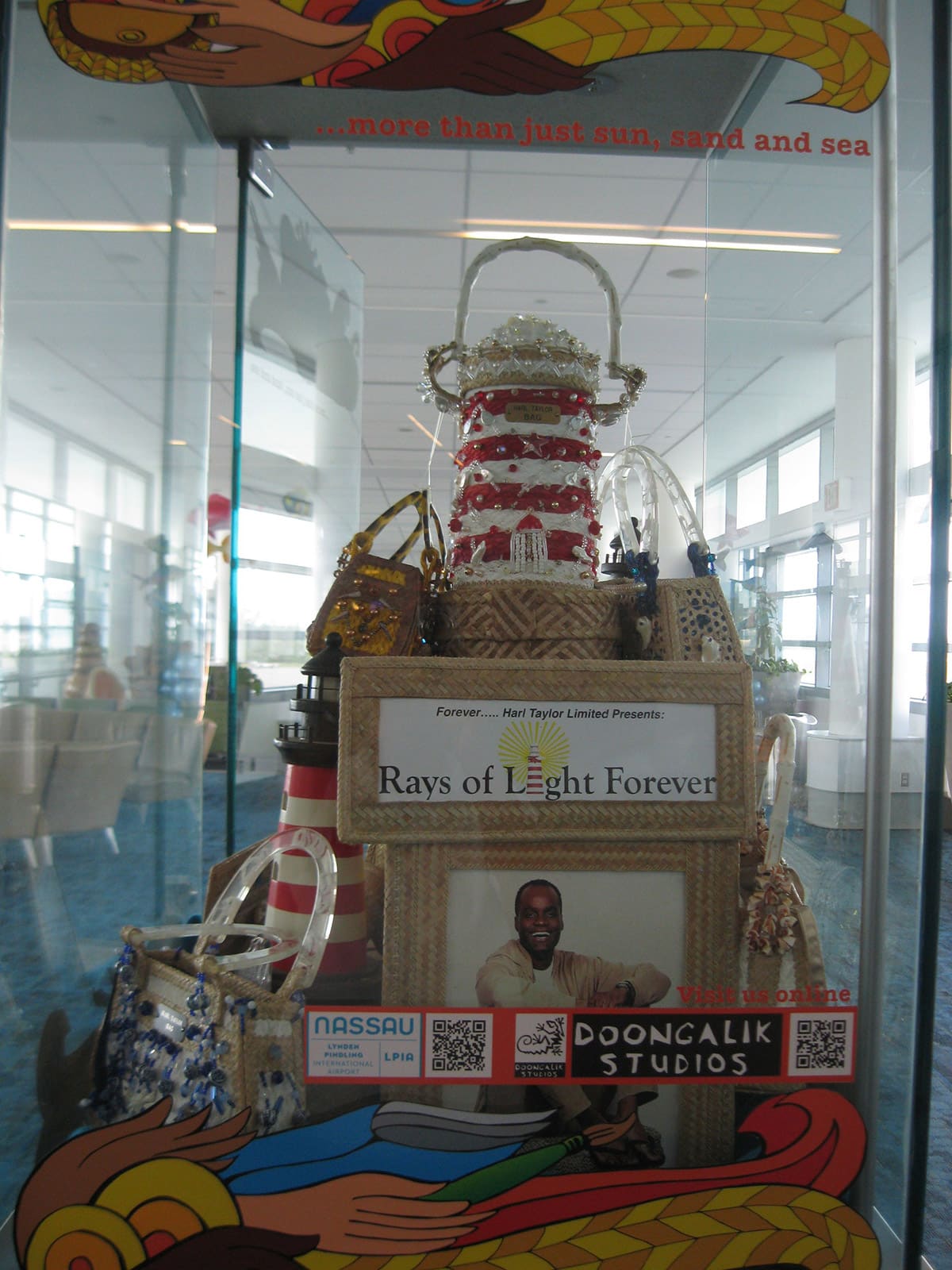 Photos of several of the "Bahamian Celebrations" LPIA showcases, and LPIA Entertainment photo, courtesy of Doongalik Studios
Pam Burnside of Doongalik, who is responsible for curating the displays since April of this year, stated: "For Bahamians, the Christmas/New Year holiday seasons are a time for celebrating with family, church and the country's traditional street festival of Junkanoo, and several of the 12 showcases, five of which are located in the US Departure Lounge and seven along the interstatial corridors leading to the Baggage Claims area, reflect this joyous time of the year. We are so very pleased to have the opportunity to celebrate Bahamian creativity in this way for the benefit of visitors and locals alike!"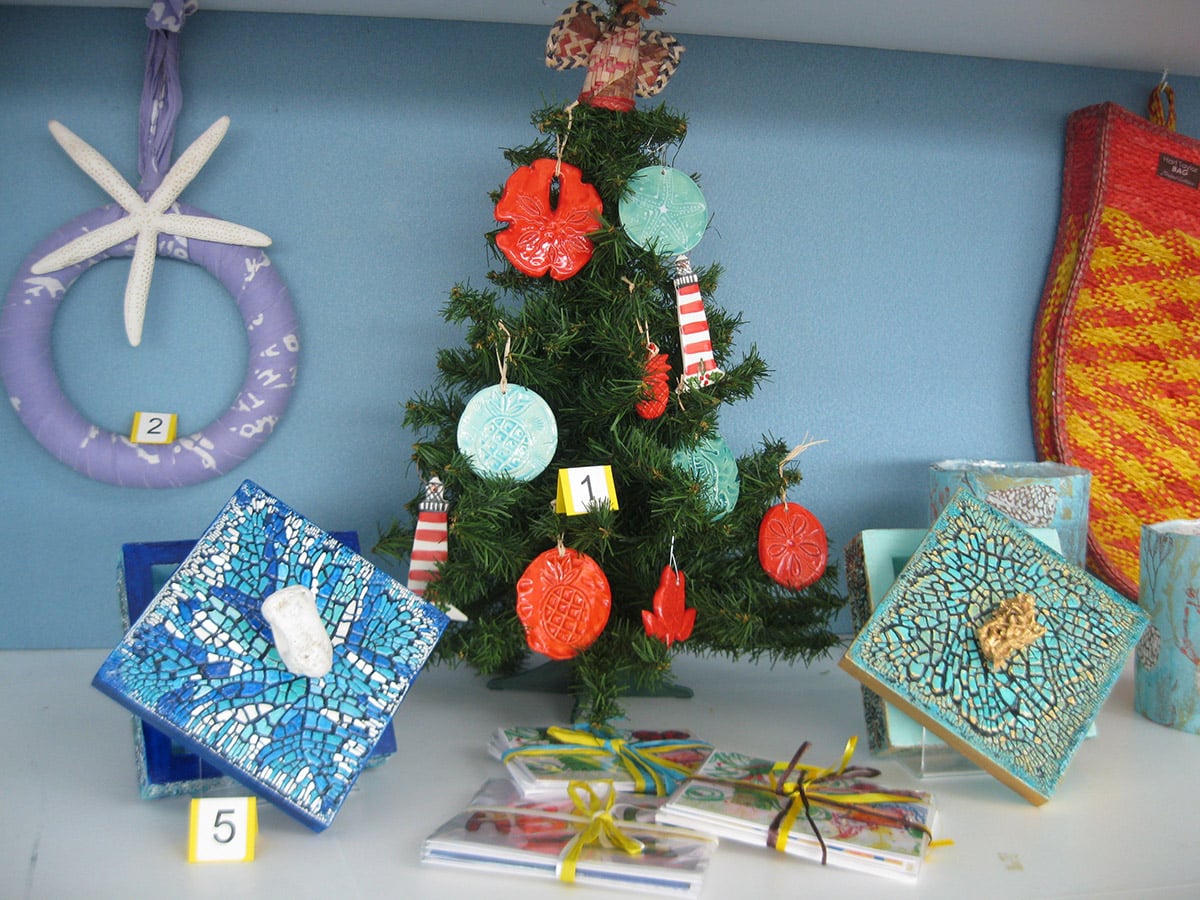 The first guest showcase in the US Departure area features the Harl Taylor BAG 'Rays of Light Forever' in tribute to the late, great Bahamian fashion designer, Harl Joseph Taylor (1970-2007), whose creative legacy lives on through Forever….Harl Taylor Limited, the company which was established by his mother, Beverly J. T. Taylor in June 2008 who stated: "It was important for me to continue to keep Harl Joseph's legacy alive through continuing to create his exquisite designs." The stunning Harl Taylor BAG display also pays homage to the Elbow Cay Lighthouse in Abaco, Bahamas which is the last hand-wound lighthouse in the world that is still in operation! This Bahamian treasure is managed by the volunteer members of the Elbow Reef Lighthouse Society and the public can join them in this worthy cause by logging on to their website www.elbowreeflighthousesociety.com!
To add more Bahamian flavor to the airport environs for the season, Jan Knowles, Nassau Airport Development Vice President of Marketing & Communications, has initiated a musical and cultural component for several high peak arrival days during the month. Travelers exiting the arrivals lounge will be treated to the sounds of live Bahamian musical entertainment, as well as witness the skilled workmanship of straw artisan, Judy Rolle, plaiting Bahamian straw. "It is our intention to promote our local artists and artisans for all to see at this international airport" said Mrs Knowles. "Our country is indeed more than just sun, sand and sea.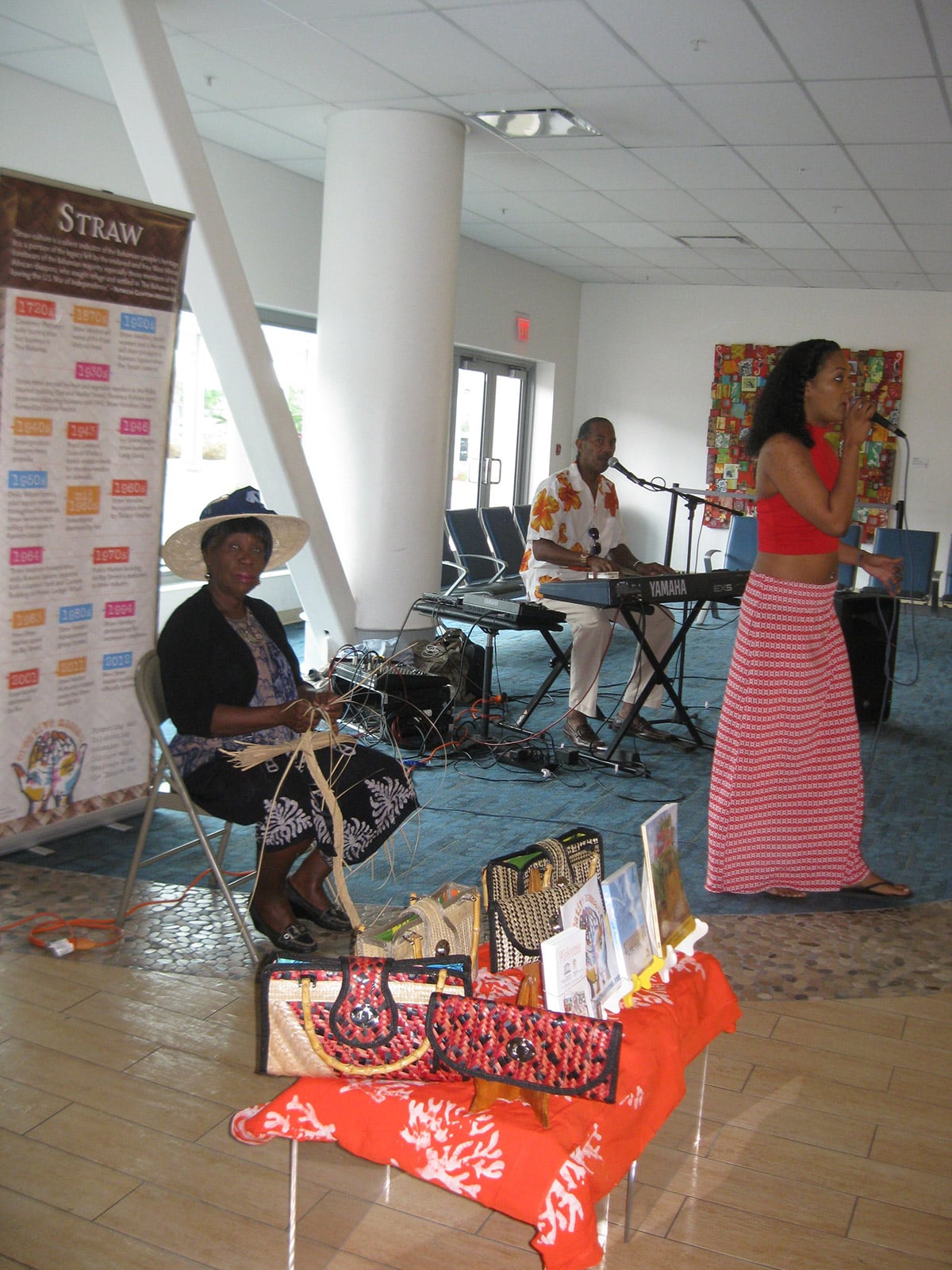 Creativity abounds amongst the Bahamian people, and our intention here at LPIA is to provide our clients with concrete examples of this, inside the showcases, as well as through live demonstrations. In collaborating with Doongalik Studios and Creative Nassau, we have been able to achieve this increasingly in creative ways, and we look forward to continuing to amaze our clients!"