By Dr Ian Bethell-Bennett
In 2017, October to be exact, The Bahamas took a step closer to being a game-changer in the world, as it dispatched a team of students and others to participate in the Second International Planning Meeting held in Dubai for the upcoming Expo 2020 Dubai.  The active participation of the team would not have been possible without the generous support of the Ministry of Tourism, Aliv and Super Value.  Expos are a world-changing Fair that occur every four or so years, where world powers and other countries tout their wares, their intellectual and innovative might, their exceptionalism and their ingenuity.  The Bahamas was no exception.  It was the most vibrant team at the event, presenting its renderings for a pavilion that will be built as a representation of the islands of The Bahamas.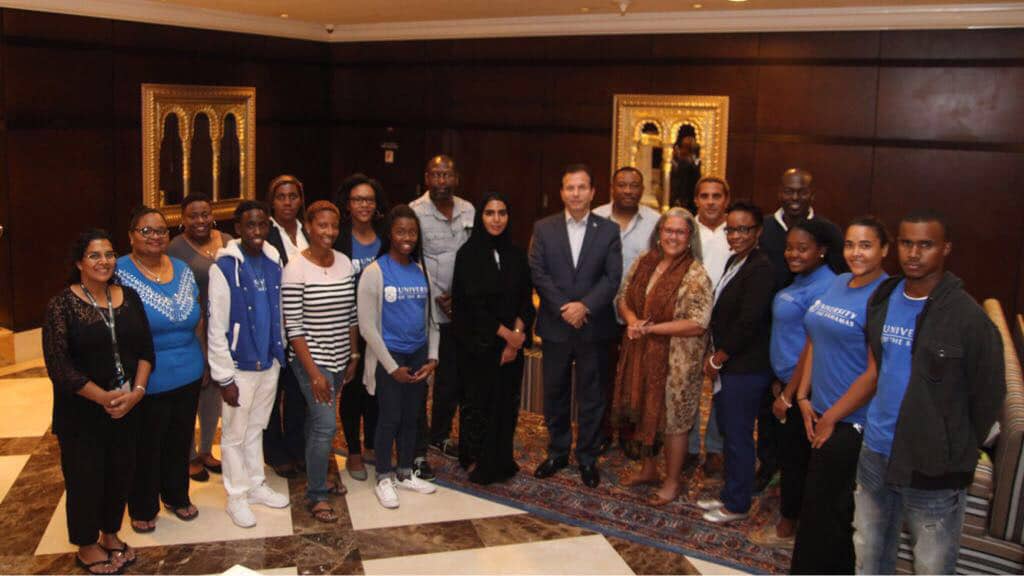 Group shot of Bahamian contingency in Dubai for preparatory meeting for Expo 2020. All images courtesy Dr Ian Bethel Bennett.
World's Fairs in a brief historical context
1889 Paris, the Eiffel Tower was unveiled as the city hosted the World's Fair of that year.  The World's Columbian Exposition 1893—the official shortened name for the World's Fair: Columbian Exposition, also known as the Chicago World's Fair and Chicago Columbian Exposition—was yet another magnificent demonstration of industrialisation, ingenuity, innovation and new designs that take breaths away. That World's Fair put Chicago on the map, especially in its efforts to compete with New York for recognition. Chicago has never looked back. During thattime, the United States had only 44 states, yet we never talk about the expansion of our neighbour to the north that has had such a huge impact on this country and its development.  Few students seem to be aware that the US was not as large or as important as it now is.  Travel, history and geography are essential to understanding where we live and how we relate to the world.  Much like reading, we need to expand our minds through experiences; reading provides a massive and often visceral experience without ever leaving the armchair, thus the term "armchair traveller."
The World's Fairs offer the world a vision of the future.  Exhibits are designed by top architects and designers, engineers, and scientists as were those in London, New York, Paris and Chicago, for example.  Usually, the most successful installations are disassembled and then reassembled elsewhere after the expo closes.  Chicago provided a huge array of technological and electronic advancements, as well as everyday inventions like Pabst Blue Ribbon Beer, and a small Egyptian Temple from 1800.  Nicola Tesla's alternating current also debuted at the fair and, along with the white city, was a history changer. Daniel Burnham, a building architect, along with landscape architect, Frederick Law Olmsted, were responsible for bringing much of the Expo to life.  Burnham coated neoclassical buildings in white paint that allowed them to glimmer or 'glow' in the sunlight. This design invention paved the way for Frank Baum, the children's writer of the "Land of Oz" series, as well as as other influential creatives, such as Walt Disney.  American Exceptionalism was meant to have been a feature of the 1893 Fair, as it proved, once again, that the US could pull off incredible and intricate designs and inventions.  Today, American Exceptionalism has been reduced to a 'souring' of its former brilliance.
Exceptionalism, much like British Victorianism were really driving forces, in their creative and experimental energies.  This is also, however, founded on democratic and liberal principles, all of which are celebrated in World's Fairs.  Ultimately, we seem to be moving away from American Exceptionalism, which would have been predated by British Exceptionalism, particularly during the Long Nineteenth Century as defined by Eric Hobsbaum.Of course, there have been countless other World's Fairs from Sevilla Expo 29 and Expo 92, Vancouver 86, that seems to have been replayed in the art fair in the same city in 2015.  The Venice Biennale is another amazing hub and type of expo, though, more narrowly focused on art,design, dance and architecture.
These are opportunities to showcase the country, its creativity, its artists, designers, thinkers, and developers.  This at times is often far too narrowly defined and understood by some as a place to show conch salad, but little else. The venue offers us a moment to shine internationally for how we can change our current trajectory and meet the demands of global climate change head on.
The Future of Expo
In 2020, The Bahamas will be featured with an entire pavilion, as shared on numerous occasions before.  The pavilion is mostly designed by students of art and architecture at the University of the Bahamas and their professors.  This is the  brainchild of Ambassador Tony Joudi, with the hard work of architect Michael Diggas and an engaged and multi-faceted team, is paying off with a living and changing design and narrative that might fit with many of the hundreds of other representations of national and city spaces in earlier fairs.
The design and fantasy of Disney World, with the disneyfication of our lives and our country, could come to our local interpretation of sustainable living in the face of climate change, which we are experiencing in threatening ways through sea level rise and deadly and devastating hurricanes that recognise no boundaries.  These design and development innovations fit squarely with the subthemes of Opportunity, Mobility, and Sustainability as iterated by Expo 2020 Dubai.  As Ragged Island, for example, struggles to recover from the last attack, and Prime Minister Hubert Minnis proclaims his intention to make it the first green island, we can take this design thinking to Dubai.
The need to be futuristic in our designs and the way we see building codes should be evident given the way we have been thrust into an awaking to our geographical positioning.  Though, there are some who seem to think that we won't get hit again, the more sane and reasonable among us see and understand the essential shift we need to take in order not to rebuild the same houses, shops, docks, offices, re-lay the same pipes, restring the same wires in the same way.  Art and design thinking help move the mind out of the quotidian into the realm of invention and possibility.  What fantasy could be created for homes on Ragged Island that capture breezes and capitalize on the sea, the sunshine, the sand, without selling it to nearby foreign investors who remove it and take it elsewhere?  We must use our indigenous resources, our local thinking and our historical artifacts to strengthen ourselves and build even greater resilience.
Bahamian design and construction were created as they were for various reasons.  We had large porches or verandahs that served as open living spaces, but also spaces that caught breezes, added protection from rain and kept direct sunlight from penetrating the inner sanctum of the home, which helped in cooling the space.  Today, we disregard these design benefits for building low lying, square boxed, verandah-less, homes that are not orientated to work with winds nor rising and setting sun to provide optimum design benefits without air-conditioning.  We can begin to change this paradigm simply by taking advantage of the opportunity on the table.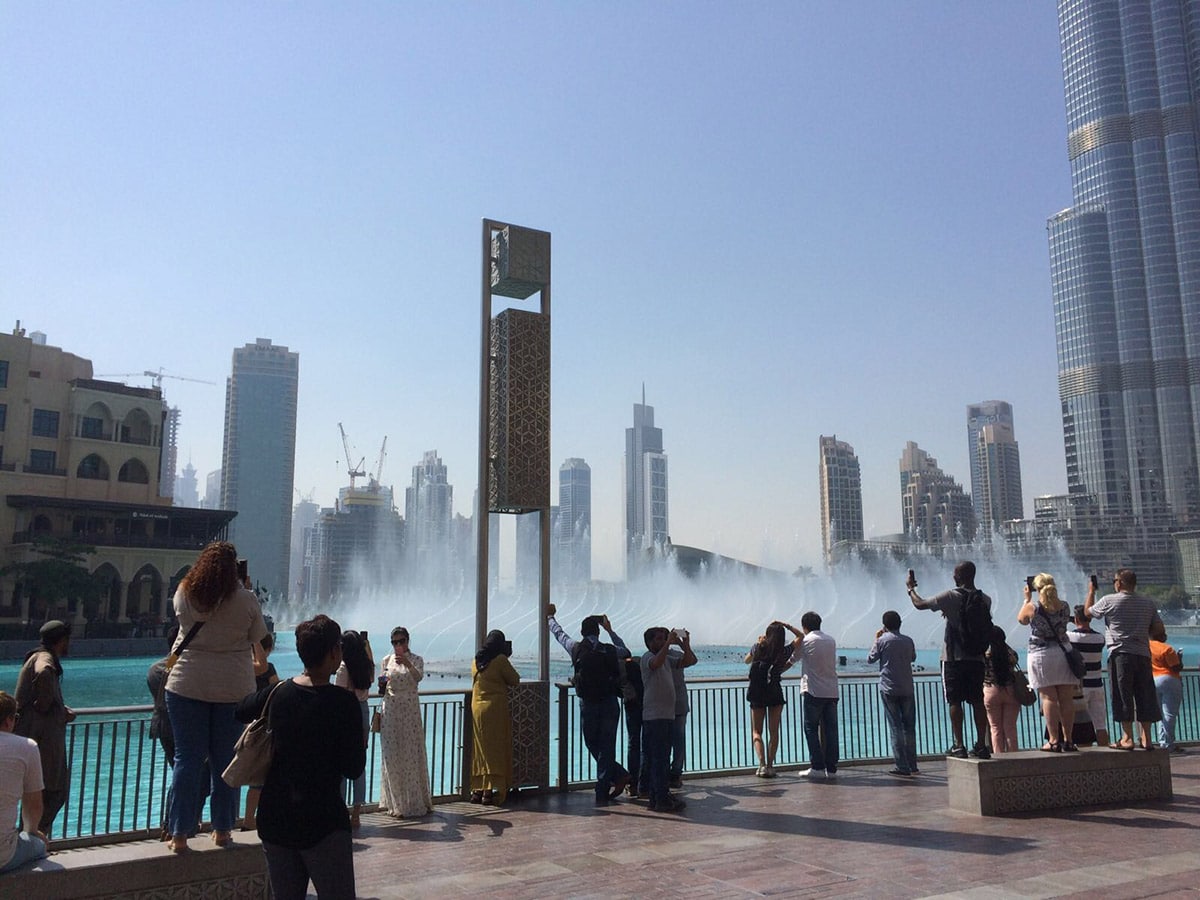 Skyline of Dubai with water works and tourists.
Expo 2020 Team
The students and their design were extremely well received as they presented in Dubai.  Great enthusiasm greeted the Bahamian team and their presentation.  Given the historical importance of World's Fairs and their huge and world-changing impact, this is an ideal moment to step into the limelight and focus on changing to meet the future as we develop today.  As we recognise the centennial anniversary of the Russian revolution that took place in 1917 at the Winter Palace, St Petersburg and changed lives for the better for many, we understand that this is revolutionary thinking and that not everyone will want to or understand why it is important to change.  Change is scary.
Without change, and education that makes change possible, we will whither and die.  There need to be more armchair travellers, risk takers and real travellers who go forth and return with diverse knowledge.  As dysfunctional as the public education system is today, as demonstrated by a recent WhatsApp post of what seems to be the teaching students who cannot read, write nor count at their grade level, the hope is that we can still glean some top students from it.  Much like the art and design produced by the Victorian period, of British Exceptionalism and that produced through American Exceptionalism, let us capitalize on this moment and move out of parochialism and indeed pedestrianism, though, not everyone will want to join.  "The revolution will not be televised" Gil Scott-Heron, but it will change lives for the better.