By Natalie Willis. 
A lonely husk of a seed floats across the oceans, from either India or Southeast Asia– we aren't quite sure which–and finds itself in various locales across that lateral band of the planet we call the tropics. This foreign species found itself here, rooted itself, and has become for us an integral part of the way we view our landscape as Bahamians, as a Caribbean nation, and as a "tropical paradise." But how? And what does it mean to have the coconut palm be a symbol of us as a nation, as part of the region, when it is not native to our limestone isles? This is what Jodi Minnis investigates in her new solo show, "Home|Home" on display at the D'Aguilar Art Foundation (DAF) through August 15th.
The selection of collages, using found material, and mixed media paintings of the same ilk, all speak to the investigation of home as it is related to our physical landscape and geography, but also more bodily, embody, ideas of home within us. The repetition of the coconut palm in various sizes becomes a symbol of the ubiquitousness of the palms in our everyday lives, just as they are present in almost every work in the exhibition. The works are Minnis' exploration of Bahamian identity and this questioning is a key part of her practice.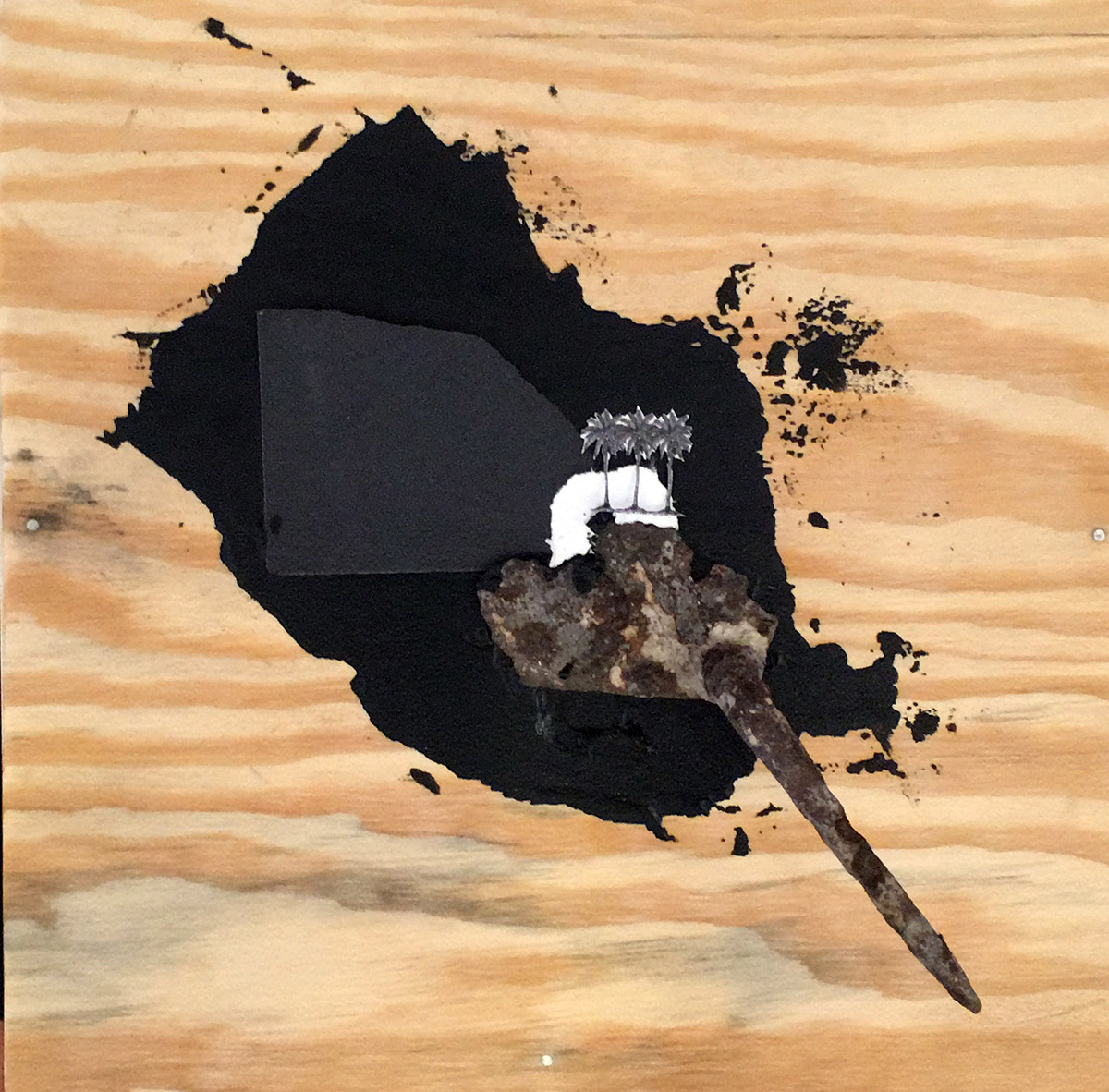 "Black Paradise III" (2017), Jodi Minnis, found object and image with acrylic paint, 11" x 11".
She looked into the misogyny in "sweet-hearting" culture in "It's A Bahamian Thing," her solo show last year at the Central Bank of The Bahamas. Her other solo show last year, "Undefined" at the Pro Gallery, saw Minnis exploring her place within abstraction in the Bahamian art community and provided a way for her to show the connectedness of the national art ecology.  She exposed the interconnectivity of people's influences and how that fed into the production of works that often appear to have no easily discernible meaning due to their lack of representational qualities. Minnis has kept this spirit of camaraderie, despite the fact she has been living abroad for university, and uses "Home|Home" as a way to continue to add to the work done on unpacking our representation and visual identity. What then does this mean to the average Bahamian?
In her statement for the exhibition, she references how the islands are in biogeographic understanding–an archipelago that is "vulnerable to plant invasion"—and how, as stated in a report by Ross L Smith on "Invasive Alien Plant Species of The Bahamas and Biodiversity Management,"—"biological invasion is particularly prominent on islands because of reduced numbers of, and in some cases, extinction of native plants."  What does this invasiveness really symbolise for our most marginalised communities, both physical communities and those based on how people identify themselves?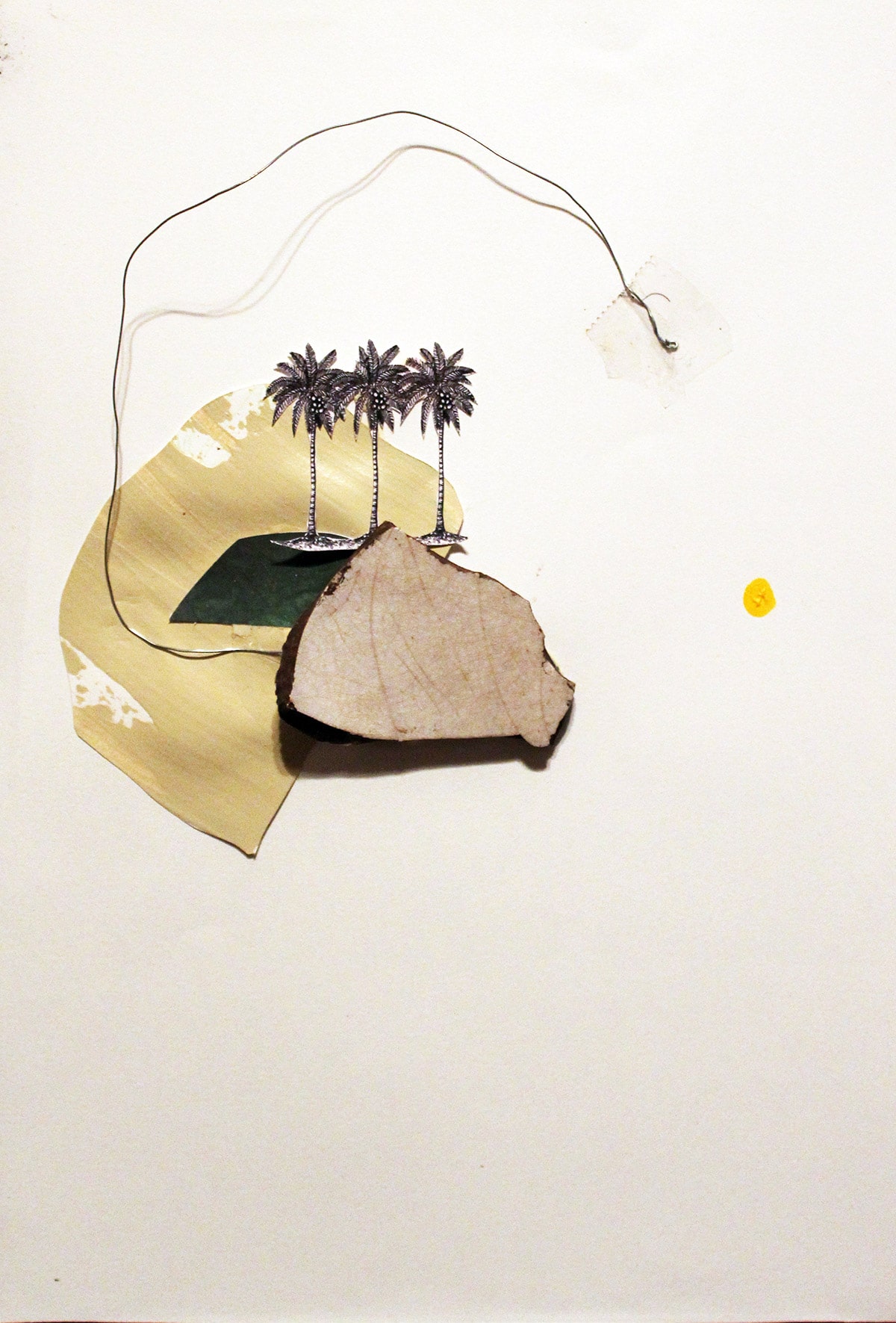 "In Search of Paradise" (2017), Jodi Minnis, found object and image with acrylic paint, 11" x 11".
When we think of this in conjunction with our history and the fact we arguably have no original Bahamian inhabitants left after Columbus (or, at the very least, there weren't enough to produce any significant cultural impact by their presence), then we can think of this cultivation of our landscape in more than just the terms of invasive or foreign species of plants, but the fact that we are all by this definition foreign ourselves, though we have made our home here, just as the coconut palm has. Some 'classifications' of Bahamian residents, however, become less a part of the landscape and image of this place than others.
Minnis goes on to mention the inception of the Tourism Development Board in 1914, which she quite rightly suggests supports the idea that the islands were formalising a process of curating and reconstructing the landscape (and image) of the islands for consumption by visitors, as Dr Krista Thompson explicates in her text, "An Eye For the Tropics." While the islands were being shaped to entice colonial tourists during the 1850s to 1920s, the image being put forth was being produced large-scale in situ – coconut palms, poincianas and silk cottons seen in postcards were being planted all along the islands to provide ample opportunity for producing more images of this "tropical picturesque." And the image still lives on long enough for Minnis to investigate it and for all of us to bear witness.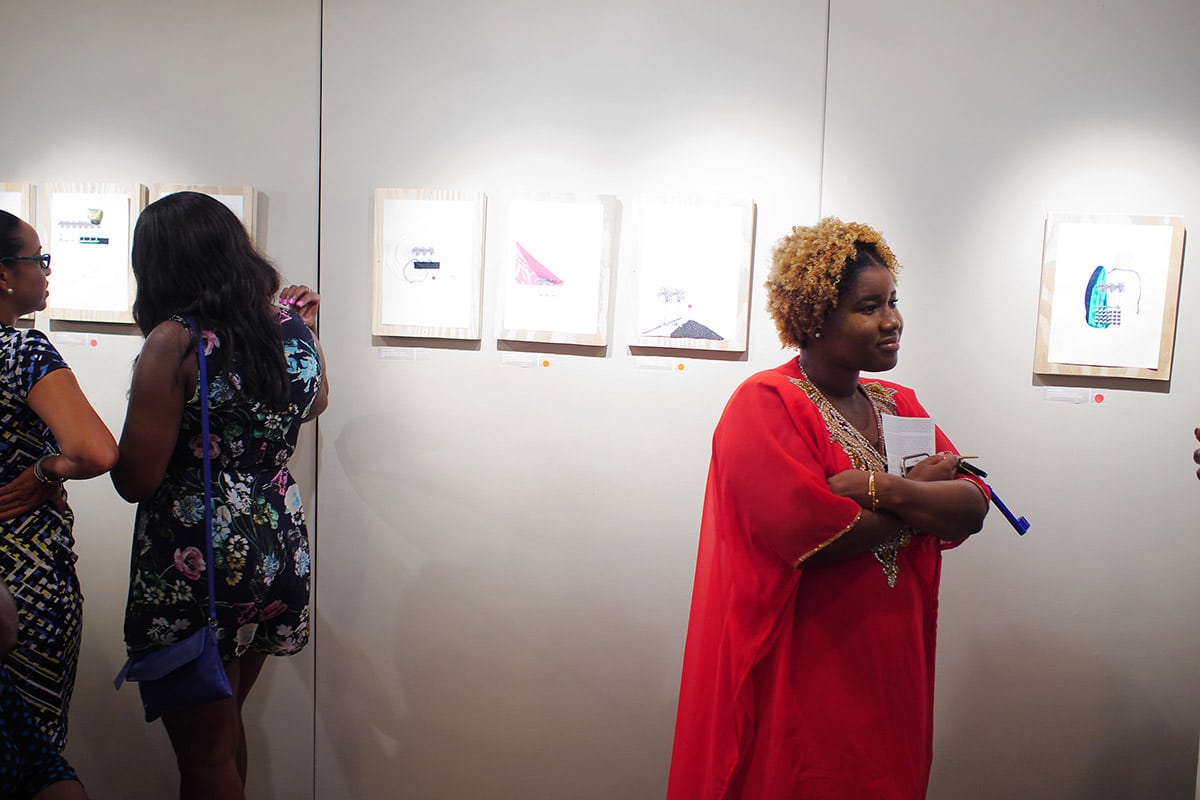 Install shot of "Home|Home", a solo exhibition of work by Jodi Minnis at the D'Aguilar Art Foundation, on view through August 15th.
When parts of the island are strategically shaped to look a particular way and that lives on until the current day, who does this landscape belong to? Minnis mentions how people who live Over-the-Hill do not get to partake in this production and enjoy the paradise put forth into the world and neither do people choose to vacation in these communities. She likens it to building a house you can never live in – but perhaps you might catch a glimpse through a window.
And so it is that many of her works function as windows into these thoughts. Her use of wood is particularly apt, taking a natural substance—from elsewhere, as most wood that enters the islands comes from some other climate—and it is cut and polished and sanded and molded into the desired shape. The sandpaper used in the collages also becomes a way of re-creating a landscape: ripped edges become mountains and hills we do not have, but that were certainly put forth as part of our image. Then, we see spreadings of black acrylic, which stand in stark contrast to the geometric drawings on of some of the collages, with golden-gilt letters reading "Over The Hill" atop their blackness, a beacon and billboard amongst the tourist palms to remind us we ought not forget who dwells here and who does not find home in this idyll.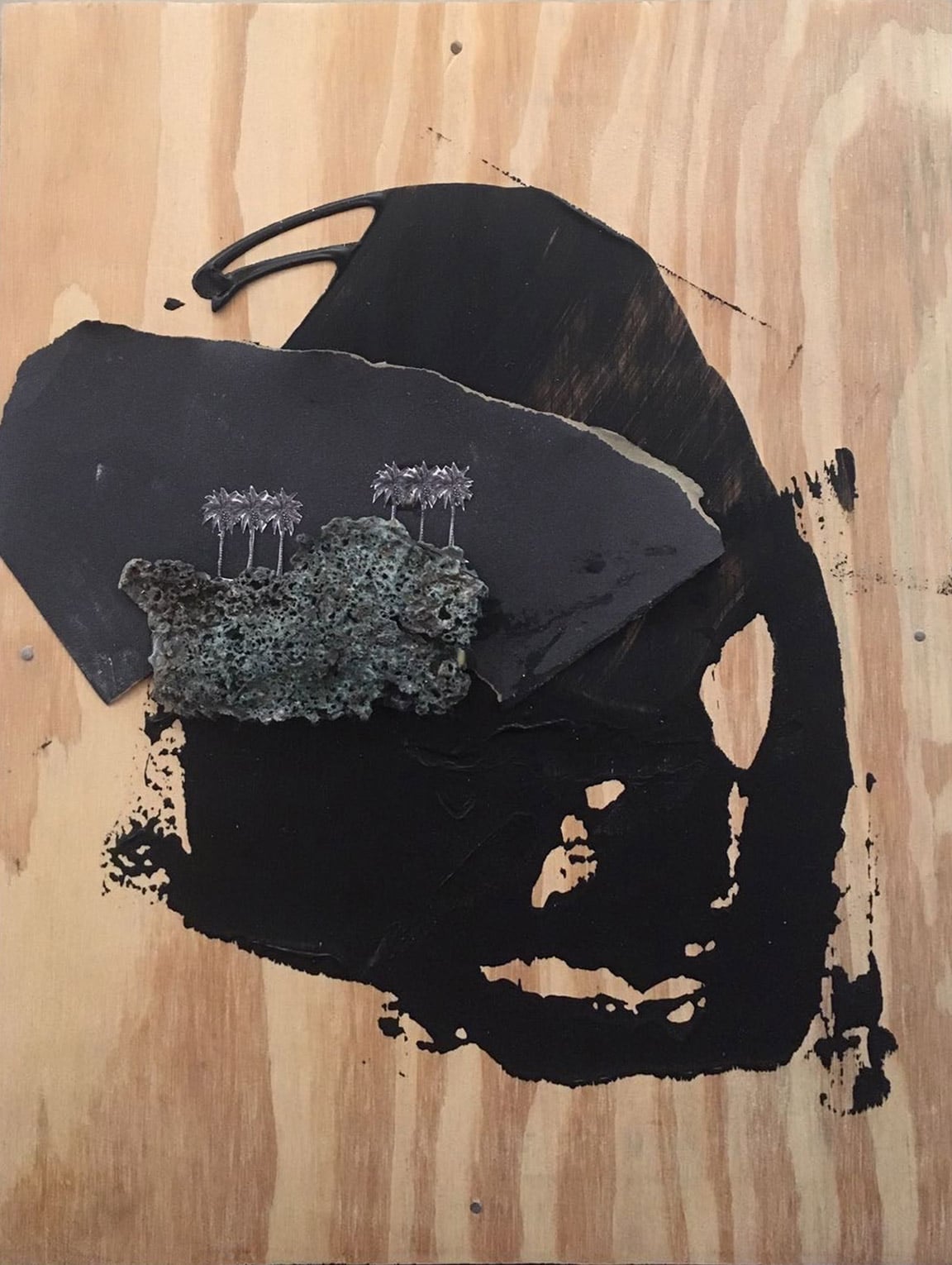 "Black Paradise" (2017), Jodi Minnis, found object and image with acrylic paint, 11" x 11".
The forgotten bits of found material help to further solidify this, when we see discarded bits of coconut shell and learn where these found objects came from. "I scavenged in the NAGB Sculpture Garden and had bags of glass, ceramic pieces, and things of that nature. It made me think of placement in particular. Thinking about what that space was (the current site of the Sculpture Garden that lays where the doctor for the first African hospital in New Providence used to be, hence 'Hospital Lane') and I began thinking about these objects in relation to that space. The fragments and objects gave me ideas of construction and the development that space is going through now, the way we are reclaiming spaces here."
She points out a rusted bit of metal on one of the black painted pieces: "This part is a shovel I believe, and I thought that, since we're speaking about plants and species that invade and take space, how that all goes hand in hand." And indeed it does. When we see the Junkanoo embellishments on some of the other works, that idea of embellishment works in strong contrast to the sense of honesty and humility of these found pieces. Perhaps we ought to harken back to our more humble roots, especially in thinking about the evolution of Junkanoo, and think of how our embellished present might not fully represent the nature of who and what we truly are. This might just be the way to find 'home' as it truly should be for us, rather than under a particularly shady coconut palm.