By Kevanté A. C. Cash
NAGB Correspondent
"FOUR" will break down the barriers to entry to conversations we neglect to have. "FOUR" will continue the conversations that exist today. It will spark new conversations, add layers of perspective to old ones, and shift the paradigm on what is understood as Black art, Black Bahamian art and Black Bahamian women artistry. "FOUR" will move the heart to hear, soul to speak and eyes to understand truth from a different vantage point. 
"FOUR", a quartet female exhibition, encompasses the works of Bahamian artists Gabrielle Banks, June Collie, Jodi Minnis and Angelika Wallace-Whitfield.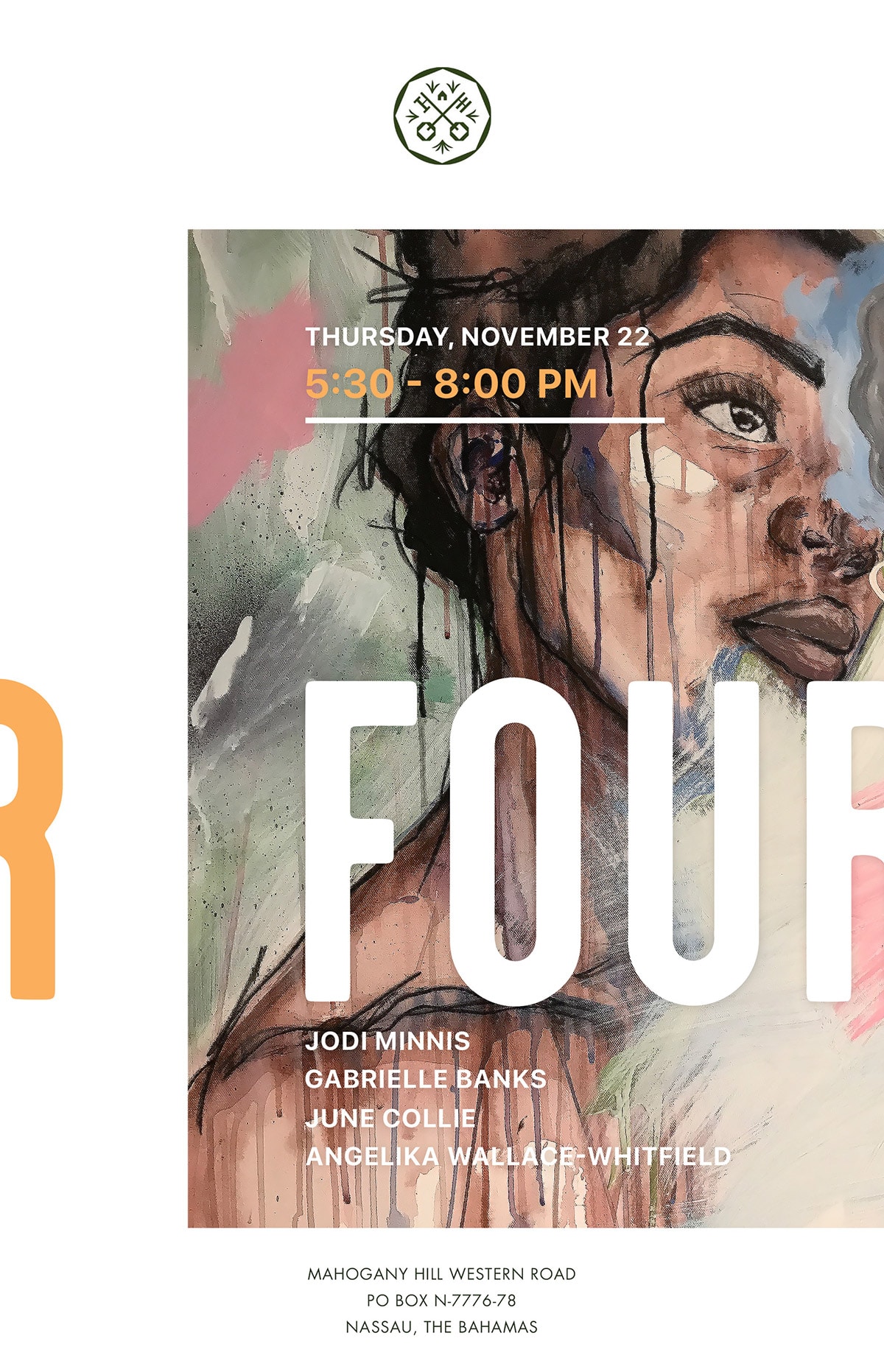 FOUR exhibition flyer designed by artist Piaget Moss, featuring artwork by Angelika Wallace-Whitfield.
According to Minnis: "The theme of "FOUR" is a hodgepodge of ideas we are all grappling with, but the common factor is that we all create work about the experience as women and the fringes of life that contribute to and/or from that."
Her work will focus on life post-gender equality referendum 2016 – how she's observed Bahamian society shift since then and how that redirection has affected her womanhood, sense of "Bahamian-ness" and state of being.
"I've been watching the social interactions of women in The Bahamas and how feminism manifests here, but specifically within New Providence. I've listened to conversations surrounding marital rape, domestic violence, the misuse of the term 'females' and it all seem like a never-ending cycle. My work is a manifestation of the issues I grapple with personally, and I expose myself in hopes to be met halfway with the same vulnerability I provide." 
Though this is not Banks' first time exhibiting, "FOUR" will be the second time her works has been showcased in The Bahamas with "such ambitious and talented women like Jodi, June and Angelika".
"Being a part of "FOUR" is more than just being a part of an "all-women exhibition". It's about the importance of creating space for women artists in The Bahamas, and having that be a consistent part of the conversation and tradition of our artistic culture."
Her work will investigate the issue and misrepresentation of Black women regarding the canon of art history and the history of oil painting.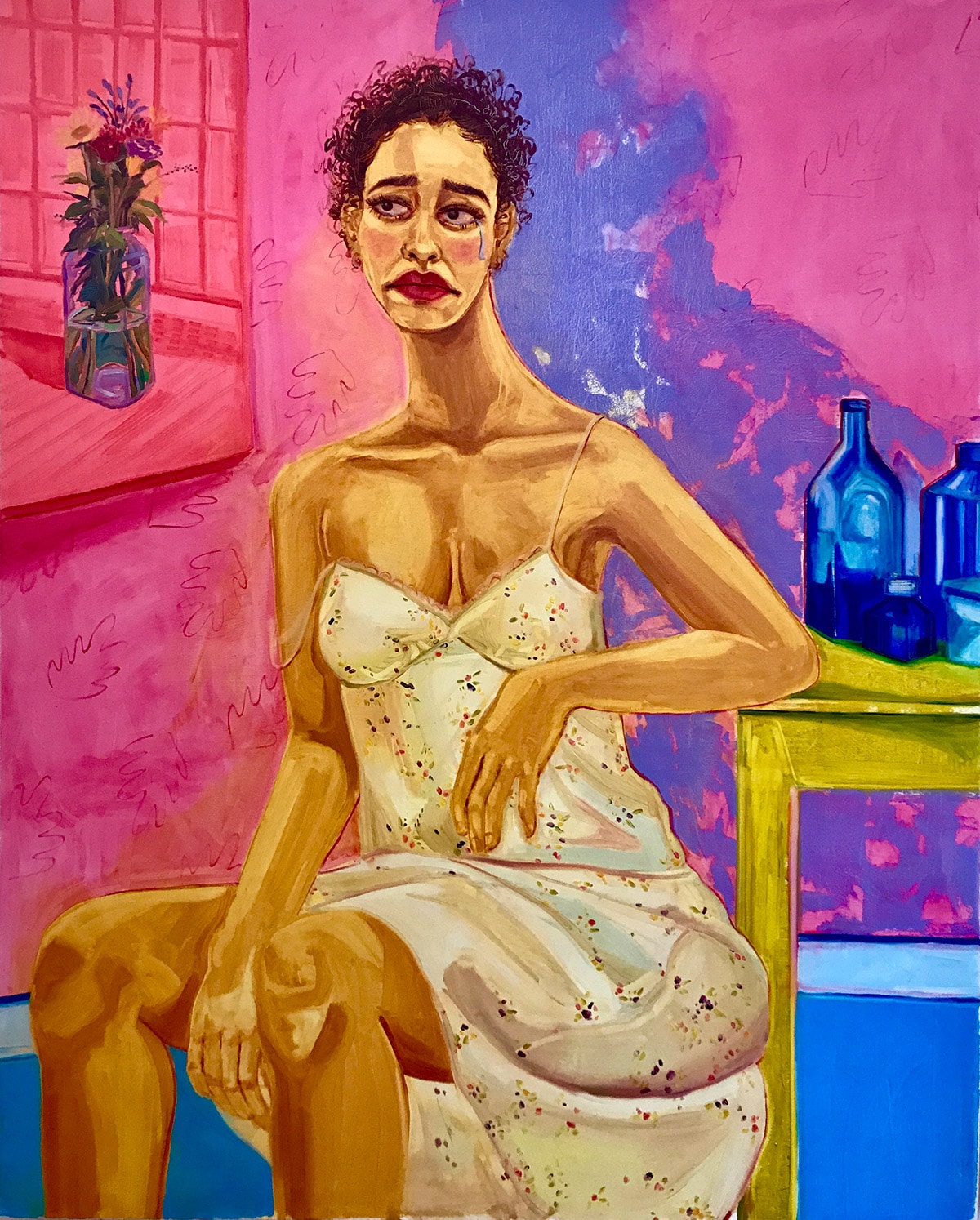 Momma's Watching (2018), Gabrielle Banks, acrylic on canvas. Work courtesy of the artist.
"Occasionally within the work, there are additional conversations of family and race which are generally represented through the interpretation of myself as a character or medium. But I think that all too often there is a limitation to the conversations around work created by women artists, and a general pressure to create work that is "expected" of our race and gender.
"FOUR" is an example of the diversity of skill and limitless avenues of exploration by women artists, while challenging the societal expectation and interpretation of not only what "Black art" is, but what is art created by women.. Because truly, what is the work from a Black artist, or a Black woman artist "supposed" to look like?"
June Collie's work explores the same facets of womanhood, but does so in a way that brings the mission of self-love and acceptance to the fore.
"My work has always been about womanhood and exploring one's self in a world where European features are celebrated. The most important idea to me is that these girls and women understand their beauty matters and should be celebrated; and not only their beauty, but their meaningful skills and passions that will contribute and add value to the world, too. 
"I do this by painting woman in their domestic spaces. This space allows us to be creative and comfortable in our own skin. It is a space where we regenerate to take on the next day. Our space is where we can be ourselves freely without judgment, and this self-confidence can spill over into how we live our daily lives outside of our homes."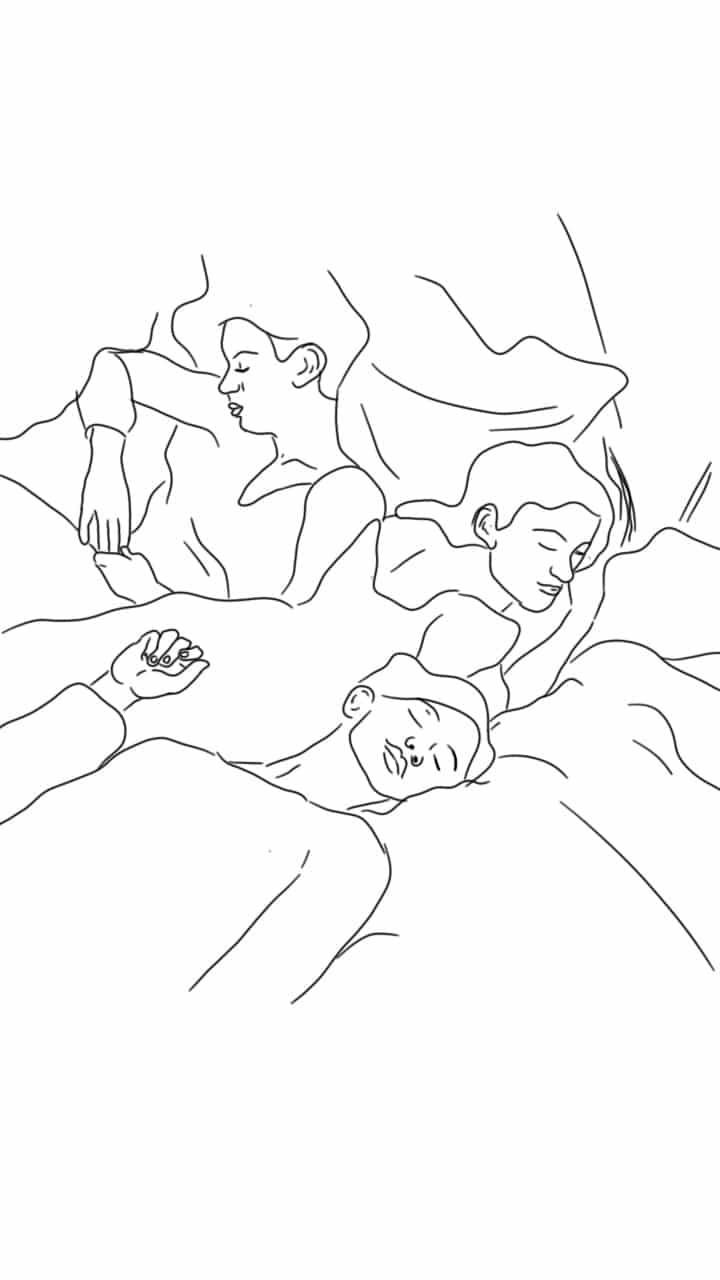 Preview works by June Collie.
For Collie, it's important for art to depict stories of race, identity and gender, and that it be told from the proper perspective. She believes the group of FOUR are doing just that.
Angelika Wallace-Whitfield says the opportunity to exhibit a body of work within this theme with a group of young women artists is "invaluable", as the motif was something she had been developing for a while.
Her sub-theme, 'Unruly', under the FOUR initiative will "make space for the inner desires of young adult women in 2018 – the things we are told to silence". 
"It will reveal the visuals of routines and habits the public doesn't see. It will elevate optics from the banalities of everyday life as a 24-year-old woman living in Nassau. I have depended on the women in my circle to sit for these paintings, and their lives for the narratives.
"Un" – is used to apply the opposite meaning to a word. Naturally as a prefix meaning "not", in most cases, "un" – applies a negative connotation to a word. A word like "unladylike" paints characteristics as disagreeable, instead of embracing it. 'Unruly' makes reference to something or someone resisting rules or governing. Although normally cast in a negative light, I'd like to elevate the unruly and give precedence to the unladylike, yet natural and banal, hidden visuals of everyday movements and emotions of a woman." 
"FOUR" will open on Thursday, November 22th, 2018 at The Island House beginning at 5:30 p.m. It is expected to be riveting, thought-provoking, charismatic and unparalleled. All are invited to attend.