There was a lively scene at Hillside House this past Tuesday when the gallery unveiled its newest exhibition, "Functional Sculpture". A group show, Functional Sculpture features the works of John Beadle, John Cox, Tyrone Ferguson, Robin Hardy and gallery owner Antonius Roberts.
It is curated by Beadle, who developed the idea of a show featuring furniture and décor designed and crafted by artists. He discussed the concept with Roberts, who supported the idea; the two got to work on planning a show at Roberts' downtown gallery.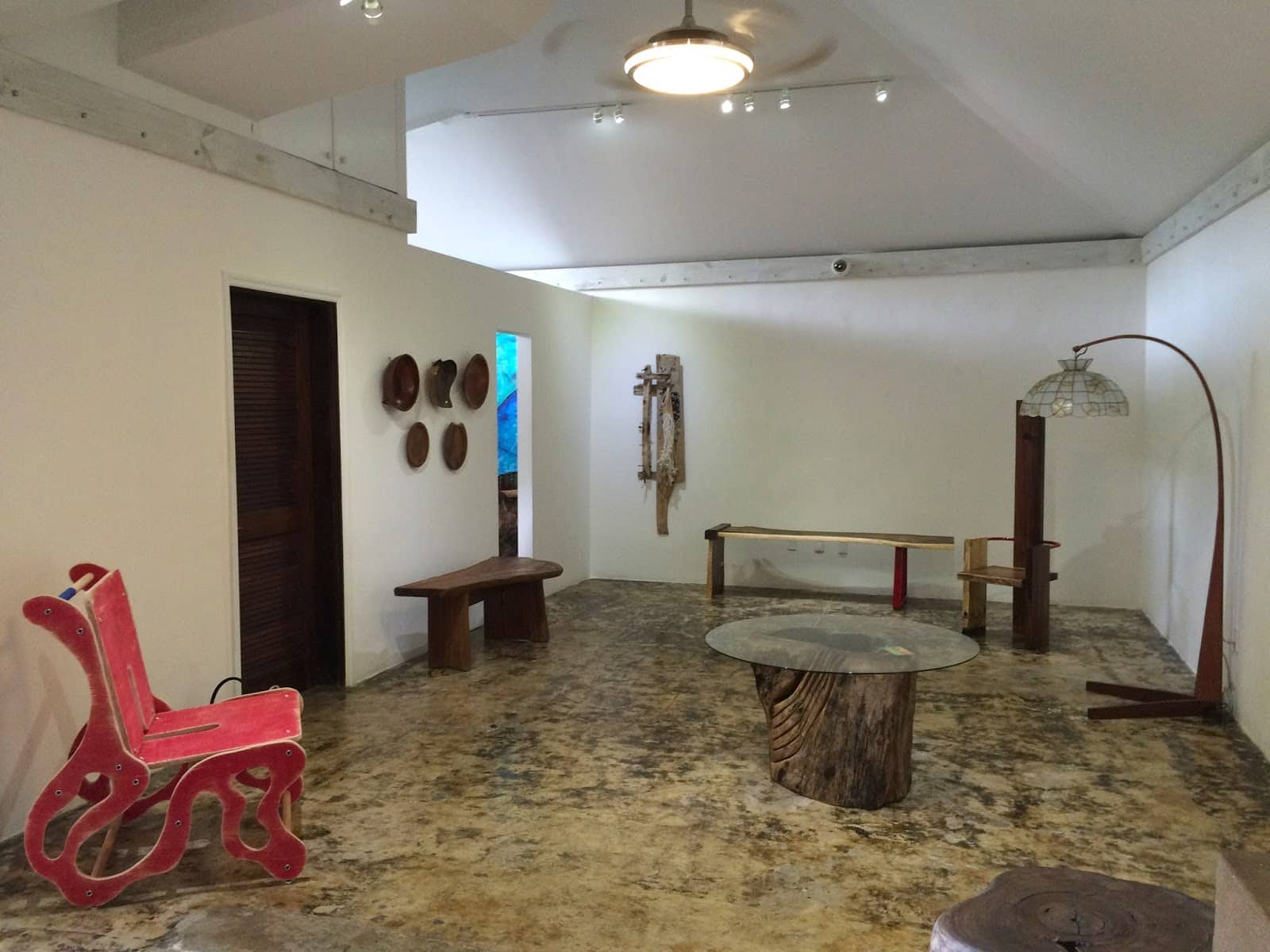 "It was initially John Cox, myself and Antonius [Roberts] – painters who also make furniture" explained Beadle. "From there it blossomed to include Margot Bethel, Tyrone Ferguson and Robin Hardy, but Margot, later excused herself due to a scheduling conflict."
While each artist was asked to submit two "functional" pieces and one wall-mounted piece, he was free to interpret the definition and purpose of "furniture". The hope was that the group, in a few months, would produce a collection that would be functional, comfortable and intriguing.
Beadle combined three local woods – woman's tongue, wild tamarind and an unknown salvaged piece – with red metal to design and build a contemporary chair and bench/table duo that is complemented by a mounted sculpture. The sculpture's elements, reminiscent of parts that might be found on a sailing sloop, echo motifs present in Ferguson's trio of a mirror, console table and coffee table.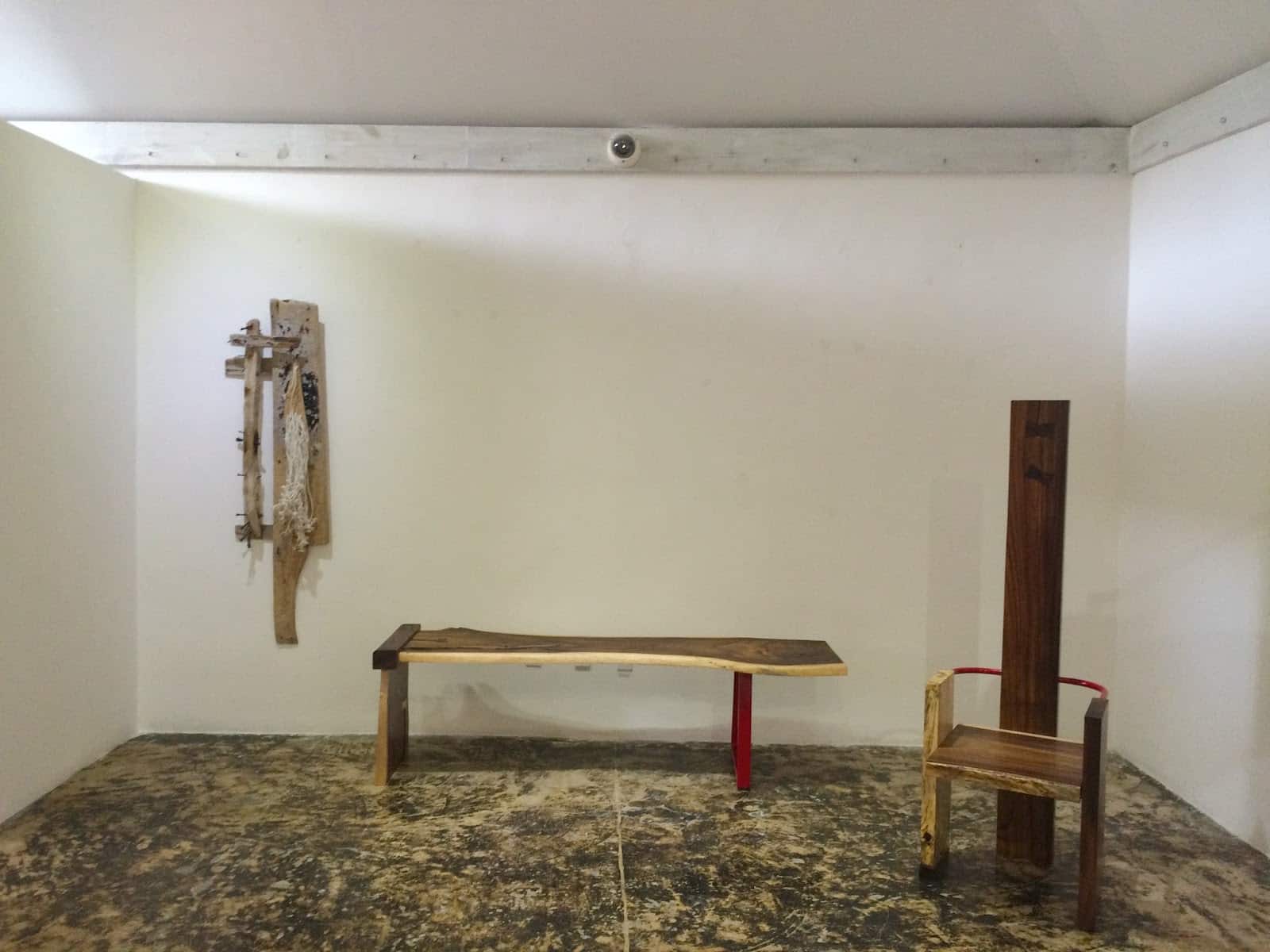 Known for his striking metal works, Ferguson incorporated wood salvaged from a Haitian sloop and industrial materials sourced from his childhood, when his family owned a workshop, in his "Epigenetic Engineering" series. In the series is a 'sailboat' mirror that is both beautiful and contemplative. His coffee table, too, is eye-catching in another way. Glass rests on a base comprised of industrial materials, and bits and pieces of machinery make the furniture itself a conversation piece.
"What each artist decided to make was up to him. Whether it would be typical furniture or not made no difference to me," explained Beadle. "We wanted to experiment with what an object designed by artists, referred to as 'furniture', would look like. So the anticipation was not a regular chair or a regular table. It was something different."
A pair of fanciful chairs that are both comfortable and regal in appearance are easily identified as John Cox's works. They balance the room with childlike whimsy. More of Cox's works and works in progress were on display yesterday at the PopopStudios Open Studios night.
The show's host adds two coffee tables and a mirror to the body of works. A hollowed trunk from a large wild tamarind tree serves as the base of one of Roberts' coffee tables, lending majestic flair to his collection. Burning the hollowed interior left the base smooth and provided a sensory experience of another nature with a faint burnt aroma. A smaller table crafted from the same tree and accentuated by the addition of goatskin calls attention to locale and speaks to the country and region's farming practices and relationship with the land and environment. The past and present pair up in his mirror, which is framed by centuries-old wood from the historic Hansard Building in Parliament Square.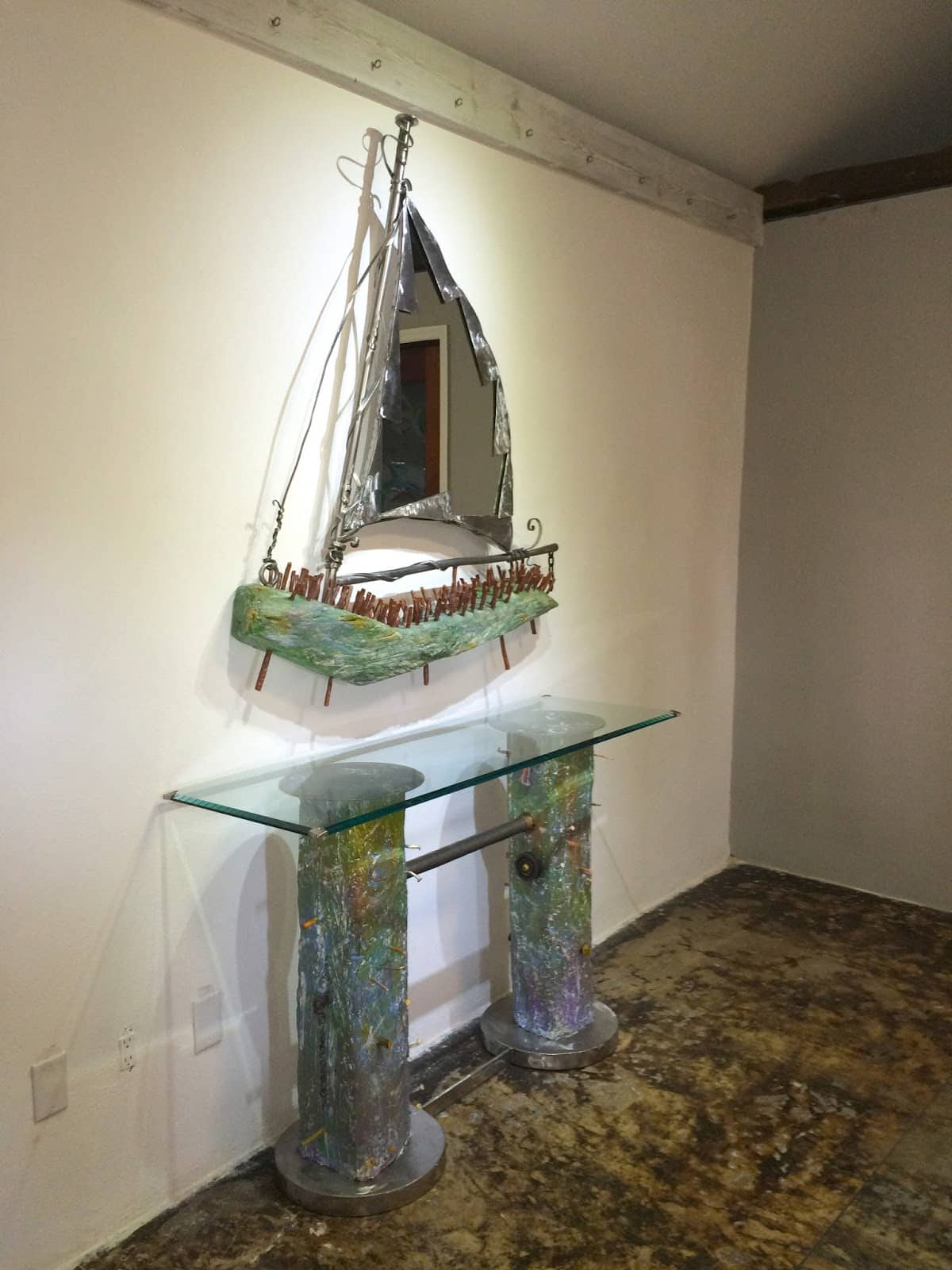 Rounding off the room – quite literally – are Robin Hardy's wall-mounted bowls. The wood turner has made a name for himself with his use of local trees in pen and bowl crafting. Hardy also unveiled a bench and bent plywood floor lamp – the only lighting fixture in the show.
The exhibition seems particularly suitable in a country, where, for so long, most structures were made from wood. According to Beadle, there is a large population of carpenters skilled in cabinetry, home building and furniture making in The Bahamas. He compares these kinds of crafts to fine carpentry.
"Carpentry is a big thing around here," said Beadle. "We are in an environment where most of the houses were clapboard. Everything was built out of wood. But there is a small population of designers who design with wood as the primary material and who sees wood as raw material to fashion their creative ideas."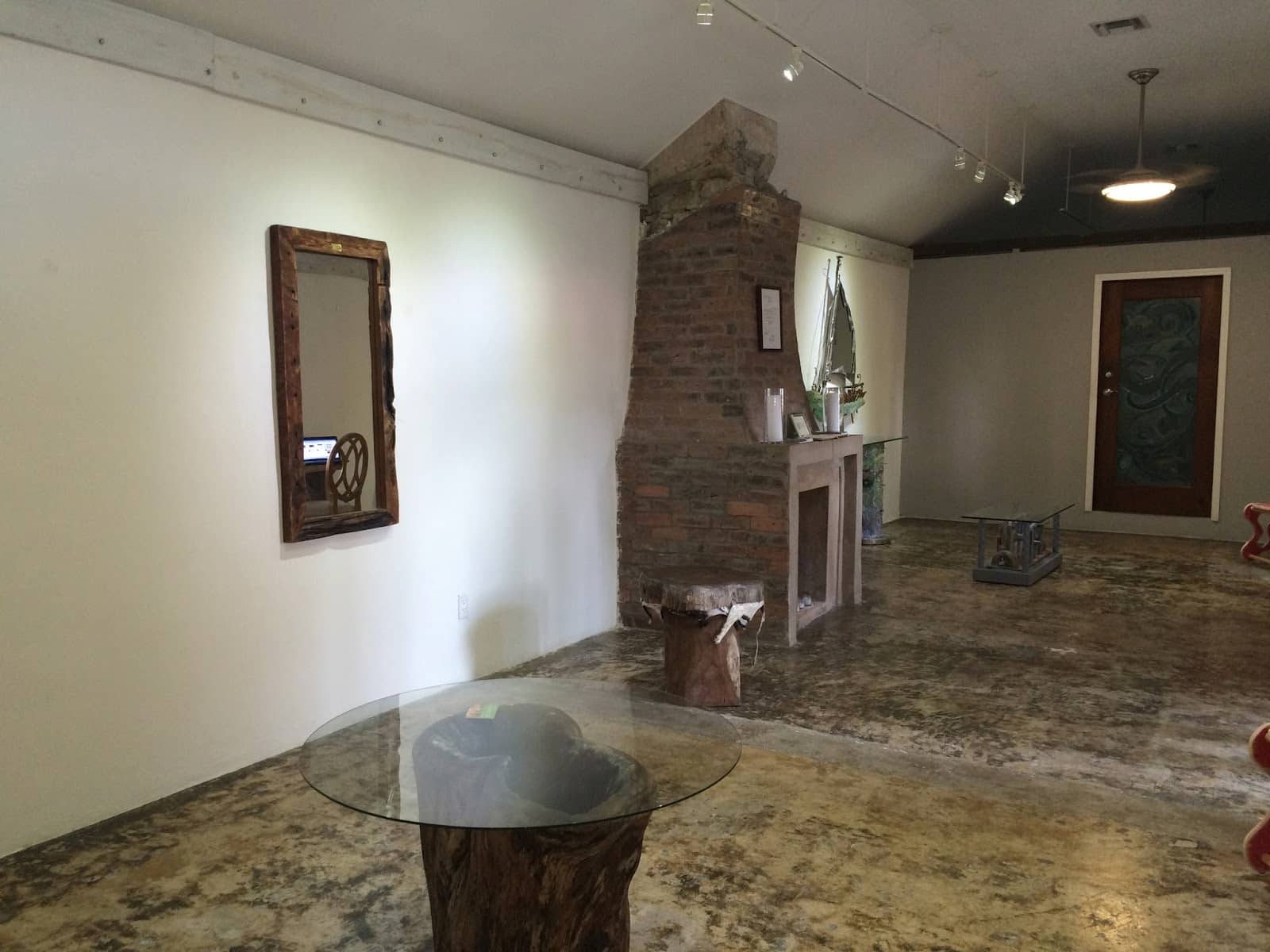 Beadle hopes this exhibition is only the first of a series of exchanges and encounters that encourages creatives to design with wood in mind, as well as any other material that serves the creative impulse, whether or not they are trained in the fashioning of that material.
"I think, I would like this to grow to a point where we have people, artists, creatives who design things. Forget about the skilled practitioners in the first instance; skill can be hired. It's not about whether you, as an artist, can build the object. It's about whether someone's design can function the way we expect it to."
He added, "I think, with the exercise of doing shows like this, the work future may become more eclectic, more fantastic and more ground in the experiences of this space."
"Functional Sculpture" will be on view at Hillside House through December 2015. Gallery hours are 10 a.m. to 4 p.m. Tuesday to Friday and by appointment.