By Keisha Oliver
Just a few days from a clarifying moment in Bahamian history, a sense of liberation and optimism is still felt throughout our islands. Surpassing the rhetoric of politics and governance, the social impact of May 10th's events has presented a lesson on the power of a nation through the people's voice.
In the weeks leading up to the 2017 general election, many Bahamians were concerned about the country's future. With younger Bahamians leading the way as the largest group of registered voters and millennials like Travis Robinson and James Albury making history as the youngest candidates and future members of Parliament, much hope has been restored for future generations.
Among the optimistic is thirty-year-old artist Durelle Williams, who recently returned to his canvas as a way to contribute to the ongoing dialogue of what its means to be Bahamian. As an Afro-Caribbean man and multi-disciplinary creative, Williams still struggles with defining and defending this evolving reality.
Durelle Williams, 2017
"From my high school years in Nassau, to studying and working in the US, I've been faced with so many people and situations that have made me question Bahamian identity."
Like many of his generation, Williams considers himself a 'creative generalist,' beckoning to the demands of a versatile workforce. After studying animation at the Academy of Art University and working in San Francisco as a designer, he returned to Nassau in 2014 where he lives and works as a tattoo artist, illustrator, animator and creative director of the tattoo parlour and artists hub, Uprising Studios.
Yesterday, Williams hosted the opening for his debut solo art exhibition "The Bahamas: Forgotten History" at The Ladder Gallery. Drawing inspiration from a culture both learned and lived, his work explores the Bahamian narrative stemming from European influence up to present day by revisiting objects, people, and traditions that exist as national symbols of heritage and remembrance. From the Lucayan and Spaniard to the poised Junkanoo dancer, to a recreation of the historic 1965 Black Tuesday, Williams paints a story on reflection.
"This body of work focuses on our country's past and present. From my perspective, I'm sharing the history I was taught in school, traditions I learned from family and friends growing up and experiences I've endured living in The Bahamas and abroad."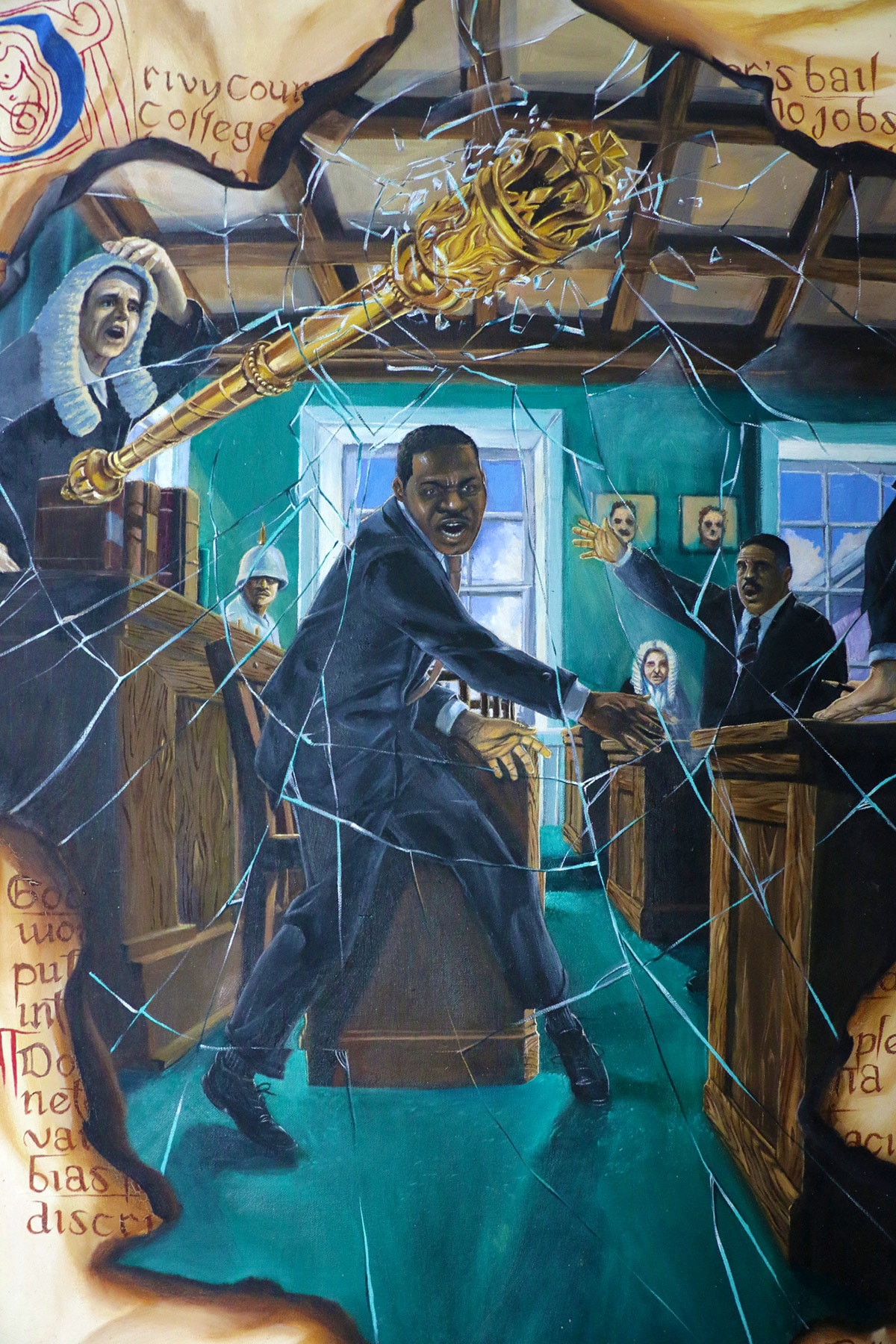 'Black Tuesday, by Durelle Williams, oil on canvas. 2017
The collection of traditional paintings offer a glimpse into the social, cultural and political moments that have helped define today's free, proud, and progressive Bahamas. Although not chronological or comprehensive, each piece feels like a page from a history book, offering illustrations which in many cases do not exist in many textbooks. Yes, the facts are accounted for in literature, but rarely do relevant images exist to support these words.
Williams follows a tradition of pioneering Bahamian artists, like Brent Malone and Maxwell Taylor, and contemporaries, like Kishan Munroe and Edrin Symonette, whose work often documents and revisits these narratives. These artists provide visual context that help frame a lot of what is taught in schools today. They are helping the new generation of learners who depend on digital technology and interaction to better engage in learning about their national identity.
"The Bahamas: Forgotten History" should not be confined to the practice of painting, but belongs to wider critical discourse on patriotism and cultural preservation. Like other artists working in this vein, they too are researchers whose work traverses into inter-disciplinary practices. Not only can pieces like "Island Maid" and "1492" be used as tools for education, but Williams is also bridging the gap between art and politics. Stemming from a crucial theoretical basis the work shows an understanding of empirical and conceptual importance within a democracy.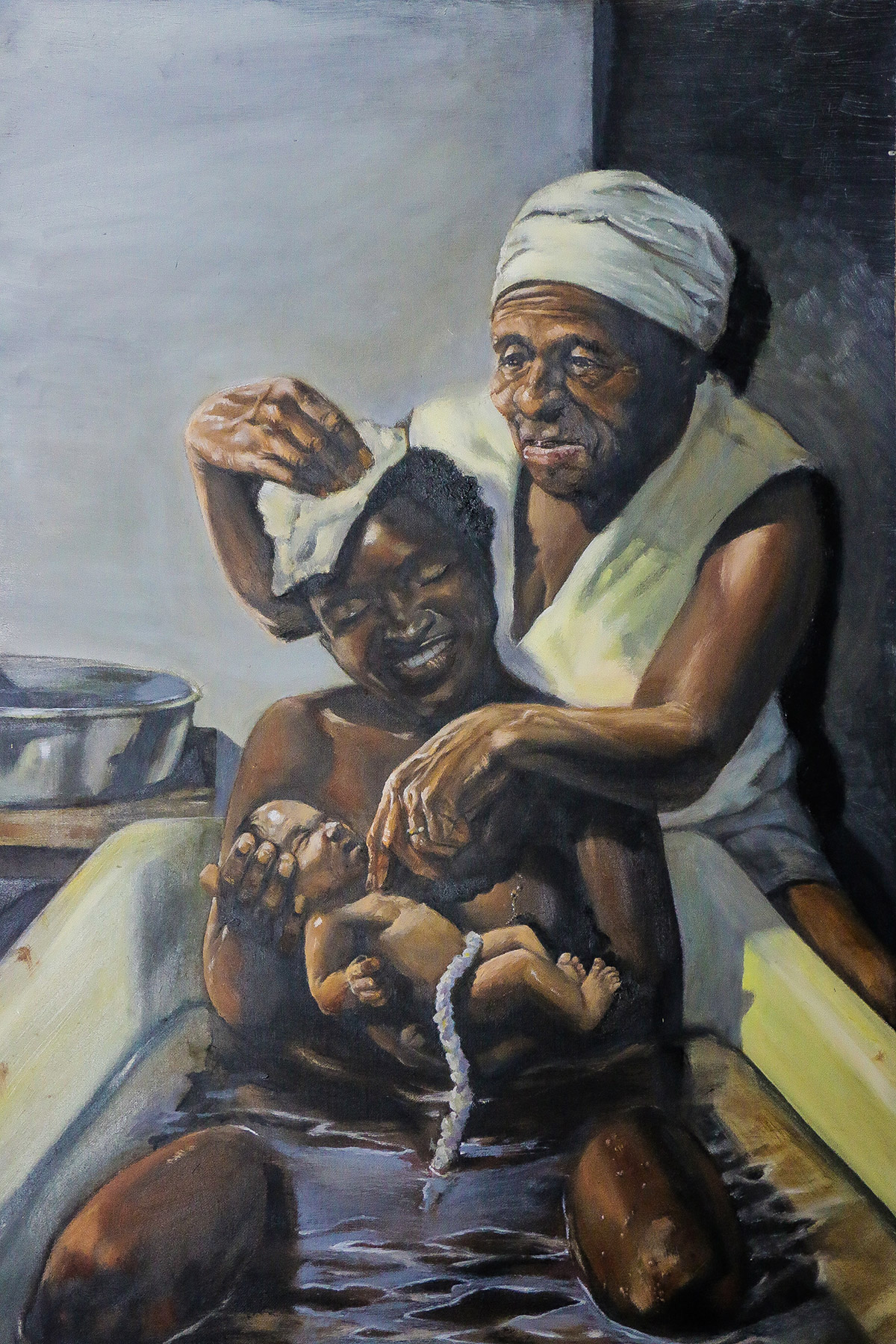 '3 Generations, by Durelle Williams, oil on canvas. 2017
His oil painting "Black Tuesday" brings to life the significance of April 27, 1965. Typically referenced only through the black-and-white photos of the street protest, Williams allows us to appreciate the passion and patriotism of that special day that wasn't documented through a lens. His attempt to capture the critical moment of the Opposition Leader, Sir Lynden Pindling, throwing the mace out of the window of the House of Assembly is layered with so much emotion and vigor.
This exhibition challenges the viewer to reflect and consider one's personal and civic trajectory in preparation for this new national journey. It underscores the age-old saying, "You can't know where you are going until you know where you have been." Williams asks that we consider what we have endured and how we can learn from these experiences.
One of the featured pieces in the exhibition is "3 Generations," an oil painting that depicts a mother embracing her daughter, who has given birth to her newborn. Being the eve of Mother's Day, it would be remiss to ignore the obvious celebration of motherhood and the "passing of the baton" through time, responsibility and tradition. Set in the post-colonial period we see—despite societal oppression and poverty—a sense of joy and unity prevails. For Williams, the piece exists as a symbol of appreciation and regard for our ancestors who endured tougher realities. "This painting shows how tough these women were to survive for so long in the absence of the privileges and resources we have today."