Doongalik Studios is proud to announce the opening of the first Bahamian group print show entitled "Imprint' on Friday, November 30 from 6-9pm. The Exhibition will feature the works of master artist, Max Taylor, along with Sue Katz and Kendra Frorup.
The idea of a group show of Bahamian print artists was something that Taylor has wanted to do for years. Teaming up with Katz and Frorup will make for an interesting exhibition, as each artist will be bringing their own style of printmaking to the mix.
Well known as the Bahamas' premier printmaker, particularly for his large and elaborate wood cuts, Taylor has spent his life as an artist pursuing all manner of printmaking, having recently completed an etching course in the U.S. As an artist he believes that one should never stop learning as there are so many different art forms to be pursued. Etching is a labour intensive, time-consuming process which allows the artist to develop textures in various ways. True to his Bahamian roots whilst growing up over the hill in Nassau which he claims "is where the culture lives", Taylor is paying homage to these roots by displaying images of the magnificent silk cotton trees, as well as the clapboard houses that are found in abundance in these areas, images that he has loved all of his life.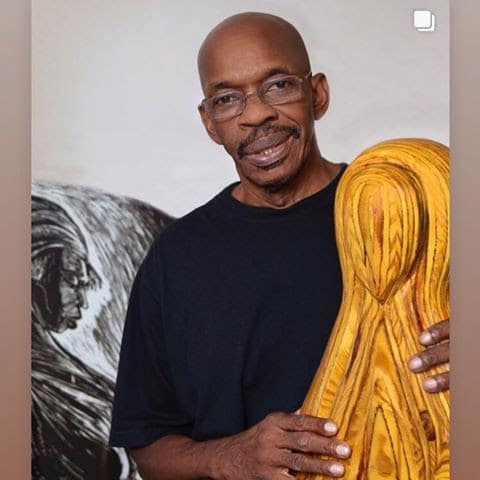 Master printmaker, Maxwell Taylor.
Taylor is committed to also providing weekly demonstrations of the print making process at the gallery, and is looking forward to as many students as possible visiting the exhibition. He reminisced about the time he spent during the annual FINCO summer workshops in the 70s providing printmaking courses for eager art students, and he is very pleased with the amount of younger artists who are presently pursuing courses in this medium.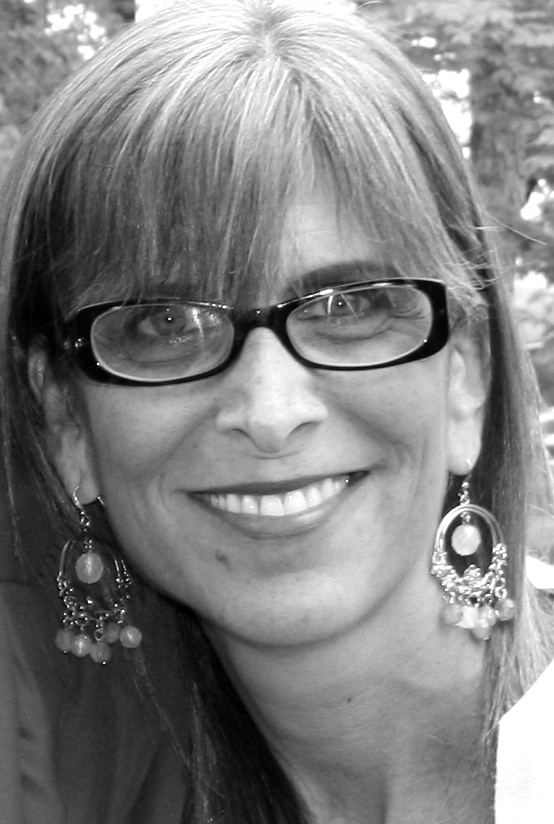 Artist Sue Katz
A relative newcomer to the world of printmaking, Katz, who trained as an illustrator and is known for her stellar paper collage work, first started take printmaking courses ten years ago by attending workshops in Santa Fe and Chicago as well as in Florence, Italy. She was attracted to the fact that printmaking had a graphic quality and style and she felt that it was an opportunity to work with a different medium which would take her to another level of creativity and thus give her the chance to combine many of her artistic elements. She was ready to step outside her box. Although she found it quite challenging, she was determined to find her own unique style.  
Her work consists of a variety of mark making techniques using graphite and crayon on mostly smaller abstracts, with a few figures, all heavy on color, an element that she would not compromise on. "I am not afraid to use color, When I am working I use various patterns, colors and images that I feel connect on a design level, these choices are never random."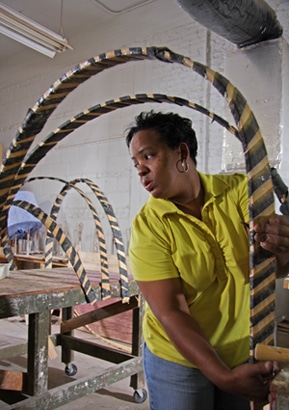 Artist and Educator, Kendra Frorup
Bahamian sculptor Kendra Frorup, who is currently an Assistant Professor in Sculpture at the University of Tampa, is excited to be a part of this print trio. She also uses her memories growing up in Nassau as an influence in her art. Welcoming the opportunity to study in the United States, she began to create representational images that showed a commonality with her culture. Gil DeMeza, one of her former professors at the University of Tampa, stated, "Her creations are works which exhibit both poignancy and invigorating humor. She is a dreamer of the first magnitude….the viewer is never left disappointed or hungry." 
The Exhibition will be on display into January 2019. Gallery hours are Monday – Wednesday 10am – 4pm. Further information can be obtained by contacting the gallery at [email protected] or by telephone at 394-1886.