By Keisha Oliver.
As art lovers, we often enjoy the experience of admiring finished works in galleries and exhibition spaces, but rarely consider and appreciate the creative process and the journey it takes to get there. Bahamian artist, educator and curator Heino Schmid whose professional practice is concerned with the narrative and the reconsideration of personal stories has brought this conversation to his curatorial practice.
"In Progress" offers a glimpse into new and current works by eight contemporary emerging Bahamian artists Blake Fox, Steffon Grant, Nowé Harris-Smith, Jordanna Kelly, Navarro Newton, Edrin Symonette, Allan P. Wallace and Andrew Weech. Neither unfinished canvases or sculptures, Schmid curates a complete collection of 'concepts-in progress' which capture the essence of each artists' creative state of mind displaying critical and contemplative moments spanning traditional and experimental media.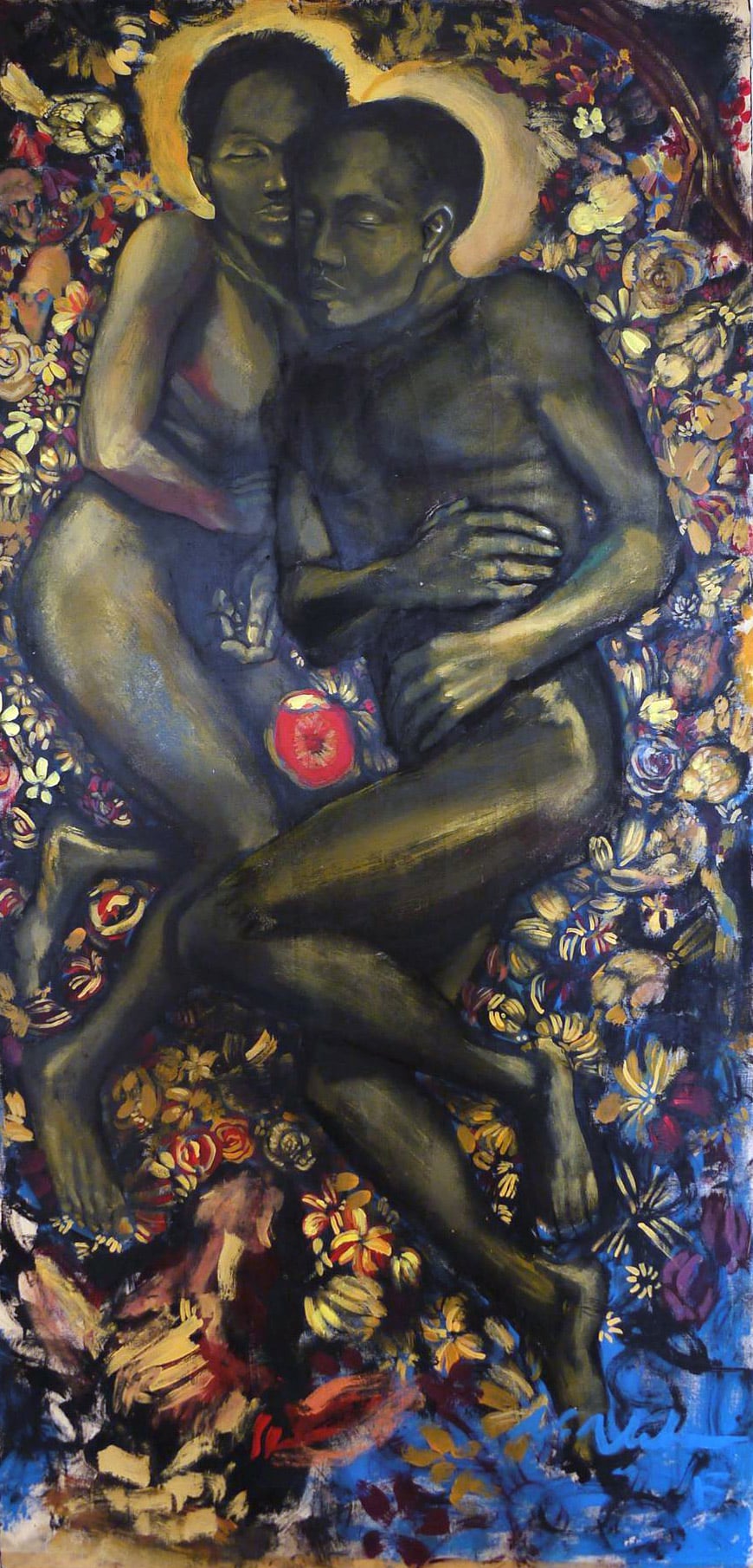 'Asleep in The Garden' , acrylic on wood. by Navarro Newton, 2017
Crossing a bridge from the realism in Wallace's familiar traditional paintings to the abstraction of Weech's minimal squared compositions allows the viewer to journey through a variety of styles and expressions very different from Bahamian art twenty or even ten years ago.
Although not thematic, the exhibition's curation makes interesting visual connections that at its core explore forms, figures and the landscape spanning a myriad of thoughts on identity, community, and time. The intimacy of the space and close placement of the works allow the audience to consider pieces in isolation. The sequencing forces your thoughts, one painting floating into the interpretation of another. The movement and influence is reminiscent of the reality and dynamics that exists in small creative communities like The Bahamas. Even though working in solitude creative thinkers would like to believe their ideas are rare, in truth they are often inspired by universal and collective thoughts shared by their peers.
For frequent exhibition supporters and avid art enthusiasts, some of the works in the exhibition should be familiar. The delicate and colourful paper assemblages by Jordanna Kelly from her Central Bank solo exhibition 'Bugs, Blessings and Barriers' touch on ideas of balance and appreciation through one's physical and spiritual landscape. While Navarro Newton continues with a similar style of marks and patterns developed from works in 'Metanoia' that began as a personal journey toward self and developed into a broader investigation into post-colonial heritage, blackness, and identity.
This discussion of who we are and where we exist physically, spiritually or emotionally has been addressed in literature and fine art largely in recent years, particularly within Caribbean communities. For Newton, his large-scale painting 'Asleep in The Garden' considers the story of Adam and Eve during Creation straddles on themes of gender, race and the spiritual being.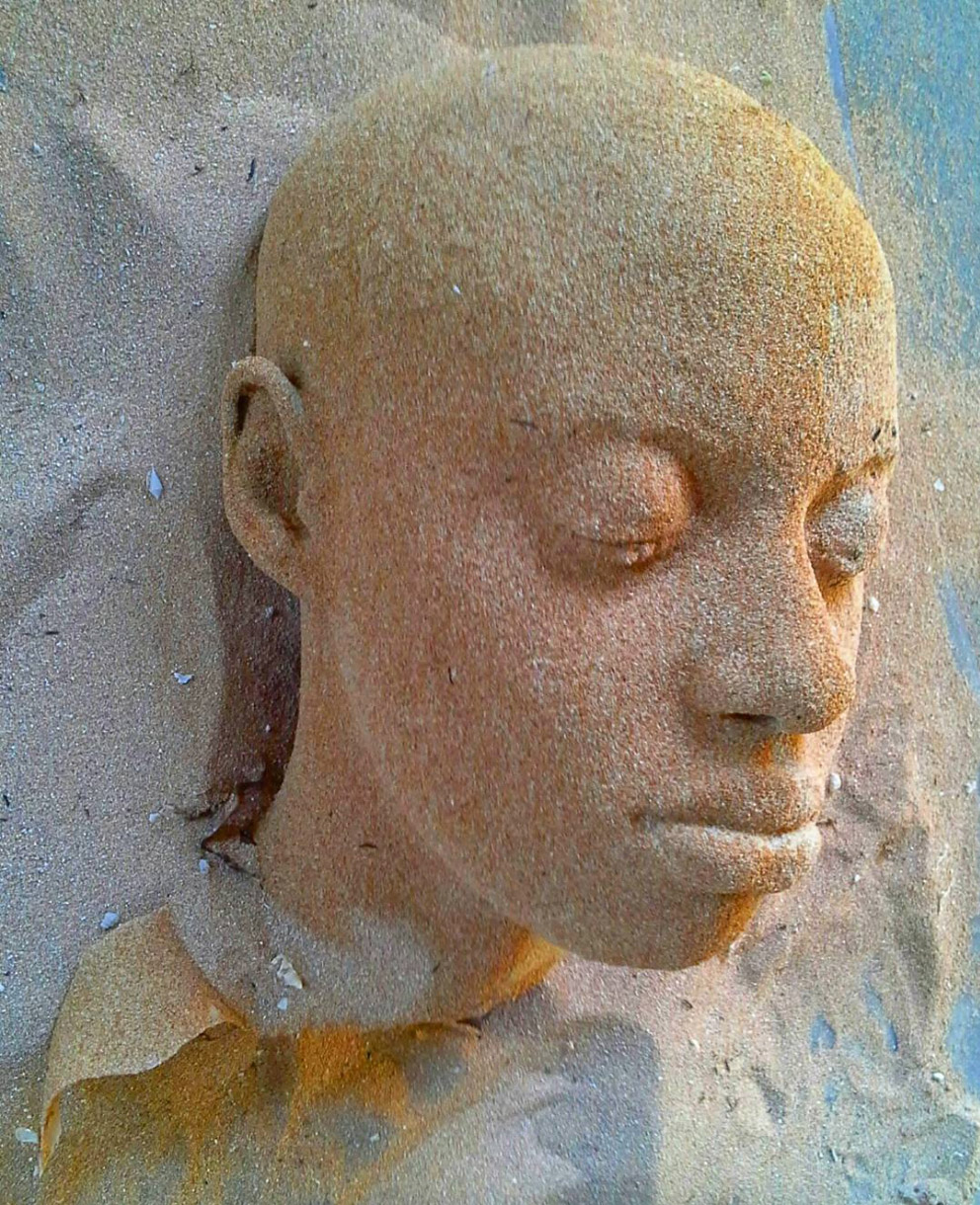 'Island Girl Nowé Harris-Smith',  sand, coral, resin. by Edrin Symonette, 2017
"Artists often paint life as this dark thing, and I feel that it deserves more emotion than that. I like to think that you can have profound calm and cool moments. Like right after Adam and Eve ate the forbidden apple would have been a moment of so much consideration and my piece aims to show that."
Newton's dark female and male figure adorned only by halos seen laying naked in a bed of flowers with a single red apple offers layered conversations on duality:  historical and contemporary art, Western and African traditions, along with masculinity and femininity.  He shares that his choice to articulate black skin tone in the work continues his exploration into the re-imaging of blackness in religious, social and cultural histories.
Circling themes of gender, identity, and environment Newton's work shares similar interests to Edrin Symonette who explores visual constructs of people who live on an island or perceptions of these people in his series 'Island Boy, Island Gal'. "I have a friend from Philadelphia that thinks about living in The Bahamas as being on the beach every day. She doesn't think about our economic climate or social ills. All that she focuses on is the fact that we can go to the beach whenever we want. I decided to use this perspective as the inspiration behind constructing my identities of island people."
Symonette's work over the past two years has been concerned with trying to create an identity of what a Bahamian is. His recent works often repurposes elements from the natural environment like the conch shells used in "Residues of a Colonial Past" a sculpture installation portraying a partially buried figure is currently on display in the Project Space room at The National Art Gallery of the Bahamas. In this work, he explores the Bahamian identity as it relates to traditions and modalities resulting from colonisation.  In 'Island Boy, Island Gal' Symonette focuses on the portraiture and uses sand and coral to adorn the molded resin forms. Of the seven pieces in this exhibition two feature portraits of fellow artist Nowé Harris-Smith.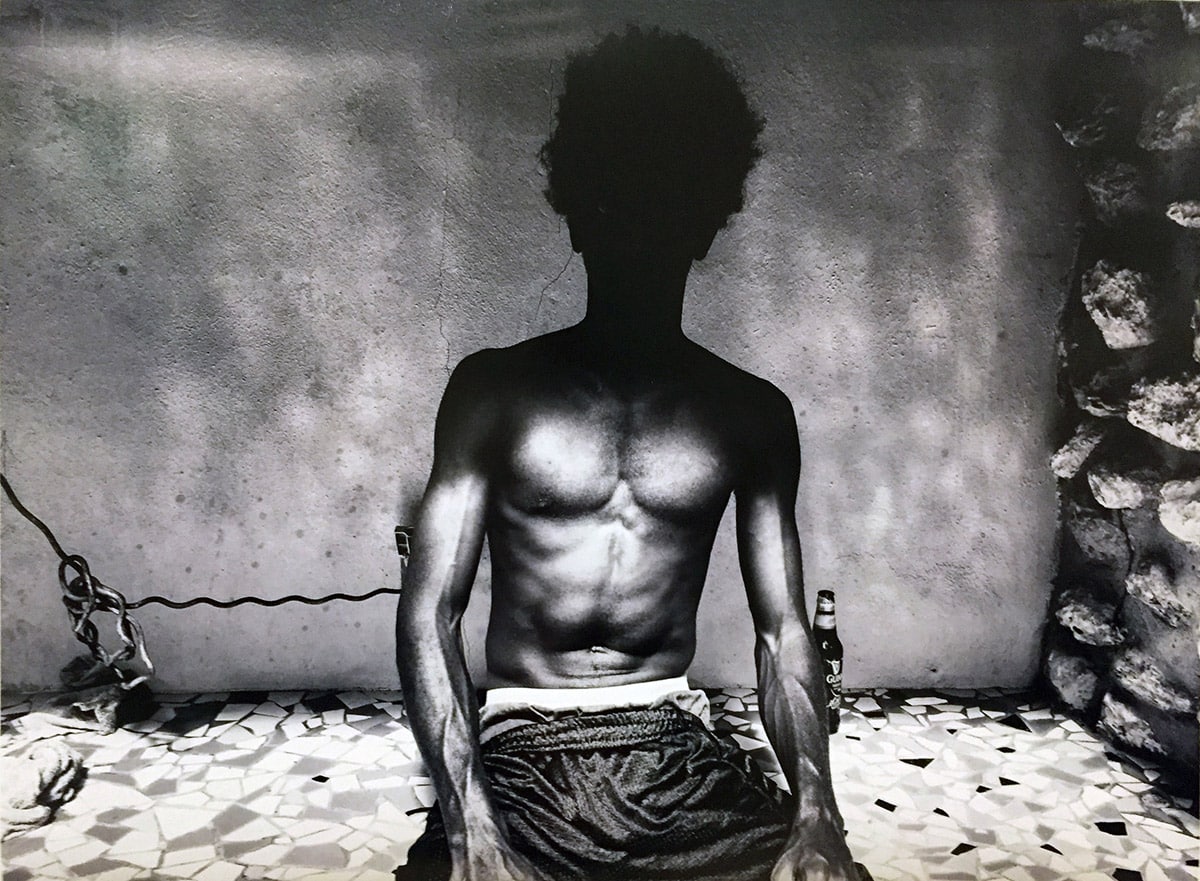 'Shadow' Nowé Harris-Smith', digital print. 2017
"I chose to use a specific type of sand for each of the head pieces. 'Island Girl Nowe' includes two types of sand, one that is lighter and one that resembles dirt. Their difference emphasises the duality in Nowe's persona and style."
Like Symonette much of Harris-Smith's recent work deals with interpretations and representations of identity. She is more concerned with the abstraction of the universal human experience and uses photography as a means to begin a dialogue on what is real and what is imagined. In her piece 'Shadow' a candid black and white photo of her friend sitting outside his home, the composition plays with light and shadow to illustrate figure with a concealed identity, a faceless young man. Although staged the photograph is suggestive of everyday island life and a fading sense of community.
A scene of a young man with uncombed hair sitting outside alone, bare back, with a beer bottle to one side and waiting. You may look and ask, "Why is he there? Who is he?" These questions echo broader concerns of social disguise, fear, and uncertainty that prevails modern Bahamian society.
In Progress' will be on display in The Meeting Room at The Island House until Thursday, April 13th, 2017.