Kevanté A.C. Cash
NAGB Correspondent
Upon first glance, And1Dunna, the Nassauvian poet, may appear to be overly confident. He moves with an indescribable yet magnetic force attached to him like glue, but once you get a bit closer in proximity, you discover he is just your average, down-to-earth wordsmith who opts to pair his poetry over rhythm from time to time.
Andrew Gomez, professionally known as And1Dunna, has decided that now is the time for his audience to experience him in the fullness of his rapper persona. Releasing "SLAPS!," his first mixtape and second musical body of work this past June, allows him to do just that.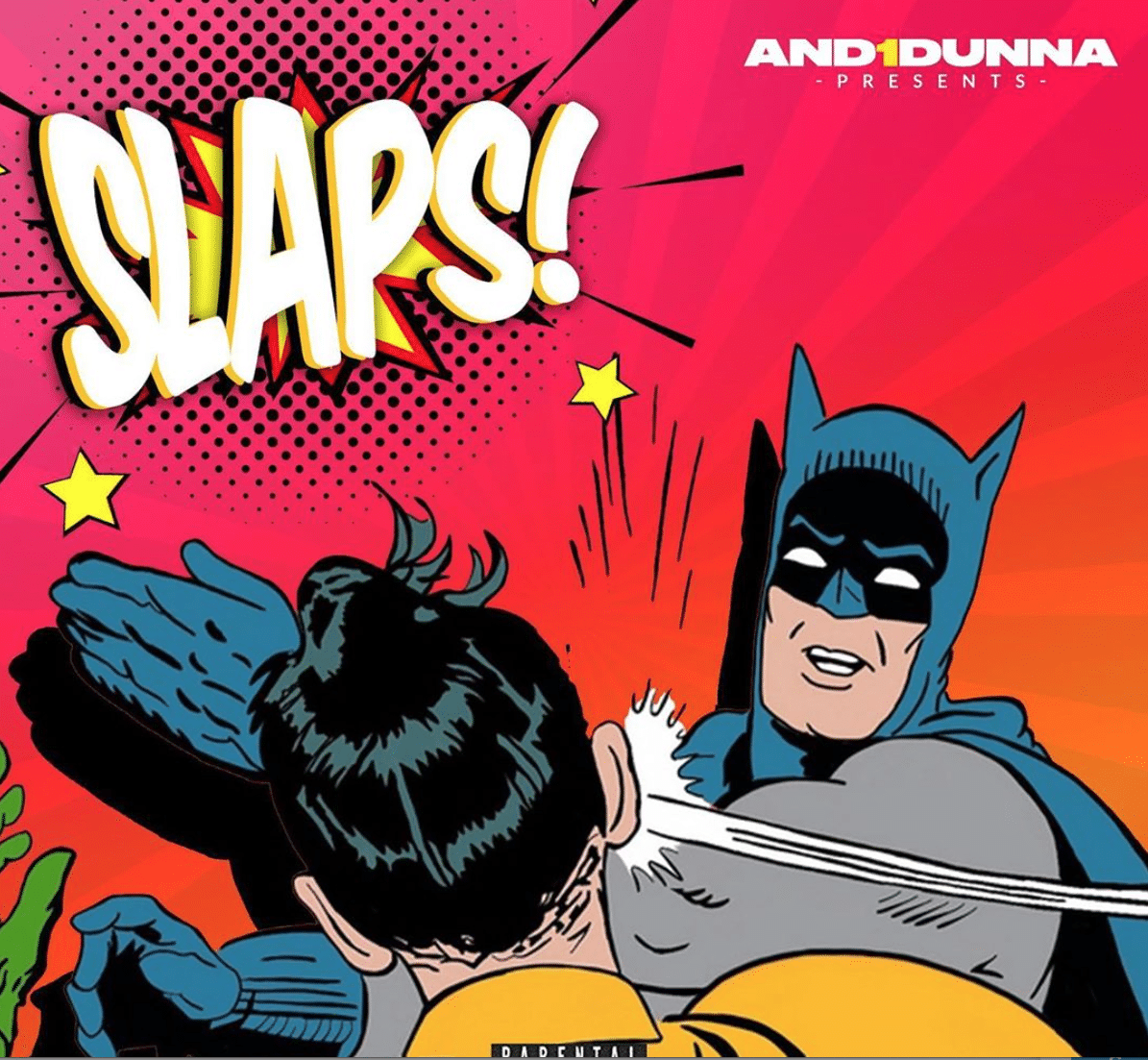 Artwork for Gomez's latest project "SLAPS!", found on SoundCloud.
The four-track anthology cultivates the "summer mood" all Bahamians can get into with its braggadocio lyrics complemented over tight beats. Three of the beats are samples of records produced internationally and performed by international artists, while the popular track, "Talk About It", was mixed, mastered and produced by local engineer Keith "Keith Zanz" Sands.
With both a poetry and rap career on the rise, as well as adjusting to the shift in a new working environment, And1Dunna, is having the busiest summer ever. However, he clears up a few minutes in his day to sit and talk with me about this new work and his plans for the future.
I've been following your sound for a minute and I can definitely say I noticed a difference in approach to this latest body of work, in comparison to your previous release. What do you think made the difference this time around?
Thank you for having me. Honestly, the idea of "SLAPS!" came about during a night of happy hour with some friends. I didn't take the thought seriously at first, but after a few days of reflecting, I decided to put pen to paper and give it a try. The goal was to have fun on the tracks while showcasing lyricism and braggadocio. I feel like I went back to my "roots" in a sense because the songs released earlier in my career had the same vibes. I didn't overthink my writing process which allowed me the freedom to express thoughts without filter. I think that's where the difference lies when compared to my previous work. They all have a consistent conscious approach, and something different was definitely needed.
How is your rap career different from how you've established yourself as a poet?
I think the majority of people who listen to my music would consider me a "conscious" rapper. I tend to make songs reflecting life issues, whether they are personal to me or not. Recently, I've found myself taking a similar approach as a poet. The only difference is that most of my poems are not complemented with music and I think that is the thin line separating the two career paths.
How do they intersect?
They're both subgroups of the creative community and I'm able to use the resources I have from both facets to obtain certain objectives, such as hosting shows or cultivating my capabilities through creative writing sessions. I'm happy to have this advantage. Being established in both fields allows me to network with ease. However, there are people who prefer my music over my poetry and vice versa. This has gradually become a pressing issue for me; but truthfully, at this point in my life, I find myself gravitating towards poetry more than music for a number of reasons. Nonetheless, music has a soft spot in my heart than I can't seem to shake.
Did you start out as a rapper then stumbled into poetry or was it the other way around?
I started out as a rapper in high school during the latter part of 2008. It was something I found myself doing on a daily basis and considered it one of my passions, after sports. During my tenure at the College of The Bahamas, now known as the University of The Bahamas, I gradually shifted my style of rap to better suit my new audience. Through the process of doing this, I met spoken word artists like De'angelo Whyms, Tanicia Pratt, and Jon "Bjon" Bain… and my journey into spoken word poetry began. This was around 2012 and 2013.
Let's get into the tracks themselves. My personal favourite is "Talk About It" – the flow and lyricism of it is what captures me the most. What inspired this track?
For a while, I was thinking of what type of single I would want to release in 2019. I already released the "summer vibes" and mellow love songs and this time around, I wanted a sound that was more up-tempo and aggressive. Once I knew what I wanted, I got into contact with Keith Zanz and the rest was history.
"Money In The Grave" sounds more like an anthem of some sort – a principle to live by, if you will. What thoughts were running through your head while creating this?
"Money In The Grave" was the last song recorded. At the time, I didn't know how I would list the tracks but I needed to go hard on this one. Drake and [Rick] Ross had already set the bar on the original version, so my goal was to top that and do so effortlessly. I had a lot of fun while preparing mentally for the track. I needed every line to hit. Instead of worrying about which flow to use, I just had fun with it and the final product spoke for itself.
I noticed, of the four songs, three were freestyles. Firstly, does that mean that "Talk About It" was something you had in storage for a while, specifically for this project? Secondly, what does a freestyle session look like for you?
The original plan was to release "Talk About It" in June and have a visual for it by mid-August depending on the feedback. Like I mentioned earlier, "SLAPS!" was a random suggestion that came up through friends and I decided that if I do it, I'll make "Talk About It" the main track. But I think freestyle sessions for me are all unique in their own ways. It may be a closed or open session depending on the studio, but a few drinks and laughter is overwhelmingly present for these sessions.
Of all the tracks, which is your personal fave?
They all slap, but "Talk About It" is where it's at.
What do you hope people take away from the music?
That "Dunna" still got it.
What can we expect from you next? Another album, more mixtapes or collaborations?
More Visuals; More Slaps!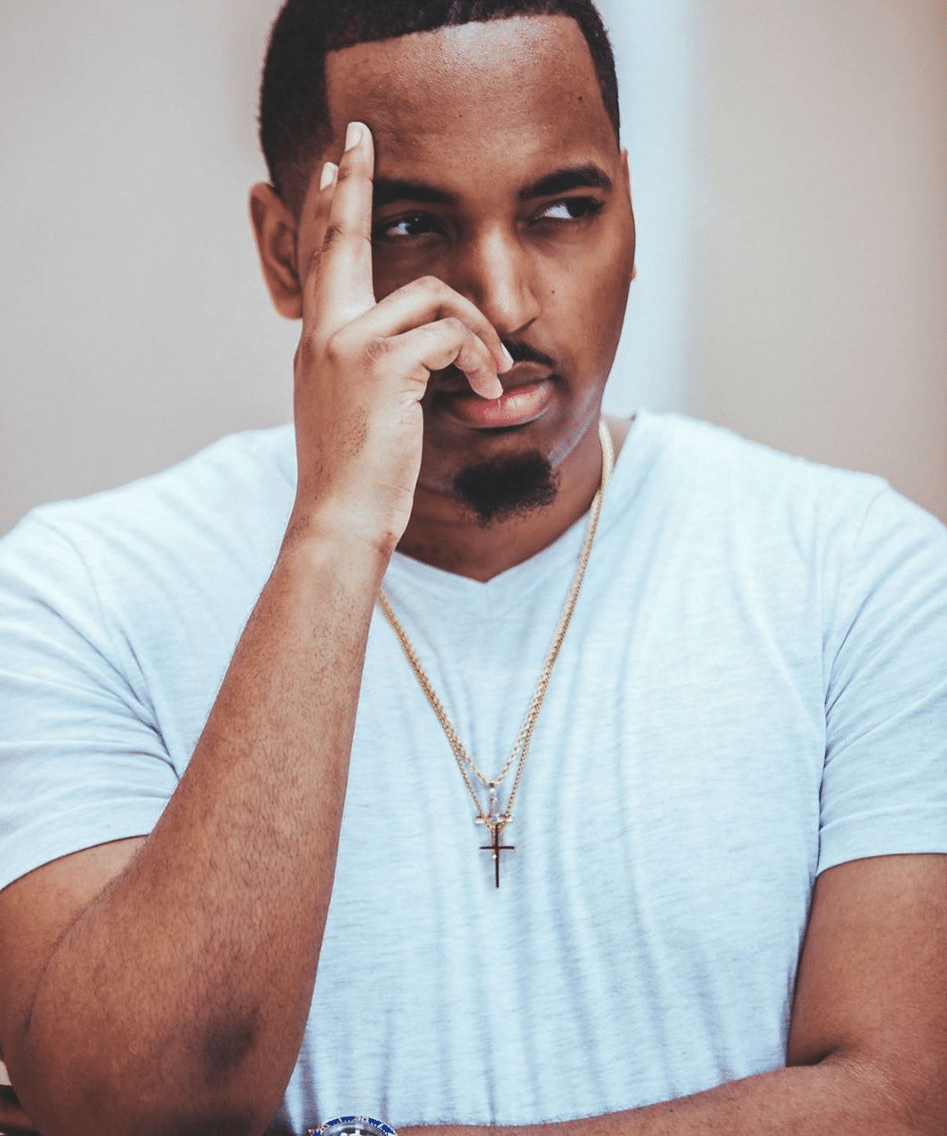 Visuals for mixtape release. Image captured by Mick 'Da Media Mogul' Massaar.
"SLAPS!" is available on streaming service SoundCloud and you can support Gomez by following him on social media: @and1dunna.