By Keisha Oliver
Last month The Pro Gallery at the University of The Bahamas closed its 2017 programming on a high note with the opening of new works by Matthew Rahming entitled 'tuff'.
Celebrating its 20th anniversary, the gallery and project space has been dedicated to burgeoning the careers of UB art students and emerging Bahamian artists. For UB Art major Matthew Rahming, the support from the gallery and UB art faculty has been no different.
Beginning his studies at UB in 2015 as a Secondary Education major, Rahming soon transitioned to the art programme in 2016. Like many emerging artists, he struggled with the uncertainty of a career in the arts that often stems from a history of brainwashed societal views. As a nation, we need to realise the wealth of the creative economy and plant more seeds of nurturing and mentorship so that creativity prevails.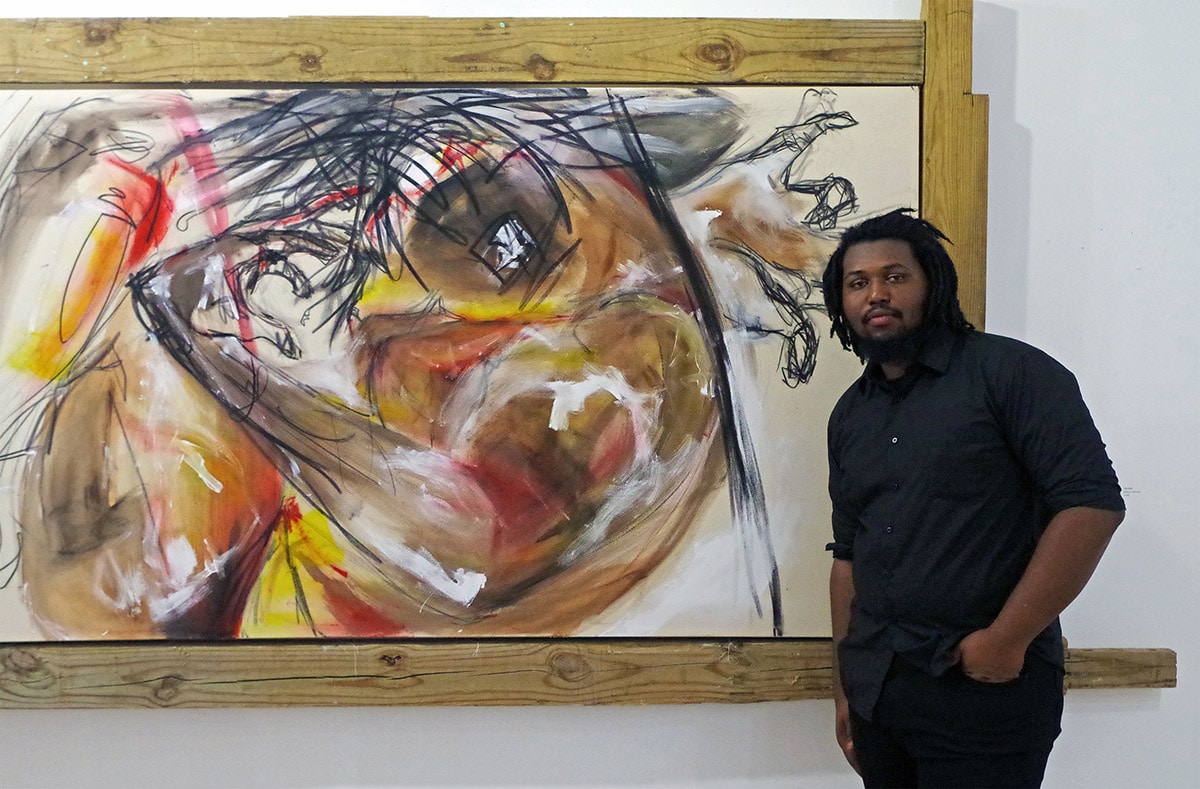 Matthew Rahming. "gambala", acrylic and charcoal on canvas. 2017. Images courtesy of the artist and Keisha Oliver.
"I've always been interested in the arts. During my time at St. Augustine's College under the tutelage of Marco Mullings and Trevor Tucker, something started in me that after graduating mushroomed. Since enrolling at UB, the faculty have pushed this interest further. They've encouraged and challenged me, allowing me room to explore and refine my creativity." says Rahming.
For many artists the defining moment of their formative creative journey is one's first solo art show. Beyond the anticipation of becoming a practicing artist, the show planning and preparation yields a wealth of experience in the curation and administration of the arts. Over the past two years Rahming has been very involved in several creative spaces and through volunteering he has learned a lot of what is required to execute a successful show. He continues, "Before I was ready to pursue art as a full time degree, I knew I wanted to have a solo exhibition. At that time it was all I was sure an artist did. That desire became different recently as I worked alongside artists, curators and cultural workers, gaining a deeper appreciation of the process and meaning behind collections and exhibitions. I realised that I wanted to prove to myself that I was capable of doing it. I wanted to put what I'd been feeling and learning in a physical space. I'd hoped it would make everything real and it did."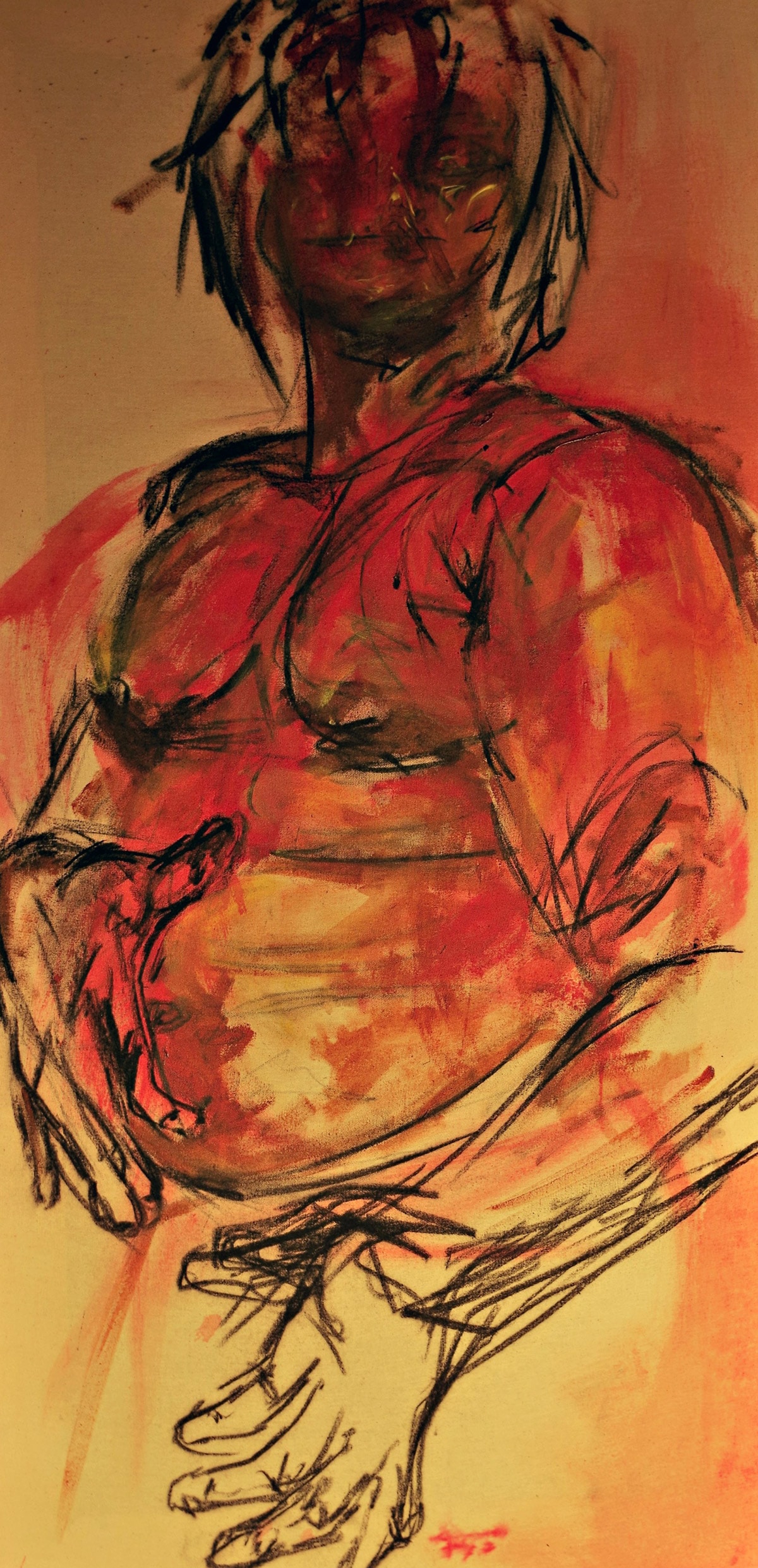 Matthew Rahming. "it's me again Jah", acrylic and charcoal on canvas. 2017.
Ongoing themes of self-awareness and identity have been the focus of Rahming's work. This new collection of paintings produced for 'tuff'  are a "conceptual amalgamation of things", in many ways he views the work as self-portraits. Taking much inspiration from the sound and spirit of Robert Nesta 'Bob' Marley, Rahming has created a visual language that is both vigorous and graceful. His warm colour palette coupled with an invasive and bold mark-making style shows a confidence in both self and work. The visual energy mirrors his conceptual ideas on gender and straddles between sexuality, intimacy and vulnerability. He uses the human figure and self-portrait as an introspective tool to start a dialogue on topics that are taboo in our society.
One of the focus pieces of the show 'it's me again Jah' is a slight nod to Marley, reggae, and the awakening of spiritual consciousness. Rahming says "I have a few favourite pieces from this collection but I love what "it's me again Jah" says. It definitely set the tone for the show and encouraged my hand in a lot of ways."
As Rahming approaches his final year at UB, he is looking forward to expanding his work, challenging himself and working with other artists. He is definitely one to look out for in the coming years as he develops and refines his creative practice. 'tuff' will be on display at The Pro Gallery until January 19th, 2018. For more information contact [email protected] or 302-4422.