Hello!
This is my first blog post since I've returned to the NAGB. We're unveiling a new feature, Book of the Month, that will highlight a tome from out Art Library. Our Art Library is a great resource in the area of Bahamian & regional art, artists and art movements-with both onsite and online access. Online access, through the catalog link above, permits users, both abroad and on the family islands, to search our catalog. Online links for articles have been provided, where available. We cater to artists, students, teachers and the general public. The curriculum and research needs of COB lecturers, COB students, and primary and high school teachers, is a priority for us. Researchers and scholars overseas who need information on Bahamian art and artists are encouraged to email us at info@nagb.org.bs
Note
: The library is solely a reference facility, therefore materials will not be loaned out. Black and white copies will be provided of any material needed for research, to a limit to be specified in adherence to copyright laws.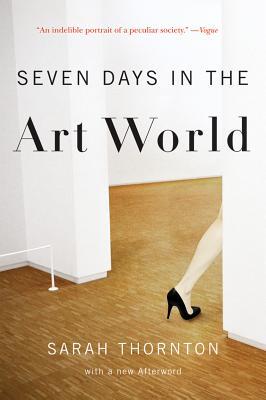 The first book that we shall feature is a nonfiction book that focuses on fast paced vignettes from the art world. Travelling from Christies to the Basel Art Fair, Thornton attempts to portray the everyday adventures that take place in this competitive field.
Synopsis
:
A fly-on-the-wall account of the smart and strange subcultures that make, trade, curate, collect, and hype contemporary art.

The art market has been booming. Museum attendance is surging. More people than ever call themselves artists. Contemporary art has become a mass entertainment, a luxury good, a job description, and, for some, a kind of alternative religion.

In a series of beautifully paced narratives, Sarah Thornton investigates the drama of a Christie's auction, the workings in Takashi Murakami's studios, the elite at the Basel Art Fair, the eccentricities of Artforum magazine, the competition behind an important art prize, life in a notorious art-school seminar, and the wonderland of the Venice Biennale. She reveals the new dynamics of creativity, taste, status, money, and the search for meaning in life. A judicious and juicy account of the institutions that have the power to shape art history, based on hundreds of interviews with high-profile players, Thornton's entertaining ethnography will change the way you look at contemporary culture.
AK