By Kevanté A.C. Cash
NAGB Correspondent
Since the passing of the monstrosity that has left many Bahamians destitute, dead, traumatised and unaccounted for, "Façade", the first solo exhibition by Jonnique A. Beadle, takes on new life challenging its viewers to truly search beyond the skin deep.
"The human condition is riddled with layers of codes and rationale. In "Façade," Beadle tackles one of the most prominent of them all – the tendency to hide one's true self. Through this series, the artist dares to probe even further and ask you, the viewer, "What are you protecting?" The hidden self is an entity born of defense, and to hide what we deem as ugly; we cover it up with our own idea of 'beautiful'," says Beadle in her artist statement.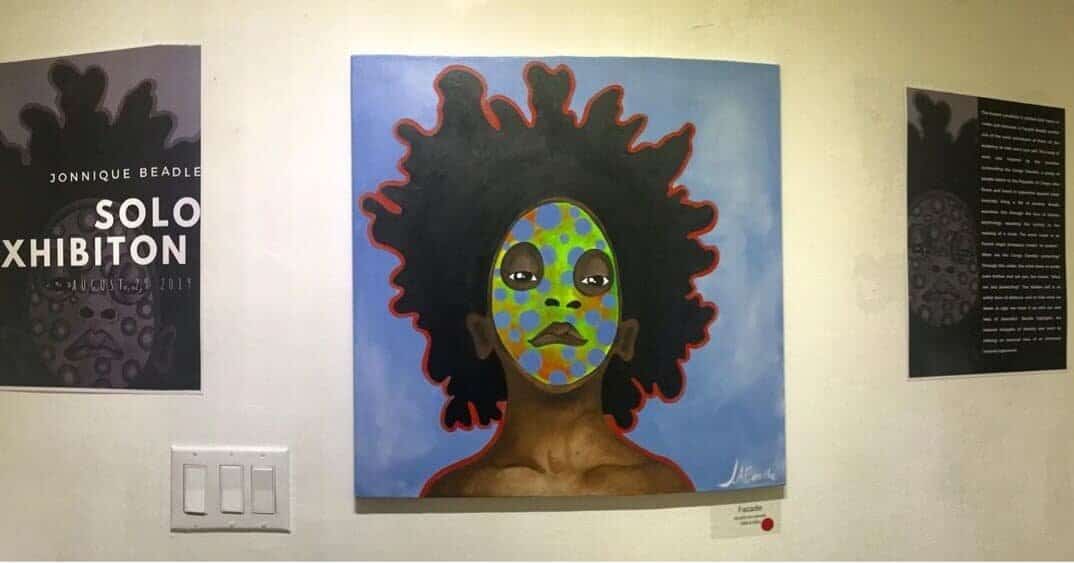 Considering these thoughts, the emerging woman artist draws inspiration from the Congo Dandies, a group of people from the Republic of Congo who "use fashion to not only stand out from their environment but also themselves".
"They live in absolute poverty and fashion for them is an escape. I chose the Dandies because I was introduced to them in a fashion history class in college. They, being one of the few examples of non-western fashion, stuck with me. "Façade" explores the act of hiding one's self from society, the Dandies are some of the most extreme and dare I say, in-your-face representations of covering and distracting society from reality. It only made sense for me to use them as inspiration," she explains.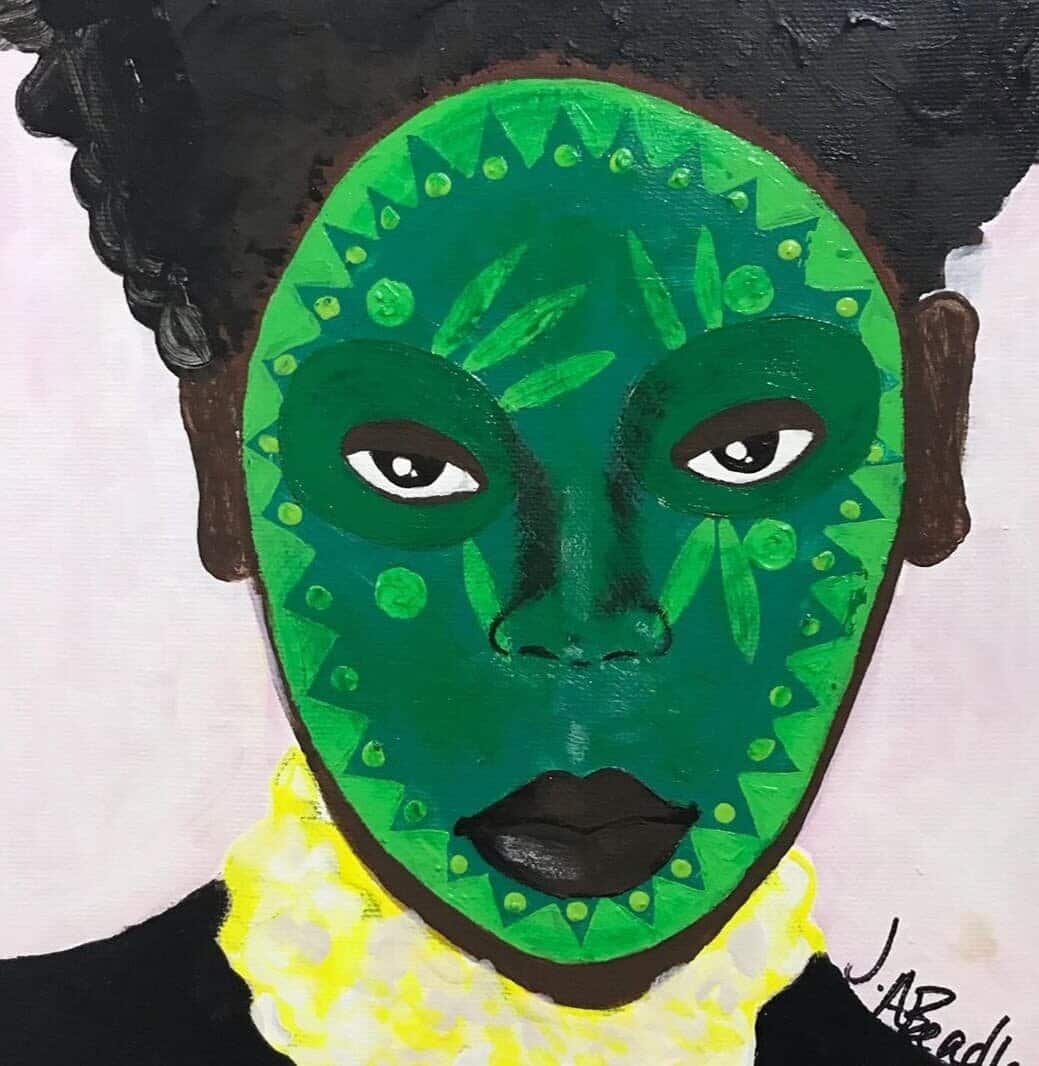 When comparing these group of people to The Bahamas and Bahamian culture, one can see it is an easy fit and perhaps an even comforting appeal to the masses. Beadle says she understands Bahamians are a very colourful set of people who are very good at hiding the problems they don't want others to see. "They are also very bold and daring creatures when it comes to fashion," noting that she wanted the show to reflect this, while still honouring the Congo Dandies, the subjects in focus.
Since September 1st and 2nd, the days many of us will never forget, "Façade" has developed new skin, shares Beadle.
"Many people were left with nothing. They are extremely vulnerable right now since being stripped of all their resources or "crutches" they could have possibly used as "masks". Hiding their true selves is no longer an option. This exhibition for me now challenges survivors to find their masks, their comfort and strength to get back to how things were before or even better than what once was.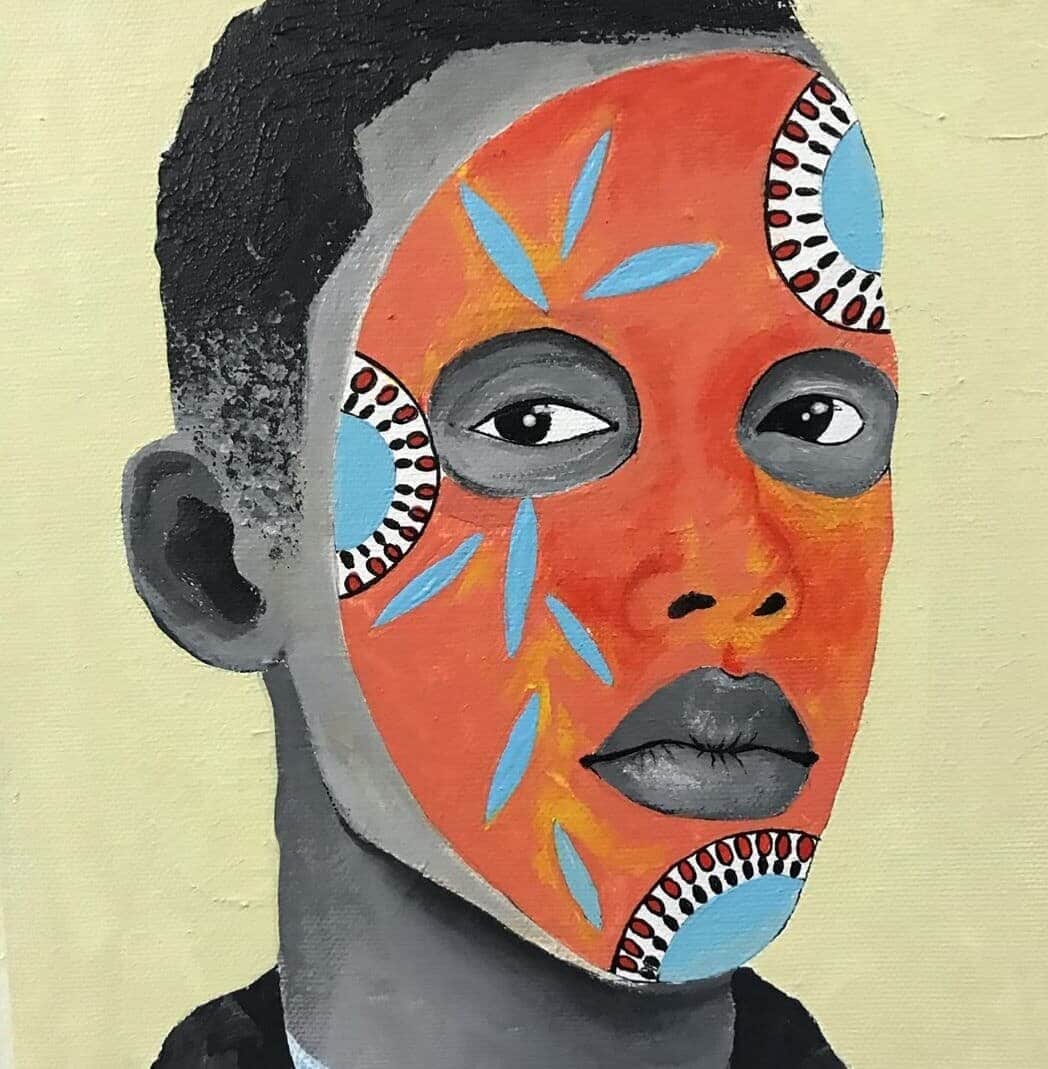 "To the people not affected by the storm, I challenge you to take a second look at what's truly important to you and what you may have taken for granted. Is the show you're putting on for society really worth it? What would you do if you had no choice but to reveal your true selves?"
A powerful probe from the daughter of renowned Bahamian-Jamaican artist John Beadle. And although this may be her reality, she does not allow the status of her father to dictate to the course and nature of her work citing, "I place an obligation on myself to first represent my name the best I can and in turn represent my father. When people hear my name they may expect a certain calibre of work from me and I try my best to represent my name well and not to disappoint."
Though the exhibition has been de-installed, as it was only up for a short period, you can keep up with the latest from Beadle on her Instagram page: @abeadle.designs.
So, what's next for young Beadle?
"I am currently doing research for another exhibition while working towards obtaining my Bachelors in Fashion Design and Product Development and exploring options to start my own fashion brand."
Promising indeed.
Photo captions:
1. Photograph captured by Jonnique A. Beadle, featured on her Instagram page @abeadle.designs.
2. (F2) "Masque", Jonnique A. Beadle, (2019). Acrylic on canvas. 8in x 30in.
3. (F3) "Mask", Jonnique A. Beadle, (2019). Acrylic on canvas. 8in x 30in.