Adding splashes of vibrancy and movement to the walls at Hillside House, artist and art teacher Marco Mullings is currently starring in a solo show at the historic mansion on Cumberland Street. Titled "Rhythm… Feel the Beat", the exhibition opened on April 1 and features works inspired by Mullings' passion for music.

"It captures everything from jazz to Junkanoo to Rake 'n' Scrape," explained Mullings. "I really wanted to focus on the passion musicians have, which is very similar to the passion I have for painting."
In fact, Mullings has made it his life's work to demonstrate to young Bahamians the benefits of using visual art as a "positive outlet". Acknowledging the critical role visual art continues to play in the social and historical arena, the educator hopes that the field grows in popularity and respect – particularly for its cathartic ability to be used in self-expression. This can be especially significant in a country struggling with violent crime rates and widespread frustrations regarding the availability of jobs.
"I don't think art will change social ills, but it can raise awareness and have the ability to impact consciousness," he explained.
When he isn't teaching visual art's, benefits, history and techniques to students at St. Augustine's College or making fine art himself, Mullings is an avid Junkanooer. In fact, it was his beginnings in the Junkanoo shack that inspired him to study fine art. His works are reminiscent of the colorful parades and have been heavily influenced by Brent Malone's legacy.
Known for being one of the first Bahamian artists to capture the spirit of Junkanoo through fine art, Malone inspired a number of later generations through his use of color and classic imagery.

"I try to capture things in my own way using my style. I love color, so my work is typically very vibrant, even though some of the works have a darker feel," said Mullings. "I really love Brent Malone and the work he did, so I wanted to capture that similar essence of some of his work."
Rhythm… Feel the Beat showcases 25 pieces curated by artist and studio owner Antonius Roberts. Though it is his first exhibition hosted at Hillside House, the art instructor is no stranger to showing his work; his pieces have been exhibited throughout The Bahamas for almost 20 years.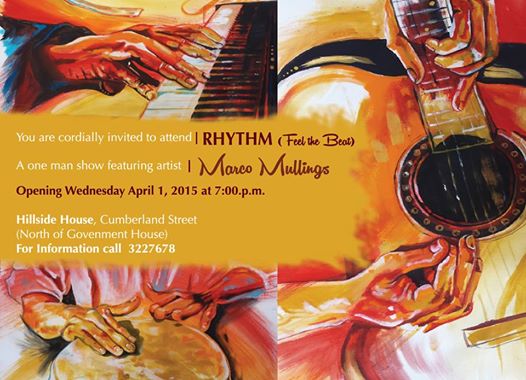 "I had requested from last year to use the space because it is so personal," Mullings recalled. "I love the intimate feeling of the old house. Also, I wanted to use another space that I had not shown my work at before, so I am very appreciative for being given the opportunity."
Mullings' work will be on display at Hillside House until the end of April. Next month, his work can be found at the Artist Pavilion as part of Bahamas Junkanoo Carnival.