By Kevanté A. C. Cash
NAGB Correspondent
In conversation with Rhetorician, poet, photographer & author Kevin Browne about the release of his book "High Mas" and Caribbean similarities.
"The Caribbeanist photographer, having emerged from a history of broken things and missing pieces, knows better than to aspire to the outdated luxury of art for its own sake. Every image is also a reminder of a struggle for access: continuously sought, easily denied, and always only tenuously granted. A reminder of the very public executions of our subjectivities – our being in this place," (HIGH MAS, 103).
The Caribbeanist photographer, poet, musician, artist knows that art and the creation thereof is not done solely for the single objective of simply creating. Some create for healing, others restoration, and others to solve mysteries – to tap into the identities of which they've been given, and/ or seek to find some truth or validity in it.
"A reminder, too, of the path through my own crossroads that I would have to take. You see, I'm unable to separate my anxieties from the images that come of my efforts, but these photographs are not only the materialisations of my selfish aspirations and challenges, but also something of a man-date – a mission I've set for myself and my people," (HIGH MAS,103).
Portraiture of Dr. Kevin Browne alongside Anatol Rodgers, as photographed by Three Amigos Media.
 His people, different from our own, but still very much the same. Their pain, our pain. Their struggles, our struggles. Their art, ours to share. His images are something similar to what one can compare to the figures seen at Junkanoo. These images of Paramin's Blue Devils are eerie in nature, but nothing to be feared. Perhaps the devils to be feared are the ones that exist within the human soul?
Though he speaks of Trinidad, we see reflections of ourselves within his words.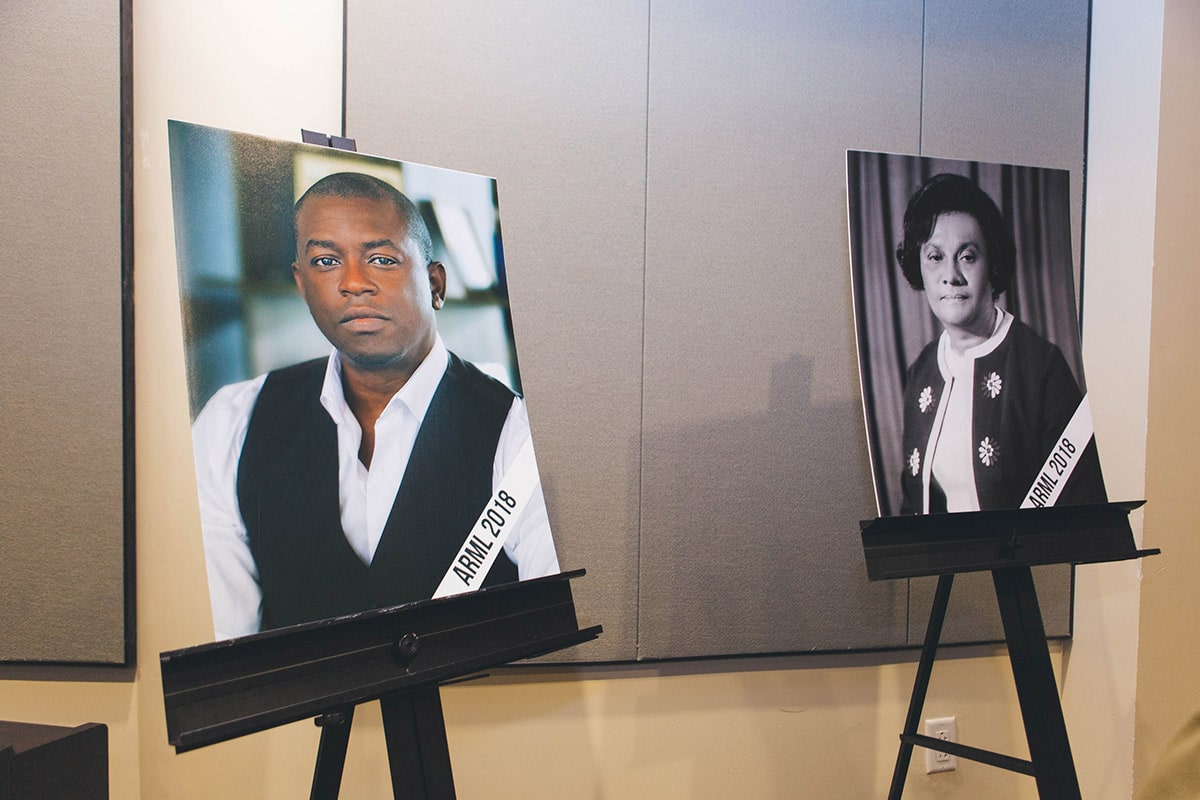 He, Dr. Kevin Browne, Trini academic – photographer, poet, essayist, rhetorician, and teacher, was chosen as this year's speaker at the University of The Bahamas' (UB) 13th Annual Anatol Rodgers Memorial Lecture.  
"He is a welcomed voice to Caribbean cultural theory. He fuses the genres of poetry, essay, and photography in elucidating his theory in offering a way that we might read Caribbean visual and performative culture and its significance to the lived experiences of Caribbean people. Though he draws core elements from Trinidad carnival, his work can be compared to that of Nicolette Bethel, Ian Strachan or Ian Bethell-Bennett, who we see not only examines identity through strictly academic portals, but also engages poetry, theatre, cultural studies and other lenses that illuminate different aspects of Bahamian culture," shares Dr. Marie Sairsingh, English Studies professor and event organizer, on choosing Dr. Browne as a suitable guest lecturer. 
She believes a comparative approach in our discussions of culture across the Caribbean is instructive, and it is one of the many reasons she had asked Browne to make his presentation. That, and the fact that Browne has recently released yet another book High Mas: Carnival and the Poetics of Caribbean Culture (2018) earlier this month.  
"Broadening our understanding of the ways in which we as Bahamians connect to the wider Caribbean is crucial. So, while there are indeed differences in cultural expression across the region, recognising that we share a common history, and much similarity is advantageous, and serves to bridge perceived divides and promote an understanding of ourselves as people of the region," Sairsingh continues of what Bahamians can learn from the differences and similarities of Trinidadian and Bahamian culture.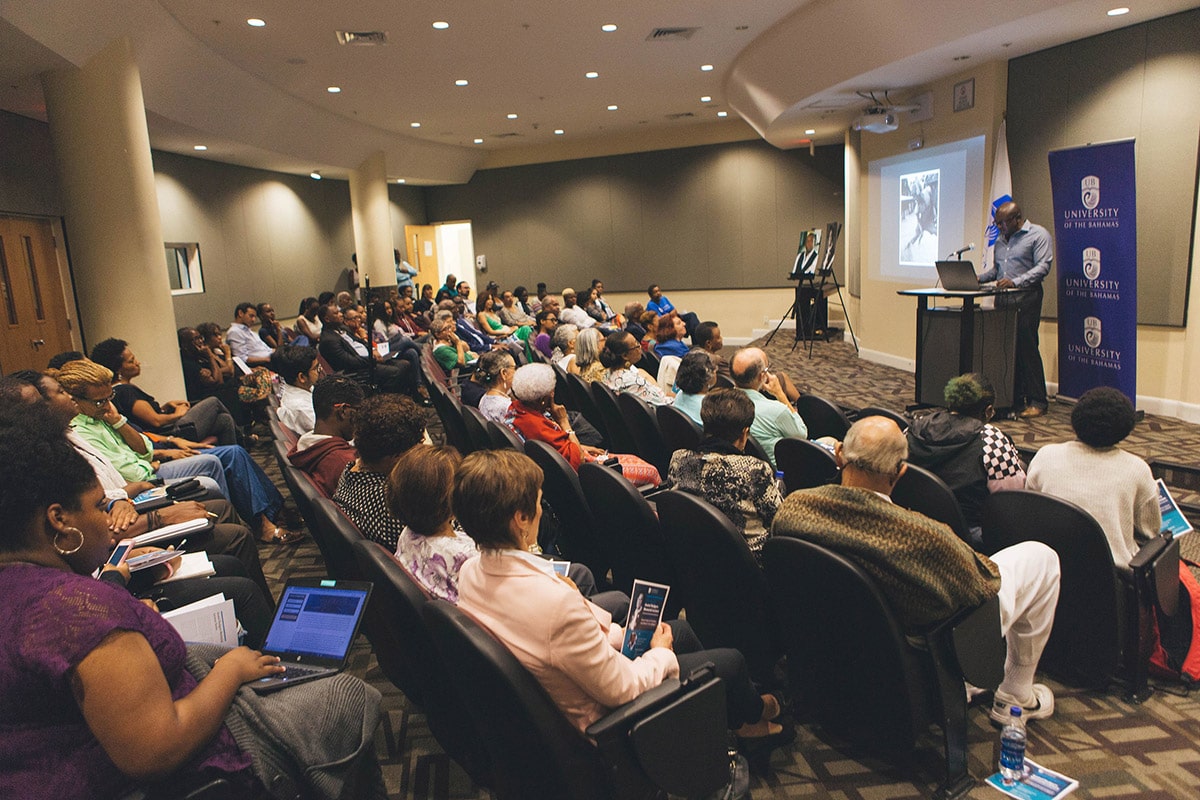 The images of which Browne mainly focuses on in his lecture – the Blue Devils, are one of many infamous creatures seen during the time of the Carnival festivity. But, why them?
"Because it seemed like the right thing to do. I was invited to speak in 2015, and I read what became one of the pivotal essays in the book. I focused on the Blue Devils–an icon of Trini Mas– as an homage to the institution. We make connections where we can, and it's not often we get to complete the circles we begin, not the cycles we set in motion. This was an opportunity, and I was so grateful for it."
Why now, for this book? 
"Because there is always an appropriate time to celebrate culture. Unfortunately, we don't always have the means to do so, or the will. That's how it was for me at various times in my career – in my life really – so, I suppose I got tired of that being the case and took a risk.
"The structure of the book, essays and images, is deliberate because I wanted to show the fine balance and dynamic interplay in what we see or think we see, and what we think can be said about what we see."
Dr. Kevin Browne makes his presentation, as photographed by Three Amigos Media.
From Browne's research, he has gathered that we can "certainly gather pleasure" from the celebration of festivities like Carnival and Junkanoo alike. But, we can also create art that extends beyond the performance; we can spark conversations. Through these practices, we learn a great deal about our history. Though festivals themselves are the apex of many factors, he believes "their complexities are often overlooked because of what appears to be their "season"."
He says if he were in a position to craft policies, he'd advocate for the gatherings to transpire much sooner than the actual occurring of events.
Browne, a man of much scholarship, charisma, zeal for the Caribbean and things of the Caribbean ends his lecture inciting a sense of hope for Caribbean photographers, poets, musicians and artists of today and tomorrow.
His book High Mas: Carnival and the Poetics of the Caribbean Culture can be purchased on Amazon now.