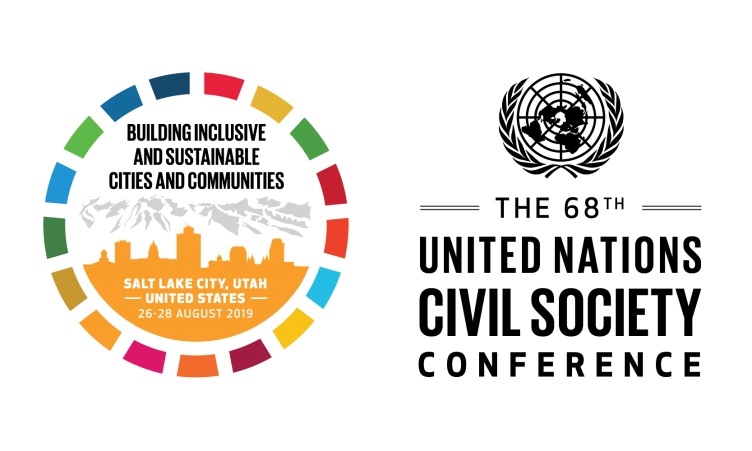 The United Nations Civil Society Conference* is the premier event in the civil society calendar at the United Nations. It typically attracts more than 3,000 participants representing over 700 civil society organizations from over 100 countries. Each Conference focuses on a different UN topic of interest related to the work of civil society and NGOs. This international forum also brings together senior UN System officials, prominent international civil society organizations, academicians, public opinion makers and international media to discuss issues of global concern.
The Exhibits Sub-Committee for the 68th UN Civil Society Conference at the Salt Palace Convention Center in Salt Lake City, Utah, USA, from 26 to 28 August 2019 now welcomes proposals for Exhibits from Civil Society, UN Agencies, private sector, national and local authorities.
Conference Title: "Building Inclusive and Sustainable Cities and Communities."
All Exhibits must relate to the overall theme of the Conference.
The Exhibits area should provide an opportunity for Civil Society and other stakeholders to be creative, informative and possibly inter-active as they share their concepts for sustainable action solutions on the topics related to SDG11 and the connection with the other 16 SDGs to support the success of the UN 2030 Agenda for Sustainable Development to "Leave No One Behind."
Suggested topics can include, but not be limited to safe secure cities, sustainable communities and resilient infrastructure, inclusive and affordable housing, addressing inequality, upgrading slum dwellings, sanitation and waste management, circular economy, food security, population dynamics, urban design and planning, all levels of education, people with disabilities, health and well-being, climate justice and action, environmental sustainability, green public recreational spaces, safe clean energy and water, impact on coastal cities of rising sea levels, indigenous people and traditions, grassroots communities, tourism, preserving historic and cultural heritage sites, transportation, partnerships with all stakeholders, private sector, business and industry, financing for development and housing, entrepreneurship opportunities, economic growth and employment, vocational training, gender balance, youth leadership, aging population, inter-generational empowerment, arts and entertainment, sports, emerging innovative technologies for smart cities, media and communication methods, governance, community leadership, national and local authorities, diversity, migration, conflict and fragility solutions, faith based groups, achieving a sustainable culture of peace with respect and human rights for all.
The Conference Concept Note provides an overview and it is strongly recommended that you read it.
Please send us the title of your exhibit with a detailed description of your proposed exhibit, which should reflect your work and the concepts of the conference that are related to the topics listed above. If your proposal is accepted, you will be notified by the Exhibits Sub-committee and they will send you additional information and the necessary details to be assigned a space for your Exhibit with info regarding delivery and set up.
* Preference in selecting Exhibits will be given to Civil Society associated with UN Department of Global Communications (DGC), but all are welcome to submit their proposals.
Exhibitors must have one lead sponsor listed with each Exhibit submission. There can as many as 5 (or more) additional Co-sponsors for each exhibit that are not listed with the Exhibit submission, but can be listed on printed materials for each Exhibit. Civil society and NGOs can be "Co-sponsors" for several exhibits with other stakeholders.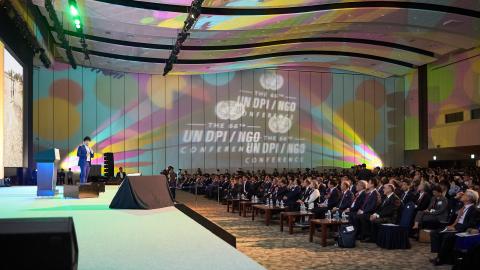 About the Conference
Purpose and Participation
The Conference offers civil society organizations an opportunity to put a global perspective on a specific issue. In recent years the focus has been on climate change, human rights, disarmament, global health, sustainability and volunteerism. This important gathering is also a unique occasion for civil society organizations to network and share best practices at the international level.
Participation at the United Nations Civil Society Conference is open to representatives of civil society organizations associated with the Department of Global Communications and/or in consultative status with ECOSOC. Civil Society organizations not included in these groups are welcome to register for the Conference as well; however, they require an endorsement from a United Nations entity that is familiar with their work and can provide feedback on their eligibility.
The UN Civil Society Conference explores ways and means for strengthening collaboration between local communities and global institutions. The three-day gathering of civil society organizations is organized by the Department of Global Communications (formerly DPI) in cooperation with the NGO/DPI Executive Committee and the participation of its associated civil society organizations and NGOs that have consultative status with the United Nations Economic and Social Council. If held outside of the United Nations Headquarters in New York, then the Department of Global Communications will liaise with relevant authorities of the Host Country, at the local and national levels.
Looking Ahead
The Conference aims to build on what has already been accomplished by greater civil society participation in many of the debates taking place at the United Nations, including Informal Interactive Hearings by the General Assembly President with civil society and private sector representatives. Speakers at the Conference are being asked to illustrate their work on the ground by real-life examples of effective partnerships to achieve the United Nations agenda, including the Sustainable Development Goals (SDGs). To ensure the widest possible exchange of views and experiences, all civil society delegations are invited to appoint youth representatives under the age of 32.
As the largest gathering for civil society members taking place at the United Nations, the Conference has become an established forum for networking and exchange of views, opinions, expertise and best- practices on relevant issues. Beyond these, it has moved in recent times towards strategic partnership-building by inviting representatives of Member States to engage in dialogues with Conference participants. The Conference aims to provide a policy-building forum for civil society collaboration with the United Nations.
In addition to the plenary sessions and roundtables, the Conference includes an important number of Workshops featuring the participation of civil society, United Nations, academia, government and private-sector representatives.
*Formerly UN DPI/NGO Conference
More on the conference and the exhibit open call here.