Keisha Oliver writes for the Nassau Guardian on the most recent solo-show at Popopstudios ICVA, sharing: "Emerging Bahamian artist Angelika Wallace-Whitfield continues her summer tradition of returning to Nassau to work and create art as a means to assist in funding her academic pursuits. Currently enrolled in the BA (Hons) History & Philosophy of Art programme at The University of Kent in Canterbury, England, she plans to graduate next year and go on to pursue her postgraduate studies.
Once completing a doctorate, Wallace-Whitfield hopes to teach at The College of The Bahamas. Her love for art and teaching prompted her decision to join The School of Arts at Kent, which has a global reputation for innovation in teaching, research and a History of Art programme ranked 8th in England.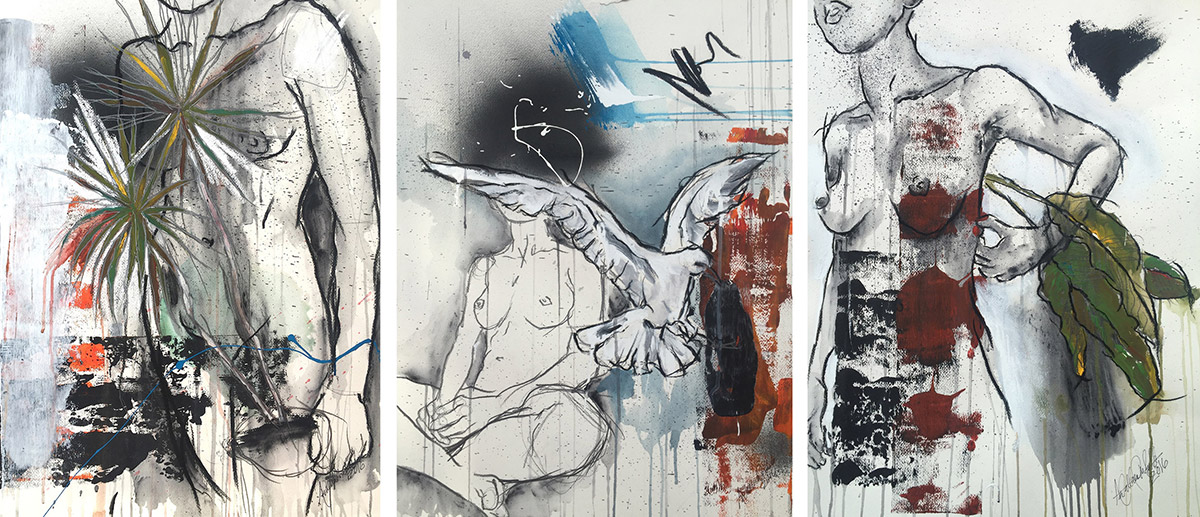 (L-R) 3 works from the 'Referents Series' exhibited at 'Through the Screen Door."
She has enjoyed the programme's interdisciplinary learning experiences and considered her field trip to the Venice Biennial's 56th International Art Exhibition to be one she will never forget. The event is one of the most prestigious international contemporary art exhibitions in the world, attracting artists, collectors, and art enthusiasts alike. For Wallace-Whitfield, this was indeed a unique opportunity to visit Italy and view works produced by 136 artists representing 53 countries, including Bahamian artist Lavar Munroe who, with the support of the NAGB, exhibited works in the Central Pavilion under 'All the World's Futures'. "The entire experience was amazing, but it was especially awesome to see Lavar Munroe's work like "Pinocchio's Half Sister" in that setting."
Although The University of Kent offers a plethora of study and work abroad opportunities, Wallace-Whitfield always looks forward to returning home during her breaks. "I come home every summer because I have to work to financially support myself through the next academic year. I want to continue to be a part of this ever-flourishing art community here in Nassau." This summer she spent most days between her studio creating new work and The National Art Gallery of The Bahamas (NAGB) assisting with their summer camp. Wallace-Whitfield has always been committed to the Bahamian art community in her former roles as a curator at The D'Aguilar Art Foundation and a gallery assistant at NAGB, but foremost as a practicing artist.
For the past two summers, Wallace-Whitfield has exhibited new works not solely to fund her studies, but as any artist to share her creative journey. In 2014, her solo show 'Moments and Movements' was concerned with the abstract gesture and focused on the notion of animal instincts to communicate a transition period in her life. In the 2015 group show 'Flourish,' her work demonstrated gratitude for those who supported her and she used the poinciana tree has a figurative reference to draw comparisons with the tree's role in nature to that of the role donors play in the local art community.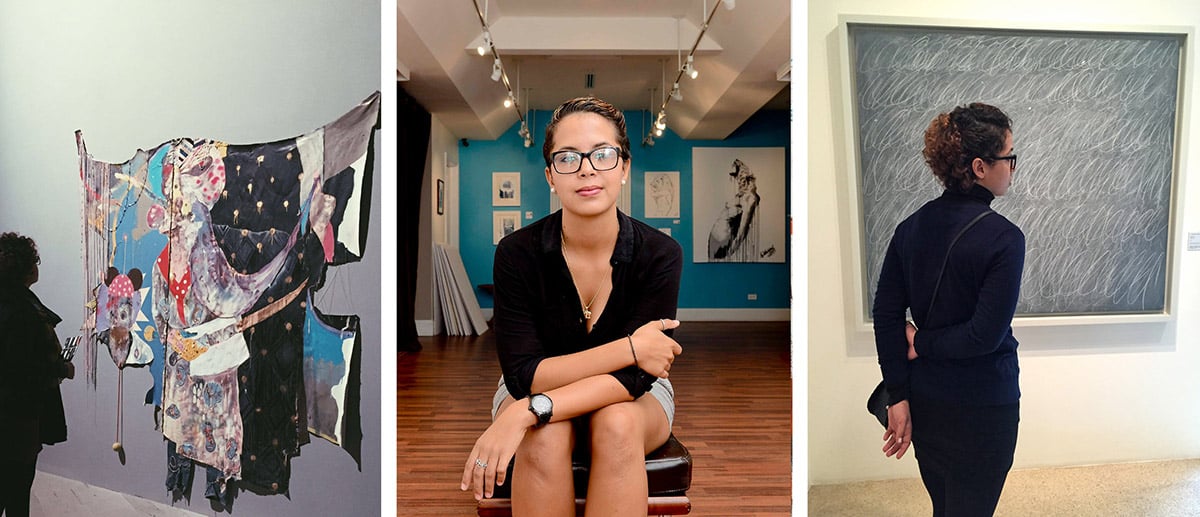 (L-R) From Left: Wallace-Whitfield admires Lavar Munroe's piece at Venice Biennial's Central Pavilion. During her time as curator with The D'Aguilar Art Foundation. Her visit to the Penny Guggenheim Museum during Venice Biennial's 56th International Exhibition.
Wallace-Whitfield's current solo show, 'Through The Screen Door,' was conceived on Popopstudios' doorstep, during metaphorical talks on love, life, and human interactions.
"We spoke of allowing people onto our porch, but continuously leaving the screen door closed, as a protective mechanism. In the physical sense, Popop's screen door encompasses an obscure sacredness: a space of liberation to be and to create, without judgment or objection. Visuals within the show are all informed by the permanent and transitory visuals found in and around Popop, as a home for so many creative souls. Popop has an intrinsic belonging to the community. The works are a collaged response to the space and the interactions that happen within the space. Walking through the property, artworks and referents are left by the many that move through the space. Because of the community's influence upon the work, I wanted the work to remain gestural; brushstrokes as indexical evidence of the artist's presence."
'Through the Screen Door' opened on Friday, August 12th at Popopstudios ICVA and featured a performance by Bahamian musician KEEYA. The show will run for two weeks."