Fresh Milk, in partnership with  Footscray Community Arts Center and the Barbados Community College, is pleased to present the schedule for the 2017 edition of Transoceanic Visual Exchange (TVE), a series of programmes taking place this year between Barbados and Australia.
TVE is a collection of recent films and videos from artists practicing in the Caribbean, Oceania and their diasporas. TVE aims to negotiate the in-between space of our cultural communities outside of traditional geo-political zones of encounter and trade, intending to build relations and open up greater pathways of visibility, discourse and knowledge production between the regional art spaces and their communities.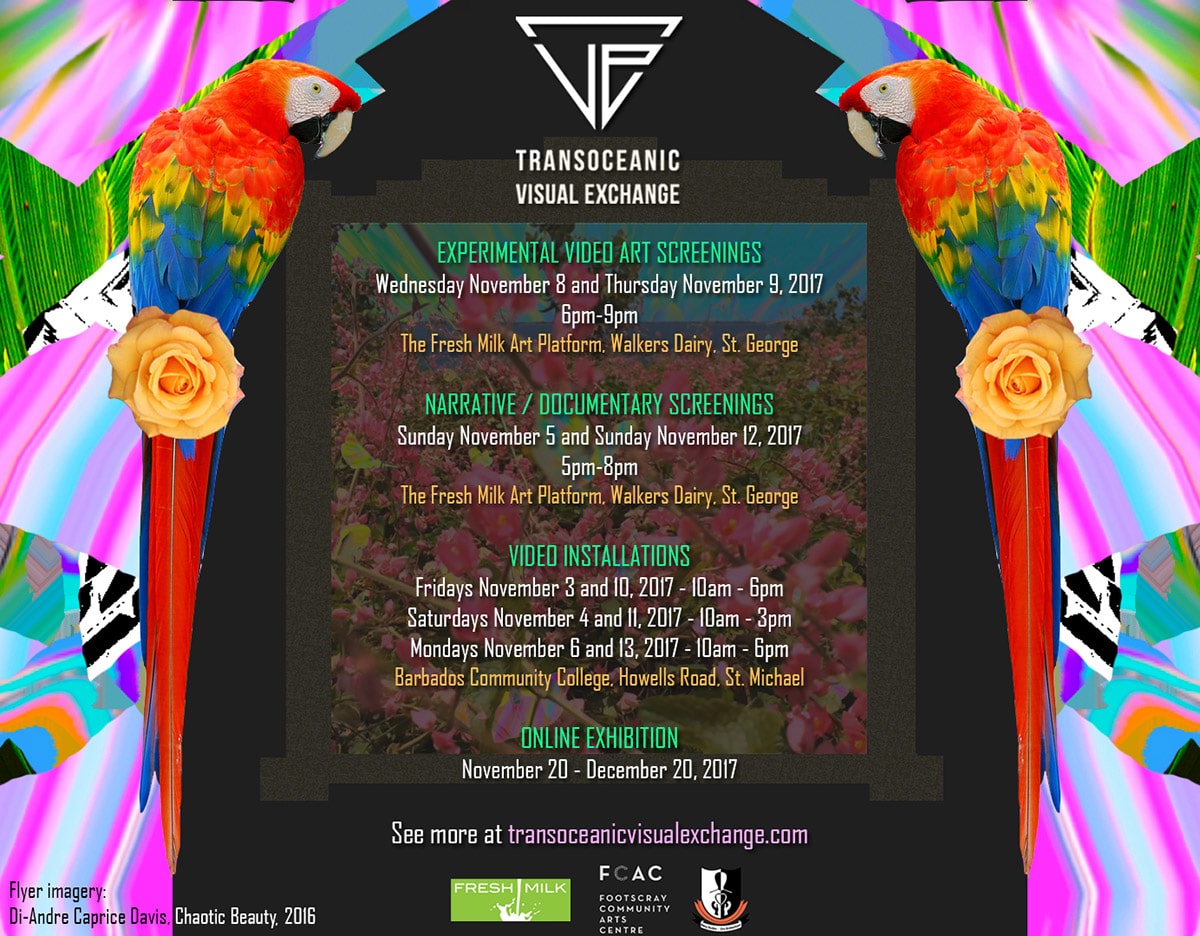 The Caribbean screenings will take place in Barbados on select dates between November 3rd – 13th at the Fresh Milk studio, Walkers Dairy, St. George and in the Morningside Gallery at Barbados Community College (BCC), Howells Road, St. Michael, while the screenings in Australia will take place at the Footscray Community Arts Centre, 45 Moreland Street, Victoria on November 18th from 10am – 5pm.
Additionally, the online exhibition of works will be available for viewing from November 20th – December 20th.
BARBADOS SCREENING SCHEDULES & PARTICIPATING ARTISTS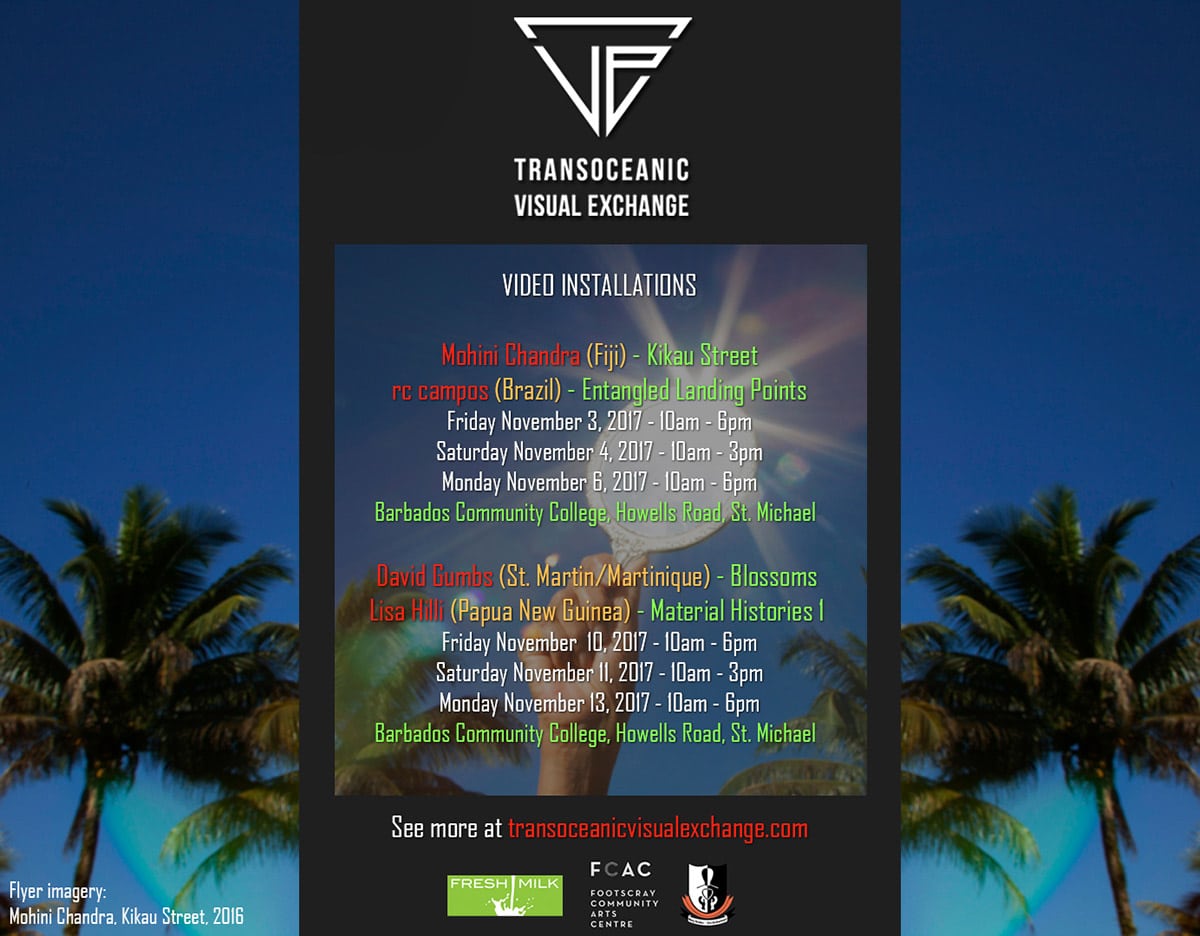 VIDEO INSTALLATIONS
Barbados Community College
Friday Nov. 3rd (10am – 6pm), Saturday Nov. 4th (10am – 3pm) & Monday Nov. 6th (10am – 6pm)
Mohini Chandra (Fiji) – Kikau Street
rc campos (Brazil) – Entangled Landing Points
Friday Nov. 10th (10am – 6pm), Saturday Nov. 11th (10am – 3pm) & Monday Nov. 13th (10am – 6pm)
David Gumbs (VIDEO INSTALLATIONS) – Blossoms
Lisa Hilli (Papua New Guinea) – Material Histories 1
NARRATIVE / DOCUMENTARY SCREENINGS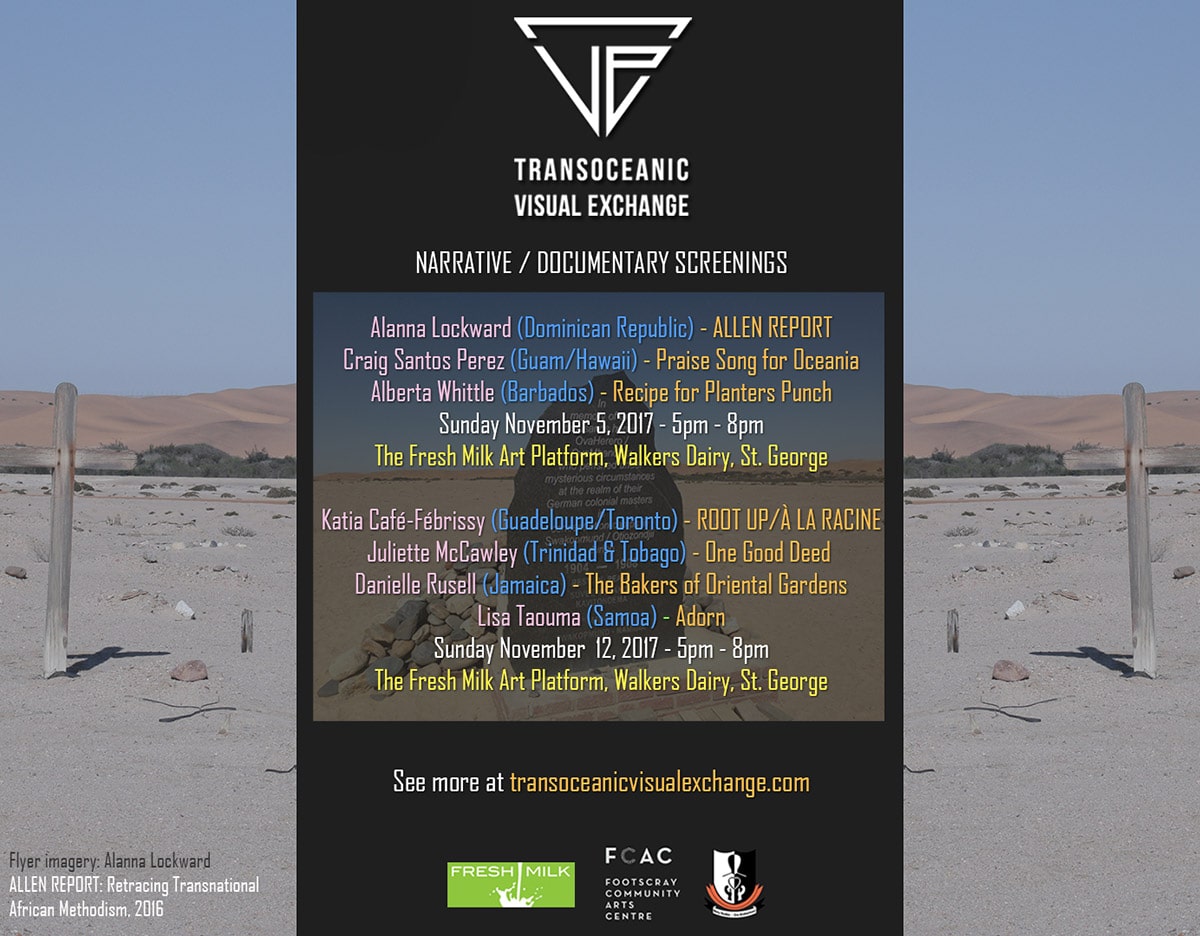 The Fresh Milk Art Platform
Sunday Nov. 5th (5pm – 8pm)
Alanna Lockward (Dominican Republic) – ALLEN REPORT: Retracing Transnational African Methodism
Craig Santos Perez (Guam/Hawaii) – Praise Song for Oceania
Alberta Whittle (Barbados) – Recipe for Planters Punch
Sunday Nov. 12th (5pm – 8pm)
Katia Café-Fébrissy (Guadeloupe/Toronto) – ROOT UP/À LA RACINE
Juliette McCawley (Trinidad & Tobago) – One Good Deed
Danielle Rusell (Jamaica) – The Bakers of Oriental Gardens
Lisa Taouma (Samoa) – Adorn
EXPERIMENTAL VIDEO ART SCREENINGS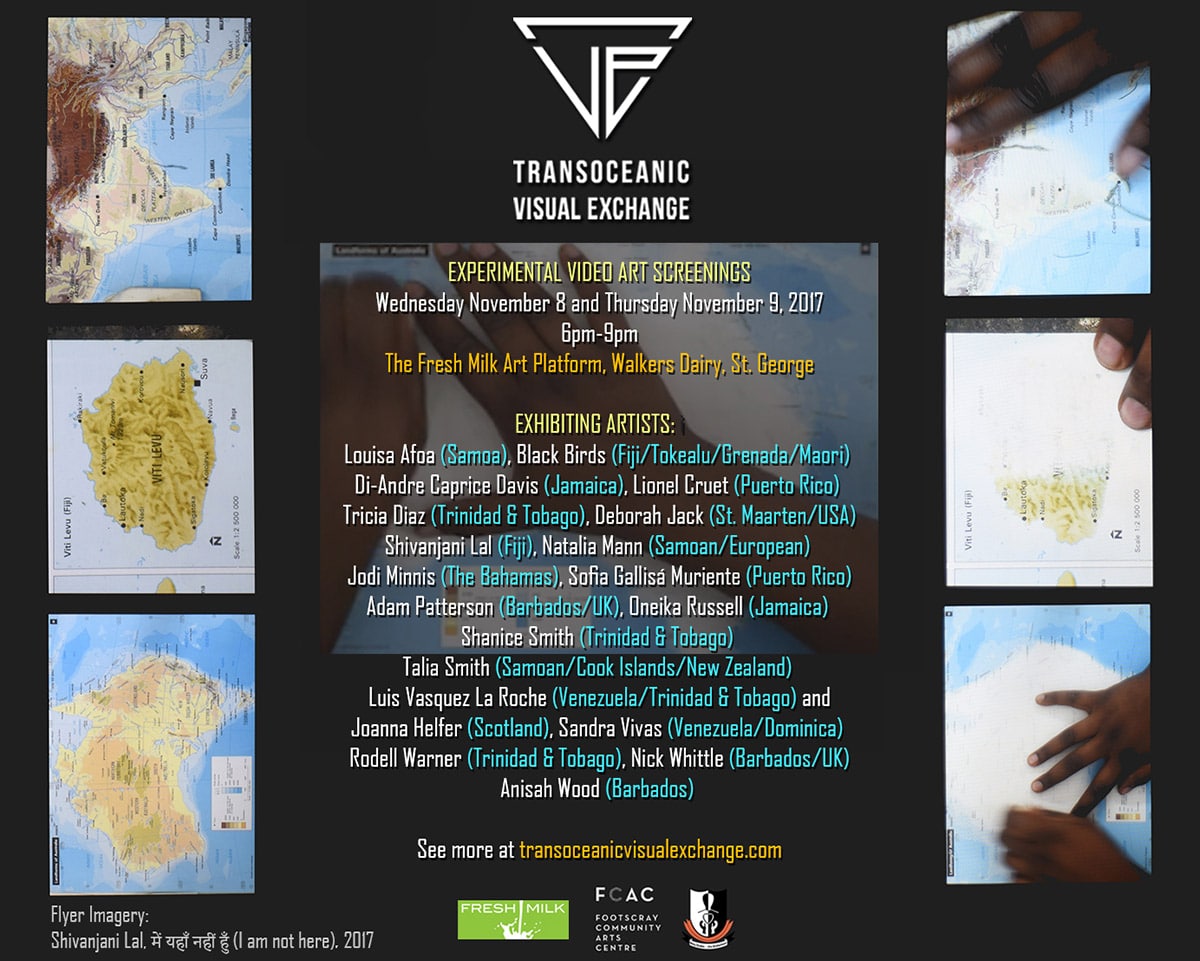 The Fresh Milk Art Platform
Wednesday Nov. 8th & Thursday Nov. 9 (6pm – 9pm)
Featuring work by:
Louisa Afoa (Samoa), Black Birds (Fiji/Tokealu/Grenada/Maori), Di-Andre Caprice Davis(Jamaica), Lionel Cruet (Puerto Rico), Tricia Diaz (Trinidad & Tobago), Deborah Jack (St. Maarten/USA), Shivanjani Lal (Fiji), Natalia Mann (Samoan/European), Jodi Minnis (The Bahamas), Sofia Gallisá Muriente (Puerto Rico), Adam Patterson (Barbados/UK), Oneika Russell (Jamaica), Shanice Smith (Trinidad & Tobago), Talia Smith (Samoan/Cook Islands/New Zealand), Luis Vasquez La Roche (Venezuela/Trinidad & Tobago) and Joanna Helfer (Scotland), Sandra Vivas (Venezuela/Dominica), Rodell Warner (Trinidad & Tobago), Nick Whittle (Barbados/UK) and Anisah Wood (Barbados)