By Keisha Oliver
The University of The Bahamas and its Visual Arts Department has had a long history and affiliation with the local art community. Producing and supporting some of the most distinguished artists, scholars and arts administrators over the past 30 years, it is no surprise that its alumni, students and faculty continue to maintain this reputation both regionally and internationally.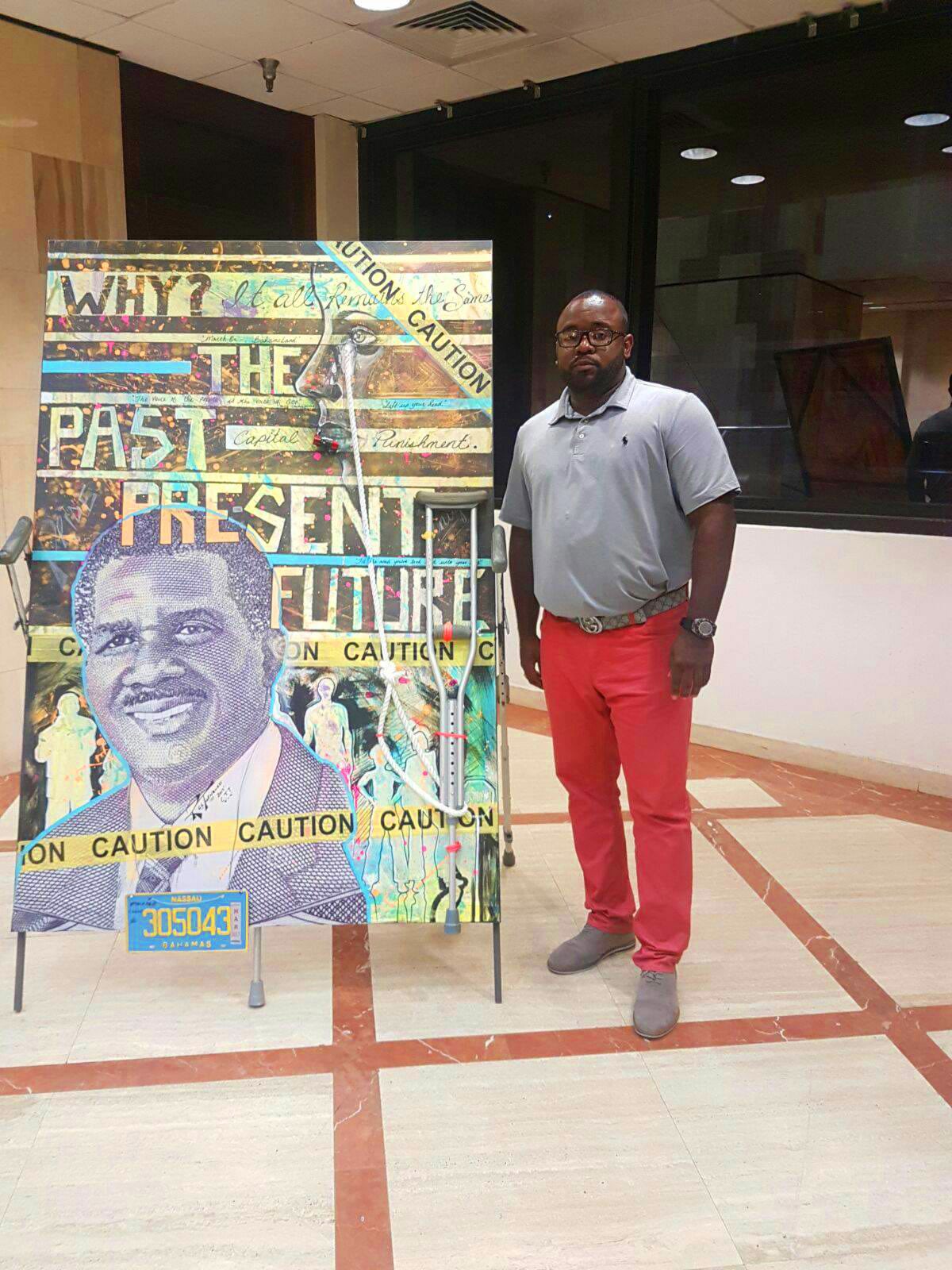 The Central Bank of The Bahamas 34th Annual Art Competition Open Category Prize Winner, Ryan Turnquest with his mixed media piece 'The People Have Spoken"
Since the late '90s, UB's talent has dominated The Central Bank of The Bahamas Annual Art Competition and Exhibition, a platform that has helped to bolster the careers of many emerging artists.  Boasting a diverse range of contemporary artists, over the years the competition has celebrated many UB alumni including Jace Mckinney, Lavar Munroe, Tavares Strachan, Jeffrey Meris, Omar Richardson, Rickeno Bullard, Jackson Petit, Edrin Symonette, Keisha Oliver, Damaso Gray, Elkino Dames, Katrina Cartwright, Tamara Russell, Bernard Petit, Lemero Wright and last year's winner, Jordanna Kelly.
Joining the ranks are the 2017 winners UB alum Ryan Turnquest and UB art education major Minolta Butler, who participated in its 34th Annual Art Competition Open Category. Opening to the public on Friday, October 20th, 2017, under the theme "Historic Changing Moments," the exhibition features works by over twenty Bahamian artists. The collection includes a range of mixed media pieces and paintings that offer critiques on historic Bahamian events alongside political and cultural commentary.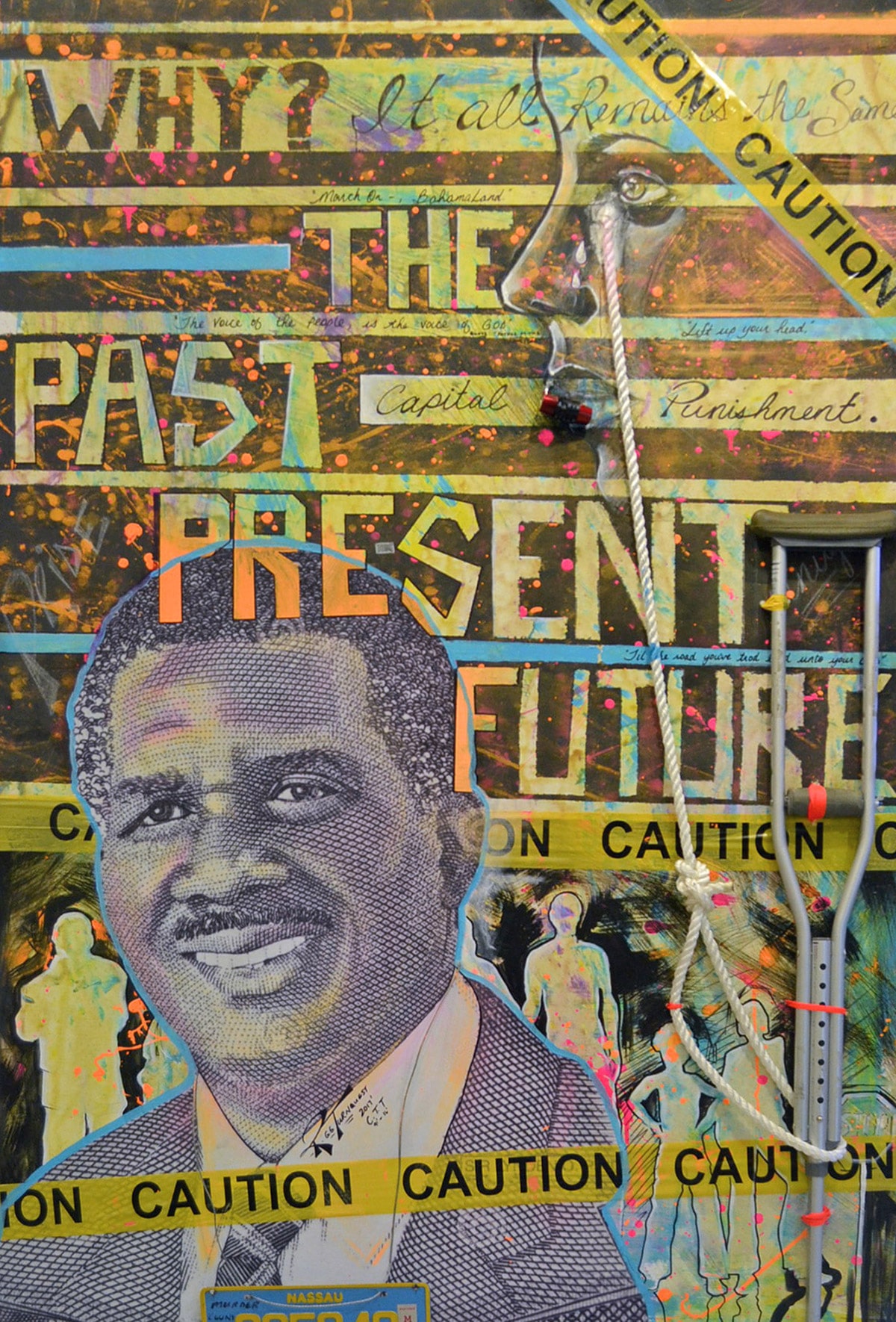 'The People Have Spoken', acrylic and mixed media on canvas (double sided) by Ryan Turnquest, 2016
Central Bank's Assistant Curator Kevanté Cash expressed, "Each artist sought to examine facets of Bahamian life that have either impacted them or the country as a whole including themes of capital punishment, the continuous rise of crime, the depreciation of sea life, the evolution of Junkanoo and Bahamian womanhood."
Driven by social activism Ryan Turnquest, the winner of the competition dedicated his piece "The People Have Spoken" to the memory of his brother whose death left his family with many unanswered questions surrounding social injustices. Turnquest's layered mixed media painting with a portrait of Sir Lynden Oscar Pindling as its focus, expresses the disheartening and frustrating moments stemming from our country's political and social reality.
Turnquest expressed "My piece belongs to a body of work surrounding our current crime, political and general outlook on The Bahamas. It questions our history asking: Did we remain stagnant in our development? Did we really embrace our history, and use it as a tool of progress?"
Although Turnquest is no stranger to the competition or the local art community, he hasn't been practicing for several years. Since returning to the canvas in 2016 he is keen to make his mark within the Bahamian art scene. "I entered this competition because I wanted further inspiration to continue my passion in the arts. In the past, the competition was an opportunity every emerging artist prepared for. I felt it would be good exposure in my first year back."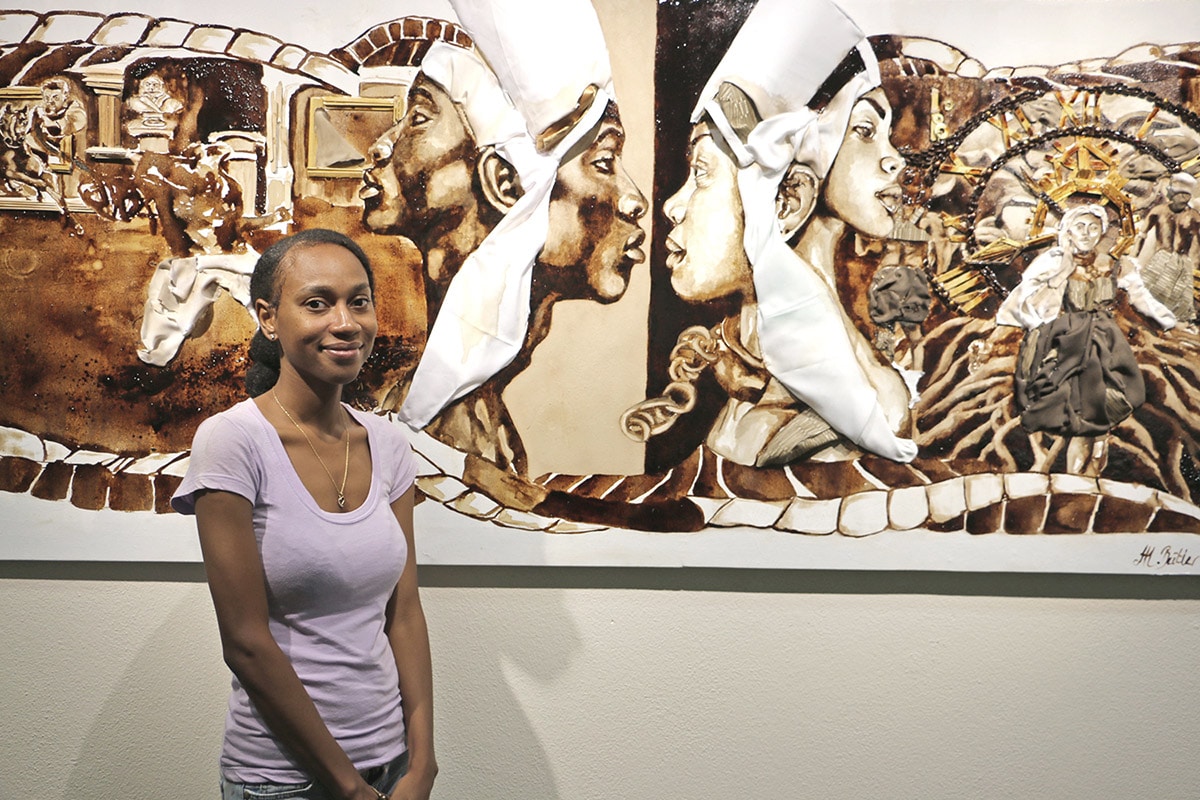 The Central Bank of The Bahamas 34th Annual Art Competition Staff Choice Award Winner, Minolta Butler with her coffee painting 'A Taste of Freedom"
Turnquest is optimistic about his future as he prepares to expand his practice and develop a new body of work for 2018. "There is a voice in art, and I am going to speak it with my brush. I am working towards my two shows next year my annual show in January and my Central Bank show next Fall."
Minolta Butler, this year's recipient of the 'Staff Choice Award' is a first timer to the competition. Currently completing her junior year at UB, Butler has been making significant strides in the urban art scene known for working in non-traditional media, including wine and coffee.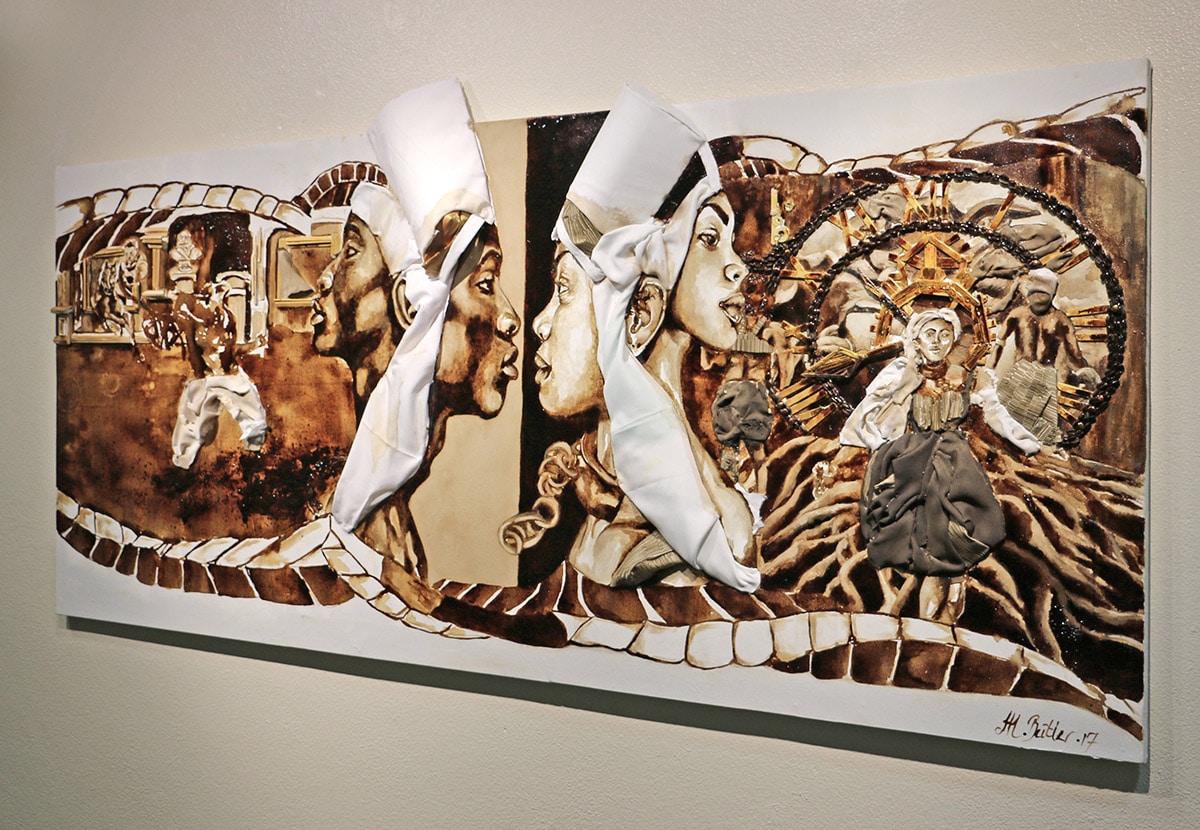 'A Taste of Freedom', coffee, fabric on on wood by Miolta Butler,
Butler expressed, "For me it was all about getting my work out there without fear or doubt and spreading my wings beyond my social media following. I wanted to bring my personally flair into the theme, which is one of the reasons I chose coffee knowing it would have caught the eye of viewers."
­Winning the hearts of Central Banks's staff Butler's mixed media piece "A Taste of Freedom" is her largest coffee painting to date. Using coffee, wood and fabric she portrays a moment of reflection as a male and female figure engage in a face off that bleeds into memories of their heritage. Her work was inspired by Emancipation Day and explores a historical perspective on Afro-Caribbean identity, gender and empowerment.
The exhibition will be on display at The Central Bank of The Bahamas until Friday, November 3rd, 2017.