Nettica "Nettie" Symonette's hideaway has been passed by probably most, if not every, Nassuvian with access to a vehicle. Located minutes from Baha Mar on the Cable Beach strip, the wooden roadside signs leading to Nettie's Place at Casuarinas give little away about what passersby might find within.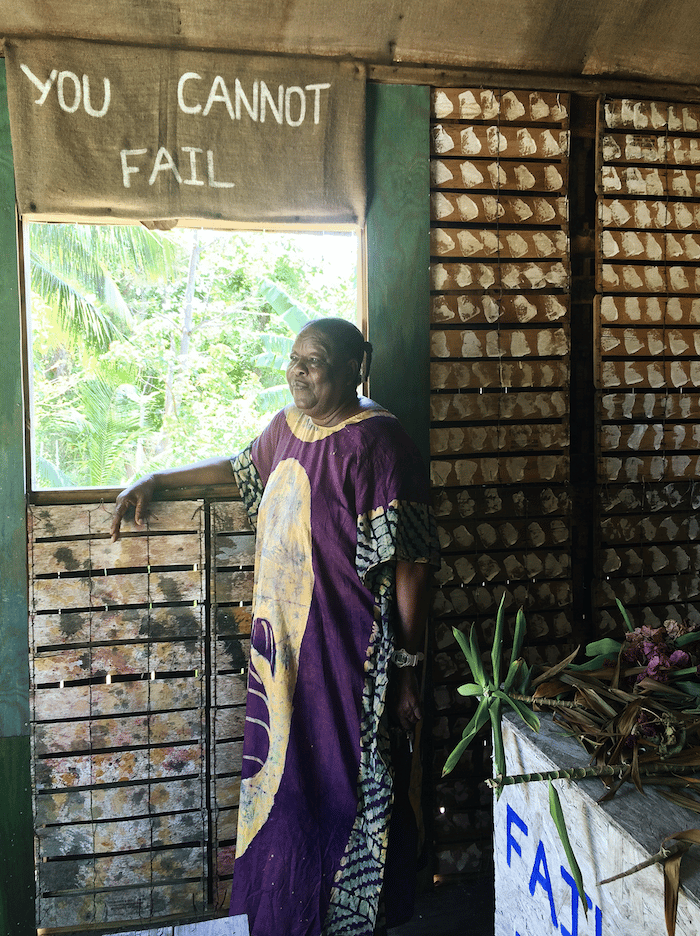 Nettica "Nettie" Symonette stands in the small chapel at her cultural center, Nettie's Place at Casuarinas. NAG
Artwork is one of those things – and there is much of it. Symonette is one of the country's most dedicated and prolific self-taught artists. Though she has been making work for the past seven years, Symonette is entirely untrained in fine arts.
Early career
Symonette comes from a background in hospitality. Born on Eleuthera in 1930, she moved to New Providence and attended Government High School as a teenager. She worked at the Beach Inn Hotel in the late 60s and early 70s.
In the 1990s, she developed an idea for a Family Island eco resort and established Nettie's Different of Abaco, at Casuarina Point in South Abaco. Hoping to introduce guests to everything authentically Bahamian, including food, flora and fauna and history, Different was spread over 100 acres of land and boasted native trees; replicas of Lucayan artifacts and huts and bonefishing flats. It was a hit, but closed sadly and suddenly in 2006.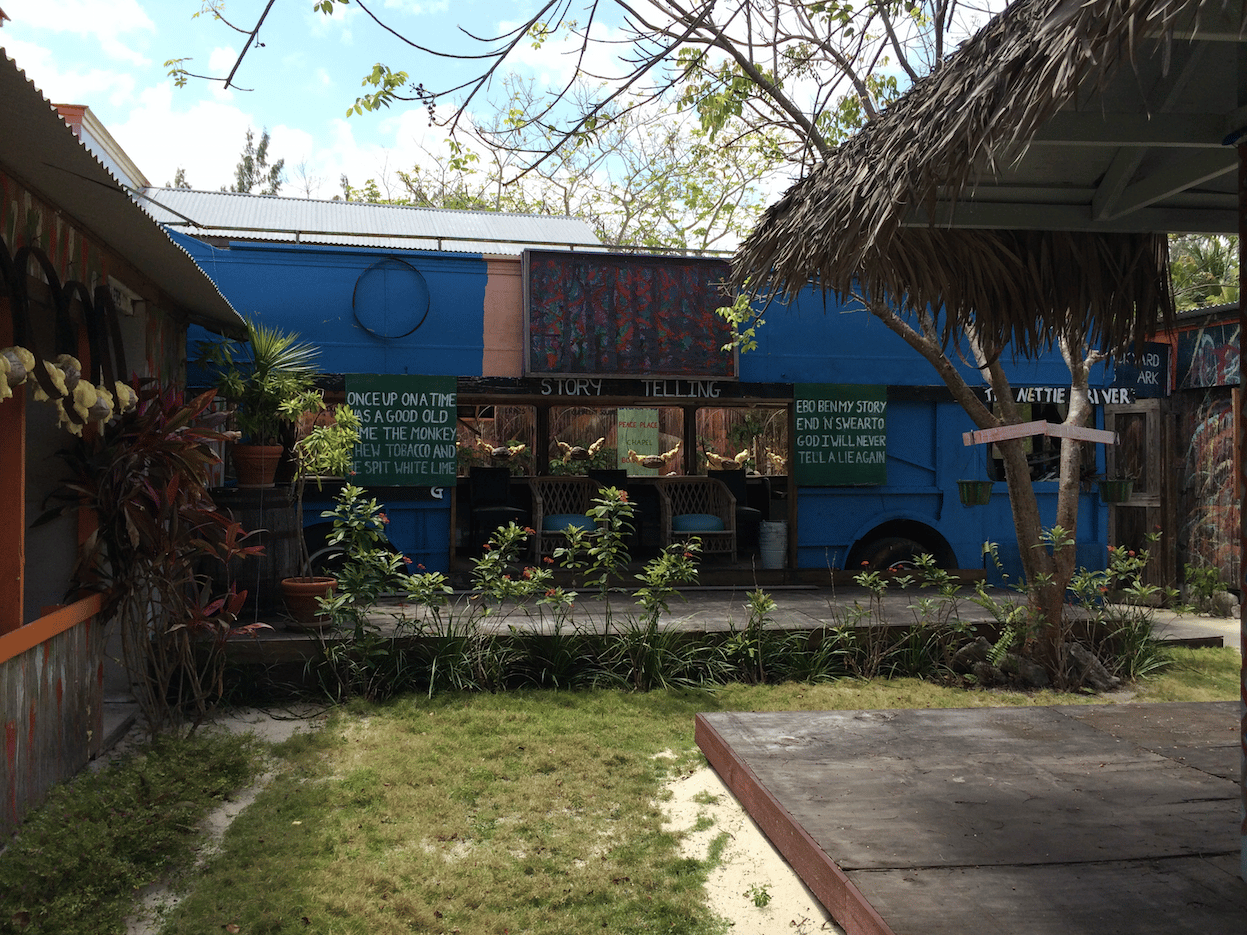 Nettie's Place
Once the only double-decker bus on New Providence, this bus now serves as a "story telling center" at Symonette's resort and cultural center. NAG
She opened her Cable Beach location soon after and has been expanding it since. Nettie's Place is a multifaceted operation, boasting a restaurant, hotel, farm and many other marvels. The business is family owned and operated, and Symonette's sons and daughters can be found onsite doing everything from greeting visitors with freshly made lemongrass tea to making sure hotel guests are well cared for.
Well into her 80s, one would expect Symonette to be slowing down, but she is a woman of vigor and most certainly the queen of her cultural castle. It was through Symonette's vision that the resort and culture centre grew to incorporate an eco habitat, educational venue, artist studio and site dedicated to historic preservation.
Behind three blocks of hotel rooms and a pool is a blue double-decker bus that hasn't seen the road in many years. Once the only double-decker on New Providence, it is now a "story telling center" at the edge of a courtyard/performing space. Symonette's "philosophies" – adages she's collected and written on the walls – fill another room off the courtyard.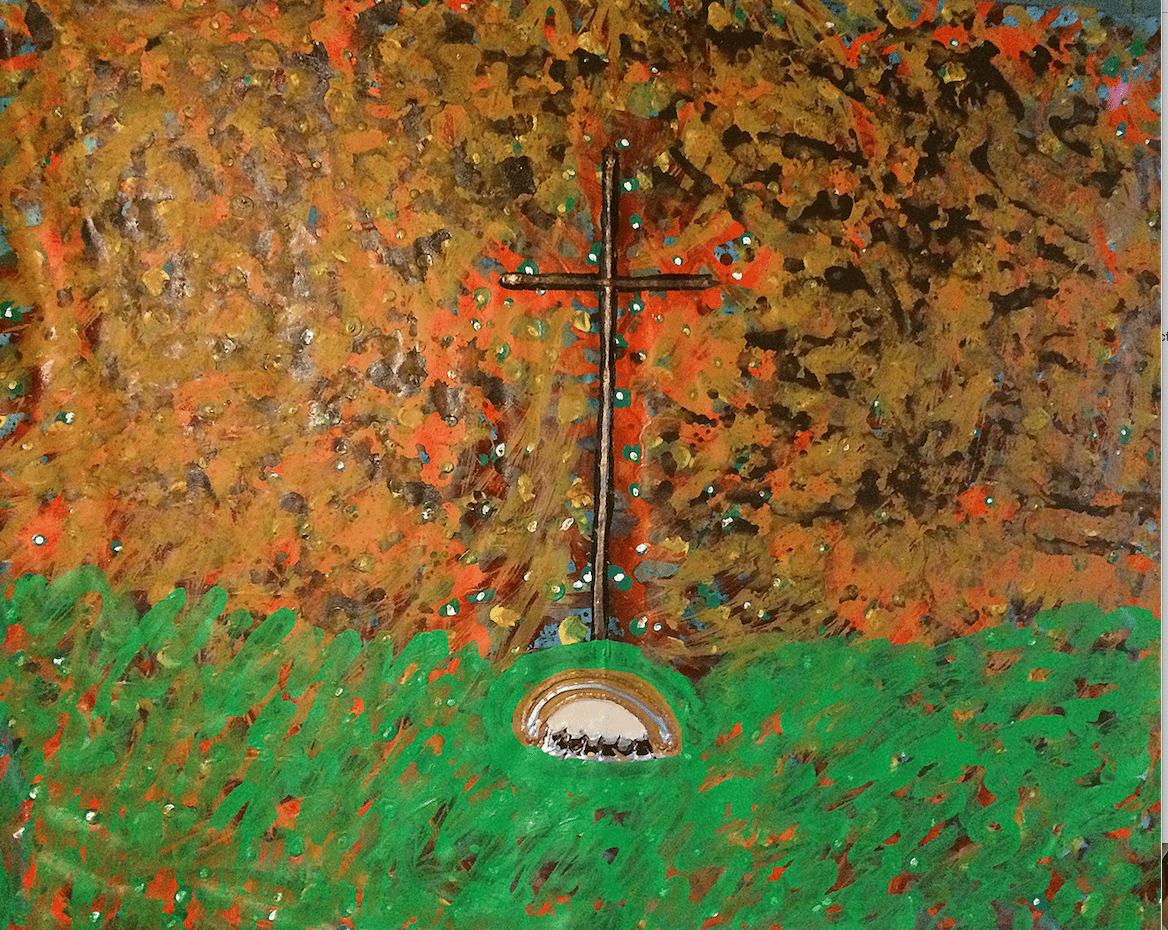 Nettie Symonette describes this work, "No Cross Nor Crown", as her finest piece. Symonette's artwork covers the walls and ceilings at Nettie's Place at Casuarinas. NAGB
Her garden boasts both flora and fauna. Along with tending to her many native fruit trees, Symonette takes care of flocks of ducks and hens, as well as a clutch of peeping yellow chicks. There are also goats and two "crab habitats", where native land crabs can be spotted among rocks and shrubbery. A chapel and maypole are two of the garden's other attractions, but none is as interesting as Symonette's "museum".
Among the hundreds of relics organized and crammed into a single room on the property are an eclectic collection of dolls and old music boxes from a family patriarch. Cordless antique irons hang above an old "Dutch oven" – a pot balanced on three stones and covered with a weighted sheet of metal. It is Symonette's hope that her museum – and indeed the entire site – will document the country's evolution and cultural heritage.
"You come to a place like this and you see that everything all ties in together. It's the broad history of the country," she explained.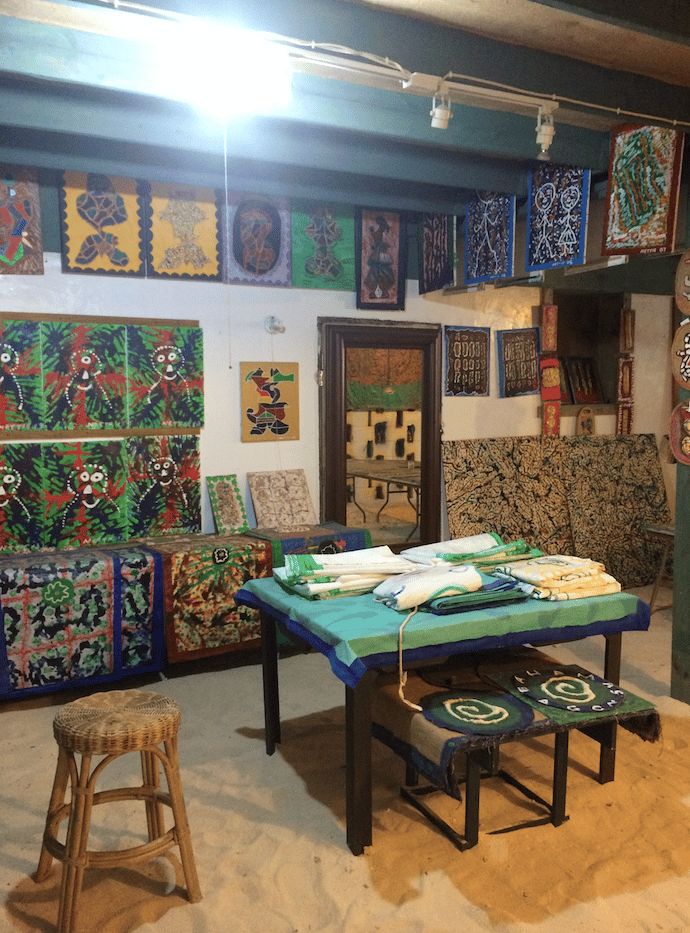 Visual arts practice
The pièce de résistance of the whole resort, though, is Symonette's artwork and studio. Her paintings are everywhere – on walls, tables and even the ceiling. Ornamental coconuts and bottles that hang outside bear the mark of her brush and creative vision. Though she experimented with art as a small child, Symonette began painting intuitively and seriously in 2009 after she settled in Nassau again.
She had tried to begin her artistic practice in the 90s, believing her Abaco-based resort would be the ideal location to paint. But years of hard work to get Different of Abaco off the ground, and fighting to keep it open, led to a temporary defeat until her departure for New Providence.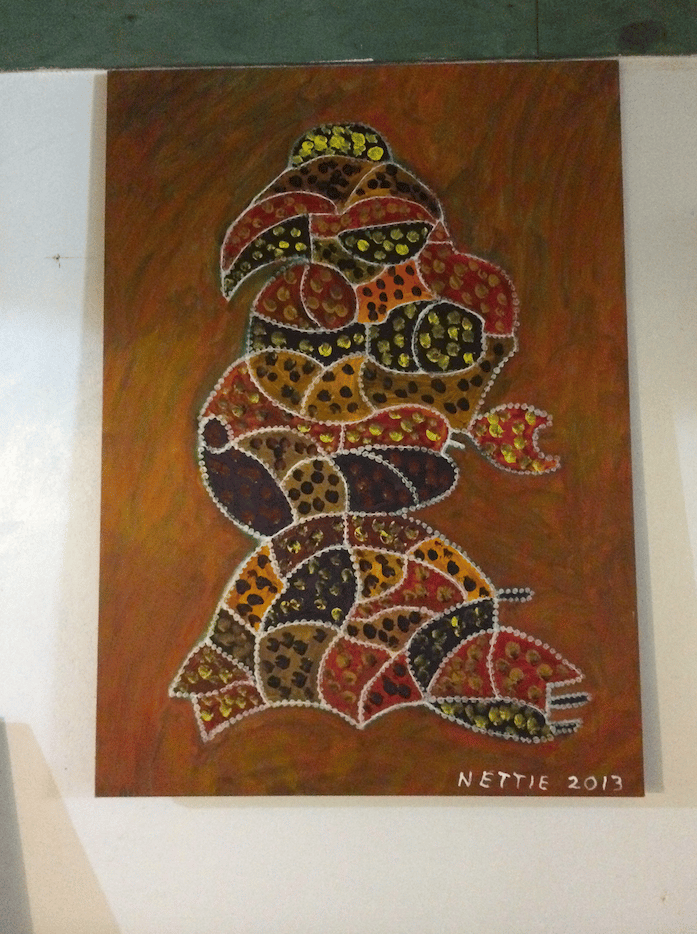 Over the past seven years, Symonette's desire to paint, and often the subject matter of her works, has come from her spirituality.
"I don't know what I'm going to paint. I have no idea," she said. "Because I can't draw, so I can't plan. So as I sit before an empty canvas, something says 'Do this', and 'Do that', and 'Move this'. And then after a while, something begins to take form, and I feel something."
A work called "No Cross Nor Crown" tells the clear influence Symonette's Christianity has on her practice. "I'm told this is my finest piece," Symonette boasted of the painting.
[]
While she hasn't painted in months, this is nothing new for Symonette. She does so when the mood strikes her, and works on the continued development of her retreat in the meantime.
"While I'm not literally putting paint on a canvas, this (the resort) is a piece of art," she said.
Indeed many have admired Symonette's devotion to cultural preservation and to her artwork. As one of the country's oldest intuitive artists and a proud preservationist, she has built a legacy to remember. For more information on Nettie's Place at Casuarinas, call the resort at 327-8153.