On Saturday night, December 1st, 2018, the Honourable Lanisha Rolle, Minister of Youth, Sports and Culture, stood in the stunning Fiona's Theatre at the National Art Gallery of The Bahamas (NAGB) and declared Culture Month officially open by reading a proclamation issued by the Prime Minister of The Bahamas, the Right Honourable Dr Hubert Minnis.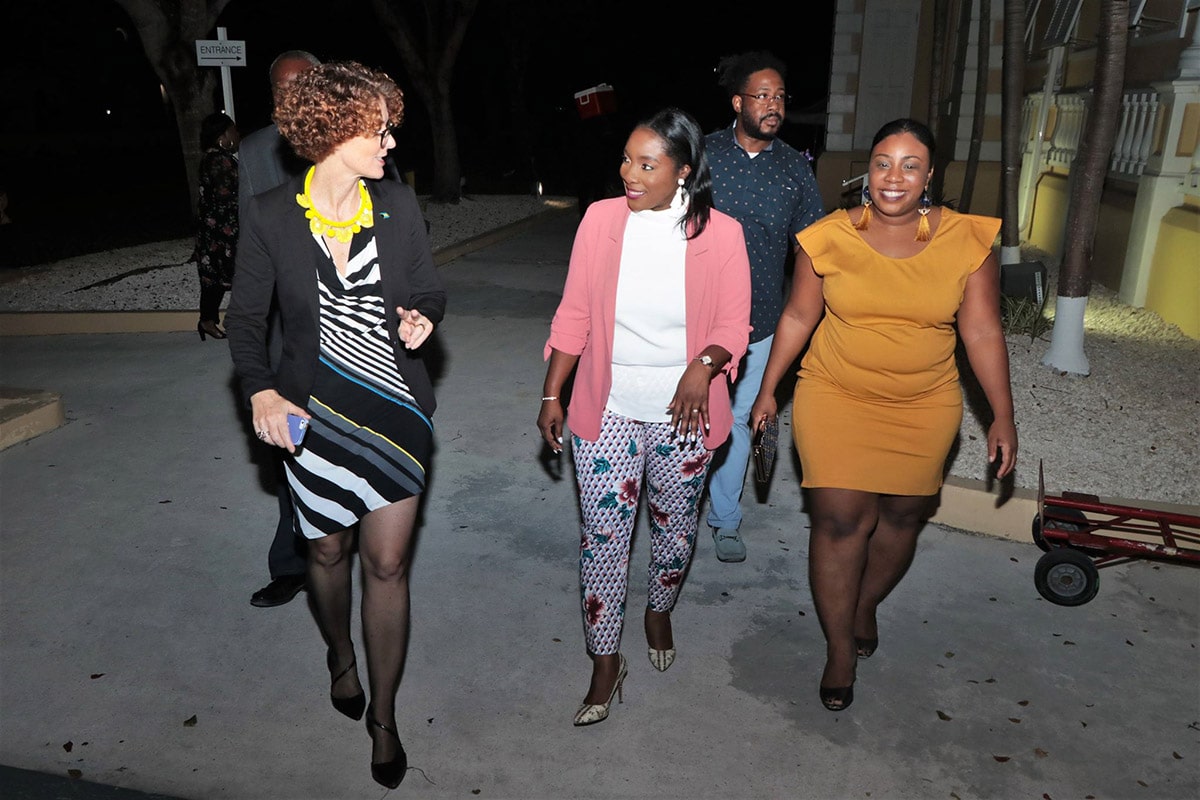 Executive Director of NAGB, Amanda Coulson with Minister of Culture Hon. Lanisha Rolle and Director of Culture, Rowena Poitier-Sutherland. Images courtesy BIS and Eric Rose.
Lead by NAGB's Executive Director, Amanda Coulson, and Director of Culture, Rowena Poitier-Sutherland, the Honourable Minister walked through the rooms currently displaying a selection of the National Collection and visited the solo painting show by Jonathan Bethel in The Project Space. Minister Rolle also made time to stop and chat to a Bahamian film crew—lead by filmmaker Travolta Cooper, who were using the galleries for a backdrop in their shooting schedule—and members of the gathered NAGB team—after which the group and visitors gathered in the outdoor theatre to enjoy a variety of local talent.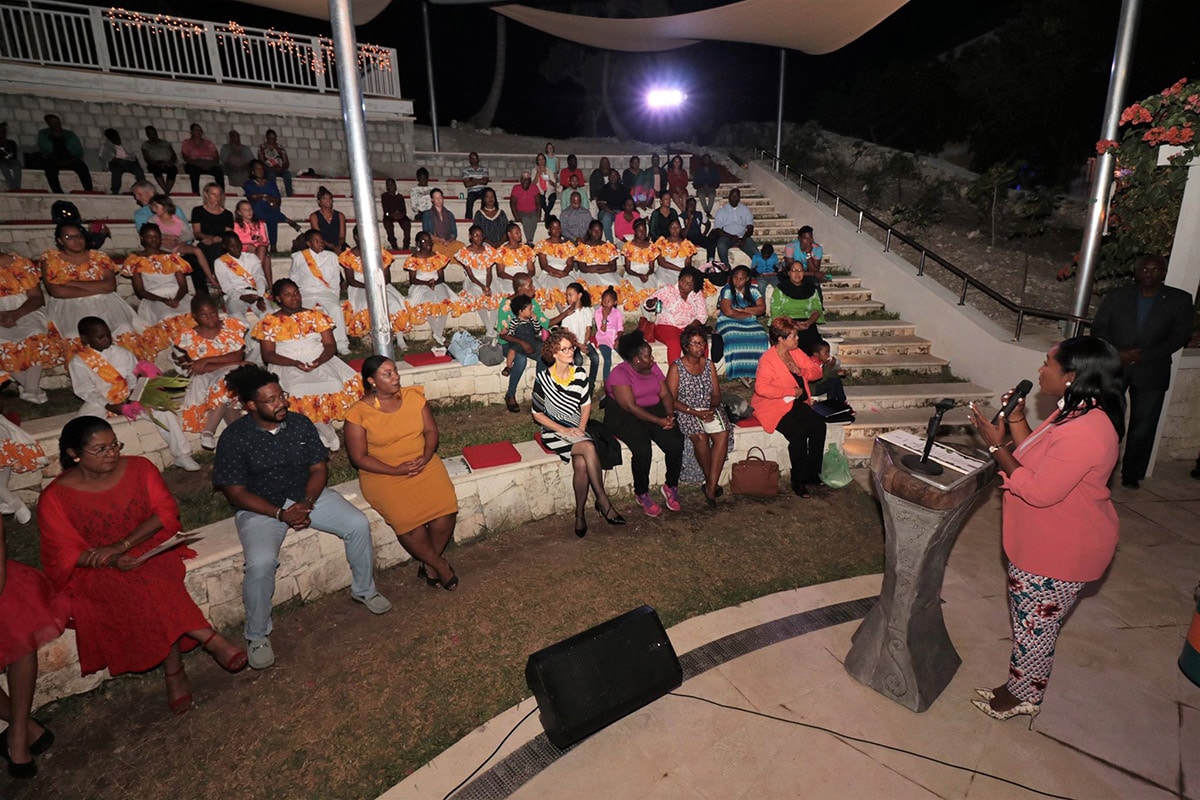 Minister Rolle addressing attendees.
Deputy-Director of Culture, Dereka Deleveaux-Grant, and Senior Cultural Officer, Sonovia Pierre, staged a diverse show ranging from spoken word, with featured artist Jonico Pratt, to circus arts, with members of the incredible Emanji Circus performers, and, of course, a plethora of Bahamian vocalists.
The audience was warmed up with the spiritual stylings of Allison Rolle and Latasha Taylor, as well as a seasonal treat by Cassandra Gordon, then charmed by the fantastic Bahamas National Youth Choir, who brought a Rake'n'Scrape rhythm and the clapping and foot-tapping. By the time Osano Neely hit the stage, backed by the Synergy Band, the crowd was ready to dance, and the amphitheatre saw several audience members take to the floor. The night was topped by performer Julian Believe who, with his usual energy and vigour, was able to coax any wallflowers out of their seats.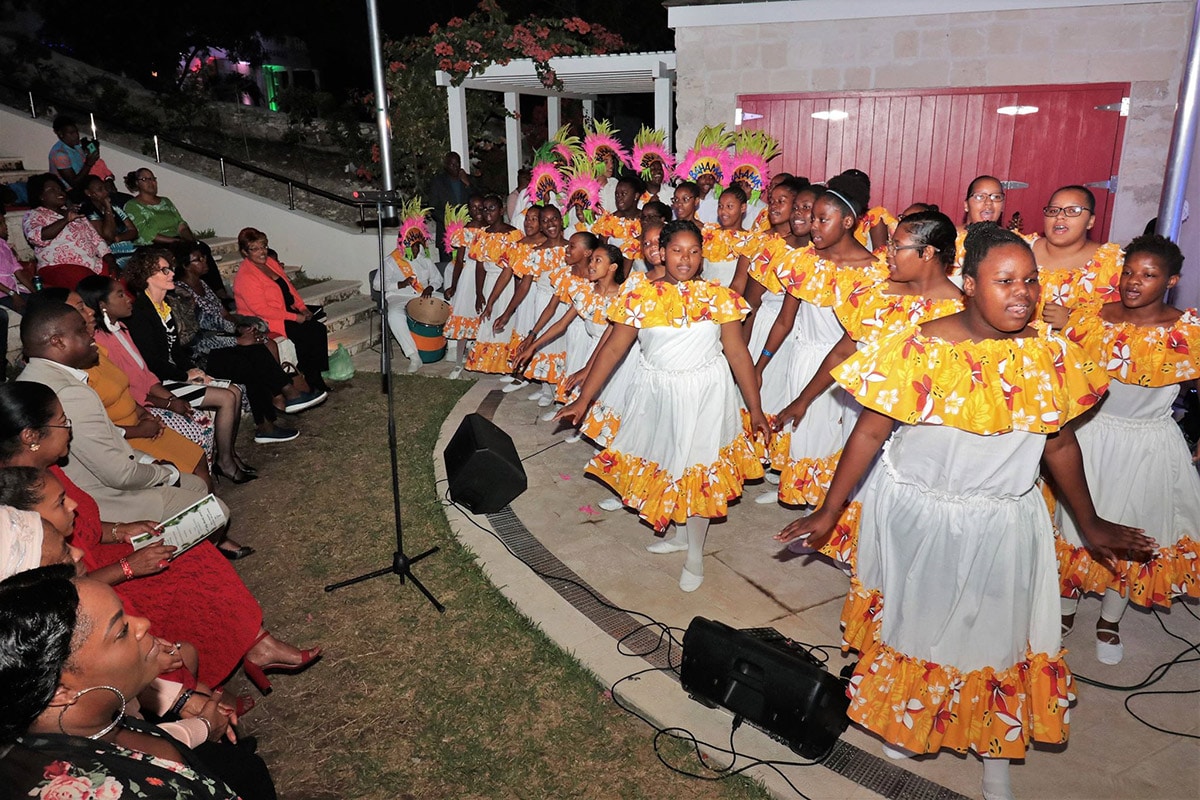 The National Children's Choir performing a 'lil Rake'n'Scrape
After the performances, hungry participants mingled in the NAGB's forecourt and were served food by caterers Vell Monkey Foot and the Qubtic Qitchen, while whoever had missed the gallery's earlier opening hours, were able to visit the exhibitions for a late night viewing. Overall, the evening illustrated, as ever, the talent of Bahamian visual and performing artists and was a fitting commencement for Junkanoo season and National Cultural Heritage Month.