By Keisha Oliver
For Antonius Roberts, his creative practice meets an interesting balance between ritual and survival. He is highly regarded as a Bahamian master artist whose work is deeply rooted in themes of spirituality, humanity, and nature. He is also equally respected as a successful arts facilitator, entrepreneur, and educator who has crafted opportunities for many emerging and practising creatives.
Boasting almost forty years of service in cultural development Roberts' art practice remains his humble solace, a personal ritual that he returns to, to create, preserve and meditate. Often marrying his love for the environment and conservation to channel his ancestral roots he revisits his maternal lineage in his wooden sculptures "Nine Angels" (2008-9).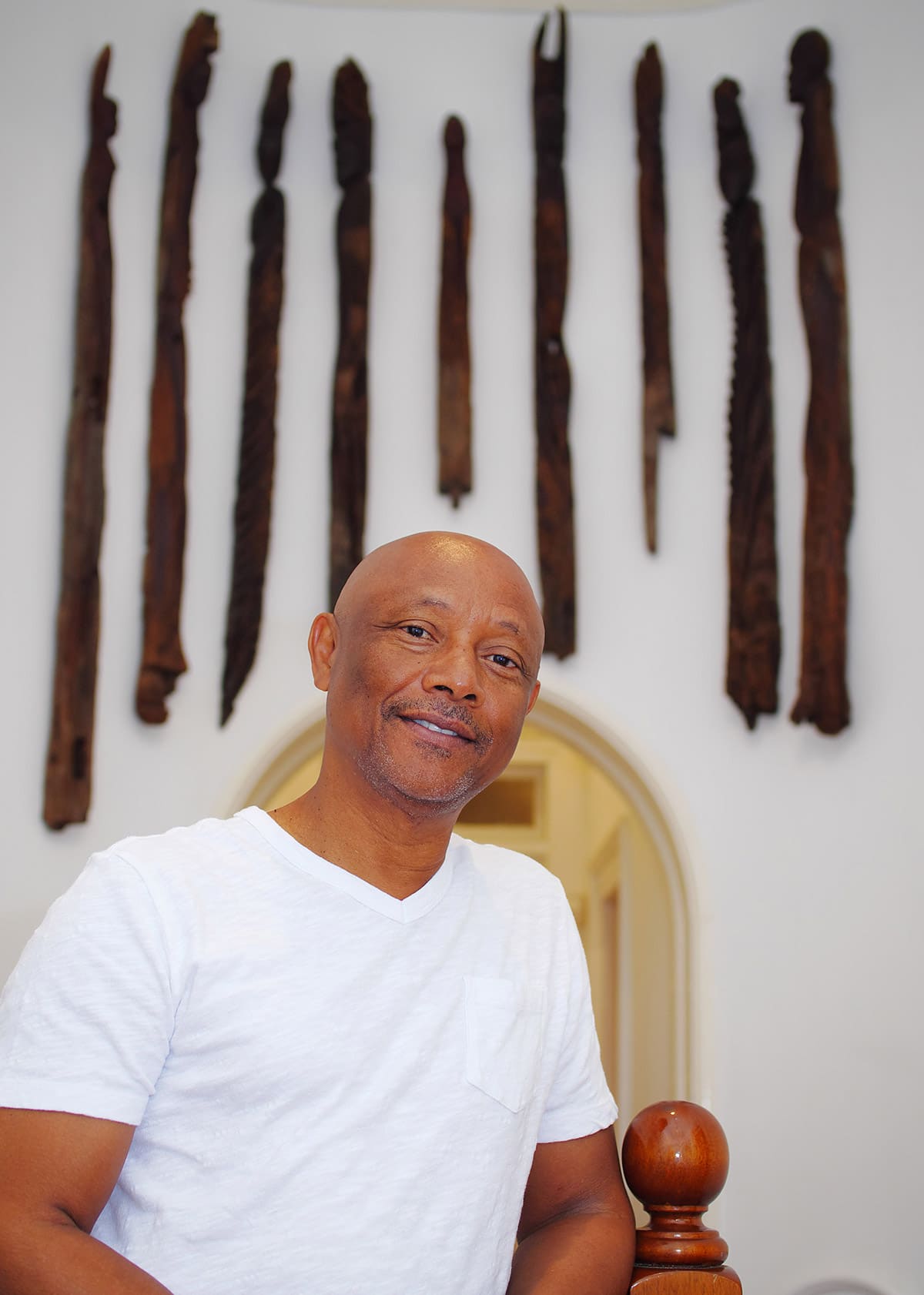 Antonius Roberts with the "Nine Angels" installed at the NAGB. Images courtesy of the NAGB
Presently a part of The National Art Gallery of The Bahamas (NAGB) permanent collection "Nine Angels" will be featured in the upcoming exhibition "Medium: Practices and Routes of Spirituality and Mysticism," opening on Thursday, December 14th.  Formerly hung overlooking the gallery's stairwell the work's presence seems less of a work of art and more of a religious symbol likened to the cross of Christianity. Out of reach, placed in a quiet corner, it evokes a peaceful sanctity. This ideal of transformative experiences and sacred spaces has been the direction of much of Roberts' sculptural work over the past 12 years.
Crafting nine women figures out of Madeira beams salvaged from his family home goes beyond material conversation. Originally built by his grandmother (Marion Sears), Roberts honours her memory and craftsmanship of the historic property where his mother (Zelma Bowe Roberts) was born. With such a rich matriarchal heritage, there is no surprise Roberts' work has placed Black women in such high regard concerning themes of beauty, sexuality, femininity and social morality.
Similar to the style of his sculptural series "Sacred Space" that pays homage to his Afro Caribbean heritage the angelic nine appear as towering figures whose minimal detail and slender construct embody a distinguished elegance. Often seen re-imagining groups of women Roberts' practice continues to highlight his appreciation for the community through an ideal of sacredness. Unlike intimidating public monuments that commemorate the accomplishments of national and international figureheads, he prefers to tell the authentic stories of everyday people that transcend the importance of cultural values within public spaces.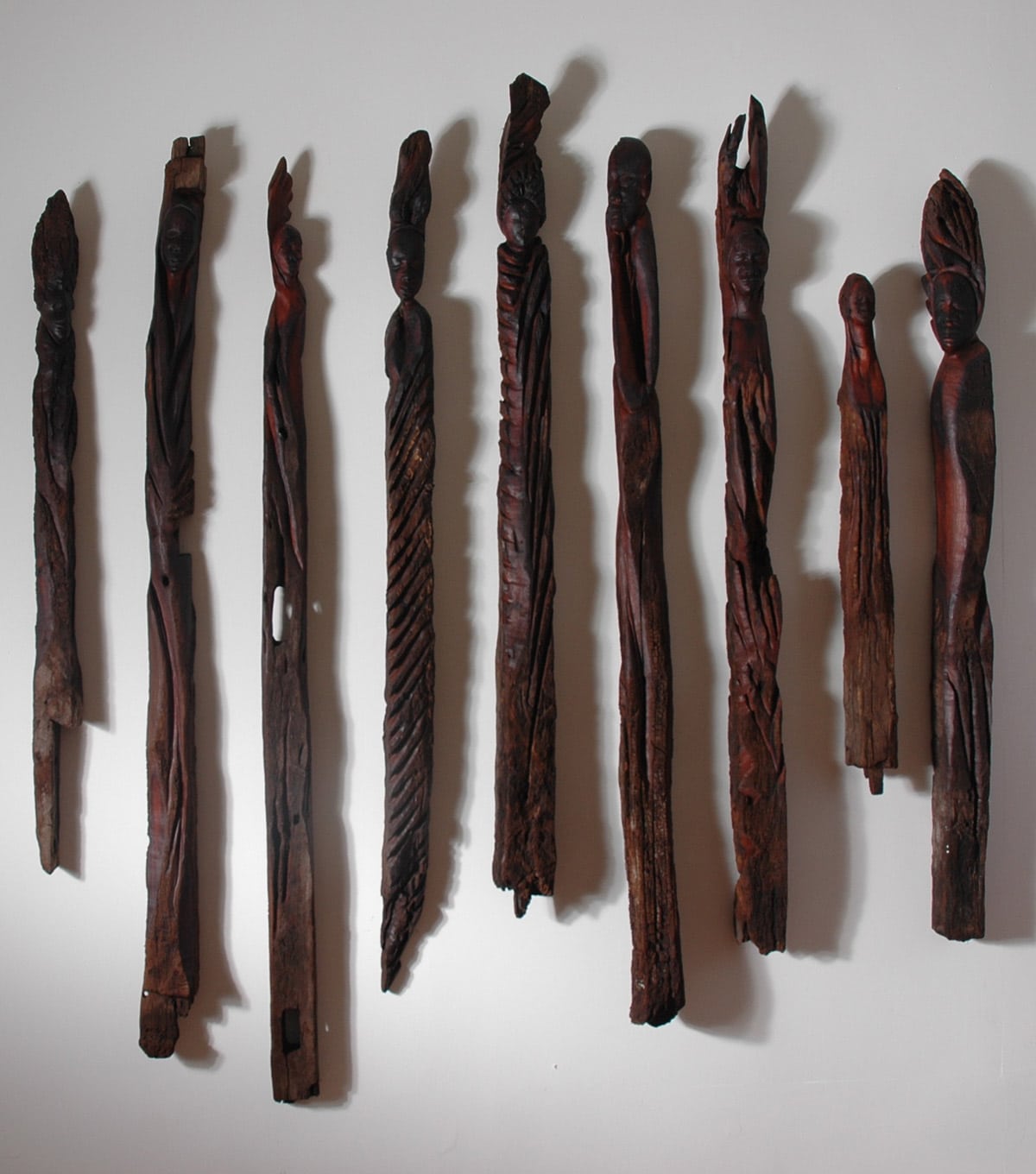 "Nine Angels" by Antonius Roberts, reclaimed Madeira wood. 2008-9
It is evident that Roberts considers historical locations, the reclaiming of the natural into the monumental and the benevolent clusters of solidarity to offer and to invite as much as they are inspiring experiences. Spaces that narrate a sincere account of our past and share the spirit of our women, as a sisterhood of caregivers, community builders and faith walkers.
""Nine Angels" celebrates the lives of my grandmother and my mother, both natives of Moss Town, Exuma. Choir members of the Transfiguration Baptist Church located on Market Street, they believed in the power of prayer. Each sculpture represents The Nine Choirs of Angels, believed to be the true messengers of God." according to Roberts.
His thematic decision draws reference to Christian angelology, an angelic hierarchy that distinguishes the nine spheres of angels that Christians believe are assigned specific tasks by God. In representing his maternal figures and their chorale as angels he uses art to bridge the mortal with the supernatural. Women reimagined as spiritual beings that 'invisibly' carry out the tasks of God exceeds their role in ministry, but gives voice to a broader conversation on representation.
Roberts grew up in the 60s, a difficult time for Black women around the world who endured racism and sexism. A generation that sought refuge and support in the church as a haven and gathering place. But Roberts is not alone in his visual recollection of these women. Other Bahamian masters of that time like Maxwell Taylor, Jackson and Stanley Burnside are often seen chronicling the role of Bahamian women in a patriarchal society. Almost fifty years later and we also see similar narratives gaining attention in mass media in awarding winning films like 'The Help' and 'The Hidden Figures' that share the untold stories of Black women in America in the early 60s. Equally as important is our national gem Marion Bethel's documentary "Womanish Ways: Freedom, Human Rights and Democracy – the Women's Suffrage Movement in The Bahamas, 1948-1962".
"Nine Angels" unveils these women as heroines. It honours the uncelebrated women figures and the special place they hold in our histories that often oversimplifies and misinterprets their contributions. Roberts challenges a society that struggles with gender democracy to give name and face to the stories of women, particularly those of colour, that have shaped our society, so our ancestral voices are never lost.
For the exhibition, "Medium: Practices and Routes of Spirituality and Mysticism," the curatorial decision was made to bring the angels down so that the viewers can inspect the figures and have a deeper understanding of the nuance, engagement and love poured into these figures. The exhibition runs through March 11th, 2018; the general public is invited to the opening this coming Thursday evening at 6 pm.