There are currently more than 200 works by Brent Malone on display at the National Art Gallery of The Bahamas (NAGB), and they all tell the story of a man who was not only a prolific artist, but one whose life was peppered with twists and turns.
The exhibition's name, "Reincarnation", alludes to rebirth and renewal, and is telling of Malone's experiences recovering from alcohol and drug misuse as well as episodes of depression. As they move through the NAGB, visitors notice shifts in Malone's style and subject matter. This becomes particularly apparent in the "Reincarnation" section of the show, where a series of mermaids accompanies flamingoes, shells and Junkanoo costumes, along with an autographed copy of Exuma, "The Obeah Man's", "Reincarnation" album.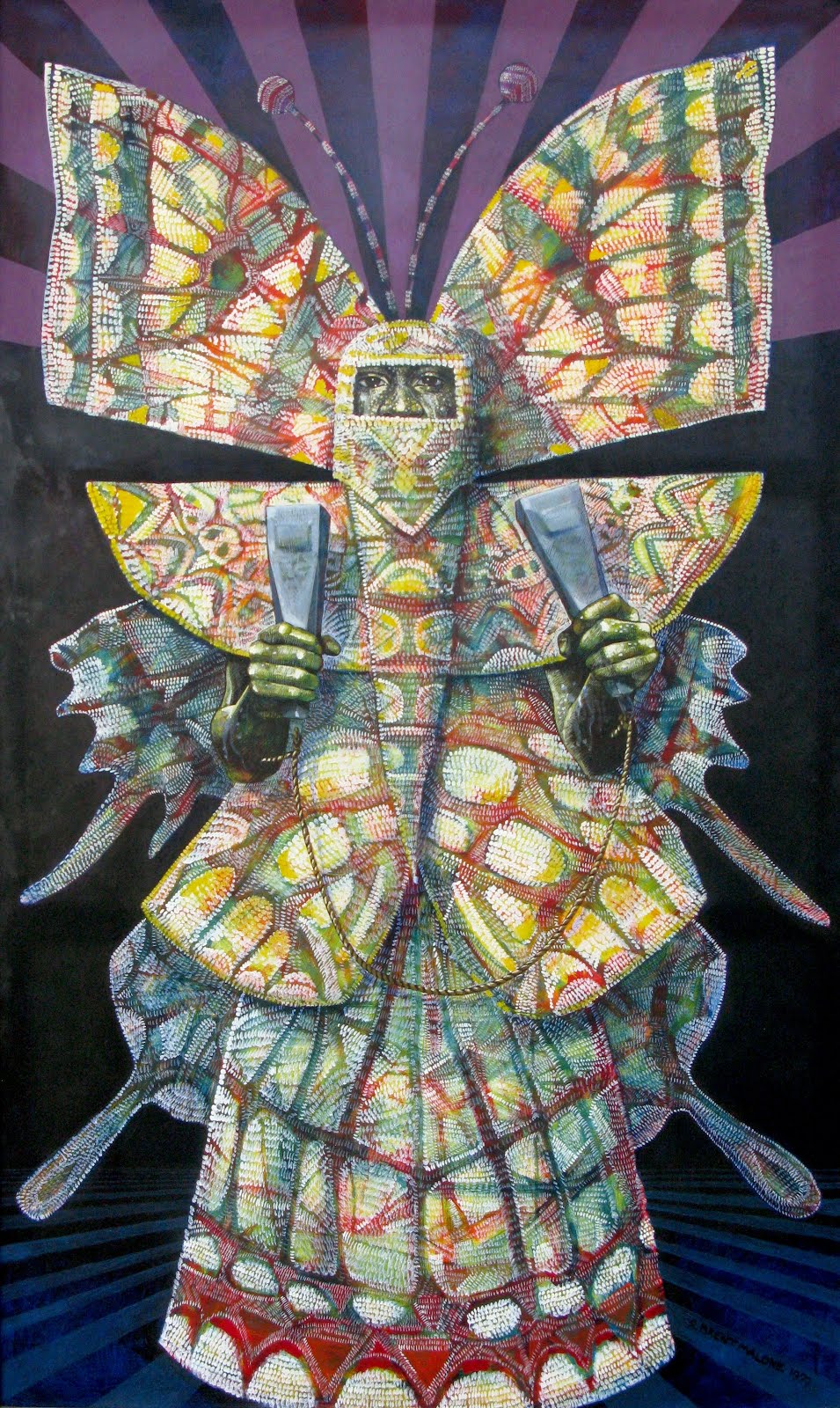 Exhibition curator Dr. Erica M. James wrote, "When the album was released, Malone was in the midst of a difficult period shaped by multiple emotional, spiritual and artistic battles. The Obeah Man's album reawakened something inside. It joined the materiality of the body with the abstract immaterialities of spirit and sound… Malone responded by joining abstract principles with gestures toward the high realism he would become known for."
It becomes clear that, for Malone, like many others, art became a way of overcoming and working through personal turmoil. And in the spirit of Mental Health Awareness Month, it seems fitting to have an open and honest discussion with others who can attest to their experiences linking creativity with mental wellness. That's why the NAGB has invited artist Tyrone Ferguson and psychiatrist Dr. Brian Humblestone to lead a discussion on just that.
Tyrone Ferguson
Ferguson, who is these days known for his refined metalwork, started out making sculpture in a much more simplistic and harrowing way.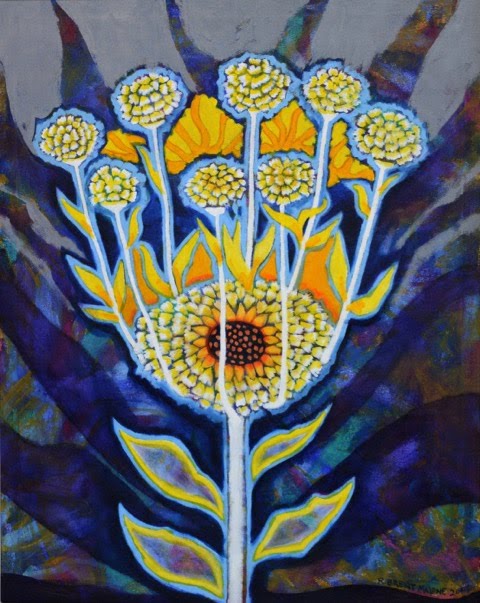 "I was someone who would now be considered abused as a child, and I knew I was abused," recalled Ferguson. "My outlet for the abuse was always art, but I didn't know I was doing art… When I got a terrible beating and I ran away into the woods, I would carve something into a tree, and I would spend hours just carving into this tree. Maybe it was something random. I didn't know it at the time, but it would have [been considered] very abstract. To me it was an outlet."
As he got older, he became a blacksmith's apprentice and learned the trade himself. Working in shipyards and industrial environments, Ferguson began to incorporate bits of machinery into his work. While he has always been careful about which sculptures he sells and to whom, he has made a name for himself as a gate designer and builder. His work can be found at homes in some of the country's most exclusive neighborhoods; still Ferguson has never lost touch with art's significance and importance to his spiritual and emotional wellbeing.
"I got to know people in the art world like Antonius Roberts. Somebody told [Roberts] he had to meet me, so he came and we met… and he brought Mr. [Vincent] D'aguilar to see my work. At the time, I was making work for me," said Ferguson. "If you saw my home, you'd see that it's filled with my work. Sometimes the things aren't for sale."
He met Malone at New Providence Community Center (NPCC), where Malone established the Ladder Gallery – the last gallery he founded before his death in 2004. Malone had sworn off organized religion as a boy; in his later years, though, he found himself in the worship space at NPCC for AA meetings.
According to James, NPCC was "a spiritual community that refused to discriminate or cast judgment… it was quite unlike anything [Malone] had known before."
Ferguson, joined NPCC for that very reason, and he and Malone connected over their similar approaches to spirituality. They worked together on the iconic sculpture that stands at the center's pond, which Ferguson completed after Malone's sudden death.
In similar fashion, Humblestone and Ferguson connected at NPCC, where Humblestone contributes to the center's music program as a drummer.
Dr. Brian Humblestone
Humblestone studied medicine at St. George's, University of London in the 50s and early 60s, but the arts have been close to his heart since childhood. The psychiatrist grew up in a working class family in post-war England. As a young child, he enjoyed painting; but as he watched his father grow into a smoker and alcoholic, his interests switched to studies of the mind.
Since the 60s, Humblestone has seen trends in therapies and rehabilitation come and – thankfully, in some instances – go. His experience in art therapy began with a group of patients in Kent, UK, most of whom were survivors of concentration camps during World War II. Each week for six weeks, the group would create paintings for Humblestone and his supervisor, Dr. Harry Rose, to interpret as markers of their development.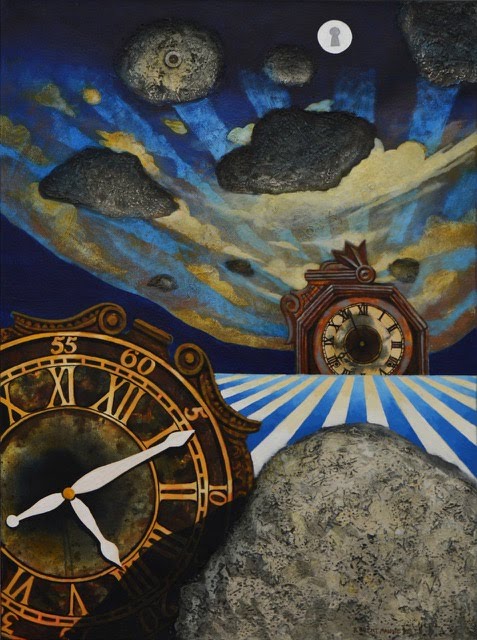 He brought the group therapy model to The Bahamas, using it in the new Alcoholic Unit at Sandilands Rehabilitation Centre. There, patients engaged in art therapy and Humblestone continued his painting interpretation practice. He also made the acquaintance of Joe Monks – then a local legend and community rebel. Today Monks is better remembered as an intuitive artist, but in those days he was known for being in and out of Her Majesty's Prison and Sandilands. Humblestone and Monks developed a friendship over the years, and Monks would occasionally find himself a guest at Humblestone's home for lunch.
The doctor has differentiated himself from others in his practice by questioning notions of madness and the classification of persons as mentally ill. Like Ferguson and Malone, he, too, has embraced theories of spiritual and emotional fluidity as well as the importance of holistic and organic methods of achieving mental wellbeing.
Ferguson and Humblestone will be responding to ideas of art as a therapeutic medium at the NAGB on Thursday, January 21. The talk begins at 6:30 p.m., and all members of the public are invited and encouraged to attend.