EXHIBITION
Blake Fox & Shanteena Simms: Again. Again. Again
Thursday, May 25, 2017
Sunday, June 18, 2017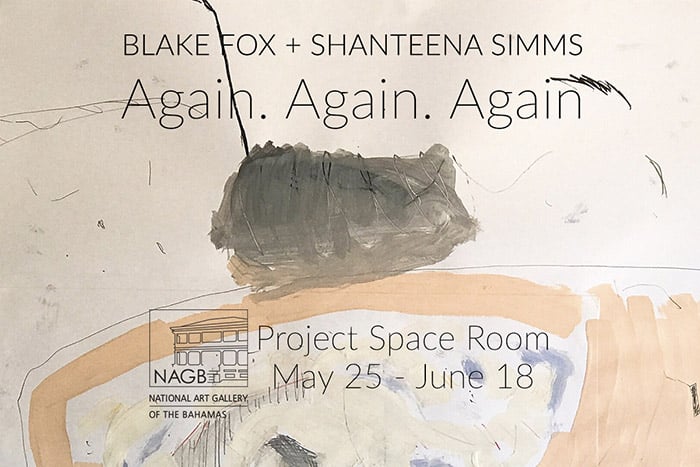 The National Art Gallery of the Bahamas is proud to welcome and continue our ongoing partnership with the University of The Bahamas Art Programme. Under the guidance of Associate Professor and artist Heino Schmid, the selection this year welcomes two emerging Long-Island artists and budding educators, Blake Fox and Shanteena Simms.
Fox's painting and drawing practice moves beyond the technical into an instinctive space where he experiments with mark-making that is spontaneous and forms the foundation of his practice. This process, somewhat intuitive and reactionary, leads to a very abstracted understanding of how works are completed. The field of expansiveness within the paintings and drawings speak about an emptiness and how abstraction can be positioned as a tool to work through ideas of combating the stagnation often felt within representational work. Using monochromatic tones and composition as powerful tools, lines, barriers and dots become a part of a pastel arsenal, which works to muddy our understanding of form and meaning.
Simms' body of work is an exploration of patterns influenced by fond memories of island life and growing up in this space that is often treated as 'quaint,' with the harder reality of life in the Family Islands often sidelined in favor of the picturesque beauty. With a keen interest in textile designs, she creates simple patterns that hark back to memories of childhood. By weaving readymades—ordinary pre-manufactured or found objects that the artist selects and uses in/as the artwork—into the fold of her practice, along with the domesticity of sewing, Simms' method of working promotes a questioning and interrogation of the materials as authentic. She also looks to the iconic imagery of the pineapple as something to be revisited and examined. Though the work involves a kind of nostalgia and sentiment, in many ways this isn't forceful, but rather a gentle nudge for us to keep open to other Bahamian experiences and ways of life.
It is important for the NAGB to continue to provide a platform of support for artists who are transitioning from the safe space of academia into the real world. By directly supporting students we continue to enrich and evolve the national discourse by taking into consideration how new creative practice continues to evolve, thereby keeping our best practices and principles up to date.
Finally, the synergies and open dialogue promoted by this kind of collaboration and support are of immense benefit to the local arts community, offering a platform to unpack contents within the work and develop deeper more meaningful collaborations and connections with each other and the wider local creative community.
Blake Fox is an artist living and working in Nassau, Bahamas. He is currently pursuing his Bachelor of Art Education degree at the University of the Bahamas. Blake works primarily in the fields of drawing and painting. His work concentrates on non-objectivity and incorporates simple shapes, forms, and lines. The process of mark-making is also a common theme throughout his work. Blake has exhibited his work at the Pro Gallery, Popopstudios, and most recently, at the Island House during the In Progress exhibition in April, 2017.
Shanteena Simms was born on New Providence and raised on Long Island. She is currently pursuing a Bachelors of Education in Art at the University of The Bahamas. Still exploring identity in her creative practice, Shanteena floats between representational and nonrepresentational works of art. She practically enjoys working in mixed media. Shanteena has had the opportunity to showcase her work in a number of platforms including shows such as Colour of Harmony, Transforming Spaces (2016), Chan Pratt Foundation's Art is Life (2016). Shanteena has also created the logo design for RBC and the former College of The Bahamas' Blue Water Project and more recently has her photography displayed in the 2017 Scotiabank Calendar.