MMASC 2021 Virtual Exhibition
Jammin' Visuals
Thursday, Aug 19th, 2021
10:00 AM
Sunday, Sept 20th, 2021
5:00 PM
Participating campers: Alaya Nottage, Anheli Frank, Ashleigh Knowles, Ashleigh Swift, Ashly Cartwright, Ayira Roache, Bria Hunt, Calvin Mason Jr., Chloe Sawyer, Cynesha Mason, DeAnna Johnson, Devanique Mader, Dicula Louijeune, Dwayne Lewis, Jade Darling, Janeille Moxey, Jayden Lynch, Jordyn Coleman, Joshua Knowles, Kalia Johnson, Khalia Rolle, Kiahzsa Adderley, Laila Benjamin, London Smith, Morgan Sands, Noah Maycock, Raine Bastian, Ranajah Wood, Raziel Rolle, Rebecca Quant, Riley Symonette, Rocelis Moxey, Schneilie Amazan, Shyanne Knowles, Solaya Rolle, Tyreece Thompson.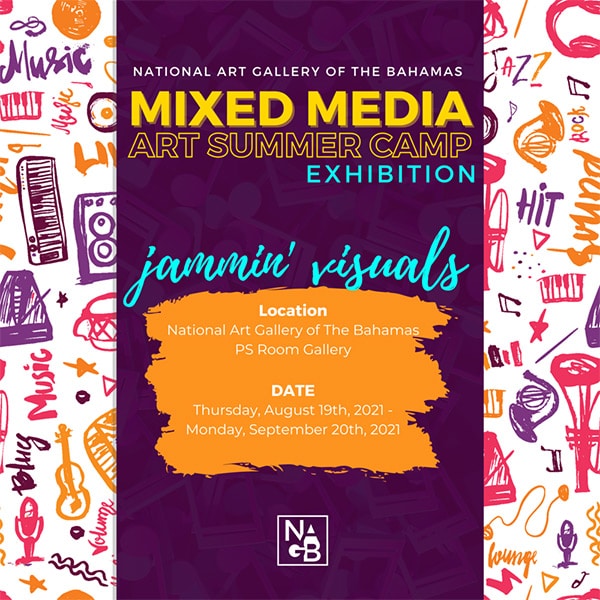 Art moves, art sings, art breathes! Visual arts can document a people's culture and history while aiding in the exploration and understanding of the human psyche through creative expression – and within all of this is music. The intertwined lives of visual art and music have resulted in a siblinghood that allows us to tell our stories, preserve our existence, and makes the journey a little lighter in the process. Music and art can be both chaotic and harmonized, amusing and therapeutic, and when needed, create safe spaces and induce essential discomfort. Their juxtaposition is in itself another form of art and reaches out to the creative mind, imploring us to take a closer look. Having students from either discipline take the time to explore what this relationship has to offer can deepen their understanding and improve their ability to create.
This year the Mixed Media Art Summer Camp did just that: encouraged students to take a comprehensive look at the relationship between art and music. The immersive sensory experience looked at how the visual arts can be used to complement, enhance and in some cases make possible the presentation of the musical arts and vice versa. Students delved into the world of music to create artwork that has lyrical, emotive and performative elements. They explored both mediums to discover their complementary and juxtaposed traits, resulting in the ability to merge and use them to their fullest extents.
Click the play button below to enter a 3D virtual space of the the Mixed Media Art Summer Camp 2021 Virtual Exhibition (currently on view in the Project Space at NAGB).
Special Moments and Digital Projects
Under the theme "Jammin' Visuals", campers investigated the relationship between the visual arts and music. This video is a selection of special moments and digital projects that took place over the course of the camp.
Sponsors
A special thank you to the Central Bank of The Bahamas, whose support allowed the NAGB to fund this programme.