EXHIBITION
Jonathan Bethel: Elemental
November 1, 2018
December 2, 2018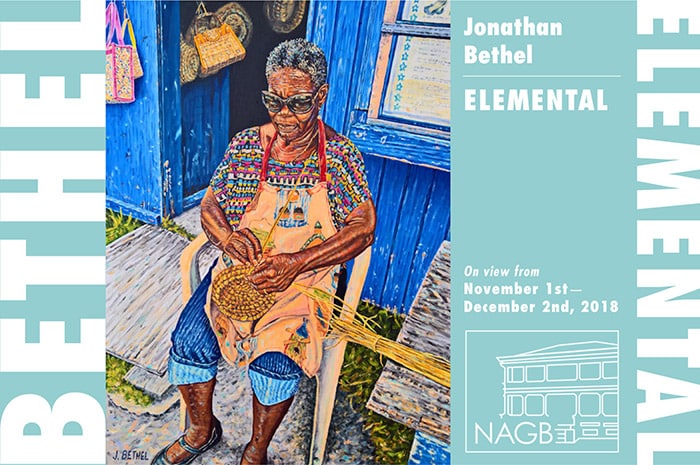 The NAGB presents a solo exhibition in our Project Space Room by Jonathan Bethel titled "Elemental". Opening on Thursday, November 1st, the showcase features luscious acrylic paintings celebrating the unspoilt and nostalgic beauty of The Bahamas. Starting at 5 p.m the gallery will be open for extended viewing hours with libations till 7 p.m in connection with the NAGB's Creative Time Conference.
Jonathan Bethel draws inspiration from his surroundings and the inherent beauty of the Bahamian landscape, seascape and its people. Travelling across the archipelago and conducting everyday tasks, the everyday and the humdrum of regular living inspires him to fix this beauty in painting. Being further inspired by memories of growing up and the nostalgia for similar times, Bethel reminds us that island life is worth living, and there is a quiet charm to the rituals that we recall and or still participate in. Things like picking and or stealing summer fruit -seagrapes, guineps, sugar apples, hog plums–from neighbours or sculling boats and dinghies around the harbours across the Family Islands.
Bethel's artistic vision began to take shape when he was at the University in South Carolina and became homesick. This distance and separation became a longing, and within his memory, he fixed his gaze to reassess his connection to home. Bethel draws from the contemporary Bahamian art environ and several local art masters such as Rolfe Harris, Eddie Minnis and Brent Malone, as well as international artists– from impressionists like Claude Monet, Vincent Van Gogh to realist painters like Jaime and Andrew Wyeth.
Artist Biography
Jonathan Bethel was born in Nassau, The Bahamas in 1978. He attended St. Andrew's School, graduating in 1996. He then went on to Clemson University in South Carolina graduating in 2001 with a Bachelor of Fine Arts. Jonathan's paintings realistically capture the majesty and character of Bahamian life and scenery. Using acrylic paint as his medium, he explores a wide array of subjects, such as historical Bahamian homes and landmarks, colourful native plants, and of course the luminous waters of the Bahamas.
In 2001, Jonathan received first prize in the Eighteenth Annual Central Bank of the Bahamas Art Competition––the most prestigious local competition for young artists. He has also participated in many group shows in Nassau and the Family Islands, as well as several successful solo shows. Jonathan's artwork is in the private collections of many prominent Bahamians, and art collectors and enthusiasts around the world. In May of 2008, he was featured in the annual Bahamas edition of the famous Southern Boating magazine, including having one of his paintings on the cover. He was also commissioned in 2014 by Baha Mar to complete a series of 13 paintings for one of its public spaces.