EXHIBITION
NATIONAL EXHIBITION 7 (NE7)
December 11th, 2014 – May 10th, 2015
Participating Artists Include:
John Beadle, Dionne Benjamin-Smith, Ian Bethell Bennett, Jason Bennett, Sue Bennett-Williams, April Bey, Dede Brown, John Cox, Sonia Farmer, Tyrone Ferguson, Kendra Frorup, Yutavia George, Steffon Grant, Kendal Hanna, Jalan Harris, Ken Heslop, Jay Isaacs, Sony Jean-Jacques, Tyler Johnston, Sue Katz, Arnold Kemp, Helen Klonaris, Dominique Knowles, Scharad Lightbourne, Toby Lunn, Susan Moir Mackay, Anina Major, Jace McKinney, Jeffrey Meris, Jodi Minnis, Kareem Mortimer, Piaget Moss, Angelique V. Nixon, Holly Parotti, Lynn Parotti, Khia Poitier, Dylan Rapillard, Omar Richardson, Leanne Russell, Marie Sairsingh, Heino Schmid, Steven Schmid, Nadine Seymour-Munroe, Craig Smith, Dave Smith, Obediah Michael Smith, Giovanna Swaby, Maxwell Taylor, Tessa Whitehead, Eleanor Whitely, Natalie Willis and Keithley Woolward.
Curated By: Holly Bynoe, Michael Edwards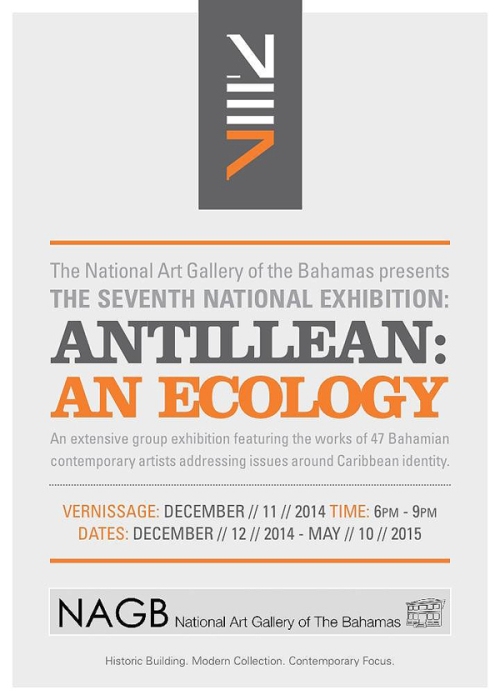 I start from the belief that Caribbeanness is a system full of noise and opacity, a nonlinear system, an unpredictable system, in short a chaotic system beyond the total reach of any specific kind of knowledge or interpretation of the world… —Antonio Benitez-Rojo
For the past 11 years, the National Art Gallery of the Bahamas (NAGB)  has committed itself to fostering of local artists who continue to push the frontiers and foundations of culture across the islands. The institution assumes a critical role in the development of visual arts and a strong economy of thought and language that devotes itself to exchange, the shoring up of national identity, scholarship and education. Every two years, the NAGB presents a group exhibition to showcase works being currently produced in The Bahamas. The focus is largely on contemporary artists of Bahamian descent or those living and working in The Bahamas today. Since the fifth edition in 2009, the exhibition has been given a theme so as to create a more focused overall show and artists are invited to respond to a specific call with the final works being selected by that edition's specific curator(s).
The seventh edition — the NE7 — will coincide with an important international conference organized by Duke University in collaboration with The College of The Bahamas, whose theme will be reflected in the call for works and will challenge Bahamian visual/creative practitioners both resident and afield to respond broadly to the dynamics of race and class.
The NE7 will be curated by lecturer/artist Michael Edwards and Director of ARC Magazine Holly Bynoe; It will open on December 11th, 2014 and run through May 10th, 2015 at the National Art Gallery of The Bahamas
The NE7 will have a symbiotic relationship with "Blackness: A Comparative, Cross-National Investigation of Meaning and Significance," the conference initiated by Duke University. Complexities of the modern notions of Blackness, Whiteness, and the in between will be interrogated to consider how these markers have been manifested socially, politically, culturally and economically. We invite artists to investigate, within a broad disciplinary field and through various mediums, the impact and implications of the dynamic relationships that have been forged by the passage of time, and issues arising out of race, ethnicity and its contemporary discourse.
To do this, we look towards citizenship, migration, the landscape, collective traumas, slavery, Indentureship, trade, racial delineations, the hybrid and rhizome; we look at things that have shaped our identities. We consider the imagination, memory, language and mythologies and how they offer a critical space to intersect with stereotypes that are deeply ingrained in our social fabric about personal and public personas.
"The Antillean/Antillanité," a context developed by the Martinican writer Édouard Glissant, embraces the multiracial and transracial culture of the Caribbean as syncretic. The Antillean is mammal; he or she is submarine, lying outside of the borders of a normative existence, embodying multiplicities, defying singularities and tangling with liminality – a mind and body that simultaneously occupies the center and periphery of never ending possibilities.
Are we then ready to confront the contentious relationship that we have with race and ethnicity? What would that unearthing look like and is there room for counter narratives? How will these definitions of Blackness, Whiteness and the dynamic range in between, fit into the social diversity of the nation? What kind of shift will this bring about in our public and private relationships? What types of freedom, permission and possibilities would this engender?
The NE7 calls on visual and literary artists to engage with these complex ideas of self, and how they have been affected by social and racial codes, complex histories and global convergences that are seeking to determine representation and meaning.
Michael Edwards received a BFA in Painting from the Rhode Island School of Design in 2000, and a Master of Science in Art and Technology from Chalmers University of Technology, Gothenburg, Sweden in 2006. Edwards has been a visiting critic at Valand School of Fine Arts, The University of Gothenburg, studio assistant at Sam Gilliam Studio, Washington, D.C., and Senior Education Officer at The National Art Gallery of The Bahamas. Presently, he is a lecturer in the School of Communications and Creative Arts at The College of The Bahamas.
Holly Bynoe is a visual artist, curator and writer from St. Vincent and the Grenadines, and is currently living and working across the Caribbean. She is the co-founder and director of ARC Magazine, the premiere visual art and culture publication focusing on contemporary visual art created throughout the Caribbean and its diaspora. Recently, she has overseen production of Caribbean Linked a roving emerging artists residency program, was appointed curator for the International Biennale of Contemporary Art: Martinique, and curated a segment of Transforming Spaces 2014 in partnership with Liquid Courage Gallery and the National Art Gallery of The Bahamas.