EXHIBITION
"TRANS: A Migration of Identity" at Rand Nature Centre
Co-curated by Abby Smith & Richard Barrett
Friday, April 5, 2019
Friday, April 26, 2019
Rand Nature Centre
Grand Bahama, The Bamahas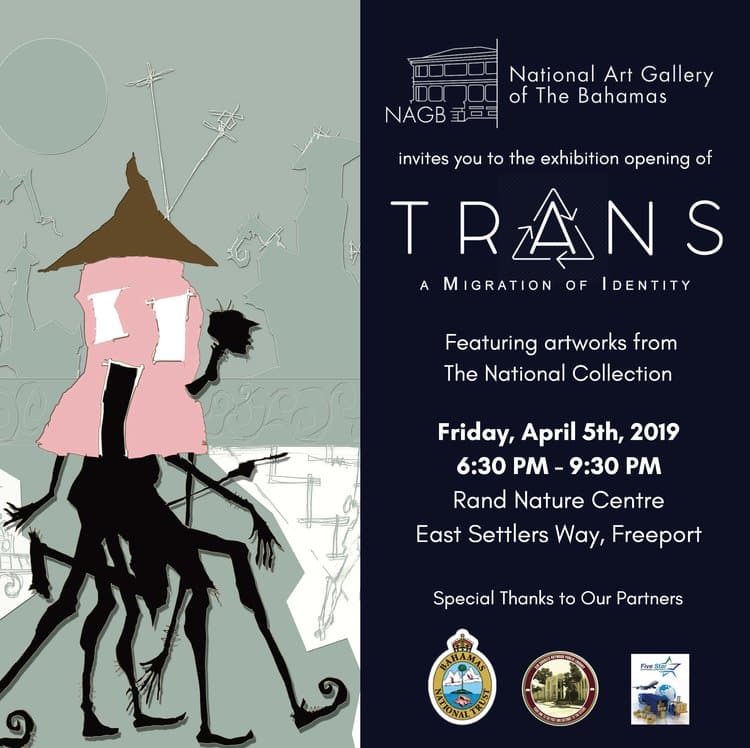 The NAGB team is taking the Inter-Island Travelling Exhibition to Grand Bahama for the second time this April! We were last in Grand Bahama in 2016 with "Max/Amos", which was showcased at the Charles Hayward Library; now the NAGB's travelling exhibition programme is taking "Trans: A Migration of Identity" to our second city, where it will be on display at the Rand Nature Centre from April 5th- 26th, 2019. This unique initiative is accompanied by an extensive community outreach programme inclusive of our public mural programme, free workshops, a public talk, school visits (primary and secondary) and donations of museum literature for art teachers, schools and public libraries.
Dissecting national identity through the lens of visual artists, the National Art Gallery of The Bahamas presents works that question and respond to our collective reality – one that is shaped by the movement of peoples of many origins: Africa, Europe, Asia, The Caribbean. Drawing from the National Collection, this exhibition examines the transformative narrative of migration, arrival, assimilation and renewal.
If you're already in Grand Bahama or travelling there, join us at the opening reception for this very relevant exhibition at the Rand Nature Centre on Friday, April 5th at 6:30 p.m. And of course, participate in all of the free activities that will be facilitated for one full week by our knowledgeable and capable NAGB staff!