By Katrina Cartwright
As a part of The National Art Gallery of The Bahamas' monthly programming, the "Fabric Printing Workshop" with Joiri Minaya, the first workshop for the fall season, was held on Saturday, October 14th on the Gallery's grounds. Led by Double Dutch artist Joiri Minaya, a diverse group of 19 participants were introduced to the basics of block printing then invited to try out their designs on fabric.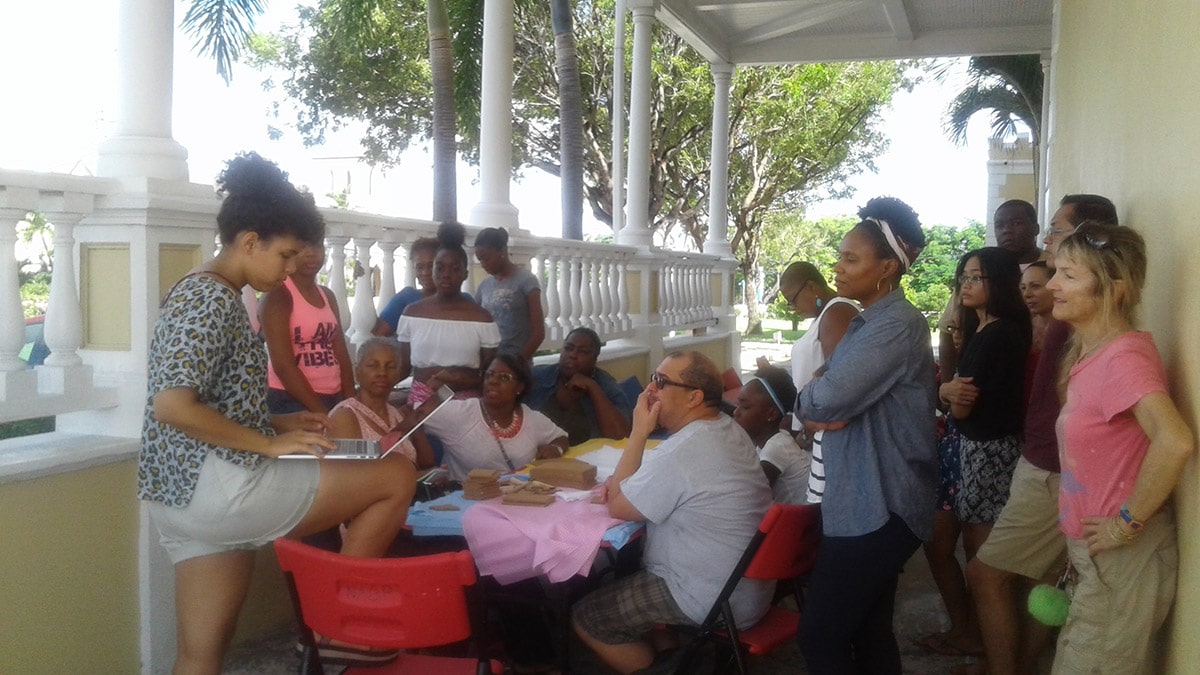 Joiri Minaya explains block printing to a rapt audience. All images courtesy the NAGB
Block printing is one of the oldest forms of printmaking and has been around for thousands of years. It is essentially done using a carved material covered with ink to transfer an image onto a flat surface – in this instance fabric. Several intrepid persons jumped in to creating more complex designs or experimented with multiple colours, and by the end of the three-hour session most of the participants had decided that this was definitely a technique that they would use in future creative projects.
Joiri Minaya is a Dominican-American multi-disciplinary artist whose work deals with identity, otherness, self-consciousness and displacement. Her work navigates binaries in search of in-betweenness, investigating the female body within constructions of identity, social space and hierarchies. One of her more recent bodies of work shrouds the female figure in fabric covered in floral prints and photographs the wrapped form outdoors, within a natural environment.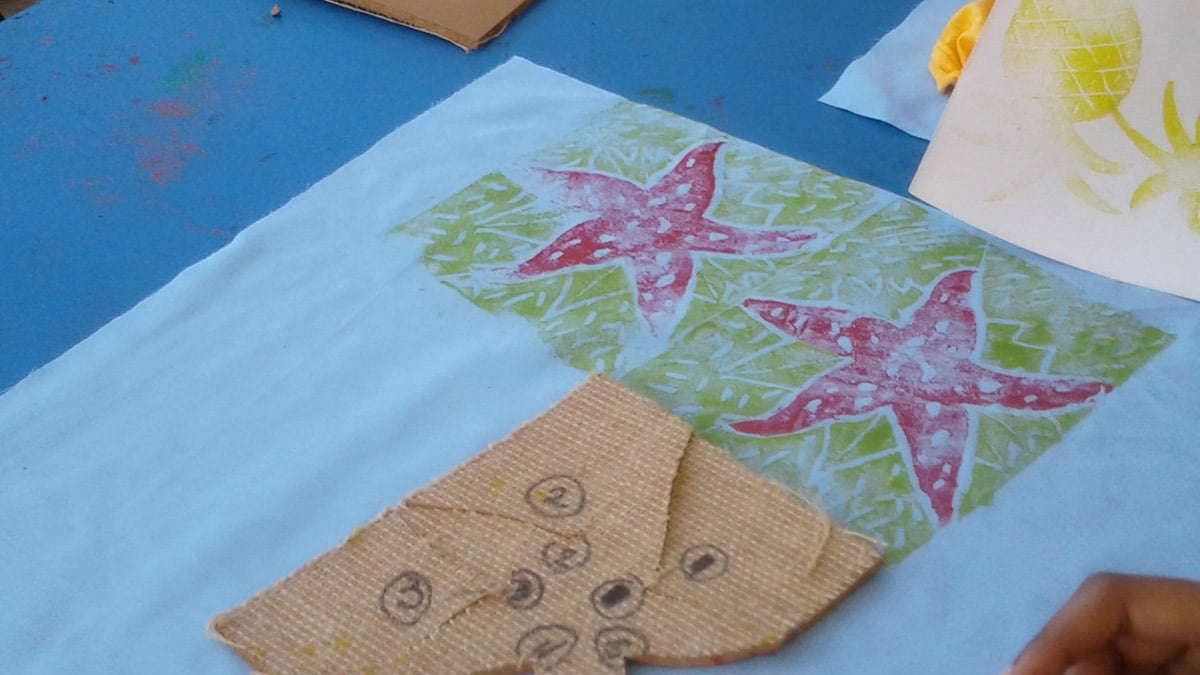 Dual coloured print by workshop participan
For the NAGB's sixth installment of Double Dutch, Minaya and Bahamian artist DeDe Brown collaborated on "Re:Encounter," which will be on display at the Gallery until November 26th. Double Dutch supports the concept of bringing local, regional and diasporic-based artists together to work with a group of ideas both personal, political and otherwise, which are crucial to the development of a contemporary Bahamian identity. Both Minaya and Brown worked with Education staff at the NAGB to design accessible workshops that relate to their practices but also afford participants with a fun memorable experience.
"Mixed Media Hanging Mobile Workshop" with DeDe Brown will be hosted at the NAGB on Saturday, November 4th between 10am and 1pm. Contact our Education Officer, Katrina Cartwright at [email protected] or call 328-5800 to reserve your spot.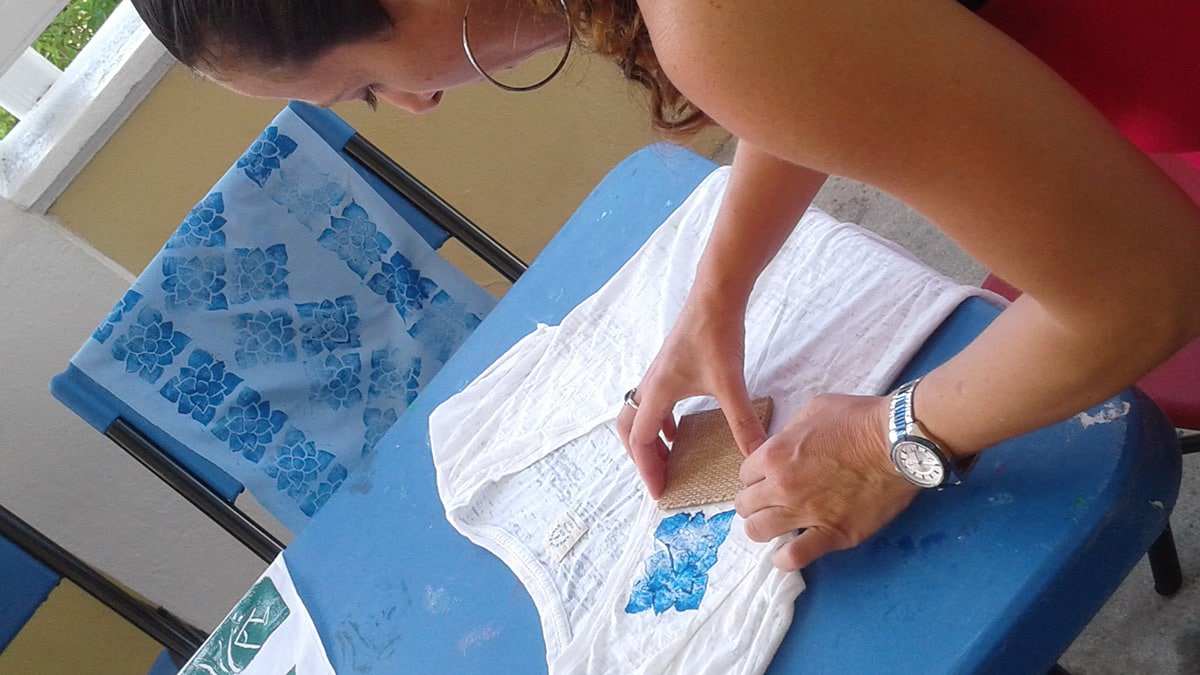 Design complete. Let's decorate!
The NAGB hosts workshops every month during the fall, winter and spring seasons and free artists' talks and films year round. Artists' talks and workshops are normally tied to the NAGB's ongoing exhibitions and generally cater to an adult audience, but we also have our popular Arternoons, which are just for kids! The last Arternoon for 2017 will be held at the Gallery on December 2nd and will get you in the holiday spirit as your little ones participate in fun, creative projects and leave with memories of an unforgettable experience and Christmas crafts made by them! There are only 60 spaces available so make sure to check our Facebook page regularly and sign up for our newsletter to keep abreast of details and registration times.