By Amanda Coulson.
For the last decade, the Caribbean has been slowly garnering more and more international attention: "Infinite Island: Contemporary Caribbean Art," (2007; Brooklyn Museum, NY), "Wrestling with the Image: Caribbean Interventions" (2011; Art Museum of the Americas, Washington, D.C.), and "Caribbean Crossroads of the World," (2012, The Studio Museum, Museo del Barrio and The Queens Museum, NY) have brought work from the region into the spotlight through broad, collective shows with varying degrees of success.
The latest to join this group is "Relational Undercurrents," curated by Tatiana Flores, at the Museum of Latin American Art (MOLAA) in Long Beach, California, USA and is, itself, part of a larger series of city-wide exhibitions, part of the massive "Pacific Standard Time" event which takes place across Los Angeles every five years. Flores also curated D.C's "Wrestling …" and this is already a good sign as Flores has—for the last 10 years—really focused on the region and certainly cannot be accused of "parachuting" in to cherry-pick the obvious choices and then leave with little meaningful connection or understanding, which is a common complaint with these international efforts. Indeed, this Caribbean survey show appears to be a slightly different breed, in highlighting the shared commonalities between art practices in the region in order to illustrate a single Caribbean experience rather than fragmenting the artists by geography, language or colonial past.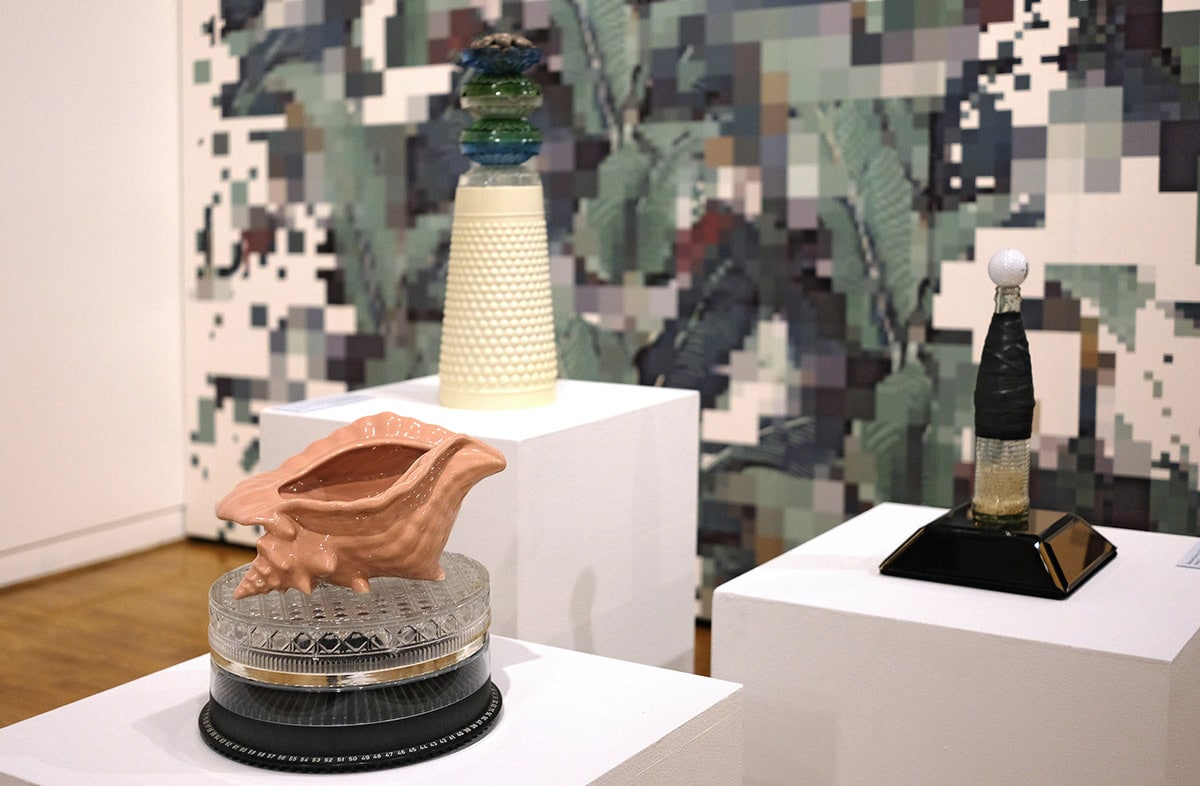 Blue Curry, sculptural assemblage Untitled (2011) against printed wallpaper by Joiri Minaya, Redecode: a tropical theme is a great way to create a fresh, peaceful, relaxing atmosphere (2015),
As invited Bahamian artist Blue Curry commented, "Most exhibitions play up the differences rather than the similarities between, say, an artist from Jamaica and one from the Dominican Republic. This approach of considering the Caribbean as a single archipelago unites the region and points out the common creative strands that have emerged among artists born and existing in this unique part of the world.  This is a bit of a conceptual leap, but perhaps it's what we need right now to break with our own insularity as island nations and to present a stronger case internationally for the legitimacy of our work."
Flores brought a clear organizational framework that would unite the distinct works by dividing the show into four thematic sections that break the geographical boundaries: "Conceptual Mappings," "Landscape Ecologies," "Perceptual Horizons" and "Representational Acts." Selected artist, Lynn Parotti, shared, "The concise categorisation of this large diverse exhibition was immediate on my entering the galleries of the museum. To present the contemporary works of our so disparate Caribbean island cultures so concisely into four major themes was genius on the curator's part, offering binding 'portholes' into the comprehension and importance of the here and now of Caribbean art. No longer was there a mere mash-up of postcolonial, cultural leftovers; rather fresh, internationally informed, topical issues which affect everyone, exemplified through these myriad artist's works."
Flores has indeed cast her net wide and really brought in a diverse group of artists – 80 in total – which is no small curatorial feat. She has seen links between artists and works that many had never considered before and the works of the included Bahamians—Janine Antoni, Kishan Munroe and the aforementioned Curry and Parotti—aren't situated in a "national" corner but juxtaposed with works by inter-regional colleagues, not dissimilar to the approach we are taking at NAGB in our "Double Dutch" series of shows, precisely as a way to create conversation and networks and find strength in numbers as a region.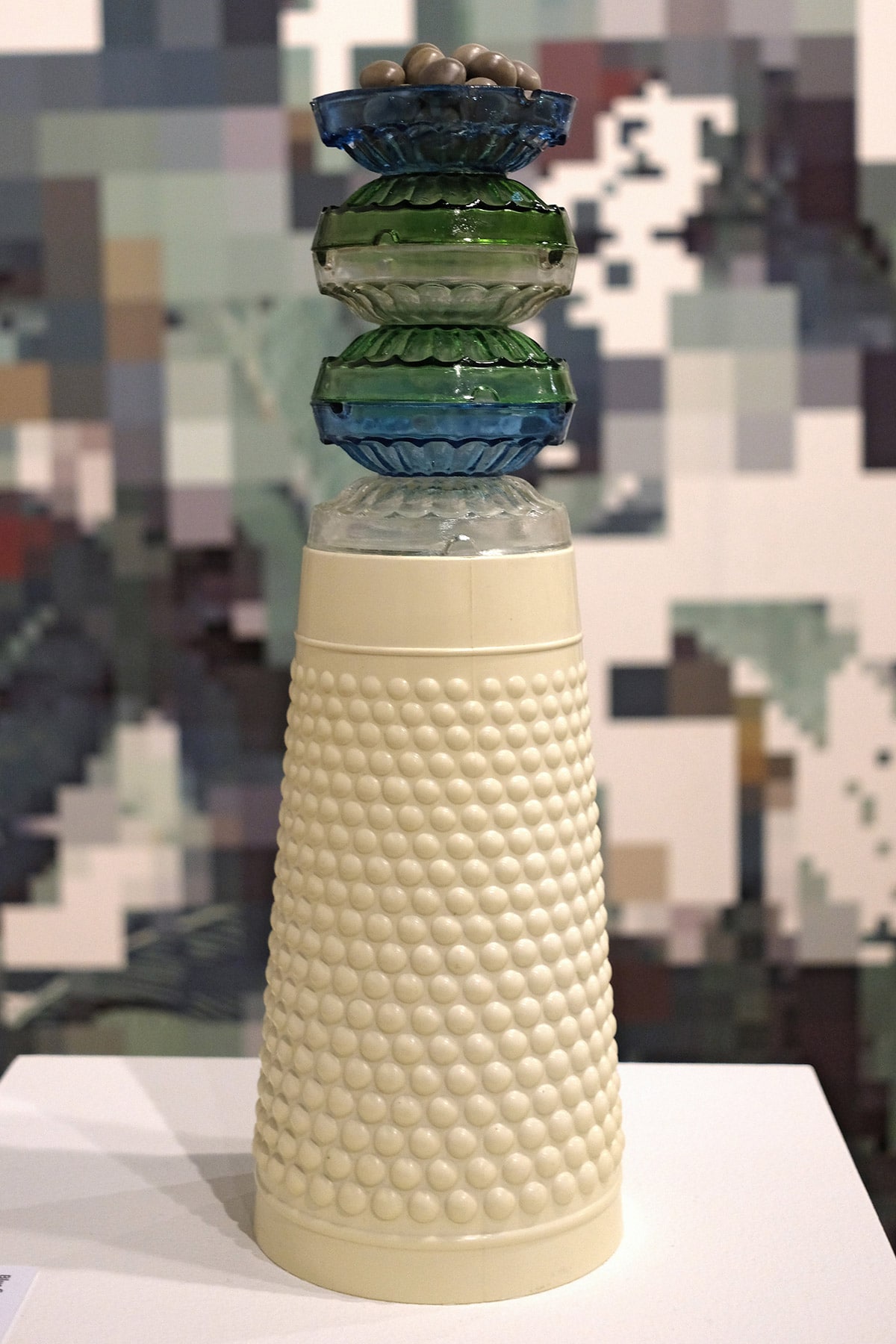 Blue Curry, sculptural assemblage Untitled (2011) against printed wallpaper by Joiri Minaya, Redecode: a tropical theme is a great way to create a fresh, peaceful, relaxing atmosphere (2015),
Parotti continues, "As I walked throughout the gallery spaces, the poignancy of the pieces and selected artists spoke volumes of what is going on throughout our region and abroad, whilst embracing the historical Caribbean mindset with which we identify. Notwithstanding the combined interaction of the placement of works, provided a cohesiveness that I have not seen before, resulting in my discovering new artists sharing common concerns with interwoven connections." Chiming in, Kishan Munroe added, "Although MOLAA isn't a mega museum, the gargantuan task undertaken was executed exceptionally well.  The exhibition spaces were carefully considered and the artists' works were respectfully displayed. Each work of art seemed to have its own space rather than sharing a room with other pieces. It was particularly interesting to see the various themes to which the exhibiting artists gravitated toward and how their concepts intersected at certain points."
Organised into meaningful groupings, Parotti was exhibiting the update of a piece first shown at the NAGB as part of NE5—originally 4 panels, now eight, and entitled Thirst II (2017)—that addresses the severe issue of access to clean water and its cost, flanked by the work of Glenda Salazar Leyva, a Cuban artist whose work often also addresses the lack of resources and humanity's negative effect on nature. Munroe's figurative work The Sinking of the HMBS Flamingo (2013)—another oil from the stunning historical painting cycle that elucidated a painful moment in Bahamian history, when blood was spilled in the defense of or sovereign nation—was meanwhile juxtaposed with the spectre of death in golden skeletal Exquisite Corpse, by Dominican Republic artist Jorge Pineda. Both were displayed in the section that dealt with "… how artists are using the human figure in a way to make a political statement about representation, not just as a passive translation of the world, but as an active process and as a political act of asserting identity," according to Flores.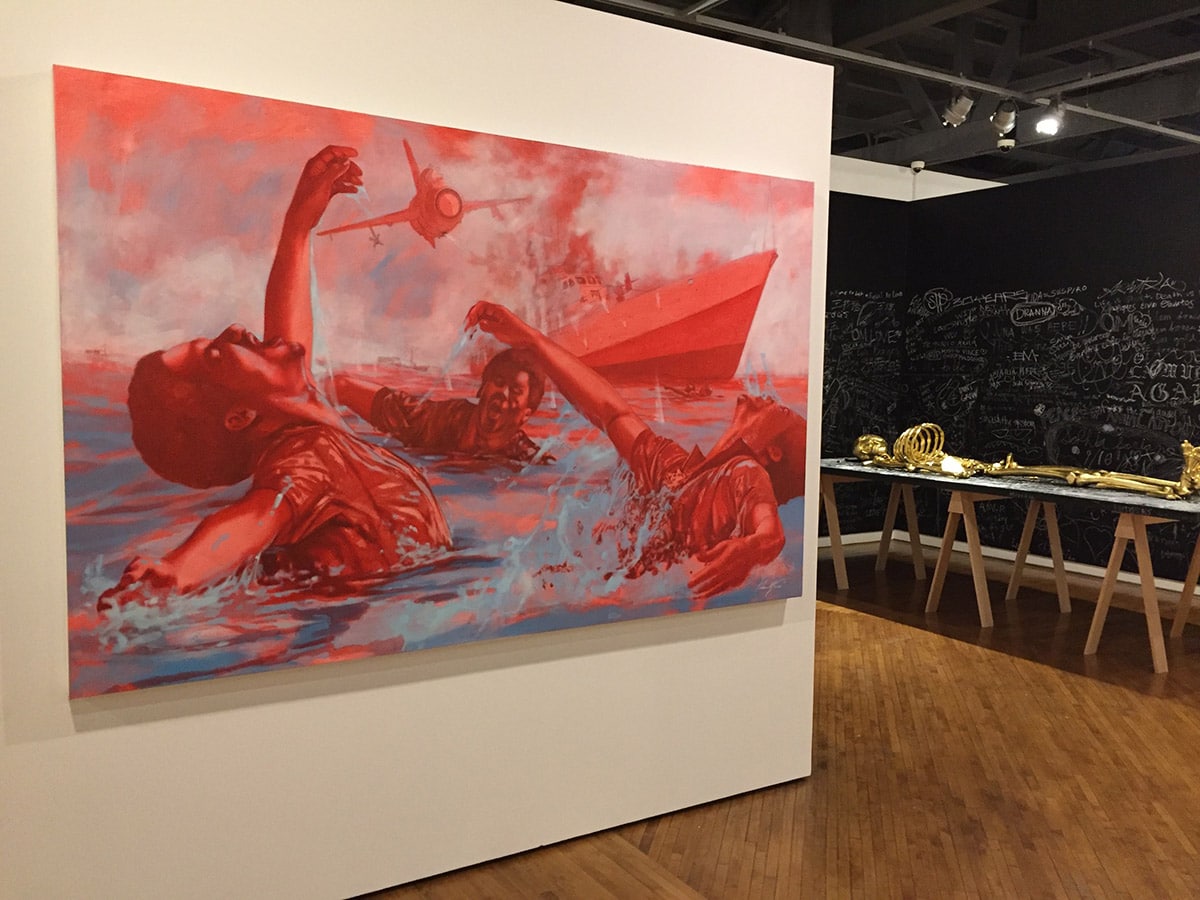 Kishan Munroe (left) The Sinking of the HMBS Flamingo (2013), oil on canvas; background (right) Jorge Pineda, Anatomy Lesson: Exquisite Corpse, After Joseph Beuys (2013)
In an act of serendipity, meanwhile, the assemblage Untitled (2011) by Curry—who was NAGB's first "Double Dutch" artist (paired with Bermudan James Cooper)—is set off with work by US-born Dominican artist, Jori Minaya, our most recent "Double Dutch" artist (currently on view through November 26th, with work by Dede Brown). Curry's pieces—which use items that are associated with "Bahamian-ness" (conch shells, straw work), contrasted with other everyday utilitarian objects to create faux-Modernist sculptures that question relationship between visual culture and the commodification of The Bahamas through tourism—are displayed on pedestals and set against a printed wallpaper by Minaya, entitled Redecode: a tropical theme is a great way to create a fresh, peaceful, relaxing atmosphere (2015), where a standard "Caribbean" vegetation is pixelated and printed out, addressing another trope of our territories.
The NAGB—together with CAF (Charitable Arts Foundation)—made the Bahamian contingent's inclusion possible by providing MOLAA with the support necessary to ship the works and, in some cases, get the artists out to L.A. for the inaugural weekend as it is of fundamental importance not only for our staff but also for our local artists to get first-hand experience of what is expected internationally and to be able to compare and contrast, and to bring, gain and exchange knowledge with colleagues and peers.
Munroe also commented that, "Participating in this exhibition was a great opportunity for me to … use my creative work to share a significant historical Caribbean narrative with the broader world."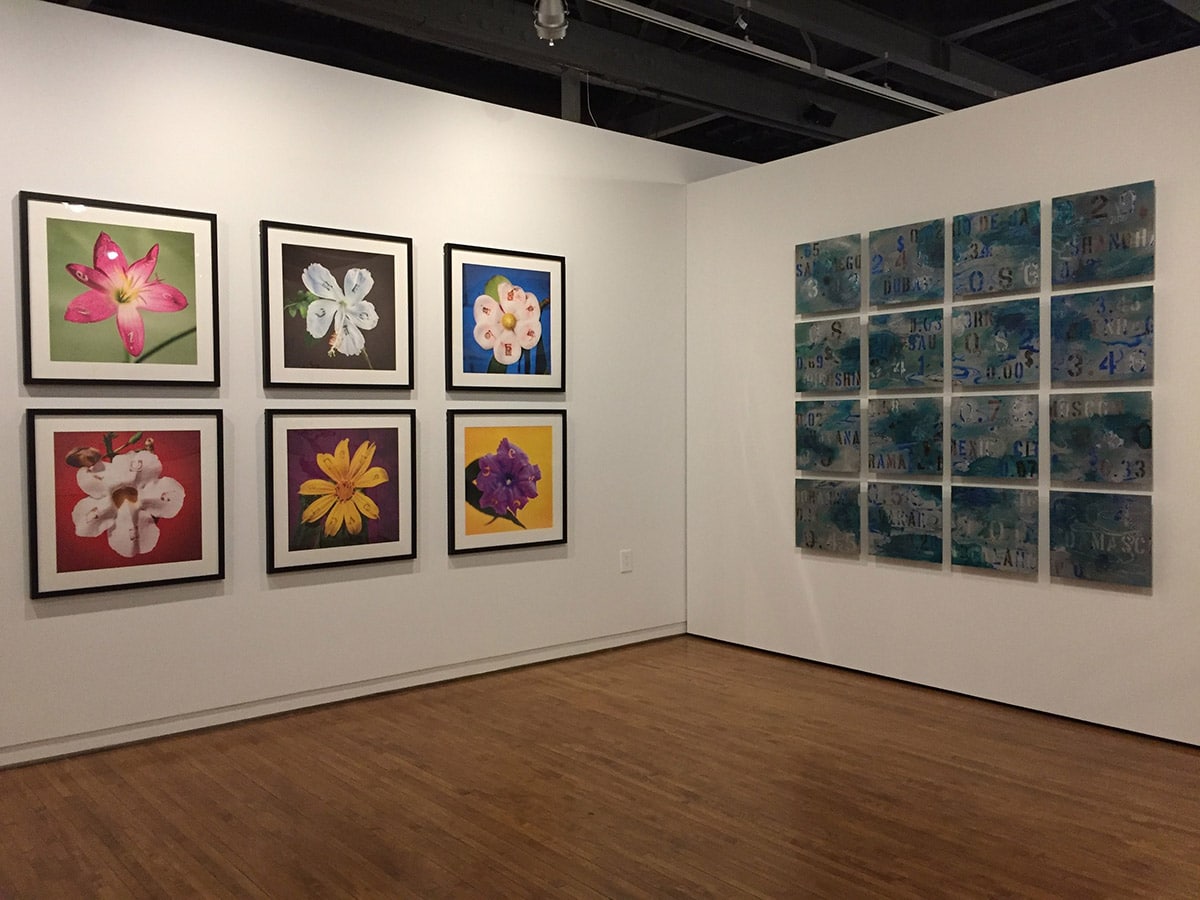 Glenda Salazar Leyva (right), photographs from the series "What doesn't kill you make's you stronger" and Lynn Parotti (left) Thirst II (2017).
Summing up the value of the exhibition, Curry shared, "I'm very excited to be among a group of such highly respected contemporaries. My experience at the launch of the exhibition in Long Beach was one of a public overwhelmingly impressed with the quality of the work on show and leaving with a newfound thirst for Caribbean art. To be honest, a person with no knowledge of the creative output of the region couldn't get a better introduction in one place than this."
The assessment was confirmed by Munroe, "This exhibition, in my opinion, raised the bar, setting a new standard for how contemporary Caribbean art is comprehensively analyzed and redefined.  Added to that the fact that the show is part of the Pacific Standard Time series exhibitions sponsored by the Getty Foundation, also means that the show will receive more attention than it would under normal circumstances… Caribbean art is cast in a new and more serious light by Relational Undercurrents"
Beyond that, the exhibition is also scheduled to tour for the next two years to institutions in New York, Delaware and Miami, bringing it to even greater audiences and spreading the word about our amazingly assorted art practises. With shows like this—and institutions like MoCADA (Museum of Contemporary African Diasporan Arts, Brooklyn, NY)  and PAMM (Perez Art Museum Miami)—highlighting work from the region, The Bahamas and its artists is poised to take centre stage.