By Amanda Coulson
On December 13th, 2017, The Bahamas lost another creative soul.
Unlike Jackson Burnside, Ronnie Butler, Amos Ferguson or Cleophas Adderley—to name only a few of the wonderful talents we have lost in the last decade—the death of Deon "Slime" Mc Hardy went sadly comparatively unnoticed. Neither the broader art community nor the general public seemed to pay much attention. Yes, it was noted by some with expressions of grief; yes, there were "crying emoticons" and "thumbs down" on Facebook, but outside of the Junkanoo community – of which Deon was an integral part – there were no lengthy obituaries, no packs of public figures claiming him as a great Bahamian son, to be fêted after his passing (since we do not the most stellar job of value these creative people when they are living).
Even the fact that he was the 122nd murder victim of 2017 in The Bahamas got little coverage in the media. The online news site, Bahamas Press, noted on December 13th, with the following: "BP is reporting how police around 3 a.m. were on scene of a fatal shooting on East Street opposite Gospel Chapel Church near to Lewis Street. The victim we can confirm is Deon McHardy, aka Slime. He was shot three times to the head and once in the back. He died at the scene."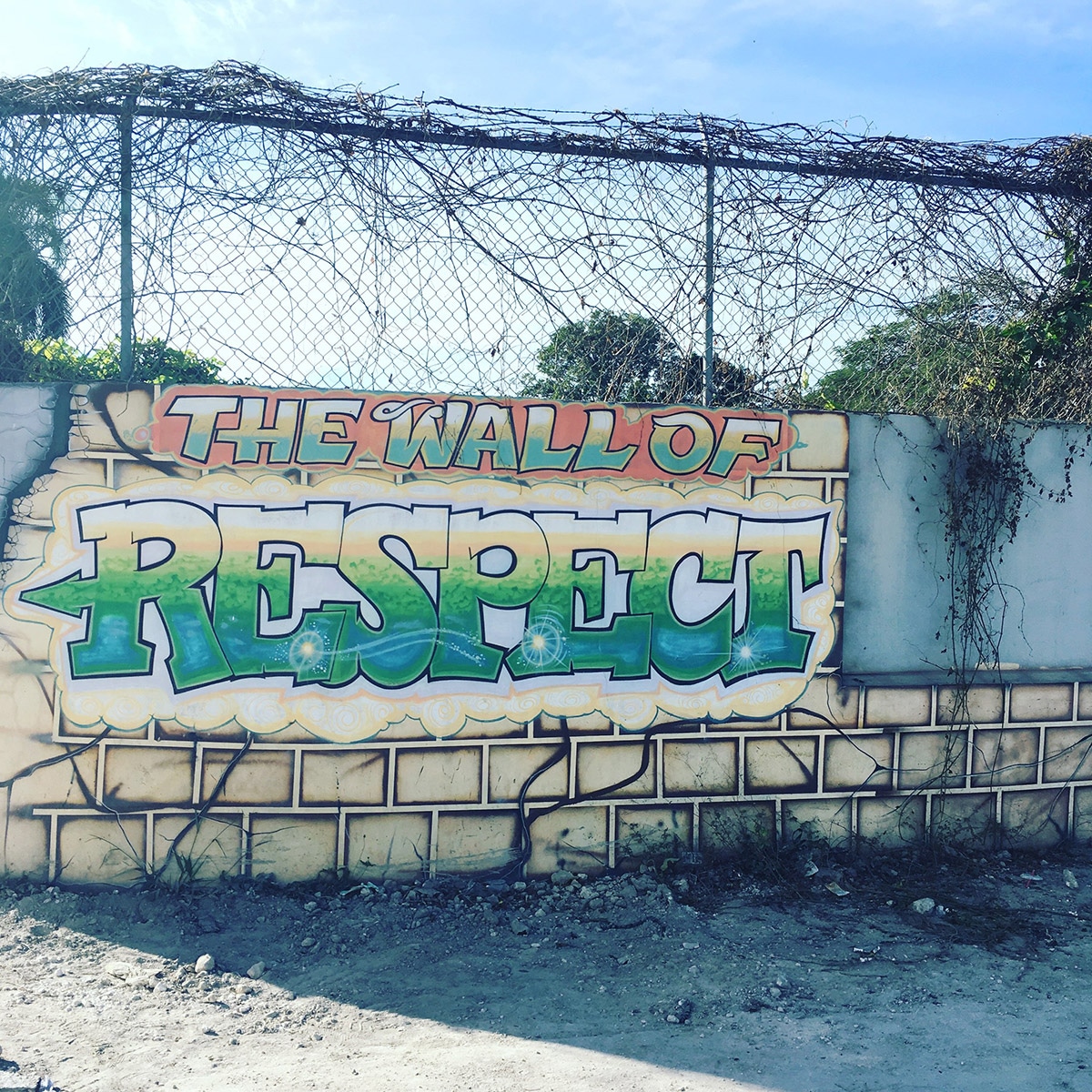 Slime. "Wall of Respect," East Street and Lewis Street.
Deon McHardy was certainly one of these persons that should have been more broadly lauded while he was still walking among us, for his incredible artistic talents. Local art collectors might not have known him because he practiced in the shacks, on street walls, on the fabulous costumes we admired on Bay Street. You might not have recognised him by sight if you were standing in line behind him at Super Value, but you would know his artwork whenever you came across it, on the side of a house, in a playground, especially around the Valley, or Saxon's Way, or through McCullough Corner. His work was colourful, vibrant and humorous, bringing joy and beauty to some neighbourhoods where such things are not always so easy to come by.
At his funeral, held last Saturday, on December 30th, Percy "Vola" Francis—the longtime leader of the Shell Saxons Superstars—recalled Deon as a gangly 16-year-old boy, when he first came to Vola's "Universal Shack" (having started out at the "Temple of Doom"), which attracted most of the young and aspiring musicians and artists in the early '90s. He recalled how Deon was so irritated by his inability to be as good as he knew he could be, that he threw his airbrush into the bush in disgust … but he soon came back to retrieve it and continue perfecting his skill. Vola described him as "A quiet, cool fella. No-nonsense, dead serious especially about his work."
Slime, he stated, was the "ultimate artist extraordinaire. Extremely well rounded in all of the aspects necessary for Junkanoo: research, design, construction, engineering, and carving." Yet airbrushing was his ultimate art form, and he loved especially big cats: tigers, leopards and such. It was his art that kept him busy, off the streets and gave him a viable business in the community. While he was forever a Saxon at heart—from the Mason's Addition/Fort Hill corner—everybody admired his unique approach, his signature style, and wanted him to be part of what they were doing. He therefore made a good living also working for other Junkanoo groups, but his skill was such that no one could find fault with that. He also detailed cars, decorated buildings and continued to use his talent to keep his business, "Airbrush City" running.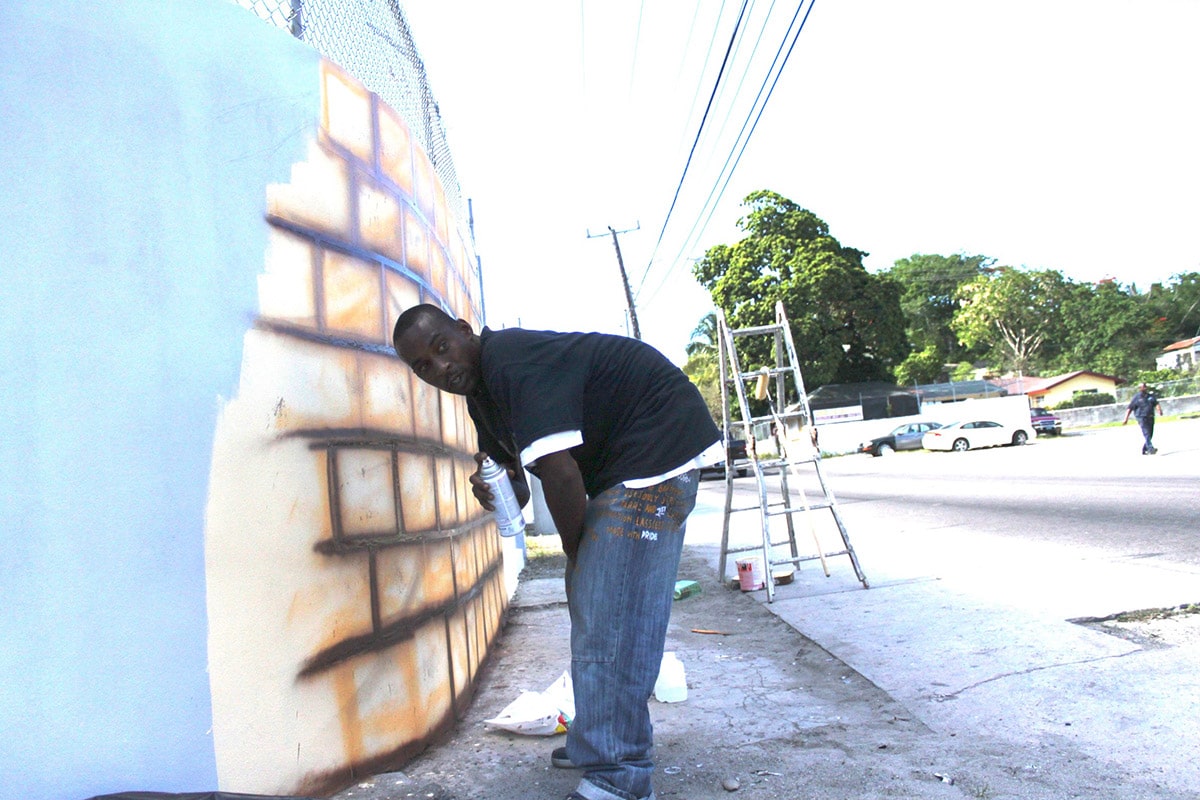 Slime working on the "Wall of Respect," East Street and Lewis Street, 2015. All images provided by Amanda Coulson.
Vola also shared the story of how Deon was given his "handle" or street name: "Slime." He was dubbed that by his good friend Shawn "Car Wash" Smith, after a character in a poplar superhero cartoon from the early 90's, "Thundercats." They hailed each other loudly in the neighborhood using two of its character names, with Shawn being "Mumm-Ra" and Deon being "Slime". While the popularity of "Car Wash" surpassed "Mumm-Ra," "Slime" stuck and since then, that was how he always signed his artworks.
Vola also spoke about love; how we used to have it in The Bahamas and used to show it to our neighbours; how we seem to have lost and how this murder exemplifies how much we have to find it again … but he also spoke about art and culture and how these powerful tools can save lives, can shift people's thinking and lift them up. This is what Slime excelled at and this is why we have to keep at it—to create more Slimes in the community—to keep spreading our culture to give young people a chance to see themselves as something more, as shining stars. The Saxon's dedicated this year's New Year's Day parade to Slime and they won, which is probably the most fitting tribute.
I am happy that we were able to have some of Slime's work in the NAGB during the "Ace of Spades" show (curated by John Beadle); I am happy that our family, our young girls, got to meet him and spend time with him on Lewis Street and see him at work; I am happy his own special light lives on in his work and in his community. But I am gutted that more people didn't get to share in that—in him—and that our country is one where a man getting shot in the head leaving his place of business barely merits an inch of newsprint.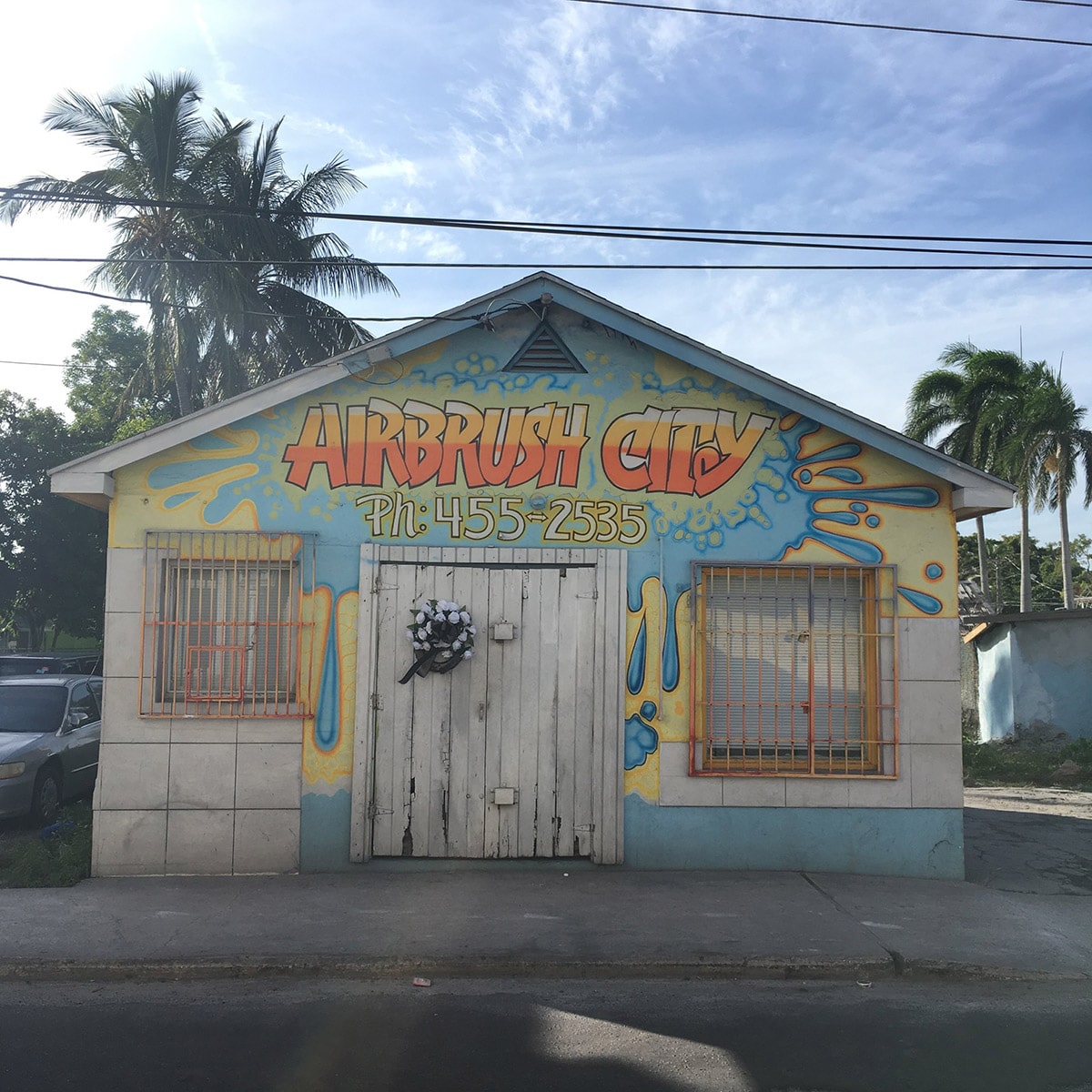 Slime's place of business, "Airbrush City" on East Street.
In closing, I am sharing a Facebook post written by my husband, Uli Voges, that his family reprinted in his funeral programme:
"Today I need to write and remember Deon McHardy, aka Slime who was gunned down three days ago right next to his little shop, Airbrush City, on East Street. Slime became this country's 122nd murder victim and I, for my part, became more sad and angry at the same time. I admired Slime for his artistic skills, his character, his persistence. Whenever I visited his shop it was bustling with creativity and it seemed like Slime did everything with an inward smile. In 2014, he was instrumental in creating the "Wall of Respect" at the corner of East Street and Lewis Street and later on he airbrushed our little truck, which can be seen in action in many places while celebrating the heritage of Over-the-Hill. Slime lived and worked there, he was an important artist in the Junkanoo culture and he showed with his passion, that a young man can make a living in the Inner City. When we started the wall, his first mark on the wall was a little star he drew with a pencil. Back then, I called this picture "a star is born." Well, today this star has been taken away from us in this life, but Slime will stay with us through his art. Respect, Deon!"