By Katrina Cartwright
As a part of his retrospective "Love, Loss and Life," artist Thierry Lamare hosted a frame-building workshop at the National Art Gallery of the Bahamas (NAGB) on May 20, 2017. In just over three hours, he generously shared techniques that he has used to build driftwood frames for his paintings over the years. More than thirteen people from diverse backgrounds and varying degrees of experience were in attendance. Artists, art enthusiasts, craftspersons and a few do-it-yourselfers came seeking to acquire a new skill, build on existing knowledge or satisfy their curiosity.
A painter and transplant, Lamare has called The Bahamas his home for almost thirty years. Over that period, he has become a keen observer of the Bahamian landscape, its people, customs, and traditions, some of which are slowly fading, others shifting quickly like the dying light which he captures so evocatively.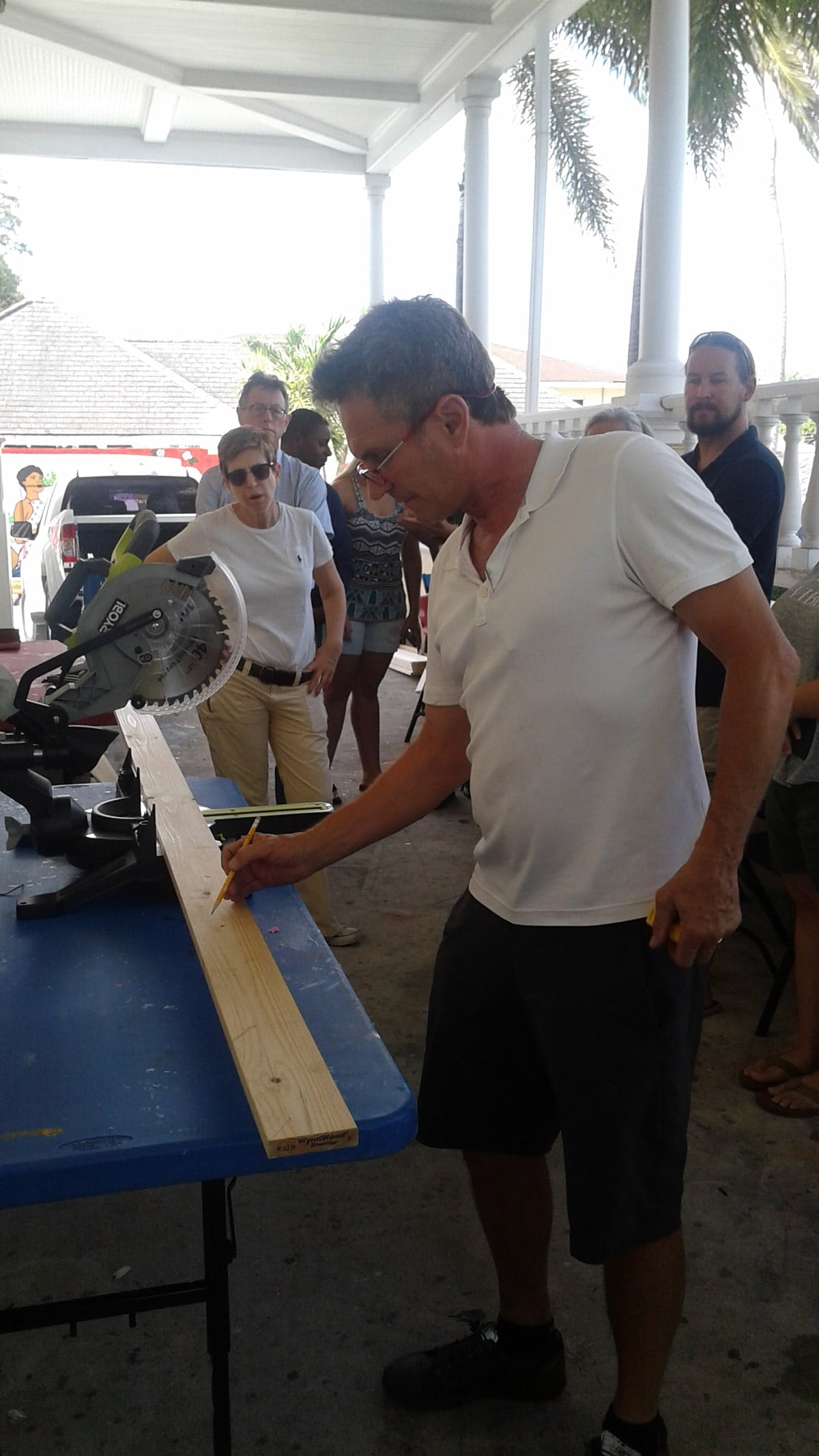 Thierry Lamare demonstrates the first step -measure and cut! Images courtesy of the NAGB.
Lamare's artistic journey began at the early age of 13 years, and although he deviated during his college career when he studied math and later, interior design, his love for painting was a constant and eventually led him to The Bahamas. In 1996, he visited Long Island where he met Ophelia and Joyce, his muses. Lamare continued to visit the island every year thereafter and cultivated a rich, deep relationship with these women whose lives and personalities are communicated so hauntingly in his work.
Following the tradition and genre of Realism, Lamare's gaze and painterly gestures gently reconstruct the quality of the space that he occupies, reflecting the warmth and the coolness of the tropics. In Lamare's paintings, one can easily escape into a world where time stands still and the beauty of the everyday comes into sharp focus.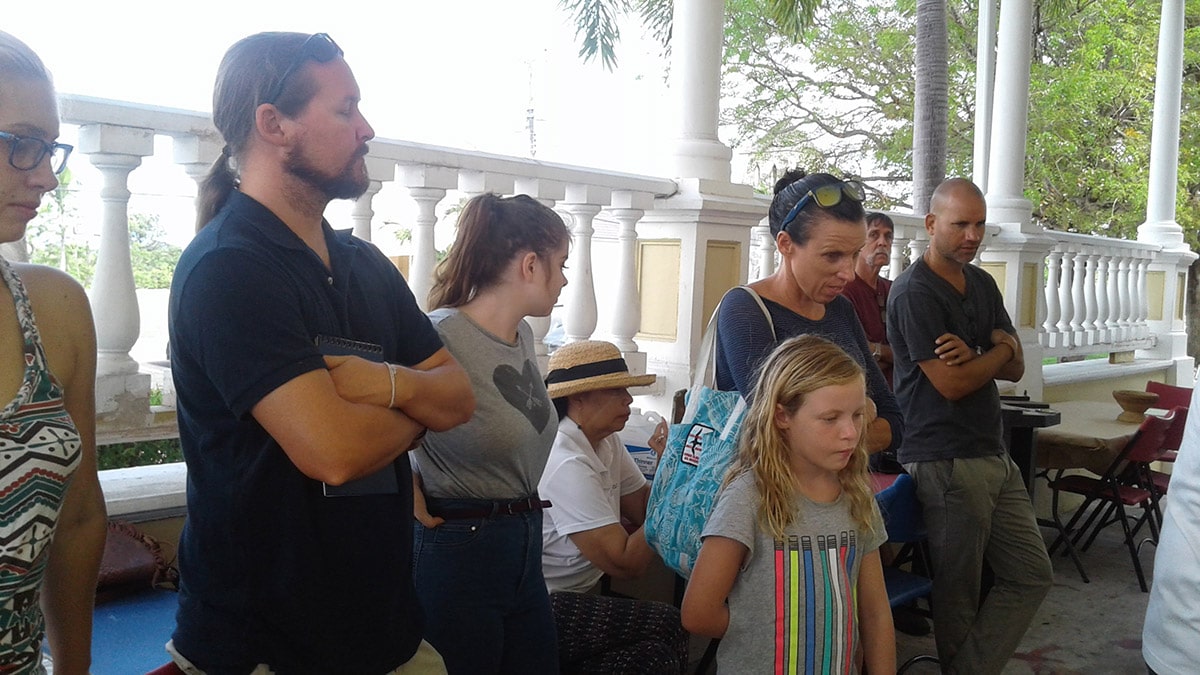 Thierry Lamare explains frame building techniques to a captive audience.
In many ways Lamare bring the same aesthetic to the frames that surround these emotive depictions. Driftwood, like his subjects, is a raw, battered, durable and timeless material and possesses a deep, authentic beauty that is echoed in the landscapes and individuals captured in his paintings. This material is taken from the sea and used to build frames that are crafted with a skill and attention to detail that is virtually flawless.
The workshop began with a brief tour of the exhibition, where participants closely examined the frames used to showcase work that spans over 25 years of the artist's career. Particular attention was paid to the to detail and design that was needed to ensure that the frames display the paintings in a way that is not only conducive to viewing, but supports the aesthetic of the work.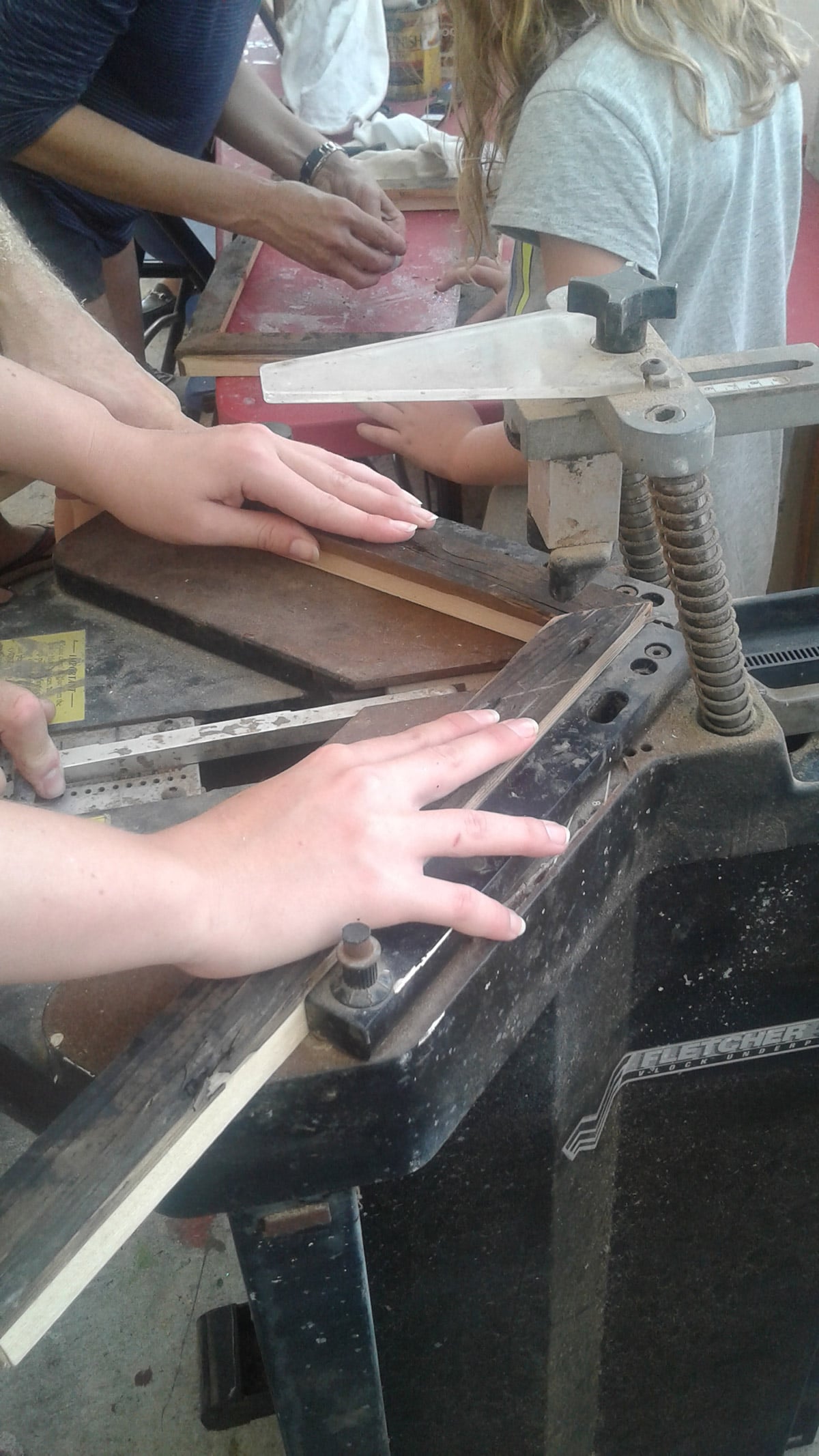 Assembling the pieces- the frame is almost complete
After the tour, participants journeyed outdoors where a temporary carpentry workshop had been set up. Lamare led participants through the step-by-step process of making driftwood frames using techniques that he has developed and learned and used in his practice over the years. Materials were included, however, persons were encouraged to bring any viable reclaimed wood or driftwood that they may have collected. They were given leeway to choose a frame size that would be most useful to them and after the initial demonstration, began the process of crafting a driftwood frame from raw materials.
At first, many participants found the loud, quickly rotating blades in the power tools intimidating, especially the table saw, but after some coaxing a few intrepid individuals tried their hands at using these dangerous, somewhat fascinating tools. Eventually others followed and a few persons indicated their interest in continuing to develop their carpentry skills and make frames for their work in the future. "I never thought I would ever feel comfortable using a tool like that," said a participating artist about her experience with the miter saw. "I can't wait to make frames for my work!"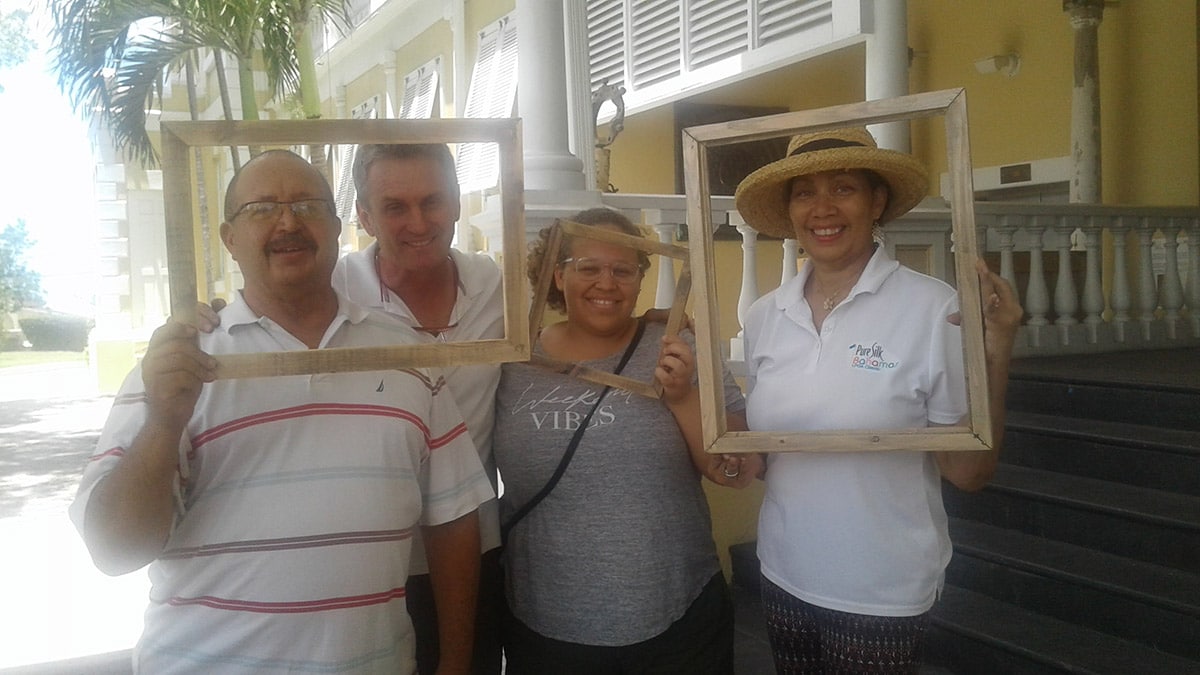 Artist Thierry Lamare and several participants proudly display their frames.
After a few hours of cutting, sanding and nailing and eventually assembling and staining the driftwood pieces, under Lamare's guidance, participants were able to build beautiful, finished driftwood frames for the special paintings, drawings or photographs that were awaiting them at home.
Lamare's exhibition, "Love, Loss and Life" will be on display at the NAGB until September 10, 2017.