By Kevanté A. C. Cash
NAGB Correspondent.
During conversations of sex and sexuality do we rarely address the elements of gender, gender identity and gender expression. However, what is gender? How is it different from sex? How is it expressed, and who gets to claim it?
Over the last decade or more, millennial culture has started dialogues and much-needed debates over the complexities, toxicities and nuances of masculinity and femininity. Breaking down the stereotypes of such, debunking the myths and redefining it for themselves through the power of the "interweb", social media, art and artistry.
When singer, songwriter and recording artist Rashad Leamount-Davis joined forces with photographer Allan Jones for their project 'MasC Off' with the Ninth National Exhibition (NE9), their mission was simple: to address these complexities, toxicities and nuances that exist within the realm of masculinity, specifically for Black Bahamian men, some of whom may or may not identify as LGBTQ+ members of society.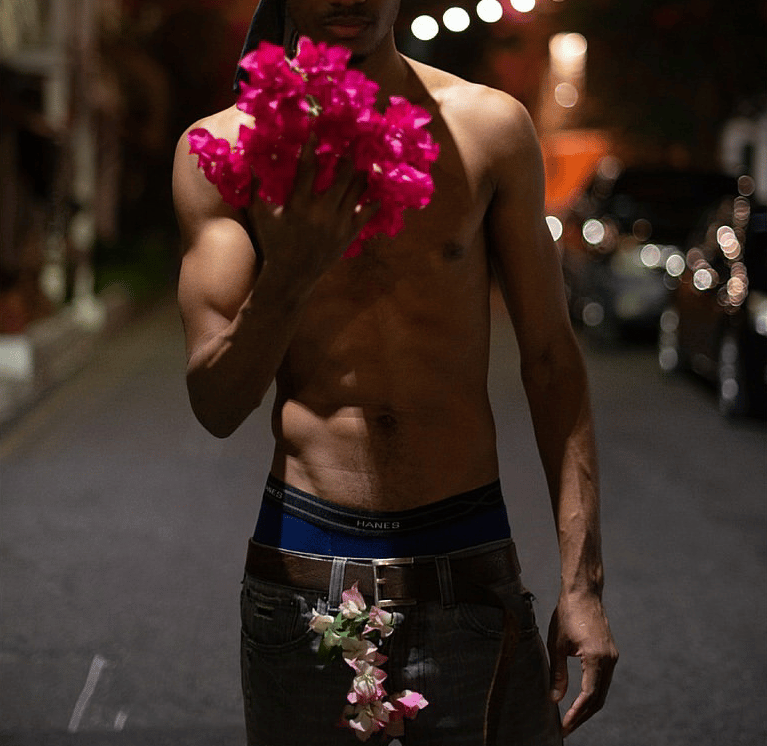 Flower Boy, (2018). Rashad Leamount and Allan Jones.
This, a risky attempt at demonstrating what 'The Fruit and the Seed' means, mainly because we live in a self-proclaimed "Christian nation" with the majority of society "supposedly" adhering to Christian values. It is within these constraints that we must ask, "Should art be more meaningful, most impactful, powerful and provoking?"
Leamount shares his experience, "this narrative is something that impacts my daily life and the lives of many people I know. As such, Allan and I wanted to showcase a body of work that explored masculinity in a gentle, reverent, and serene way. I believe that many people's answer to "toxic masculinity" or the notions of rigid gender roles takes on such an aggressive tone that we get lost in the argument and never truly get to the root. I hoped that by presenting the narrative so non-aggressively, we would allow for an honest, open, and fruitful conversation."
When engaging with the works, one is confronted with their own views on gender, which is different from sex, as sex defines the genitalia an individual is born with, whereas gender, the part where choice – the gift God has given each of us – prevails, is the identity an individual feels most comfortable expressing; that may show up as girl, boy, woman, man, both or gender non-conforming. When engaging with the works, it is essential to ask self 'How are we [the individual and the work] one?'
Once introspection is done and the veil removed, you'd come to find and bow to reverence the light within the individuals in the portraits as the light within one's self – that we are one because we are human and that each human's humanity should be given the grace and freedom to be, however, desired, and should be respected as such.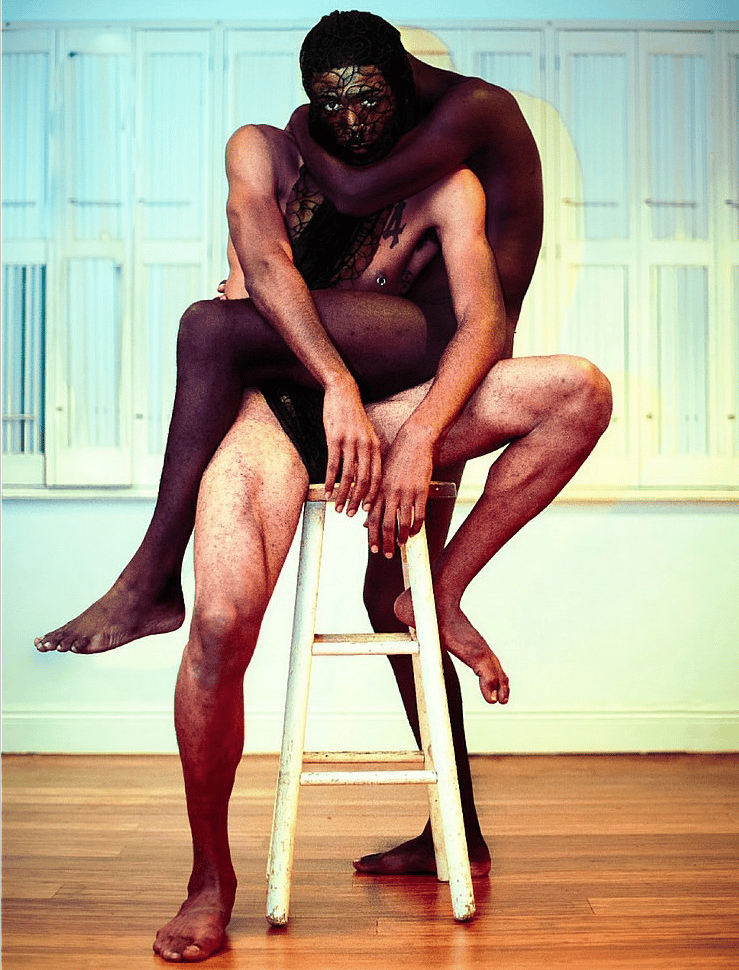 "Intimacy Void of Sexuality… a BROmance, (2018). Rashad Leamount and Allan Jones."
But we must not think that maturity and openness of perspective is the only challenge for the viewer, this body of work has even called upon the artists to confront themselves. Jones says, "this project has helped me to grow in so many different ways. It required me to mature my general visual understanding of what I considered sexual and non-sexual interactions between men. It transformed my standards for the representation of my work both physically and its potential social impact."
Preparation for a thematic response of such nature was not made easy. Jones shares that the process was like, "trying to craft images that explored dismantling the general ideas of what masculinity is or should be, required a lot of trial and error. From deciding how to shoot the images, to back and forth deliberation on which images had the strongest visual presence, to having to borrow visual inspiration from Greek statues as one of the concepts on how to remove the sexual objectively, that often occur in modern depictions of Black men, to the treatment and editing of the photos. It was all a big challenge that was exciting but nerve-racking for me. Finding the subjects for the photos who carried strong social pressure and weight took months of talk and proposals with various candidates, but we were thankfully able to pull it all off."
Two very different, very real creative energies combined to pull off a task as big as this took a level of sacrifice, daily, but in the end proved necessary and fruitful.
Leamount remains grateful that the work is being engaged by social media influencers, activists, and tastemakers that he admires and respects. It continues to give him hope for continued and better conversation. While Jones remains interested in how gender classification within the work may have impacted the public and how societal evolution can continue once masculinity remains disentangled and apart from the overcompensation of fabricated insecurities that exist in men today.
The National Exhibition 9 (NE9), "The Fruit and The Seed" is on display at the National Art Gallery of The Bahamas (NAGB)  through the 31st of March and supports the works of 38 Bahamian and Bahamian resident artists.