By Katrina Cartwright. 
After a two-year journey that took this iconic exhibition to three islands – Grand Bahama, Eleuthera and Abaco- it is only fitting that the Max/Amos traveling exhibition bids us farewell in Exuma, the hometown of Bahamian folk and master artist, Amos Ferguson.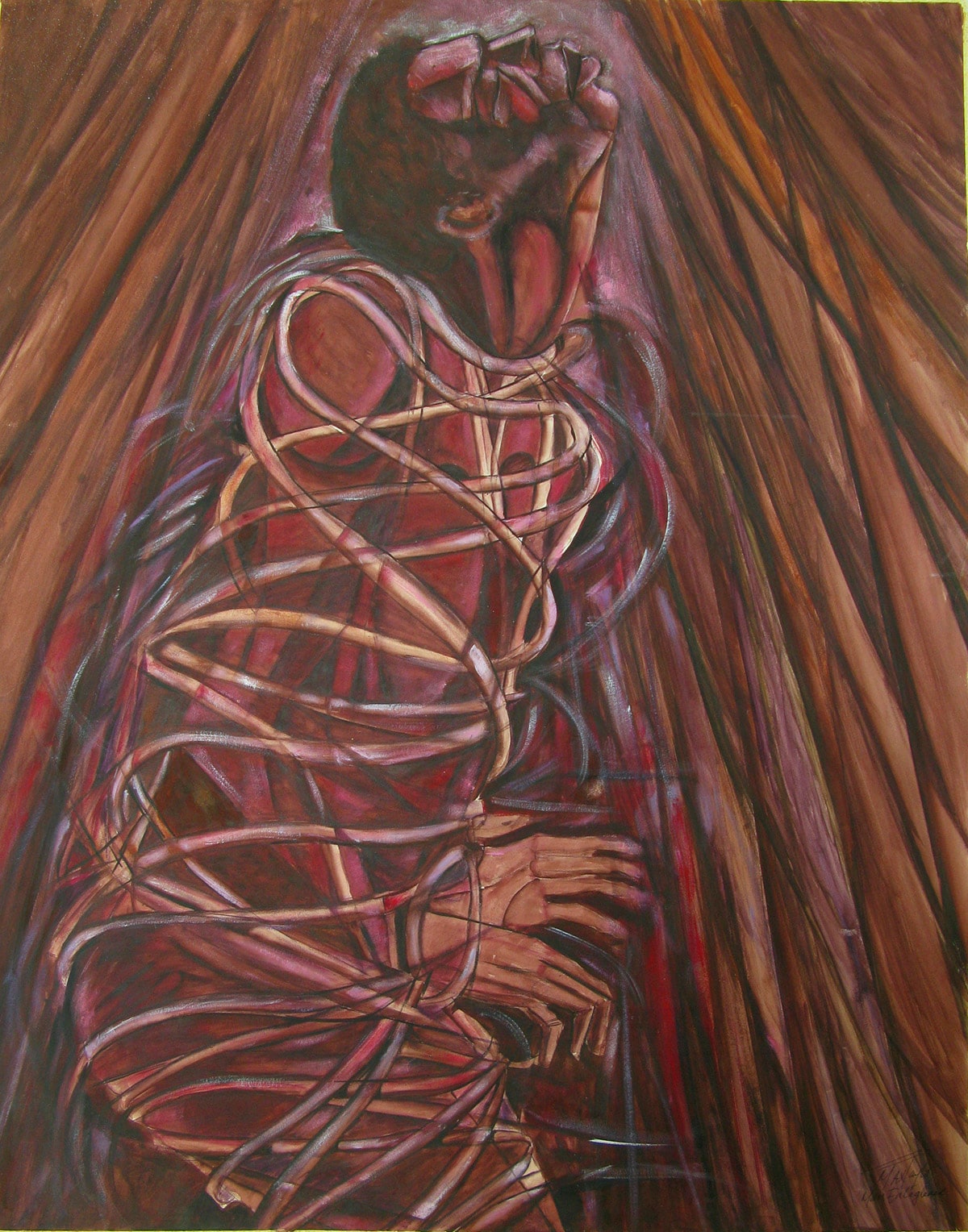 "Man Entangled" (1990), Maxwell Taylor, acrylic on paper, 28 x 22. Part of the National Collection.
The National Art Gallery of the Bahamas developed the Max/Amos exhibition in response to the call to share Bahamian art with every citizen in our archipelagic nation. While our geography is responsible for the wonderful flavour of this country, which is grounded in the diverse cultural microcosms on our 17 inhabited islands, it is this feature that makes access to spaces like the NAGB challenging for persons living on the islands, especially those who do not travel frequently to the capital. 
Family Island access to the National Collection is a critical component of the NAGB's mission and by taking our collection to off-site locations on the islands we have garnered community support and participation and facilitated a creative initiative that is truly for all Bahamians.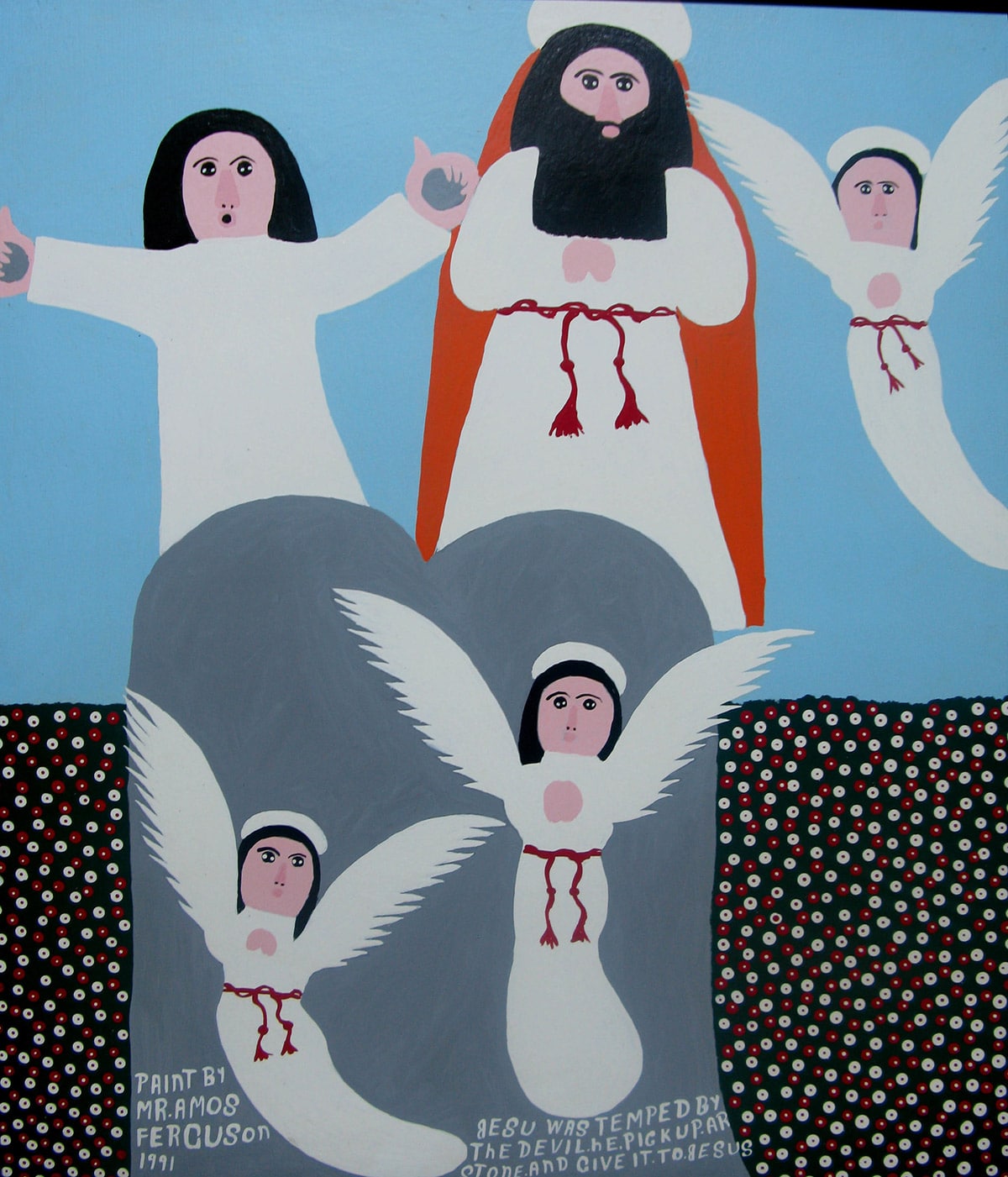 "Jesu was tempted by the Devil. He pick up ar stone and give it to Jesus" (1991), Amos Ferguson, house paint on board, 36 x 30. Part of the National Collection, donated by the Ministry of Tourism.
Featuring the works of the masters Taylor andFerguson, this exhibition delves into the multiple dynamics of Bahamian society in relation to our global identification as a "paradise". Both Taylor and Ferguson go to the heart of the Bahamian experience with honesty and integrity, and an abundant respect for their fellow Bahamians, whose lives they represent in their work.
Maxwell Taylor, a son of Grants Town, New Providence, first honed his practice at the 'fabled' Chelsea Pottery, although his path would lead him abroad. Taylor's experiences during his more than 20-year journey throughout the U.S. and Europe still shapes the lens through which he views his work and the world around him.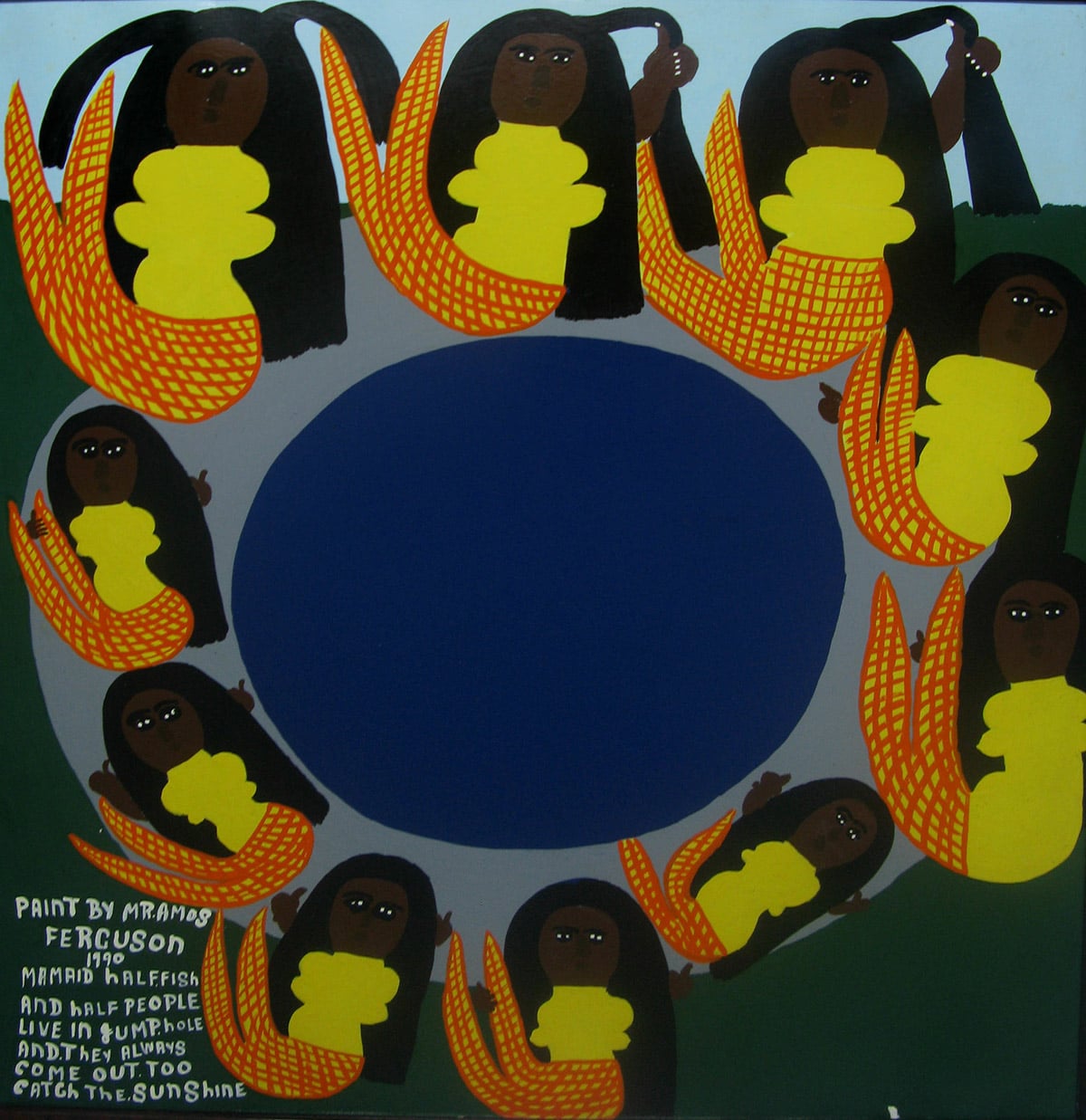 "Mamaid Half Fish And Half People Live in Sump Hole And They Always Come Out Too Catch The Sunshine" (1990), Amos Ferguson, house paint on board, 36 x 30. Part of the National Collection, donated by the Ministry of Tourism.
Hailing from The Forest, Exuma, Amos Ferguson began his professional life as a commercial painter. Spiritual revelation compelled him instead, to paint the visions of his mind and community. The most famous and beloved Outsider artist, Ferguson had no formal artistic training, choosing house paint over that of oil and acrylic – his canvas, cardboard.
It is no wonder then that these two great artists were selected to represent the brilliant diversity and passion of Bahamian art and artists. However, Max/Amos is about more than presenting work. The exhibitions have been displayed in local galleries and community spaces easily accessible to residents and have been accompanied by free workshops on the practices of both artists; public talks; school visits; and donations of museum literature to art teachers, schools and public libraries. Understanding that sufficient art materials in schools on the Out Islands are a concern, the Gallery has also donated remaining workshop materials to schools that have demonstrated need.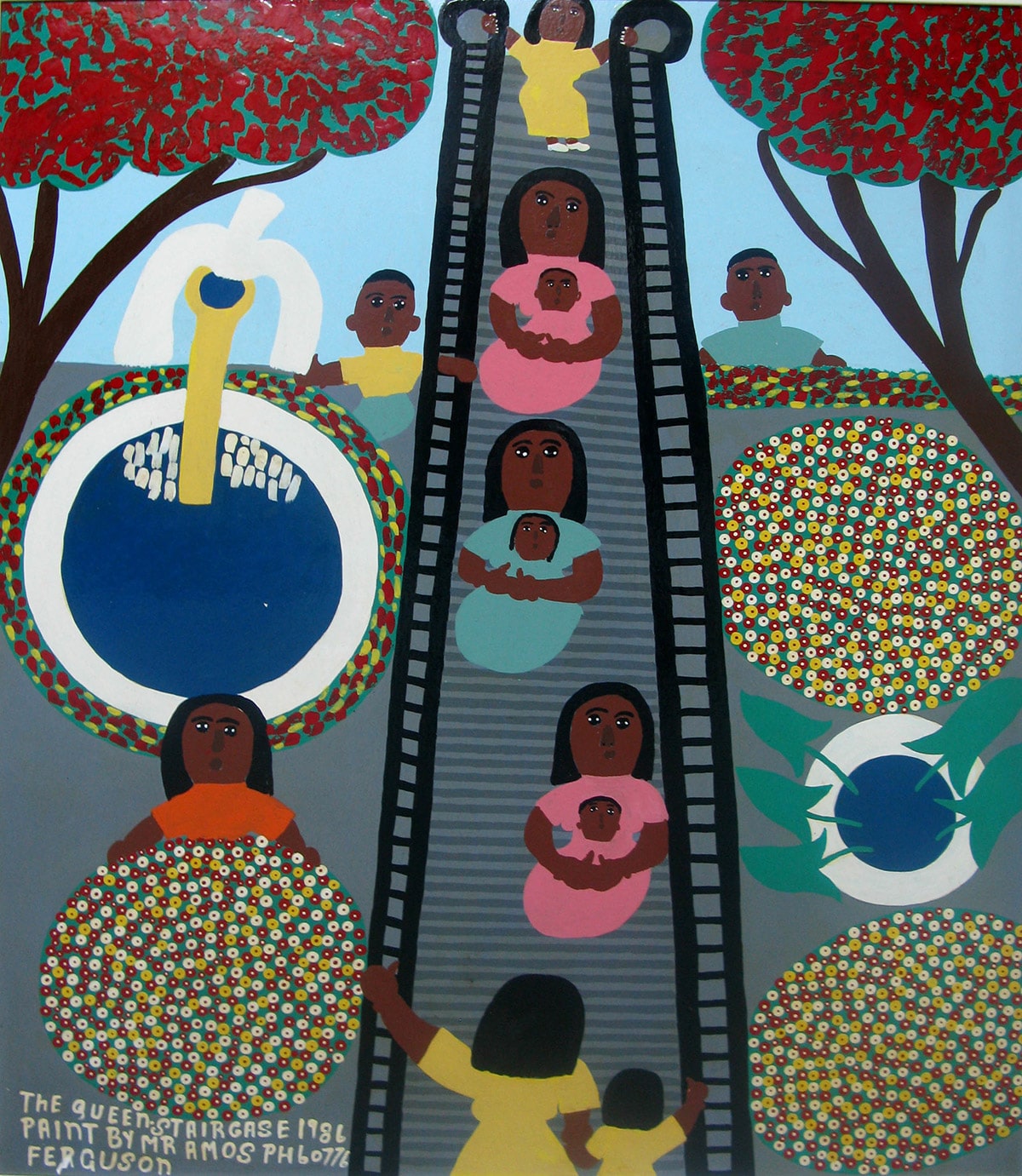 "The Queen Staircase" (1986), Amos Ferguson, house paint on board, 36 x 30. Part of the National Collection, donated by the Ministry of Tourism.
"The exhibition has been well received on all the islands. The kids have appreciated the opportunity to work and interact with art professionals and people have been excited about having the work of Max Taylor and Amos Ferguson in their communities. They have had lots of questions about the artists and have been truly supportive of this initiative," says Jackson Petit, NAGB Digital Media Administrator and technical assistant for the Max/Amos exhibition.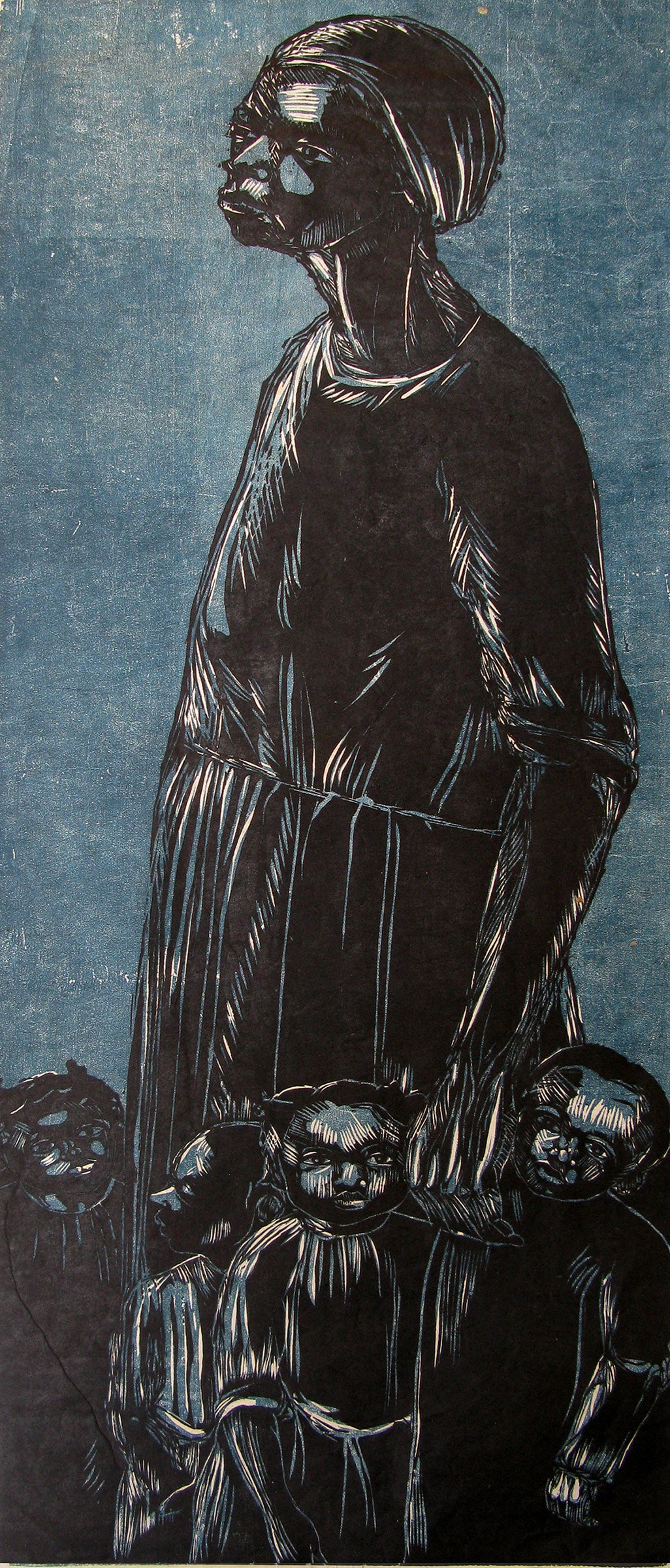 "Woman And Children" (1972), Maxwell Taylor, woodcut print on paper, 35 x 14. Part of the National Collection.
Representing the NAGB with Petit is Community Outreach Officer Abby Smith; they will install and open the exhibition in addition to facilitating all other activities. In preparation for the upcoming exhibition, staff at the NAGB have been working hard to reframe, pack and ship 31 paintings, many of them familiar staples in art classrooms, ensuring that Max/Amos is given a phenomenal send off for its final presentation. A week of workshops for children and adults, public talks and scheduled school visits have all been planned and the Exuma community has been incredibly welcoming and enthusiastic.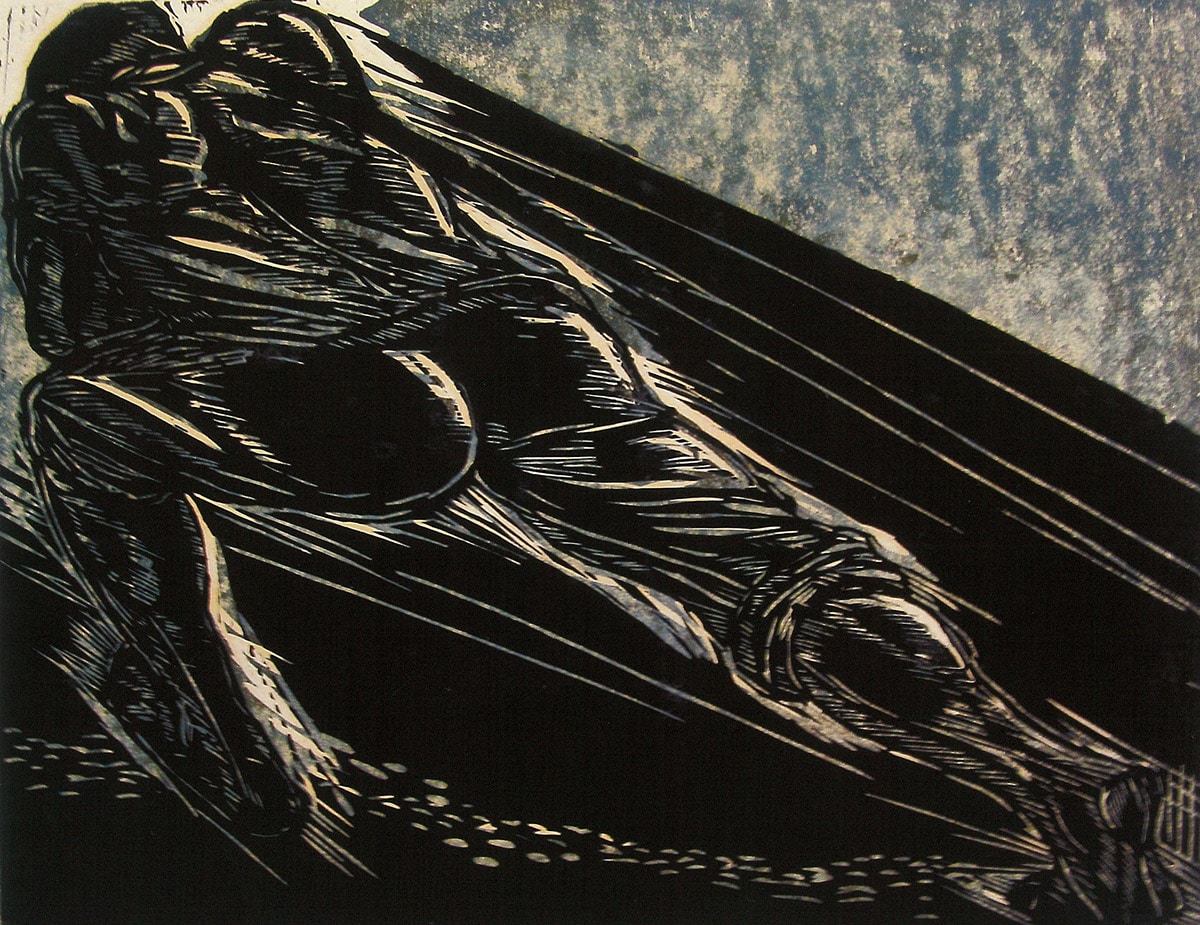 "Pulling No. 1" (1982), Maxwell Taylor, woodcut print on paper, 16 x 21. Part of the National Collection.
The opening reception for Max/Amos will be held on Monday, September 11th at Wenshua Art Gallery in Georgetown, Exuma, from 6 p.m. – 8 p.m. It will be on display September 11th to November 15th, 2017. To keep up-to-date with the Max/Amos exhibition's final journey follow us on Facebook and Instagram!