By Malika. N Pryor-Martin. 
The National Art Gallery of The Bahamas' (NAGB) Mixed Media Summer Art Camp (MMSAC), is a program designed with creativity, discovery, and fun in mind – every day. A blend of art exploration and classic camp activity, the MMSAC serves as a space where young people are learning without even knowing it. From the very youngest to the most senior participant, the goal of the camp is to encourage our campers to express the full range of their creative ideas.
So often, children are asked to answer only with the responses that we, as adults, want to hear. They are encouraged (and in many cases, rightfully so) to respond with a specific set of ideals and expectations. However, sometimes, the expectation that young people should consistently speak the words we give them, express the ideas we approve, and desire to do the things that only we understand and value, gives way to a stifling of analysis, critique, problem-solving, and the mental dexterity to contemplate a solution to a new challenge.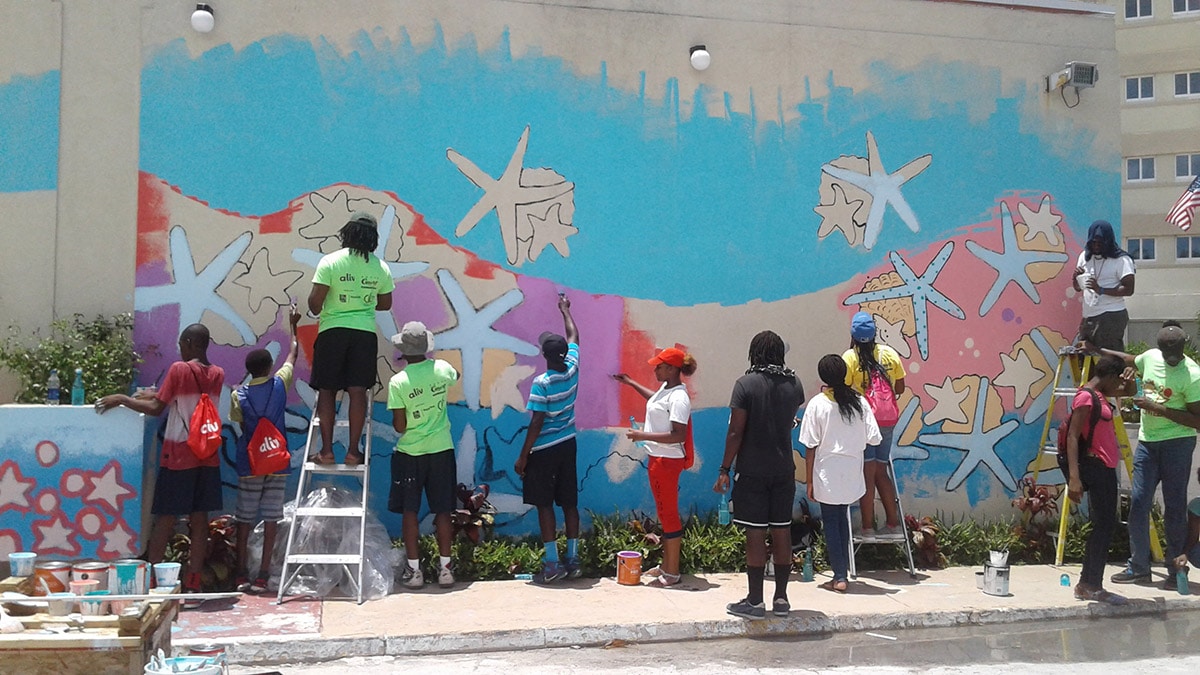 Campers working on mural project at the Marriot. Images courtesy of the NAGB.
Art teaches us that we can all look at the same object and express completely different perspectives and that sometimes there are no right answers. It compels us to feel the discomfort of a never-before attempted lesson, work through that mask making, sculpture building, or painting project –  all the way to its eventual conclusion and even in that discomfort, commit to a new way or approach to completing the task. It is in the discomfort that we grow. 
Art bestows both the confidence and the humility to move through a process and find what is on the other side, even while simultaneously creating it. Art inspires the introvert to express themselves, openly. It compels the perfectionist to accept their mistakes and if they need to, to start over and to know that starting over is ok. It teaches us that to create is to make mistakes and that there is beauty in the unexpected. Sometimes, the beauty is the mistake. These are invaluable lessons that transfer from one specialised subject – art to other areas of study and into one's life.
It might seem as though a summer camp would find it difficult to facilitate all of this in a span of three weeks. Yet, it does or at least, it can. Since its redesign in 2015 by Community Outreach Officer, Abby Smith, not only has the camp's breadth of activity deepened, so too has its availability to a broader audience. As a result, children's lives have been changed. Middle class. Working class. Underserved. Wealthy. Every camper is meant to feel and knows that they are safe to be the best of themselves even when they are still very much figuring that out. New Providence. Andros. Eleuthera. Abaco. No matter the island, every camper is welcome and with open mind and arms.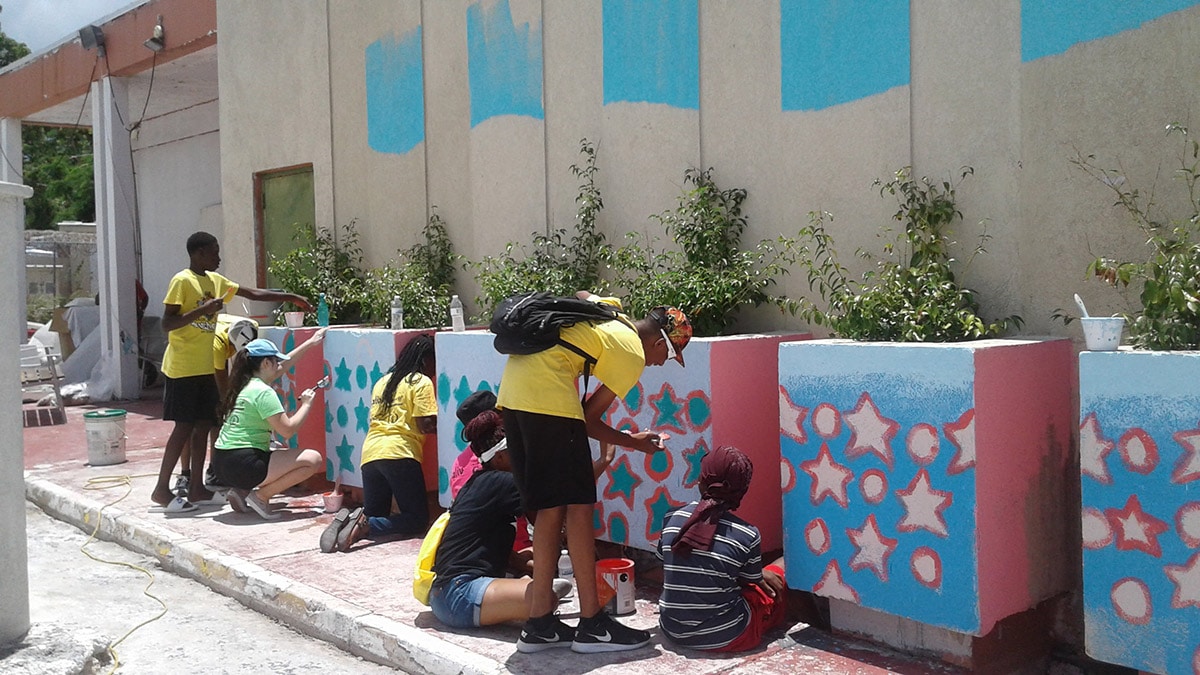 Campers working on mural project at the Marriot. Images courtesy of the NAGB.
Thanks to the commitment of the Gallery and MMSAC summer staff, the artist community, our generous sponsors and partners, every year the camp and its campers make new and magical memories; lessons and laughs for a lifetime.
The Mixed Media Summer Art Camp's second session begins on July 11, 2017, and is available to children ages 5-18. The full day art camp experience lasts three weeks and is punctuated with an art opening highlighting the wonderful work of the campers. Space is limited. Visit nagb.org.bs/for-families/ to learn more and to register.
The NAGB thanks the Lyford Cay Foundation, New Providence Community Centre, Mr. & Mrs. Paul and Barbara Hepburn, Graycliff, Mario's Pizza, RBC, ALIV and our many donors and friends for their generous sponsorship and support.