As many locals and repeat visitors have noticed, West Hill Street has been undergoing a facelift. Now the National Art Gallery of The Bahamas is asking for its community to get involved to take the transformation a step further. The vision is the development of a Sculpture Garden on the property adjacent to the NAGB's building.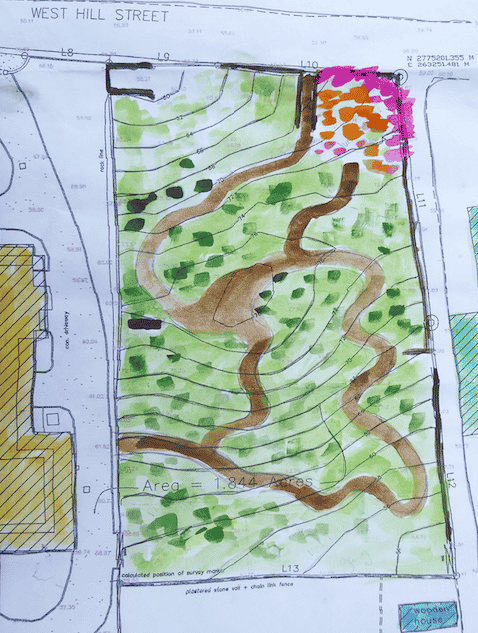 Watercolour by Katrina Vanderlip showing a rough sketch of pathways.
A trip to the Bahamas National Trust's Eleuthera park—the Leon Levy Native Plant Preserve—instigated further inspiration to create a space where native plants were showcased along with local artists' works. The space is envisioned to have benches; sculptural works and walkways showcasing various environs with choreographed species; and be a safe and warm respite for the wider community.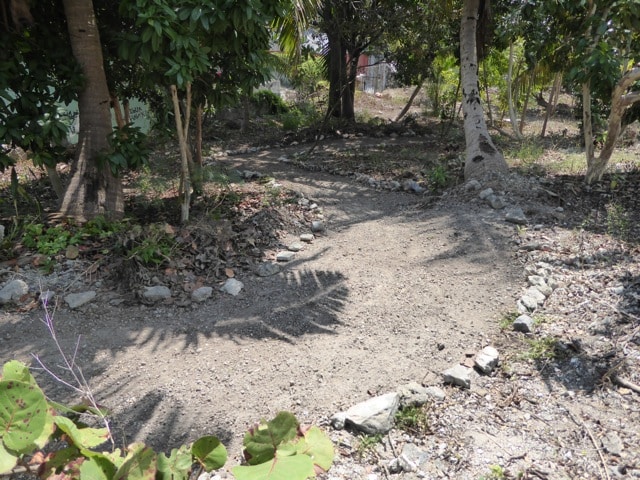 Temporary Curve in pathway.

Entrance from West Hill Street cleared.
In association with the Bahamas National Trust (BNT) and with the particular hands-on involvement of BNT botanist Dr. Ethan Freid, the hillside has been surveyed for how to best to intervene in the most non-invasive manner. BNT Executive Director, Mr. Eric Carey and Mrs. Shelby White, patron of the BNT's Levy Preserve, who was recently honoured at their annual meeting, has agreed to support the project with the donation of native species from the preserve's nursery. With funding always elusive, the challenge is as always to get enough momentum to get the project underway to the point where the artists and the public could share and participate in its manifestation and vision.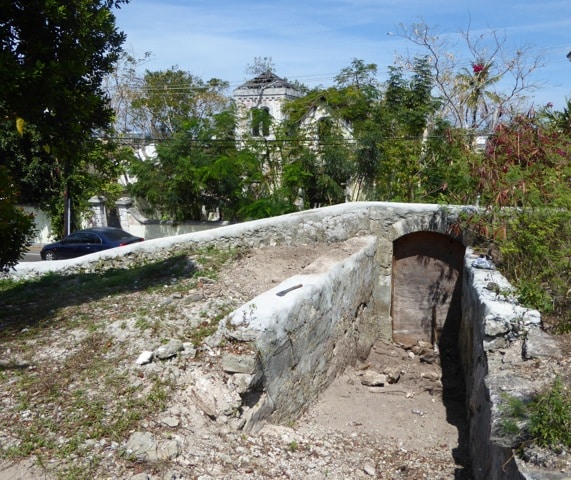 NAGB director, Amanda Coulson and Dr. Freid clearing the garden space.
Over the course of 4 days earlier this month, with the assistance of volunteers and residents from the community, the plot's shrubbery has been tamed and temporary walking paths have been laid out as a way to access the site from West Hill Street directly to the NAGB's main entrance. Many shards of antique ceramics and pottery have been found and will be cleaned and identified by the AMMC, eventually to be put on display.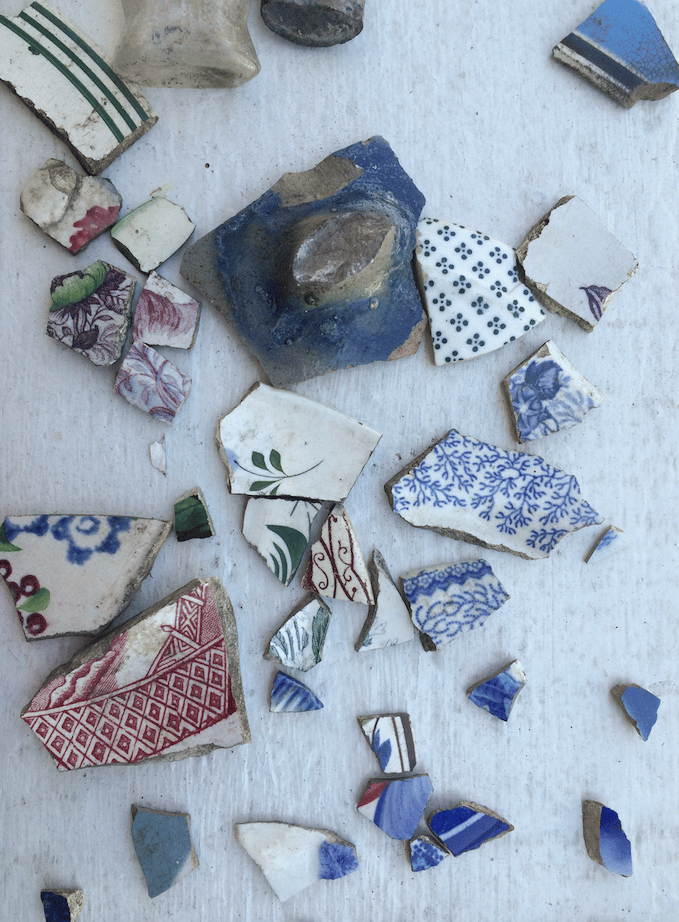 Shards of ceramics and pottery removed for inspection.
Another cleanup will be taking place over the weekend of April 23rd and 24, Saturday and Sunday from 10 am – 3 pm daily. The NAGB is asking for anybody who wishes to make a mark in the neighbourhood to have a hand in the creating of a community park, to come out and get involved!! Implements for the work will be on hand (including shovels, wheelbarrows, picks, etc). All participants are asked to bring good energies, a sun hat, smiles and a pair of work gloves!!