Curatorial Essay and Image Booklet
Our NE6: Kingdom Come exhibition catalogue isn't a stereotypical tome. Like the artists and artworks it represents, the catalogue is a contemporary take on a traditional book.
The catalogue comprises of 3 main elements: the curator's essay, an image booklet and 50 artist's postcards. The catalogue also features 2 great surprises: On the back of each booklet is a poster. NE6 artist, Christina Darville contributed the poster on the back of the curator's essay booklet, and a compilation of the NE6 artist's hands is featured on the back of the image booklet.
In preparation for the catalogue, each artist was asked 3 simple questions: What is your greatest fear? What is your motto? and Who is your favourite hero of fiction? Artists also contributed a short biography and shots of their work in progress. All of these elements give viewers a personal glimpse into the artist and their work in the show.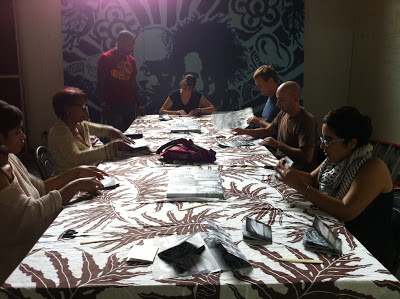 NE6: Kingdom Come Exhibition Catalogue
The making of the catalogue was a true group effort. Designed by Denise See, hand compiled by NAGB staff and volunteers and bound by Sonia Farmer from Poinciana Paper Press, the catalogue is an example of community teamwork and group effort. The end result is 220 specially bound, limited edition exhibition catalogues. Each book is one of a kind.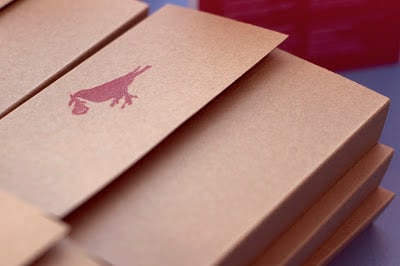 NAGB staff and volunteers fold and compile booklets for the catalogue. Image courtesy of Sonia Farmer, Poinciana Paper Press.
The NAGB staff are very excited about this new exhibition catalogue and we hope that the public can enjoy it too.
The NE6: Kingdom Come exhibition catalogue is on sale at our Mixed Media store for $45. Due to their limited edition run, we recommend purchasing a book while supplies last! Individual curator's essay booklets and image booklets are on sale for $2.50 each. For further information, please call 328-5800/1.