There are some new additions to the Kendal Hanna exhibition!
Recently added is a section entitled, Artists Comparisons. These additions highlight and acknowledge some of the international influences that inspired Hanna. Artists range from Jackson Pollock, Williem de Kooning, Joan Miró, Hans Hofmann and Mark Rothko.
Come to the gallery and see these new informative additions and draw your own conclusions on whether or not you think these specific artist influenced Hanna.
1959- 1960
Collection of the Solomon R. Guggenheim Museum, New York
Image courtesy of the Solomon R. Guggenheim Museum, New York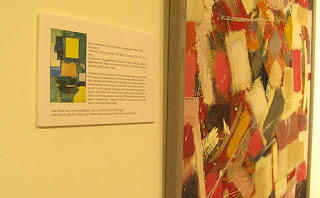 Pink Patchwork, Kendal Hanna
Acrylic on Canvas
30in. x 24 in.
ND
Collection of The D'Aguilar Art Foundation