Artists Princess Pratt and Christine Wilson curate a night of poetic cultural expression to align with the theme of "The Fruit and The Seed"
By Kevanté A.C. Cash
NAGB Correspondent
Just when you thought the Ninth National Exhibition could not get any saucier—with artworks of daring themes brought forth to challenge the norms of a Bahamian society— poetic duo Saucy Expressions, represented by Princess Pratt and Christine Wilson, curates an evening of "Riddim n Tingum," featuring rebellious words from Bahamian poets, musicians and writers, for a literary take on NE9's "The Fruit and The Seed."
One of the two event organisers and performance poet, Princess Pratt, says her interest in wanting to organise an event like this stemmed from the fact that she had never seen a National Exhibition that featured performance poetry before. She wanted it to be an apparatus that bridged the gap between these seemingly separate worlds of artistry. So when the call came out, she and her creative business partner, Christine Wilson, conceived and presented a proposal to utilise the NAGB's amphitheatre—Fiona's Theatre—as a space for what would be called "Riddim n Tingum" for the NE9.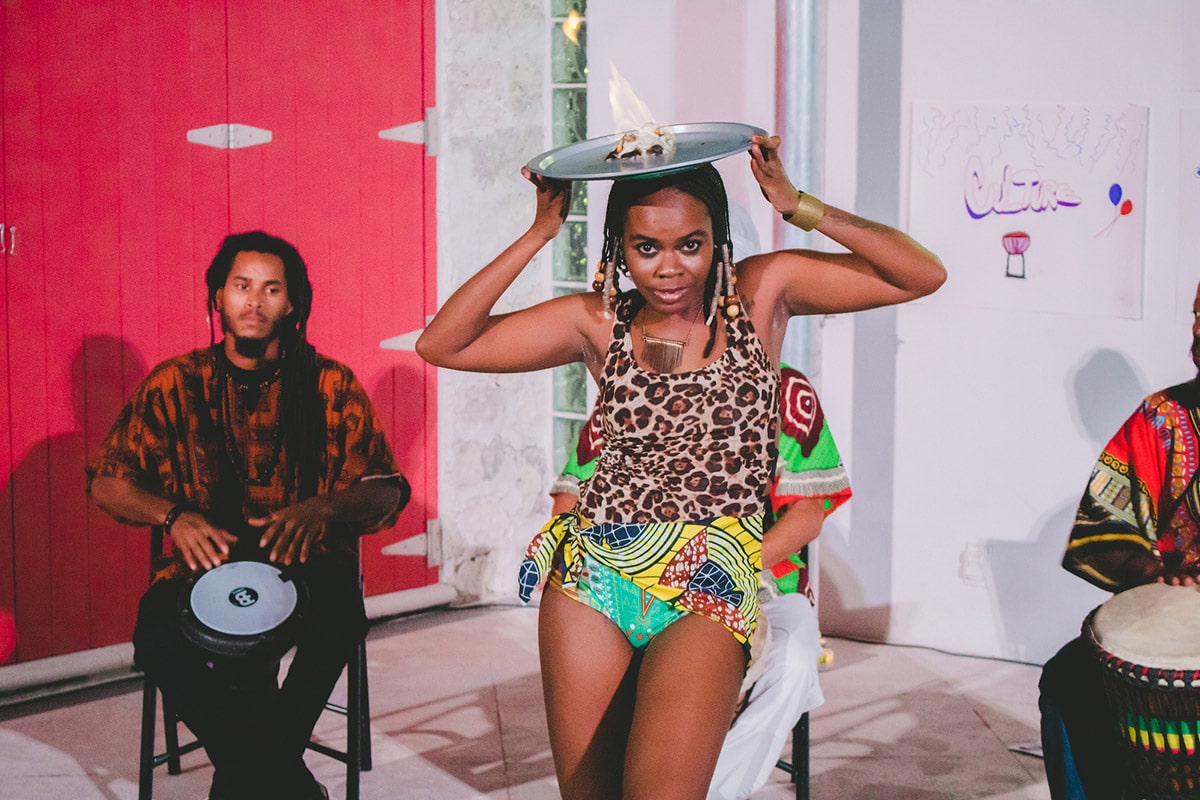 Princess Pratt, co-founder of Saucy Expressions performs with the drumming group, Ubuntu, which she is a part of. Image courtesy of Jackson Petit and the NAGB.
"After submitting the proposal, the next step for us was figuring out who could be a part of an event like this. Whose energy and stories would align with the theme of the show we were trying to curate? Once we decided on that, we allowed for everyone to get acquainted with each other and arranged to meet in an informal manner before scheduling times for practice," Pratt says.
The process of organising was not at all difficult for the pair, who opted to keep the significance of this affair–a deep connection to heritage and Afro-Caribbean traditions–to the fore as its leading motivation.
"Being able to hold an event that catered to this form of performance art—spoken word and poetry—in that space, was extremely important, especially for the vibes that we were trying to conjure up with "Riddim + Tingum." Paying homage to our ancestral roots and having knowledge that the space was part of the first African hospital made the moment extremely sacred and more than important. It was also essential for us to give a voice and lend ears and sight to all of the acts that were a part of the show. Three of the performances were also accepted NE9 artists, who had submitted their poetry for the NE9 catalogue, but were unable to visualise their poems being read at an event, so to have them be a part of the production was quite special."
The topics chosen for the evening, which aligned with the greater themes broached in "The Fruit and The Seed," fell under seven categories: sexuality, psychology, environment, culture, politics, spirituality and social issues.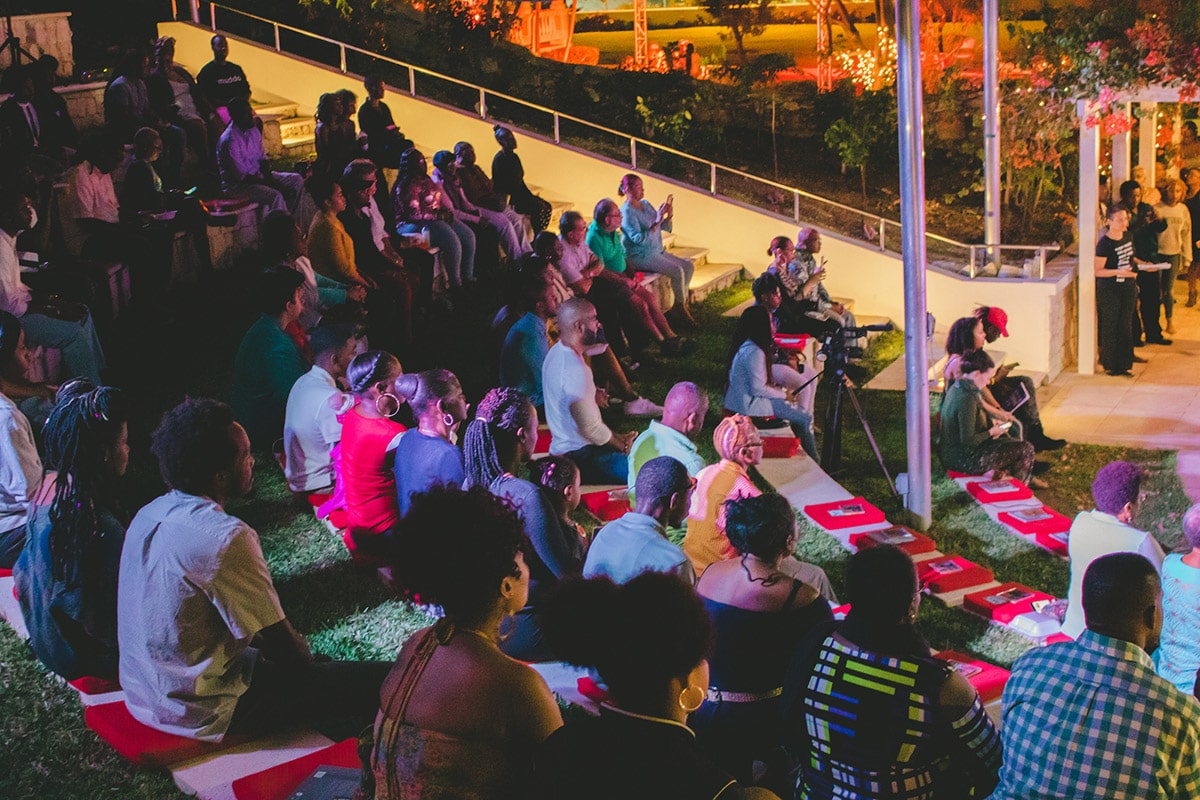 Crowd enjoying the festivities and words at "Riddim n Tingum." Image courtesy of Jackson Petit and the NAGB.
For everything that exists, there is a process to how it reached its current state. Germination is one such process: what seeds have we planted to reap a harvest of beauty or chaos? How does a society or community get to the state that it is in today? Were seeds carefully or carelessly planted to bloom flowers of doom or of good fortune? What words have we spoken over ourselves to aid in the process of our demise?
Pratt and Wilson considered these questions while selecting the poets and performers for the evening, who included: Martysta Turnquest, Ivanna Gaitor, Yasmin Glinton, Ian Taylor, Tanicia Pratt, Pryia Russell-Ellis, Bey Chaino, Kacey Ferguson, Ide Thompson, Cherese Pratt featuring Jason Evans and Colene Clarke, Qpid and Bodine.
Wilson said she was inspired by both the categories and by a slam music event she had previously experienced, that inspired her to make the evening a "non-ego based" vibration of poetry readings and performances, where artists would take the stage one after the other without introduction.
"I was coordinating the production part of it and I recalled seeing a music slam where all of these well-known performers came together and just began to play music on the stage.After the show, when they were being, interviewed, they were asked, "What is this – a collaboration?" And they said it was just music … music without ego; that they were just playing music for the love of playing music. So, I thought it would be a really cool concept for poetry – for "Riddim n Tingum" under the seven sub-topics – that you couldn't say your name or the title of your poem, you would just perform. And that's how it flowed and it turned out really well," Wilson says.
"The feedback was amazing and the turnout was really good. There were even people asking if we'd partner with the National Art Gallery of The Bahamas again to put on another event like this. If the opportunity presented itself, we'd definitely be open to it," she adds.
"In terms of spirit, space, invoking feeling and the sacredness of the entire experience, we'd love to host a "Riddim + Tingum 2" at the NAGB again. We'd only hope it'd be bigger and better than what it turned out to be this time, with some of the same faces but also new ones with different voices and fresher perspectives on the issues we'd want to tackle in the future," comments Pratt.
The National Art Gallery of The Bahamas is honoured to support artists across all genres within its space. The National Exhibition 9: "The Fruit and The Seed" remains on display until Sunday, April 7, 2019. The NAGB is open to all ages and is FREE every Sunday from noon-5 p.m. Also open Tuesday through Saturday, 10 a.m. – 5 p.m. $7 Adults; $5 Students and Seniors; FREE for children under 12.