By Keisha Oliver
The relationship between art and spirituality is more connected than many of us realise. There exists between them a peculiar kinship used to inspire personal and universal endeavours toward an ideal reality. History teaches us that philosophy unifies the two at a point where intuition and the self-conscious embrace spiritual-mindedness. For Allan Wallace these parallels sit at the foundation of his pursuit/exploration in self-awareness and survival, framing the trajectory of his life's work/creative practice.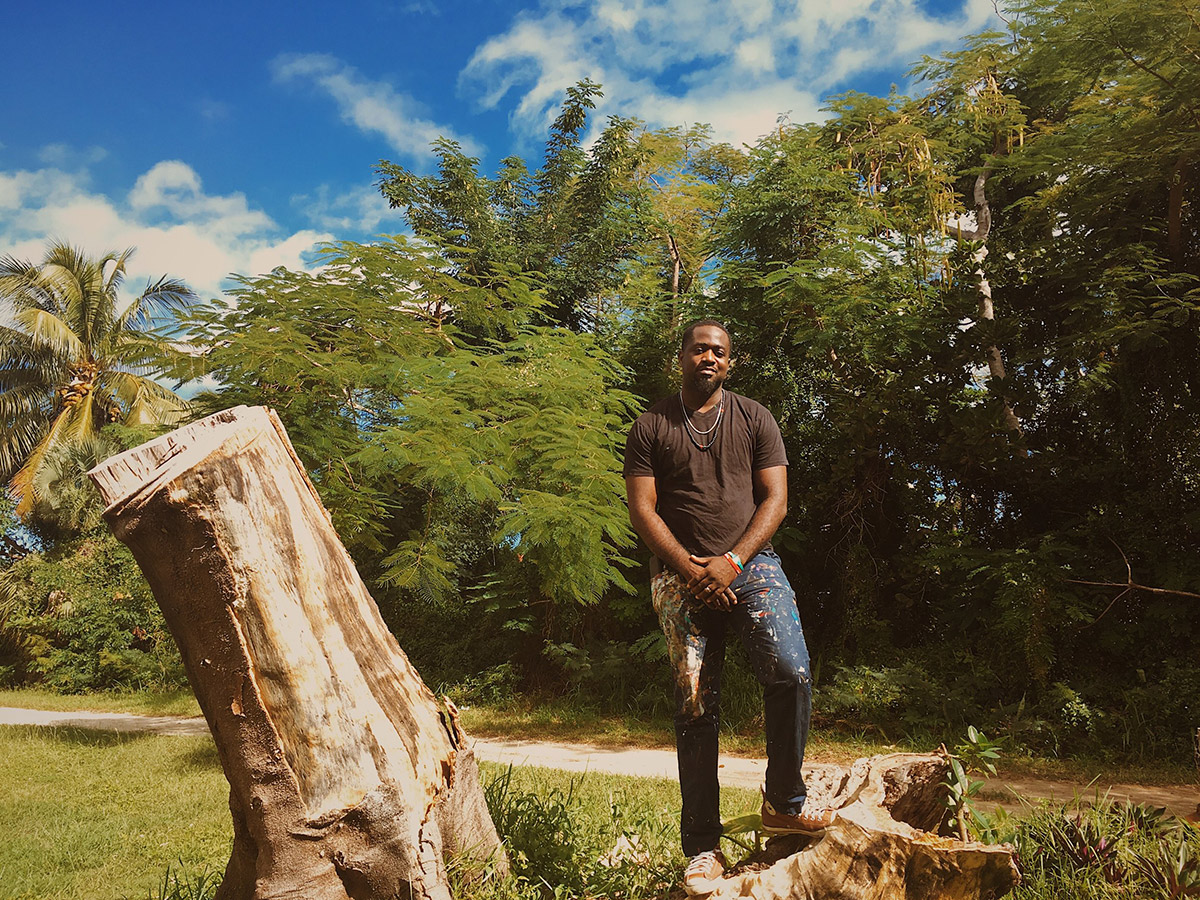 Portrait of Allan Wallace. All images courtesy Holly Bynoe
From the masters to the contemporaries, Bahamian artists have been seen circling conversations on faith and ritual since the late sixties, yet few consider it their divine calling. Master intuitive and folk artist the late Amos Ferguson is regarded for his life's work, largely influenced by his religious upbringing. Ferguson believed his repertoire of Bible and Bahamian scenes were a result of divine instruction from God.  Although their styles couldn't be more dissimilar Wallace and Ferguson share the journey of prolific self-taught creatives, who emerged as artists of the gospel in their generation.
Bolstered by the immediacy of technology and social media, Wallace has gained unprecedented influence within the contemporary urban art scene in recent years. Embracing a sort of creative Evangelism, Wallace has crafted a unique approach to his art that engages and inspires. Although famed for his idiosyncratic style of salt art portraits, live art experiences, and colossal murals, he views his ability to share the brilliance of God through his talent as paramount.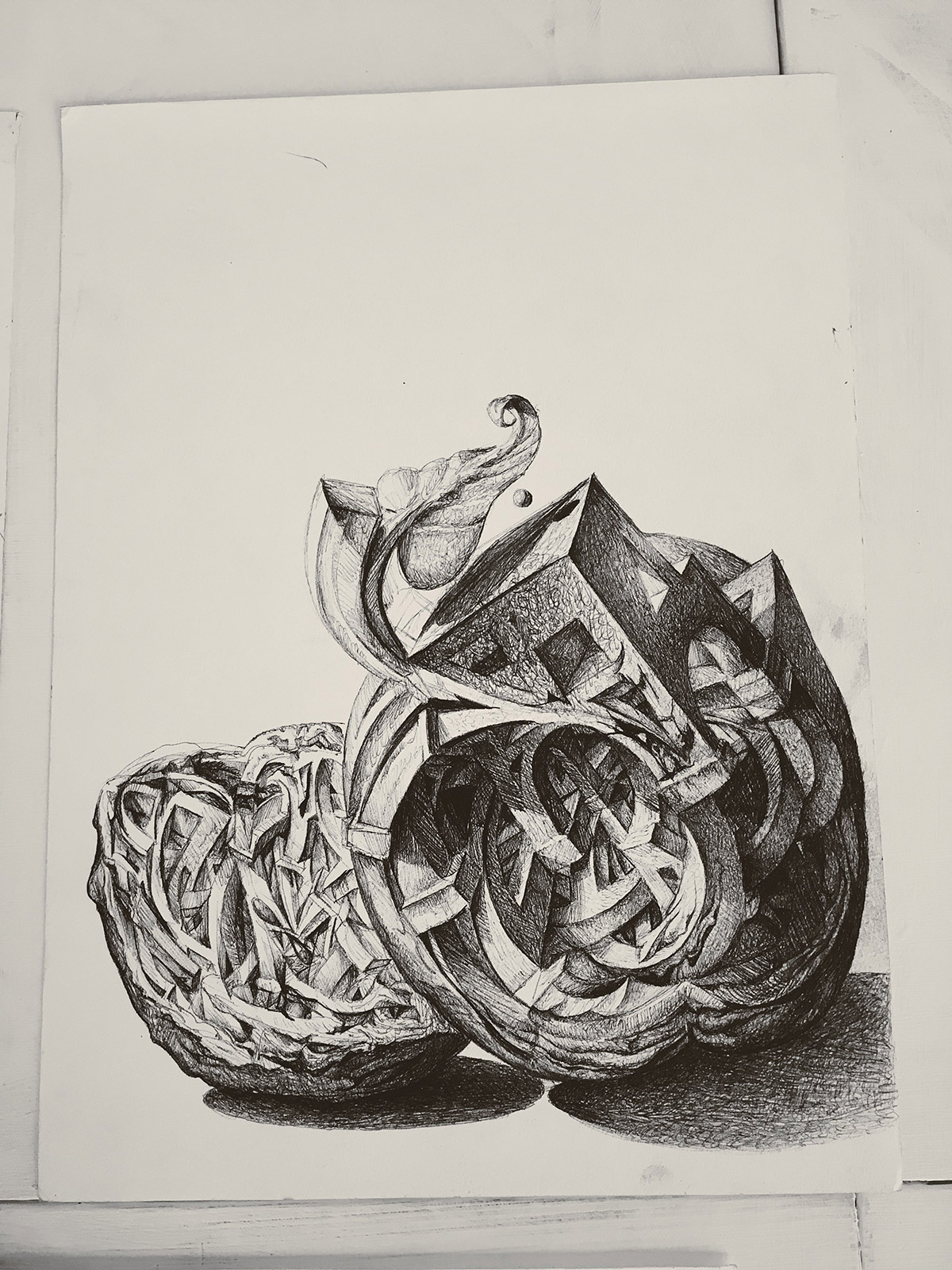 Invited by The National Art Gallery of The Bahamas to participate in its upcoming exhibition "Medium: Practices and Routes of Spirituality and Mysticism," Wallace is humbled to have the opportunity to produce a collection of 12 ink drawings that revisit his religious upbringing.
"A lot of my recent work consists of private commissions, live art paintings and murals, but the invitation and freedom to produce a series of drawings focused on a theme so close to my heart was timely and appreciated" 
Growing up in a Christian family as the grandson of an apostle, then continuing to serve in ministry as a 16-year old deacon, established Wallace's roots in Christianity. A familiar story to the traditional Christian home of the eighties, where children in obedience follow their parents to church every Sunday. The "Bahamian Church culture" has a very different reality today.  Faced with an abundance of spiritual paths and alternative lifestyles, this generation of youth are embracing their freedom of choice. Not always in defiance of their family's Christian heritage, but more often they are simply gravitating toward a more relatable substitute.
Wallace's work is known to use surrealism and symbolism to critique and reimagine contemporary Christianity. Sometimes, like Ferguson, biblical narratives or references are used, but Wallace is also seen delving into an investigation of religiosity and the role the church plays as an object of influence. From dialogues on wrath versus the beauty of God, the dynamics of church titles and hierarchal system, the architecture of the physical and the spiritual realms, he addresses a plethora of experiences, perspectives and questions raised in his faith walk.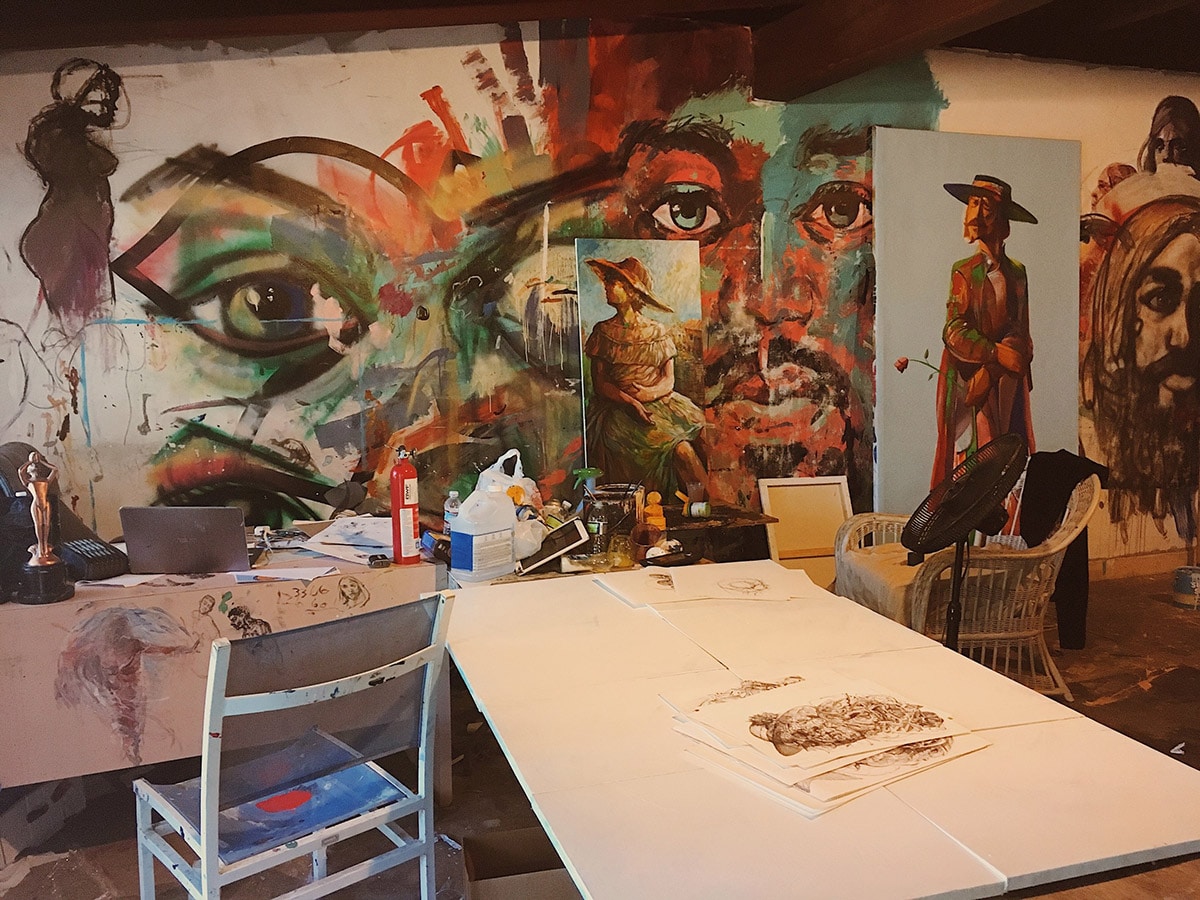 Inside the artist's studio.
His bewildering drawings are layered both conceptually and technically. "The God Fruit" is a re-figuration of the forbidden fruit from the Adam and Eve narrative that hopes to encapsulate the brilliance of God and man's ability not even to comprehend his majesty.
"I always found it interesting that the object of desire was always represented as food. The complexity of the work, which is contained in a section of an apple, reveals an internal matrix. To the naked eye, it seems never-ending. I wanted to touch on the fact that  the decisive moment, when man consumed the forbidden fruit, is also the ultimate point of choice that births an ongoing spiral of free will and expression."