By Dr Ian Bethell-Bennett
The University of The Bahamas.
Bahamian society and culture are already deeply creolised and vibrant, so why not make every effort, take every chance to show who we are?
In the 1980s Barbadian calypsonian Gabby performed 'Jack', and people laughed.  In the early 2000s Bahamian performer K. B. sang 'Dey Sellin', and people laughed. In fact people criticised him for exaggerating. 'Dey sellin'… culture captures what we do not see.  Oral and aural culture deliver serious critical visions and versions on what a go on, as the calypsos of the Trinidadian 'Trinity' Mighty Sparrow, Shadow and Chalkdust made critical often blistering interventions in all matters of national concern.  Today, we hide from this kind of cultural richness or defame it.  In "Apocolypso"–first published in 2004 and recirculated in 2013–Christian Campbell highlights the shifting tides and sands of Bahamian landscape and the accompanying cultural erosion and erasure.
It opens with: "In 2020 The Bahamas is no longer The Bahamas.  It is now called "Disney Bahamas."
As the shores of one island disappear into the chasm of a fantasy world, should we lament or be glad in it?  As the focus of Bahamian cultural identity becomes sharper yet far more diluted, we ask ourselves if we really are interested in cultural expression and even in Bahamian sustainability. Dey tell us say, don' question, don' talk bout de environment: two hefty mandates simply quashed by the voice of reason.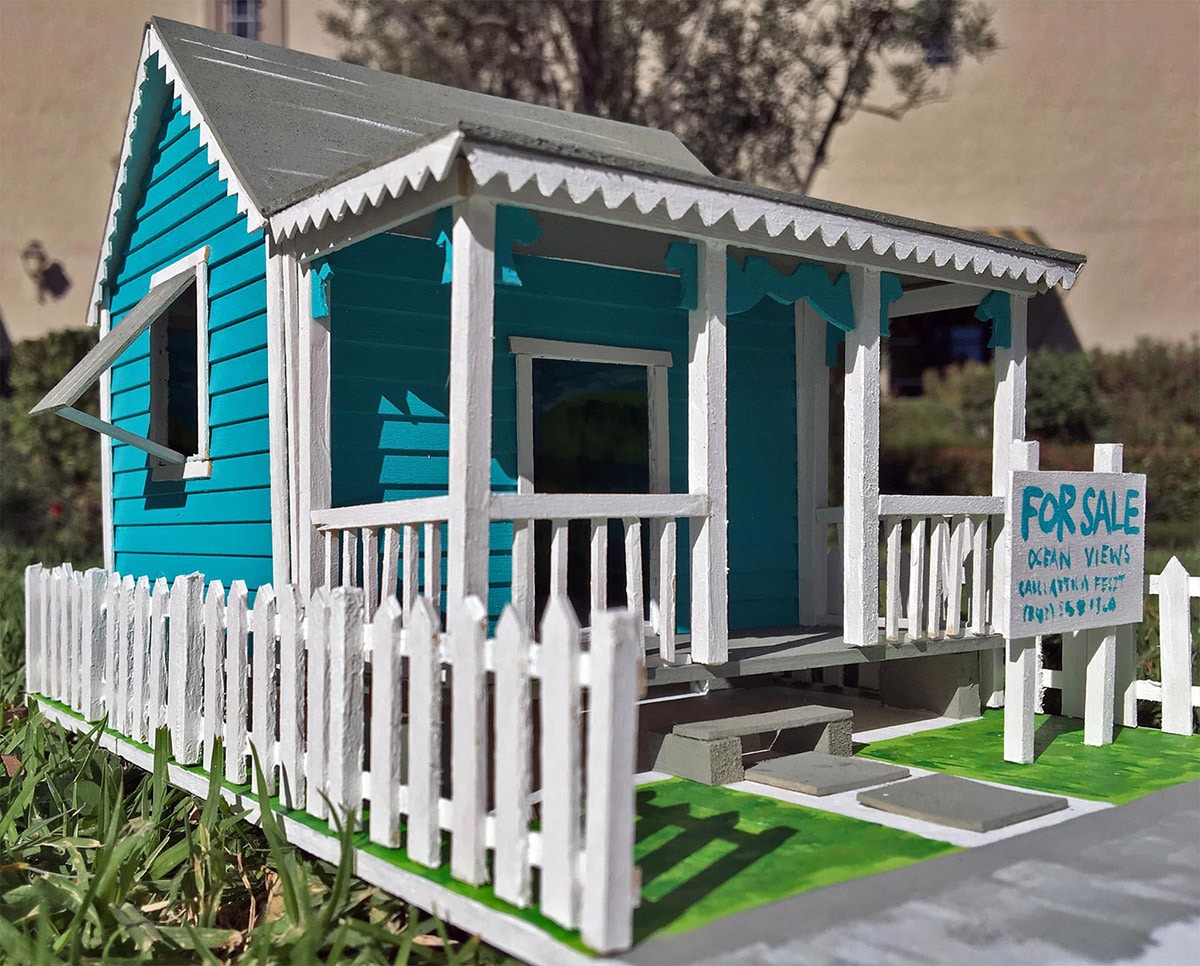 Fake Plastic Trees, (2017). Attila Feszt. Works originally produced for the National Exhibition 8 in the Project Space room to speak about gentrification and land use, grab and ownership. Image courtesy of the artist.
We knew this was coming; however, things come in intriguing ways.  We hoped that it would not, and we hoped that the country would be built up through local ownership and partnerships, but the environment has been struck off the list of things we can be concerned about or mention when we discuss sustainable development.  In the face of the UN's recent declaration on Climate Change and Sea level rise, we seem to have taken a left turn straight into capitalism's end of world discourse (apocalypse). Enjoy now. Forget tomorrow!
Government does talk good in the international arena, but, hit home, and dey is be bound by de arm, put in headlock and told wha' ta do, an' dey does it 'cause de lack of air getting up to de head does drop.  Campbell offers: "Many Bahamians died, were poisoned, grew deformed from the pollution of a so-called environmentally safe pipeline running from Bimini to Florida, approved by the old Bahamian Government in 2006". The pristine blue-green waters vanish under the non-white exploiter's wall, benevolence and kindness.
In a country that creates some of the most outstanding pineapples and people, the space for creativity is shrinking.  We cannot only create pineapples, we can also create products from pineapple, yet we quickly run afoul of that possibility. We are happy to serve. Do not understand this as a racial war or an anti-white attack, this is actually about the power to silence voices and populations that might have an interest in the development of their nation over the development of de state—two distinct tings—and as the artistic expressive side of it goes—as we can see in Attila Feszt's Fake Plastic Trees (2017) structure of the new power in The Bahamas. (At The Current and before at NAGB's experimental space).
Of course, we are happy to be seen as de boy diving for penny's thrown by cruise-ship passengers in the early 20th century and sexualized bodies good for little more than labour and representation, but the split off from rich cultural expression today.  We are flattened out into tourist image so at odds with creative selves that we seem lost.
We can take a journey up and down Eleuthera, by bike, car, motorbike, through different and distinct settlements, landscapes and waterscapes, and find so much beauty, this is what 'tourists' those people we define ourselves for and by, want.  They, most of them, do not want fantasy enclaves of cultureless yet capitalized cultural expression (Labadee, Haiti).  Yet, it has happened.  The culture of place is being displaced by a culture that thrives on poverty, so we sell.
Campbell writes: Eleuthera and Briland are dubbed "Behind the Bill Gates Cays."  Andros, great mangrove creature, has been rechristened "McDonald's Haven."  The Exumas glow fluorescent as "The Coca-Cola Cays."  Cat Island, island of my roots, cultural centre of The Old Bahamas, was salvaged by the great Sir Sidney Poitier, the only island to keep its name".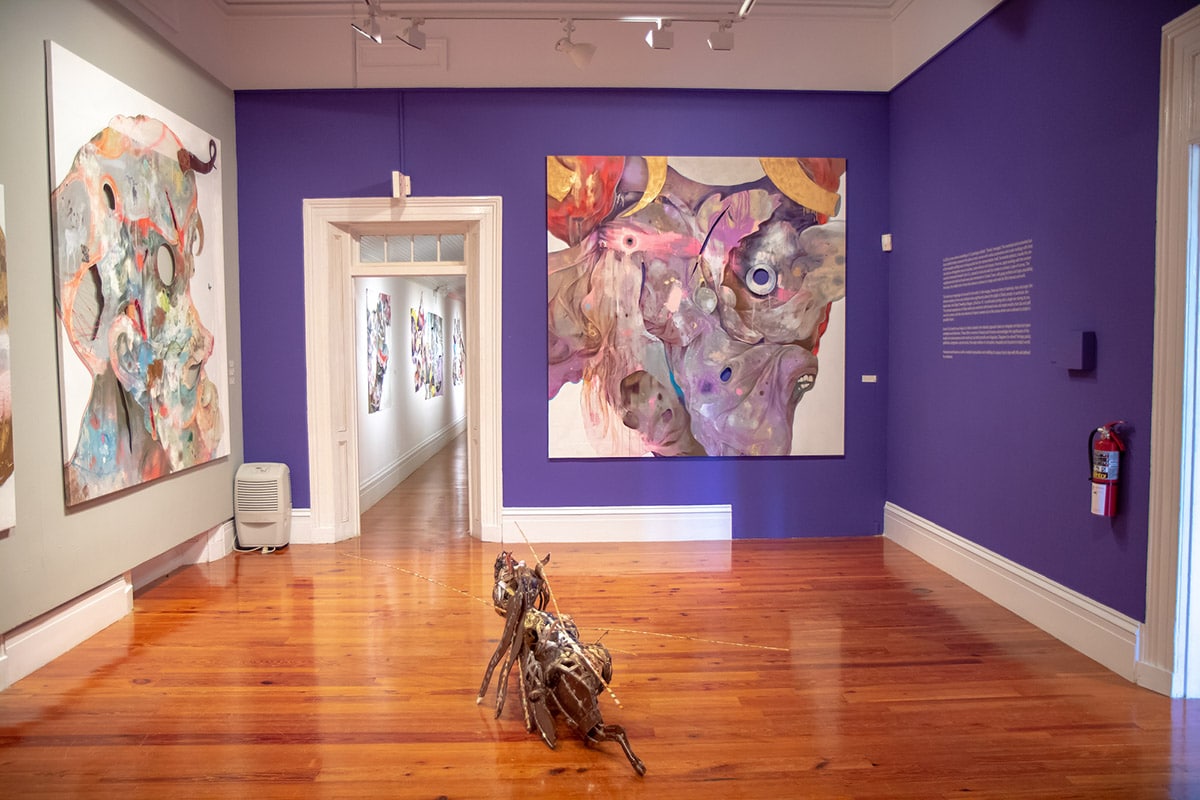 Lavar Munroe's "Son of the Soil" installation shot of the North Eastern room with works from the "Devils" and "Gundogs" series. Image by Jackson Petit.
This time there are no saviours.  Any plan at Bahamianisation or acceptance of the same has been tossed on to the trash heap at Harrold Road.
Perhaps the most disturbing and revelatory part of Campbell's piece is
[i]n the 2018 Treaty of Disney, all 1,000 islands, cays and rocks of The Commonwealth of The Bahamas were sold to the U.S. Government and the Walt Disney Empire (which takes all complaints and compliments at [email protected]) for an undisclosed amount by an undisclosed group of ex-Bahamian politicians who, thusly, forthrightly, migrated to Florida proper on their well-worn U.S. passports where they grow fatter and fatter each day.
In the what-ever buck up goness of the present day, why stop living our lives to die under someone else's idea 'usness'? Bahamian society and culture are already deeply creolised and vibrant, so why not make every effort, take every chance to show who we are?
The irony is is so clear that the distinctive cultural creolité as expressed through the syncretism of Lavar Munroe's ten-year survey "Son of the Soil" currently on display at the NAGB.  What is so enjoyable about his work is the confluence of differences and similarities in frame or installation.  They speak many languages of at-home-ness yet lack of safety.  He seems to challenge, as does Feszt in "Plastic Fake Trees", the new vision of our flattened out being for acceptable consumption. The tensions between how we define ourselves and the lack of self to define seem almost poetic.
Space and cultural expression as well as identity formation work together.  The space of Lighthouse Point is a part of Eleutheran identity now lobbed off: private property no longer belongs to the commons.  People, happy to serve at low-wage jobs, are also happy to relinquish space.  The repetition of this theme across the Bahamian archipelagic speaks to desperation, but we ignore the desperation that provokes crime and dis-ease, inequality and limits our ability to think creatively because we too busy survivin'.
The ability for Bahamians to belong now is attached to if they know how to serve good. Dis is a public service announcement brought to you by tide and its waves…  Jack ain't saying a word now and he gone blin' too.