By Katrina Cartwright.
On Saturday, January 20th, 2018, thirteen students from public, private and home schools attended the NAGB's free portfolio workshop. Formulated for students in senior high school or in their freshman year at The University of The Bahamas, who are looking to transition into a tertiary art programme at an international school in 2018/2019, this workshop is one of two that will be held by the Gallery in 2018. It is hoped that this experience will give students the tools to successfully apply to any art programme of their choice.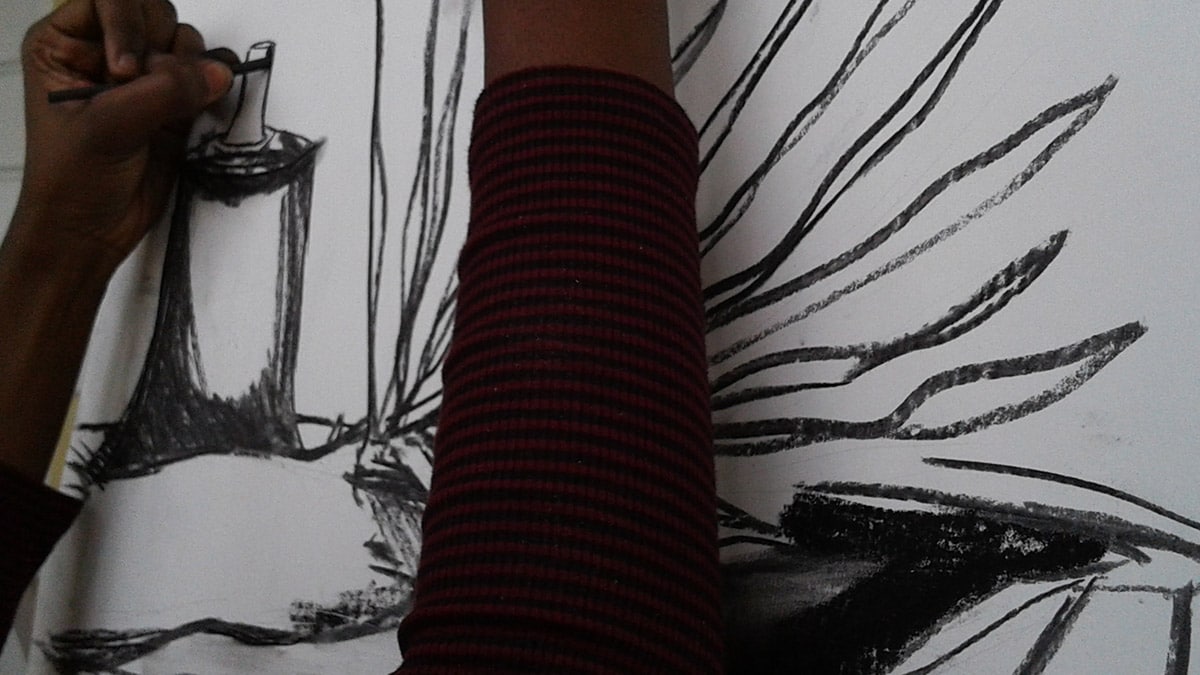 Observational drawing in progress (close up). All images courtesy of the NAGB
Facilitated by professional artists and educators, the day of activities focused on selecting a school and fulfilling application requirements – especially the submission of a portfolio of work. Creating a digital portfolio, taking pictures of work and crafting a personal statement were several of the topics covered. The morning was filled presentations, which were led by Katrina Cartwright, workshop coordinator and NAGB Education Officer; Steffon Grant, artist and Education Officer at The Current, Baha Mar; and Heino Schmid, Assistant Professor in the art department at The University of The Bahamas.
After consuming a deluge of information, students participated in a critique where they each displayed two completed pieces and received feedback from their peers and the workshop's coordinator. "Everyone was very welcoming and I felt at home even though it was intimidating to be surrounded by so many amazing artists," said workshop participant, Taylor Higgs. Other participants shared similar sentiments and were appreciative of the skills learned, the critical discussions and the opportunity to meet and interact with other young aspiring artists.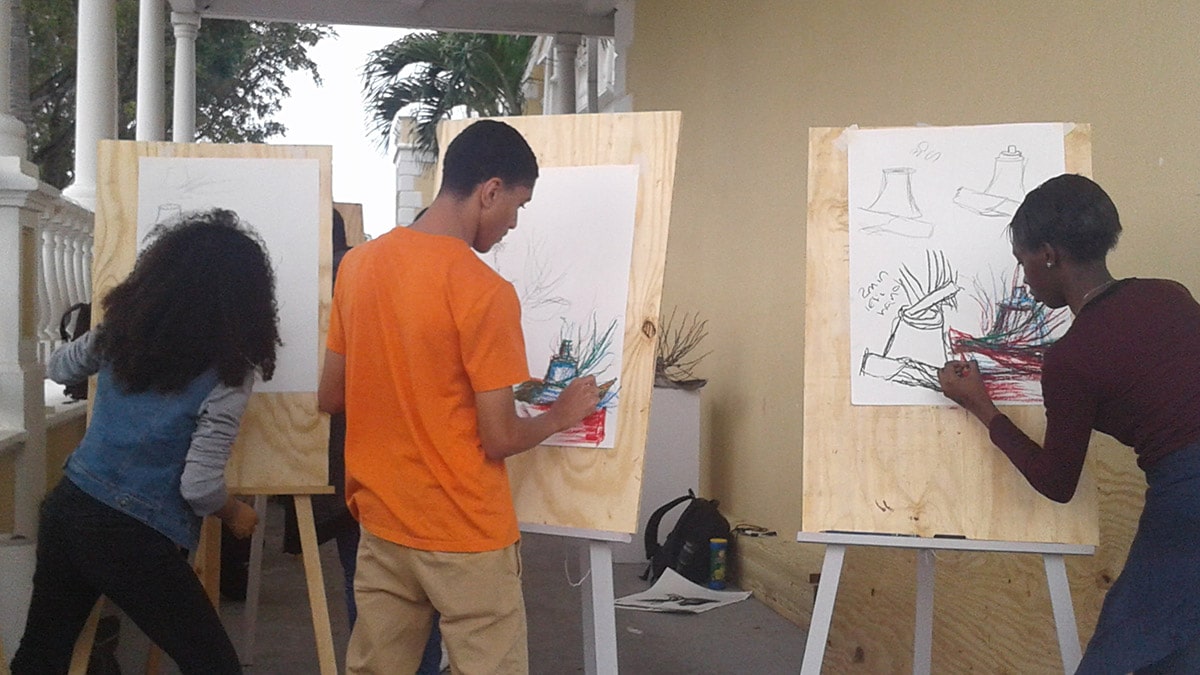 Thirty seconds goes by quickly in this "rotational" drawing exercise.
The day ended with a rousing drawing session that promoted even more interaction between participants and allowed them to experiment with drawing techniques and materials. This activity was a hit with the students and many of them cited this as being the best part of the workshop. For CR Walker student Brakell Newton, the overall experience was so enjoyable, she would gladly recommend it to other students interested in pursuing a career in visual art. "It doesn't really matter your style, or the kind of art you prefer – it's all about art and that's what I loved."
The NAGB is implementing several new programmes in 2018, some of which are focused on providing more opportunities to engage youth in the arts and deepen their relationship with the institution. Grant, who assisted with the planning and implementation of the workshop shared, "I think it is important to do more hands-on training that is relevant to the opportunities that exist today. We have to evolve and stay current because society is changing. The spirit of art and creativity will live on through intentional outreach initiatives like this one and I hope that more and more local artists get on board."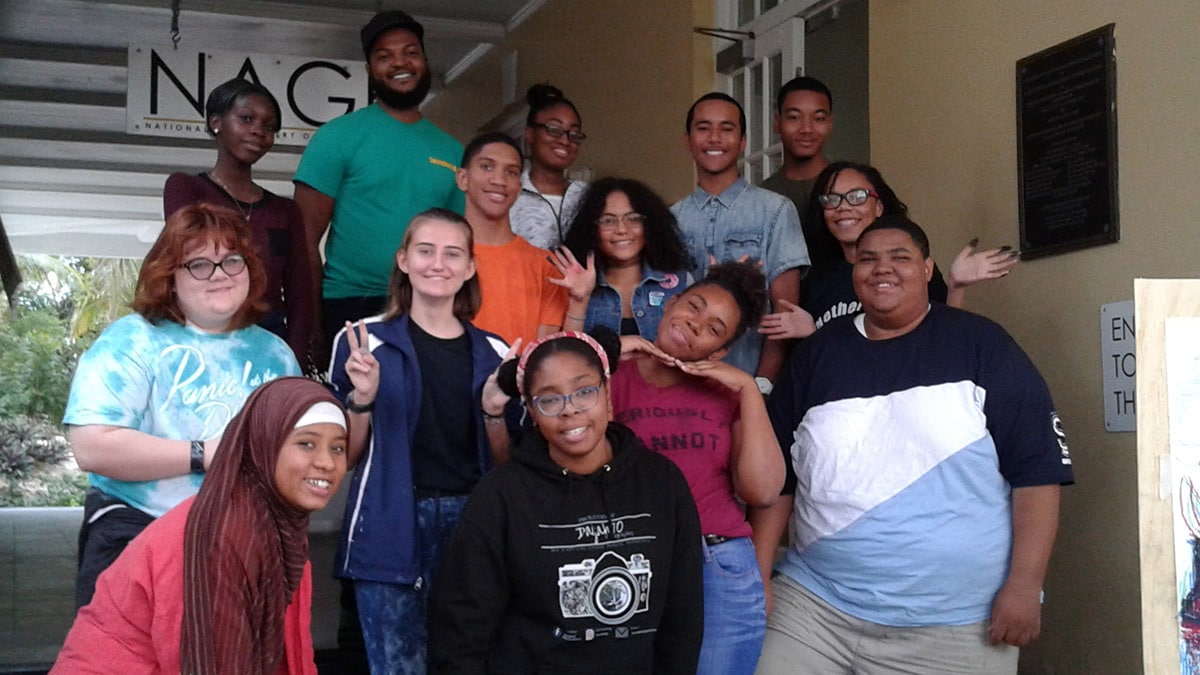 Steffon Grant and workshop participants.
The NAGB team is thoroughly pleased with the reception of this new initiative and are excited to continue offering this opportunity to young creatives. Keep an eye out for when registration will open for our April 21st portfolio workshop! Follow us on social media, regularly check our website and if you haven't already, subscribe to our newsletter.