By Diana-Lynn Sands
The National Art Gallery of The Bahamas (NAGB) recently debuted "Resurrection" and "…there are always two deaths":  two truly exceptional exhibitions by two truly exceptional Bahamian artists. The opening reception, which was free to the public, was held on Thursday, May 2nd, 2019, at historic Villa Doyle. The audience was simply thrilled by works of legendary artist Chan Pratt and mid-career artist Tessa Whitehead. While Pratt is known for his clean, vivid and consummate depictions of the beauty of the Bahamian landscape, Whitehead's work is muted, sombre, mystically captivating and inner driven. Work from both artists were carefully selected and displayed to ensure maximum appreciation by the viewer and generate healthy artistic dialogue.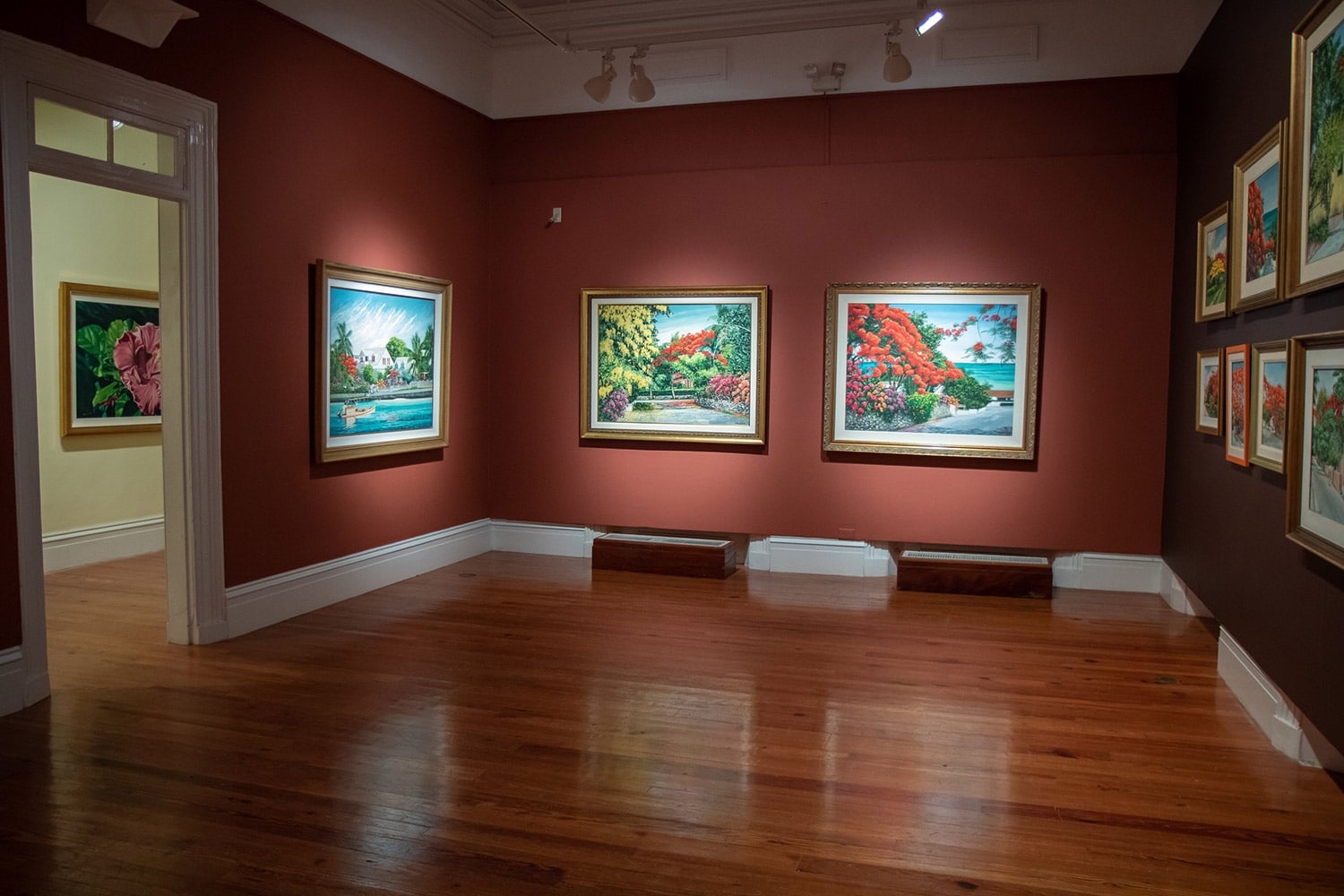 Installation view of Chan Pratt "Resurrection". Image courtesy of Jackson Petit.
Eleven years after his passing, the NAGB posthumously celebrates master Bahamian artist Chan Pratt with "Resurrection" which features nearly 100 pieces of his work. Pratt is known as one of the first Bahamian visual artists who successfully transitioned from a life in the corporate world to successfully follow his artistic passion, thereby producing a stunning array of art, many of which were purchased locally and internationally by collectors. He created remarkably skilful paintings of items such as poinciana, hibiscus and Seagrape trees, which are so striking that the viewer could imagine the warm summer breeze that would make the branches and flowers happily bounce in response.
Several paintings by Pratt shows sloping hills with ocean views, explicitly capturing the various hues of blue that are iconically Bahamian. From such a vantage point, one could imagine leisurely fishing on a boat, taking a swim, snorkelling or even free diving. These fantasies are varied and a small part of the many pleasures of life in The Bahamas. Yet the ocean is not the most striking aspect of the picture. Red Royal Poincianas along with pink and purple bougainvillea are in full bloom and so beautifully displayed that the viewer could easily be tempted to reach out to pick and smell them. Better yet, a nap on a hammock in the luscious shade is a real temptation on a bright and sunny day. This kind of work can be inspiring, comforting and deeply nostalgic for those who can recall or imagine a simpler kind of island life.
Pratt typically used acrylic, watercolour and oils, which allowed him to experiment with and master his craft.  However, it was his relationship with the palette knife that truly catapulted his observations into a nuance of depth. As his skill matured, he used tropical colours, and with the breaking of the plane brought on and pushed by knife application. This novel technique enhances realism and gives a very present feeling to the viewer, often adding to the tranquil mood found in the environments depicted.
The NAGB also welcomed the first solo exhibition by interdisciplinary artist Tessa Whitehead showcasing a new body of paintings entitled "…there are always two deaths". Whitehead's extraordinary and haunting work, delves into many subjects that deal with the past, folklore and landscape. Whitehead's paintings explore feelings of belonging that arise from issues of race, mixed heritage, gender; and the dark, difficult journey that entails moving through the 21st century as a Bahamian woman.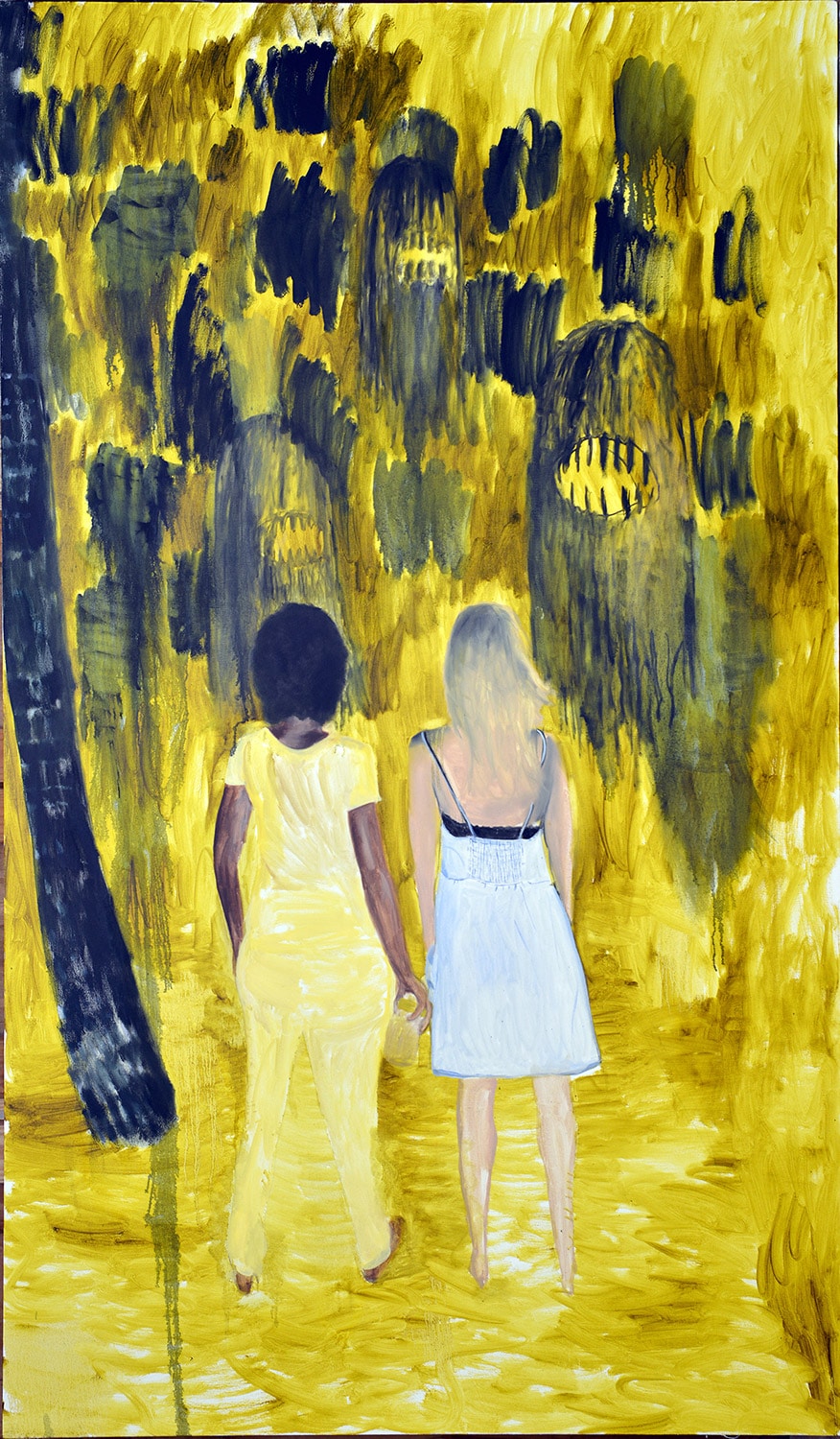 All of us, and us, 2018. Tessa Whitehead. Oil on canvas, 84" x 50". Image courtesy of the artist and Roland Rose.
Whitehead is extremely talented and produces visually stunning pieces. While figurative, her work is a rich combination of an image you can see, and yet not see. It suggests, and it guides. It speaks, and it is silent. This is especially observed in All of us, and us, 2018. In it, there are two women holding hands, their backs face the viewer and they together face a group of monsters or a nightmare. While it should be terrifying, it is not. The women stand strong together in the face of danger. Maybe the piece speaks to the strength of women. Maybe it speaks to the unity of women. Either way, there are many contradictions… there are many possibilities! This particular work is unlike most of Whitehead's other works, which are generally darker in tone with lighter colours used as highlights and moments of relief or pause. Strange as it might seem, there is a sense of hope that the women in the painting will overcome whatever the challenges they face.
With these exhibitions, the NAGB delivers artistic expressions at different ends of the spectrum. Chan Pratt's work is clean and airy, inspiring feelings of leisure and beauty. It is an accurate depiction of the amazing physical features that many associate with island life. On the other hand, Tessa Whitehead's work evokes a different kind of sentiment and thought. Whitehead's work is deeply provocative, heavily suggesting that there is more to life than meets the physical eye. Both bodies of work though different in approach depict beauty, style and sublime artistic expressions.
Both exhibitions will be on display until Sunday, July 28, 2019.