By Dr. Ian Bethell-Bennett
As University of The Bahamas students work to design smart, green, locally-responsive, environmentally-attuned drawings for the Expo 2020 World Fair to be held in Dubai, United Arab Emirates in three years' time, the nation also prepares to be under the microscope on the world's stage. 
This massive event is the place where new ideas become reality and innovation and connectivity work to inform the future of the world.  World's Fairs are where buildings like the Brighton Pavilion and Crystal Palace become reality, both created for the Great Exhibition of 1851.  We must, though, be ready to move beyond the local known or lived reality and explore the unknown, the space out there that will be utterly different from where we are today.
As a Small Island Developing State, The Bahamas faces many unique and other common challenges.  We face sea level rise and low rainfall followed by high levels of rain in short spaces of time, for example.  New architectural designs must be prepared to meet that reality head on.  This design would be a change from the poorly-thought-through, rapid adoption of all American designs to the tropics where they do not work because they are environmentally and/or culturally inappropriate, though they work well within their geo-cultural context.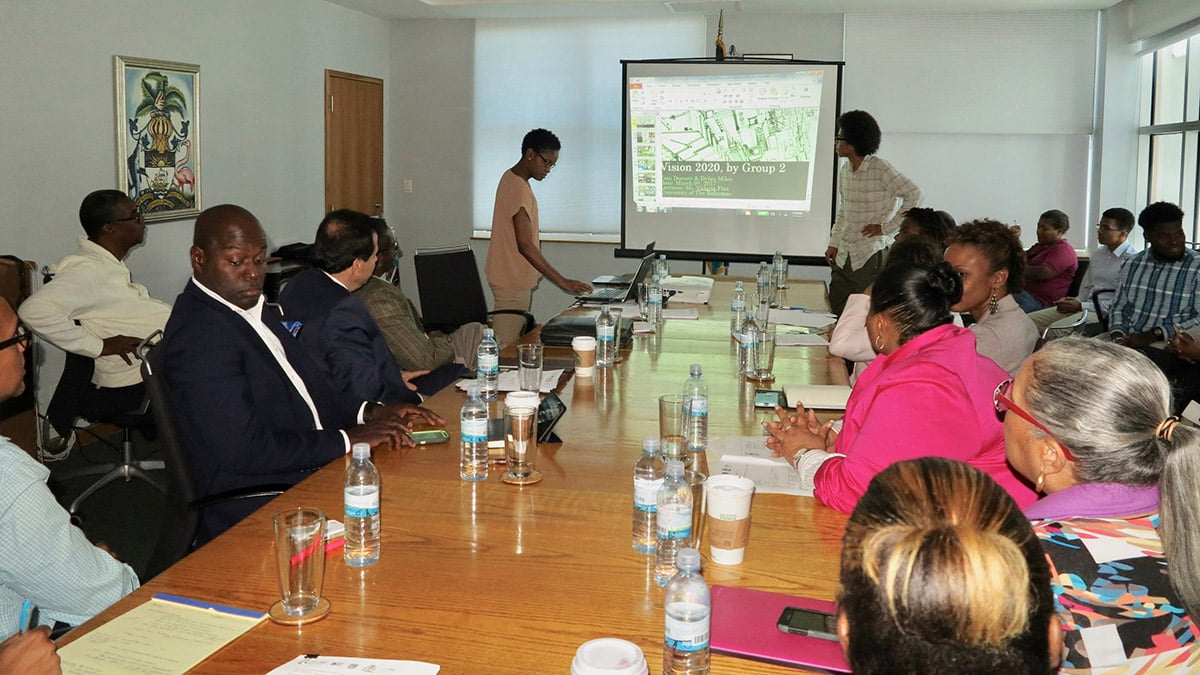 Expo 2020 Student Group 2 present to National Plan Committee. Images courtesy of Azaleta Ishmael-Newry.
These UB students have a unique opportunity to be inscribed into the future of the country while still extremely young and relatively inexperienced.  We hope that this will pave the road for well-informed, well-researched and culturally sensitive models that can sustain our society into the future.  The reality of 2040 will be far different from the reality today, which is already distinct from the reality 10 years ago.  We now need to look at design and architecture as an art of the future that can relate to everything we think we will need. 
Culturally, we will be distinct.  Conch and Grouper, both Bahamian 'cultural icons', will be less readily available.  How do we, as a people and later as a nation, plan to adapt to this essential change?  We cannot continue to eat conch every day or even every week if we want our conch stocks to survive into the near future.  This kind of cultural shift will signify a new understanding for and appreciation of sustainable living.  Given that, we can no longer be controlled by an eye for the tropics that casts the country's islands as mere backdrops to a dream or film set where other people come to play temporarily, isolated from the inhabitants who reside here 365 days a year. 
The eye must be controlled by these same architecture and art students, involved in Expo 2020, and others like them who create the gaze based on research and local adaptability and resilience.  How can we begin to produce conch without further damaging the environment or creating unsustainable expectations and species that threaten the way of life even more?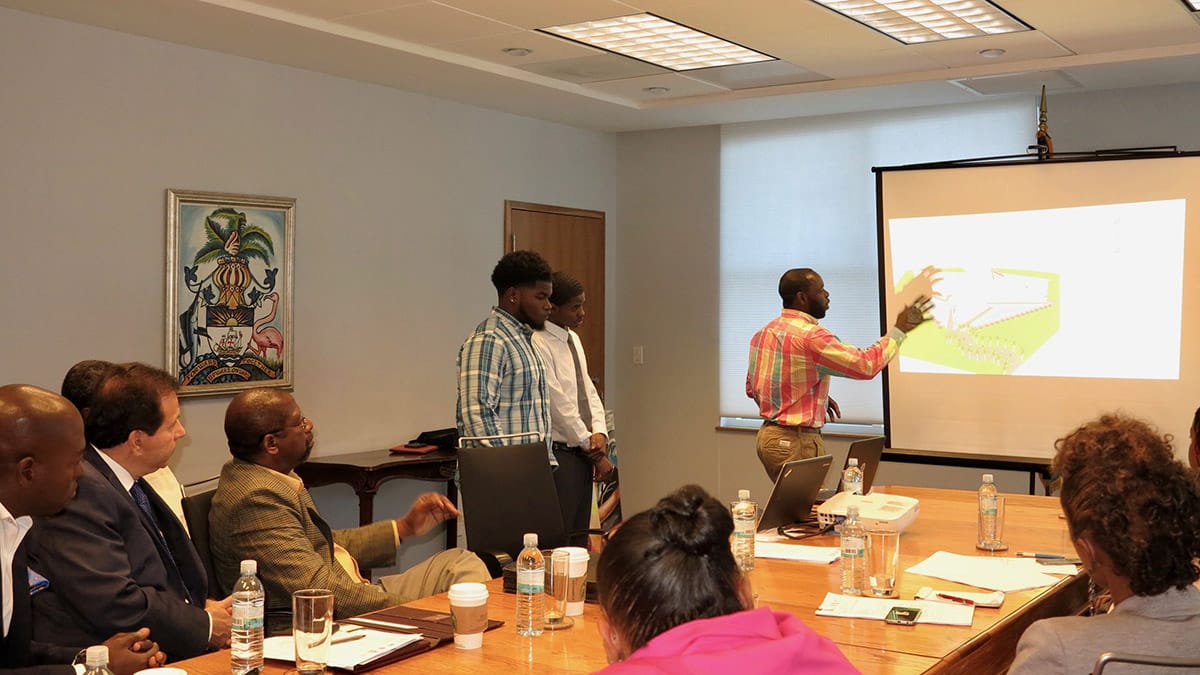 Expo 2020 Students Group 3 present to National Plan Committee.
Dr. Krista Thompson's work on the colonial vision of the past and its framing of today's Bahamian experience as sold abroad must be altered to capture, and reflect without distortion a local harmony and resilience where Bahamians are involved in their own design, not an international firm with little or no local experience who can step in and erect sky-scraping edifices that does not meet local building codes.  Our designers, much like our artists, can and should be homegrown, developed in the incubator of the University of The Bahamas, that would need to develop a far more vibrant and dynamic offering, if we are indeed to meet the needs we see rapidly approaching.
Expo 2020 is the future of the country, as witnessed when the students presented to Cabinet at the campus, and again when they presented to the National Committee at the Ministry of Foreign Affairs building recently.  We have to shift the paradigm from patterns of development that are unsustainable, much like high-occupancy, high-consumption, non-green, energy-sucking shrines of pleasure that seem to dominate the landscape.  Architects and artists like the Anthony Jervis and the late Jackson Burnside, are two, who bring their local experience and appreciation for Bahamian culture, space and place to bear on their work, paving the way for these young people.  This is where design thinking in the Bahamas needs to go.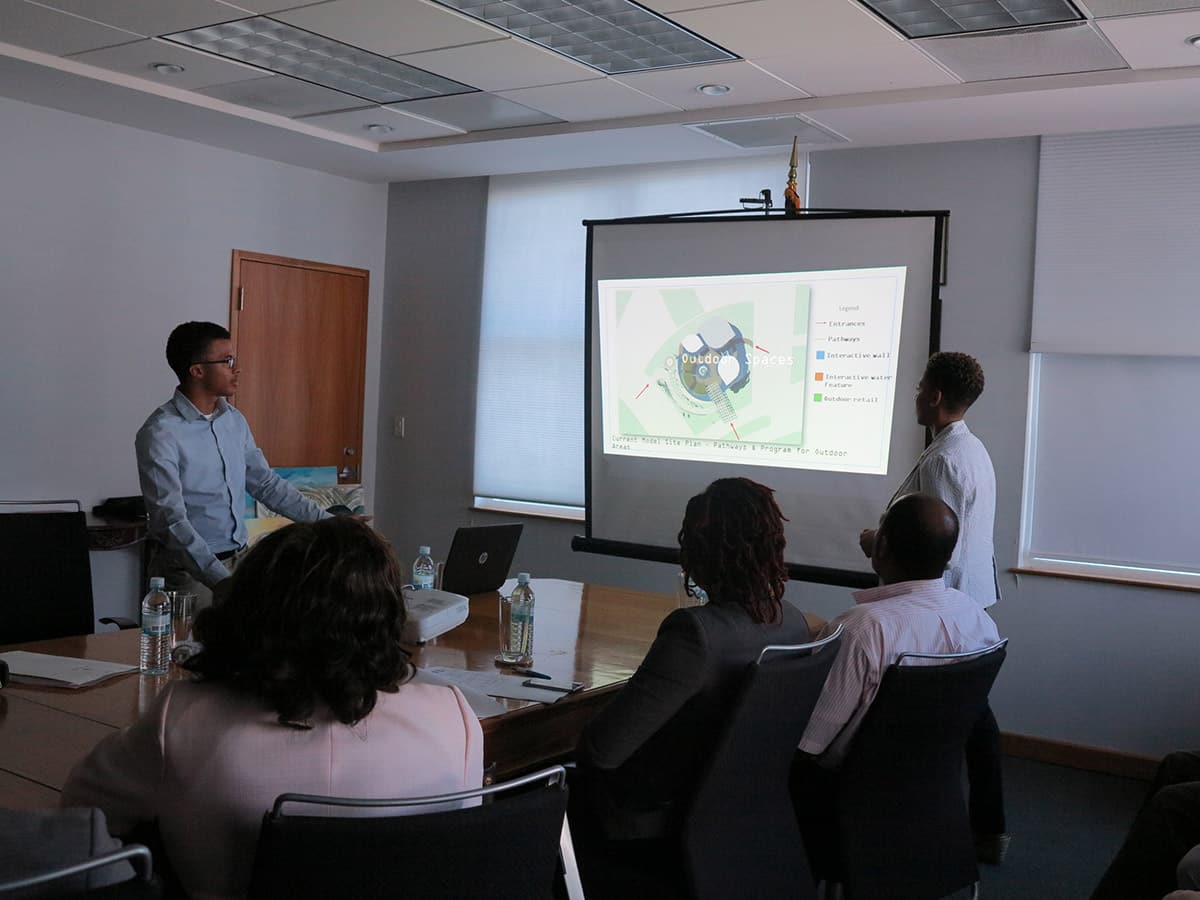 Expo 2020 Students present to National Plan Committee.
It is sad and unfortunate that Jackson Burnside could not be with us today to see this potential transformation of the Bahamian sea and landscape into sustainable, culturally representative and environmentally responsive thinking and design.  We are at a propitious juncture in our national development and our history where we must throw off old gazes that dictate how we see ourselves; we must create new visions and images that liberate us from those prisons. 
The National Development Plan and Sustainable Nassau as well as Creative Nassau are required active participants.  However, government and governmental planning should not be the sole guide in creativity and design as it is famously outdated. 
Universities that offer advanced research and design are where the knowledge is, much like Massachusetts Institute of Technology, Stanford, Chicago Tech, and others famous for this kind of work. 
Government, rather than constrain through its present vision and past limited experience, understands that the future rests with thinkers, creators and innovators and these young minds that are not mapped by national constraints, but transcend all strictures and boundaries to create the Crystal Palace and the Brighton Pavilion of 2040 and beyond.  We must encourage the students and ourselves to think beyond our current binding strings that tether our imaginations and souls to sinking policies and archaic designs.