One of the much-talked about highlights of the National Art Gallery of The Bahamas (NAGB) Mixed Media Art Summer Camp has been the new mural – or, rather, murals – adorning the public wall spaces at the NAGB. As living, collaborative works, the murals have been completed by groups of campers and individual artists, all of whom joined the NAGB for some time during its summer camp, led by Education and Curatorial Support Associate Abby Smith.
In spring 2015, the NAGB put out a call for proposals for paint-by-number murals to cover the wall spaces of the adjoining annex and exterior boundaries. For two years prior, a whimsical work by Allan Wallace and brightly colored geometric piece by former campers enlivened the outdoor walls. This year, artists were asked to design murals responding a set of key works, including "colorful", "kids", "on the hill", "art" and "NAGB".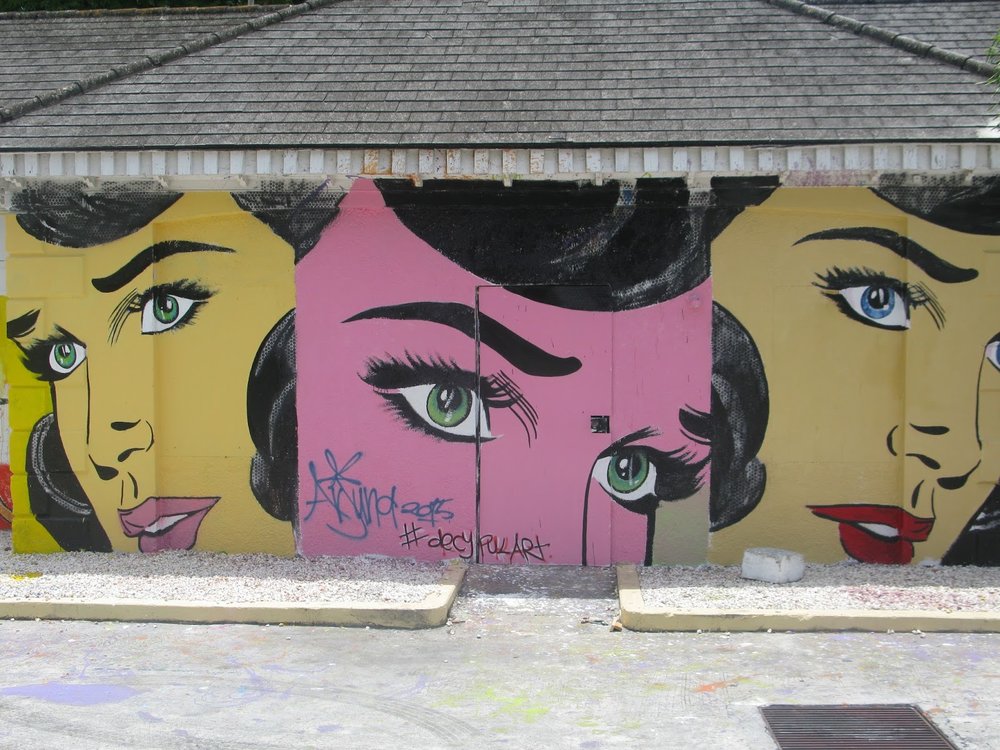 AJ Watson
Arjuna "AJ" Watson was one of the first to answer the call. An established muralist and former graffiti artist, Watson is known for his large-scale public works that, quite often, contain social commentary.
"My beginnings in art were as a graffiti artist. I'm no longer a graffiti artist I just like to paint big in public spaces when I have an opportunity to," he explained. "I think there should be more art in public spaces here, not just paintings on walls… Culture sometimes seem hard to find in Nassau and the Caribbean. Art and the arts are as constant as the tide, but often neglected as culture."
His vision for this project, however, involved simple, unadulterated fun. Reminiscent of the iconic New York-born pop artist Roy Lichtenstein, Watson designed a comic-style work, which he believes falls in with 'selfie culture'. The design – a close-up of a cartoon-like woman's face – uses vivid color to stand out and offers the public a glimpse of imagery less frequently found in the region.
Watson was one of four artists who devoted their time, talents and efforts free of charge to the task of enlivening the NAGB grounds.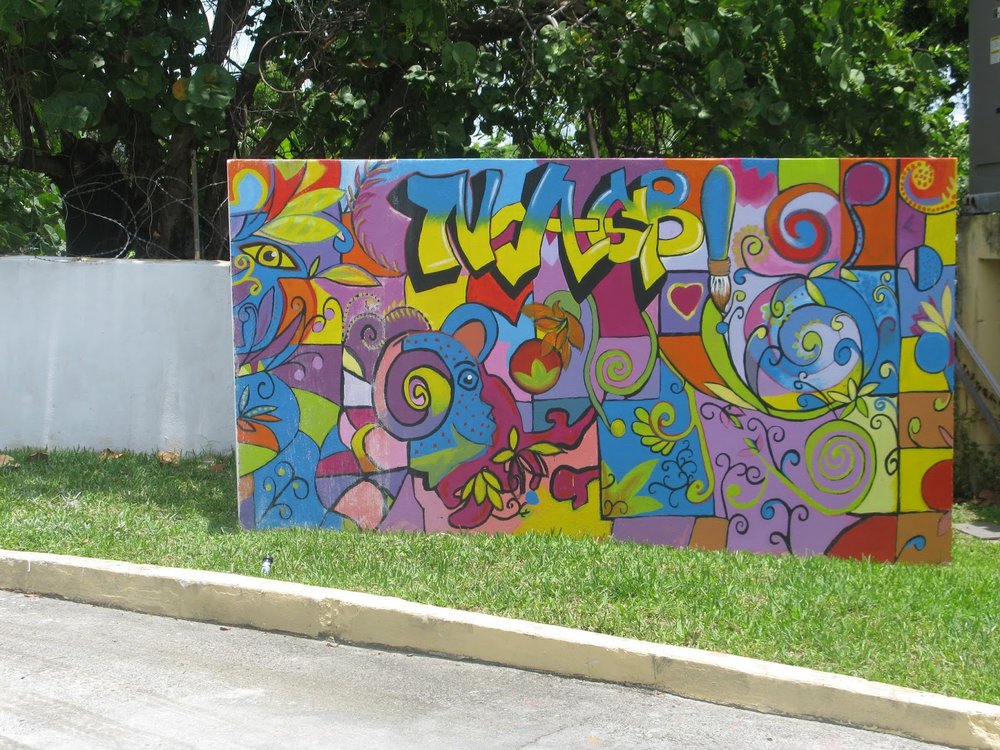 Allan Wallace
Allan Wallace is another. Like Watson, Wallace is self-taught and known for his murals, which have been found throughout New Providence and Downtown Nassau. A more recent contribution of his was created as part of the Haitionary exhibition at the D'Aguilar Art Foundation for the 2015 Transforming Spaces tour.
Fresh off his paintbrush, however, is a brand-new piece at the NAGB, where Wallace made an impromptu return to again liven up a wall space. The fanciful contribution incorporates negative and positive painting techniques. In true Wallace style, it leaves viewers discovering new imagery hidden among its layers, which include the colorful face of a girl, artist's tools and a figure in the background.
Matthew Rahming
The camp has also given Matthew Rahming, a volunteer and young artist, his first opportunity to try his hand at large-scale public art. A College of The Bahamas (COB) student, Rahming decided to try his luck at registering as a volunteer, and showed up at the NAGB on a whim. He was welcomed immediately, and four weeks later, he's leaving his mark by way of a seasonally bright and nature-inspired work.
"It's been really cool, it's a lot of fun working with kids you learn a lot from them about creativity, they're uninhibited… and it's pushing me to be the same way and not limit myself creatively," he explained, reflecting on his time at the camp thus far.
A first-year COB student, Rahming took the initiative to compose a mural design when he discovered a blank wall space remaining.
"I saw everybody else putting up murals and there was one wall left, so I showed Abby (Smith) the design and she liked it and said I could put it up on the wall," he recalled. "I thought it would be a cool opportunity to do it, and I liked it, so I went for it."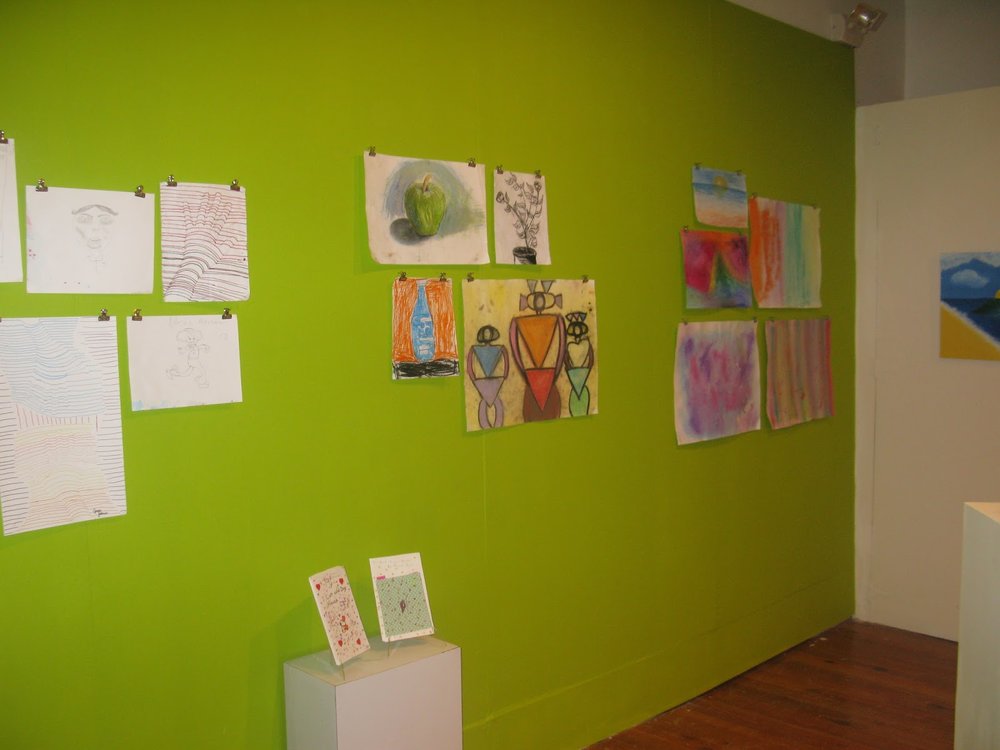 Avenii Johnson
He's not the only volunteer who raised his hand at a chance to add another spice to the pot. Avenii Johnson, another volunteer and young artist took a chance at getting some exposure by pitching his mural idea to Smith as well.
"I thought it would be a good opportunity to get my name out there," he explained in reference to the mural, which began as a design in an old sketchbook as part of a pair of works.
The mural is Johnson's first chance to create a large-scale public art work at home. Having had the opportunity to spend time studying abroad in Boston at the School of the Museum of Fine Arts and New England Art Institute, Johnson experimented with outdoor art while there.
Returning home, he, too, went out on a limb in joining the camp's volunteering staff.
"I came back and I knew there was a museum here, but I'd never visited it, so I decided to check it out and check out some of the artwork. I was trying to figure out how to get involved in the art clique, and I did a bit of Googling and I saw that the camp had a volunteer program, so I decided to sign up," he recalled.
"The mural is an interesting process," he added, "we'll see how it goes."
Nowé Harris-Smith
Painting on walls is nothing new for Nowé Harris-Smith, another COB art student and camp volunteer. Between lending a hand in leading campers, the urban artist had an opportunity to do what she loves at the NAGB.
"As a graffiti artist, my dream was to always do a mural without taking illegal methods. So I tried it. It was also for a good cause, considering I like kids," she explained.
Hopeful that the murals and her contribution in particular will expose and present street and urban art in a positive light, Harris-Smith's work was designed specifically for the wall space at the camp and embodies familiar imagery from the Bahamian landscape, like the hibiscus plant and hummingbird.
"I am truly happy with this mural. Not only does it look cool, it represents a part of me. I'm glad I got a chance to showcase what I love to do," she said.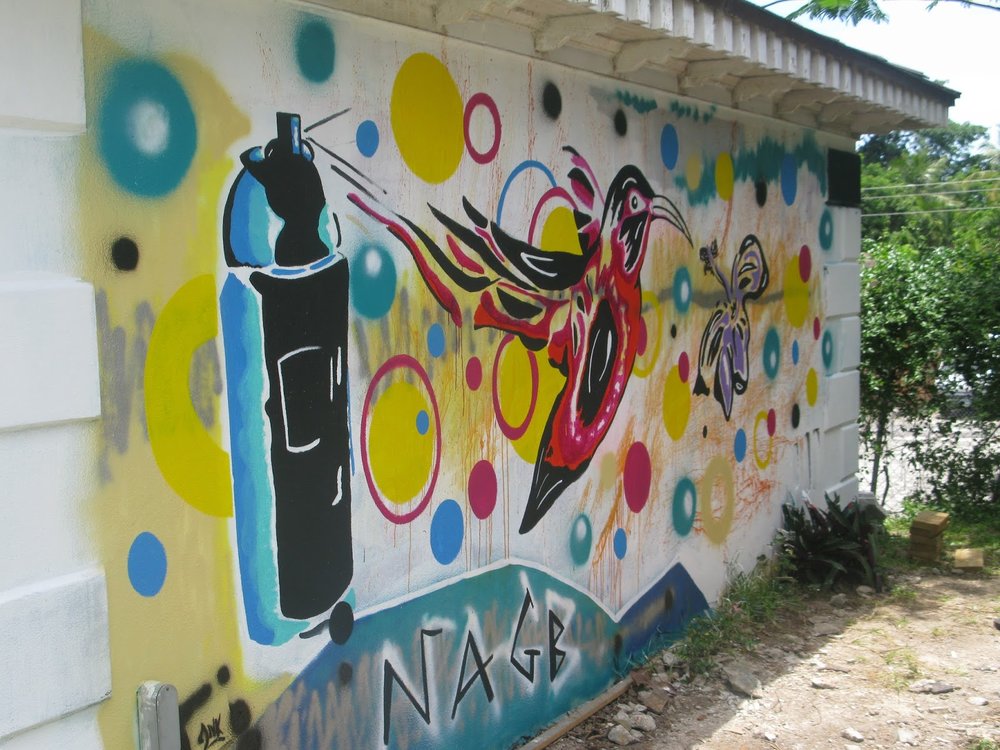 The final completed mural was a collaborative work by campers, who embraced the "Jammin'" technique in creating it.
Coined by artists and brothers Jackson and Stan Burnside, both avid Junkanooers and founders of the One Family Junkanoo group, "Jammin'" refers to the simultaneous group collaboration found in Junkanoo shacks when creating a single costume component. The Burnsides, together with fellow artist John Beadle, were known for using the group work approach in the artist's studio.
This summer, under the guidance of artist and gallery media technician Jackson Petit, campers painted their own "Jammin'" mural, with vivacious urban flavors.
To keep up to date with the gallery's murals and other activities, visit its Facebook page at https://www.facebook.com/TheNAGB or website, nagb.org.bs, or call 328-5800.