The National Art Gallery of The Bahamas (NAGB) said goodbye to one of its most moving shows this week. R. Brent Malone: Reincarnation was on view at the National Art Gallery of The Bahamas from October 24, 2015 to April 3, 2016.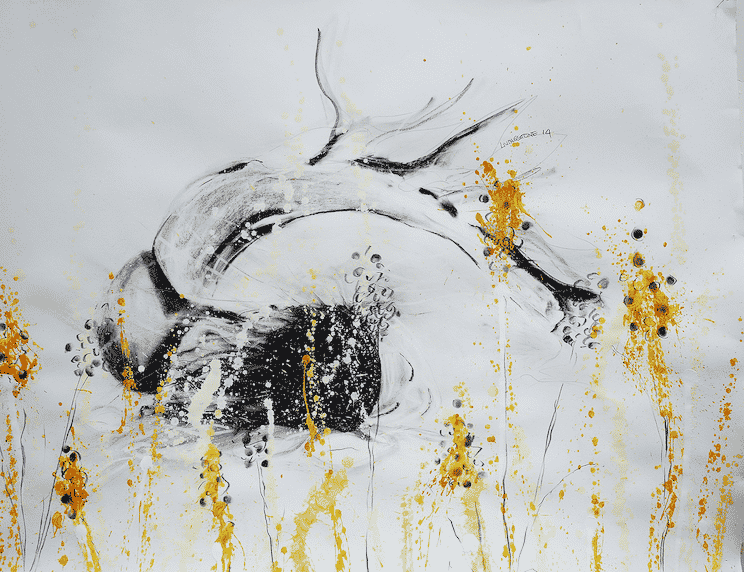 Livingstone Pratt. The sixth day (Adam and Eve). 2016
A comprehensive retrospective, the exhibition covered 50 years of the late Brent Malone's career. Probably best remembered for capturing the evocative essence of Junkanoo on a two-dimensional surface, Malone also stunned collectors with his seascapes, portraiture, studies of the human figure, works of light and shadow and studies of the Bahamian natural environment, among many other genres. With over 250 works by the late artist on view, R. Brent Malone: Reincarnation offered NAGB visitors a peek into Malone's varied interests and professional evolution.
NAGB Director Amanda Coulson believes the show was "a world-class exhibition that exemplified the standard to which Bahamian artists can be held both at home and internationally".
"Brent was a son of the soil whose life's work showed an incredible breadth and range that would stand out in any museum worldwide. The NAGB was honored to host this incredible show curated by Dr. Erica James," she said.
Comparable one-man shows like Reincarnation are hard to come by. But the NAGB will be doing its best to engage its members and visitors with three new shows that open collectively on April 28, 2016.
Curated by Claire Tancons and Krista Thompson, EN MAS': Carnival, Junkanoo and Performance Art of the Caribbean explores the influences of carnival and other street festivals — like Junkanoo in The Bahamas, Kadooment/Crop Over in Barbados or Kanaval in Haiti — on contemporary performance practices in the Caribbean, North America, South America and Europe.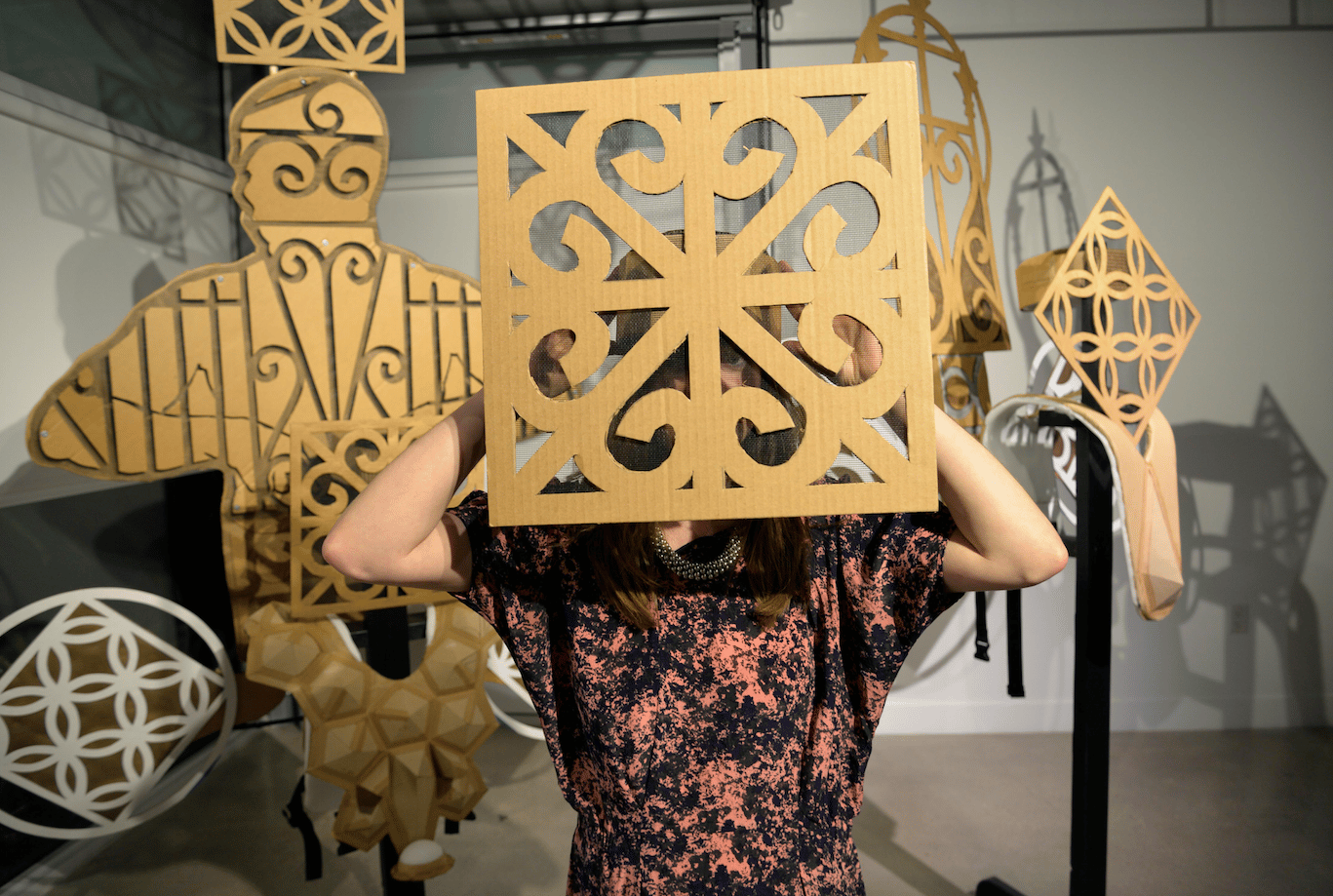 John Beadle. Inside-Out, Outside-In. Installed at the National Gallery of Cayman Islands (NGCI), Grand Cayman.
The show's title is a play on words, referring to the French term "en masse", meaning "together/as a group", as well as the Caribbean term for Carnival – "mas", as derived from "masquerade". In EN MAS' artists consider festivals that trace their genealogies to the experiences of slavery and colonialism, independence movements and civil rights struggles as well as migration to and from colonized states. Nine artists from around the region, including Bahamian John Beadle, will be featured in the critically acclaimed group show, which will occupy the temporary exhibition spaces at the NAGB.
"We are welcoming a show that has a regional and international view of how the art form has manifested itself in very grounding ways. From showcasing the importance of ritual and community, to the passing down of transitions that tie our communities, countries and worlds together," said NAGB Chief Curator Holly Bynoe.
The show builds on the NAGB's mandate to reinforce connections with art institutions around the region and support international artists while simultaneously boosting the presence of Bahamian art outside the country. EN MAS' has been exhibited at the National Gallery of the Cayman Islands and at the Center for Contemporary Art (CAC) New Orleans. After being shown at the NAGB, it will travel to Chicago.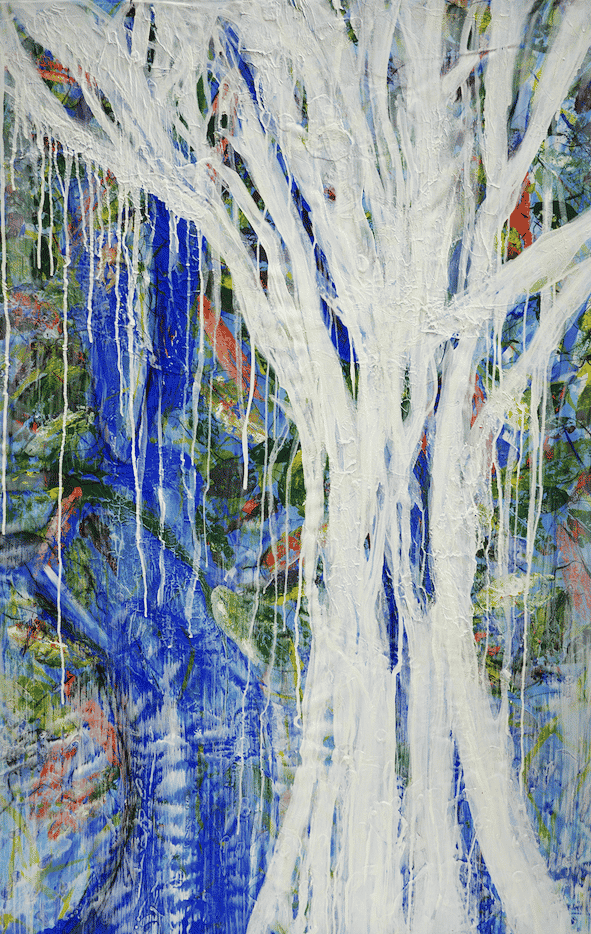 Livingstone Pratt. The Seventh Day. 2016
In the project space at the NAGB will be Livingston Pratt's Genesis: The Beginning of Souls in Time. Pratt is a self-taught artist whose work is influenced heavily by his spirituality and religious beliefs. Pratt will exhibit 11 paintings, most of which are abstract works reminiscent of elements in nature. "His lively and rich palette speaks about beauty, faith and the strength of humanity. Working along with writer Victoria Sarne, they have crafted an intimate moment of vulnerable exchange," explained Bynoe.
The new permanent exhibition will be From Columbus to Junkanoo, a show curated by former NAGB Gallery Assistant and current Central Bank Assistant Curator Jodi Minnis and former NAGB Assistant Curator Averia Wright. The show was initially held in Cuba at the annual Fiesta del Fuego last year when Coulson hoped to illustrate Bahamian history and culture as well as the range of artistic talent and style in the country. From Columbus to Junkanoo addresses four central themes: The Old World and New World, slavery and emancipation, the concept of living in an island paradise and Junkanoo.
John Beadle. Inside-Out, Outside-In. Installed at the Center for Contemporary Art (CAC), New Orleans.
Showcasing a cohesive collection of modern, contemporary and conceptual artworks, From Columbus to Junkanoo guides viewers through a comprehensive timeline of the country's historical and social evolution. The work of 33 artists will encourage critical thought about how these events have impacted today's society. Bynoe hopes the exhibition, which features over 60 works, will encourage viewers to reflect on traditional historical narratives in a critical way. "We wanted to ensure that the local public could have the possibility to engage with a show that deals with weighty historical moments; moments of discovery and the development of a post-colonial Bahamas.
The show will give our public an opportunity to investigate counter-narratives openly which we hope will provoke them into considering all of the alternative histories that are buried nationally," she said. EN MAS': Carnival and Performance Art of the Caribbean; Genesis: The beginning of souls in time; and From Columbus to Junkanoo open at the National Art Gallery of The Bahamas on the evening of Thursday, April 28. For more information on the NAGB's upcoming exhibitions or visiting information, contact the NAGB at 328-5800 or visit its website at nagb.org.bs.